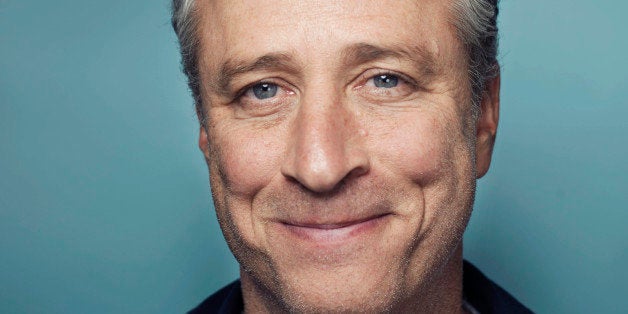 A 17-year relationship ended just like that and I have no idea how I will go on. Okay, it was with a married man and I knew that sooner or later that son of a bitch would go back to his family. But the thing is I just cannot imagine life without my TV life partner Jon Stewart.
Here's the thing. Like most relationships the most significant, intimate part of our life together is at bedtime. During the day he went his way and I went mine, but at the end of the day we were there together in the bed zone to discuss not only the day's events but the state of our lives on a level that would be incomprehensible with anyone else.
I mean this was one very stable, dependable, rock solid marriage. If I suddenly found myself confused or overwhelmed by life, Jon was always there with a clear understanding of why everything wasn't working. But best of all: he knew how to make everything feel better, albeit temporarily, but still, feeling better is the brain challenged young brother of feeling better and I'll take that in a pinch.
Like anyone else I carry a lot of anger around with me and often don't even know it. But my "husband" Jon understood that too. He knew how to VENT to the point that the mere mention of a name like Cheney or Bush or Rubio or Fox News would send cartoon steam bursting from his ears.
Did we always agree on everything? Not always, but I would say 99.99% of the time we did and if I had those odds I'd live in Vegas and sit in front of a slot machine wearing a house dress with a coin lap basket for the rest of my life.
I was able to sleep more peacefully because of my soul mate Jon. Okay, I also had a relationship with Stephen Colbert who was like the wacky genius uncle of the family. His just right kind of loopy absurdity was the perfect dessert after a ten course Jon Stewart meal. Plus you always knew that there was a laser focused purpose behind his wild eyed comedy. Even George Bush got that. Eventually.
The two of them talked to incredibly literate people who were ripe with concern about any number of subjects. In this day and age where the average sitcom at best offers up a menu of generational snarcasm with a heaping and relentless side order of pre-school level sexual and scatological references, Comedy Central became the overnight oasis that would send my camels to bed.
I slept smart. I slept content. I slept reminded that there were at least two powerful beacons of light out there that would not only show me the way, but would make me laugh all through the pain of the illness that is often life.
Look, I still haven't gotten over the break up with the Beatles who were the single biggest menage a quatre of my youth. I have reconciled that by basically not 100% growing up and keeping a large part of my maturity on permanent life support ice. The Beatles remain the most effective aural antidepressant that money can buy, so they were wrong: money can buy you love and peace and a really good slice of pizza if you life in New York which I do.
The Beatles remain my hand clapping, all singing, all dancing faith and I continue to pray at the alter of Pope John Paul George Ringo. Jon and Stephen have been my disciples that have kept me coming back to that electronic church we like to call TV.
They have also kept me informed on a level that I would not have reached in a katrillion and one years. They didn't just bring on a parade of deep cleavage Tonight Show guests. They dared to bring on scientists, philosophers, teachers, thinkers, musicians, men of letters and numbers. They made me think even though all I wanted to do was lie in fetal position and rock back and forth like a mental patient because life had finally gotten to me like the measles. They respected me. They made me feel and look prettier. Sweet dreams are made of these. Who am I to disagree?
They also forever changed the way we get our news. They told us that they were faking it, role playing -- but I still got me a nightly informative orgasm anyway and how many life partners can do that five times a week for 17 years?
They made us see that while they may be the "fake news" so are, for the most part, the "real news." Suddenly all those bottle blonde anchors (whether they were actually blonde or not) seemed just as absurd as Stephen's buffoonish Bill O'Riley send up. These two guys were tonic. They were cerebral medicine. They were pioneers on the level of Ernie Kovacs and Pinky Lee.
They were and have been the cure.
Now we have to play the field but before we even get to that we will have to play the Match.com equivalent game of conjuring up substitutes for their roles. I mean this is like hearing that Meryl Streep is leaving a production of The Cherry Orchard and coming in to take her place will be comic quipster Emo Phillips.
We are talking impossible to replace parts. Impossible to fill glass slippers.
But of course I will go on.
The TV singles life is not so bad. I still have my lawyers Alicia Florick and Saul Goodman to represent me and Game of Thrones to help remind me of the life that we man really wants: sitting on the throne, watching naked girls and eating copious amounts of mutton.
And then there is my Brian Williams. He is my go to, always there, 30 Rock. Oh. Wait. Hey maybe Brian should take over Jon's spot. That would work. He could say whatever the hell he wanted and be rewarded for it. The deal would also have to include that (A) his daughter never play Peter Pan again and (B) not do that on "Girls." Ever. You know what I'm talking about.
We still have some time here. The divorce settlement has not been finalized or even worked out yet. Jon may move out as early as the summer or as late as the end of the year. I mean he has to be here for some of the primaries and elections, right?
Okay, the truth is, I will re-marry again. I mean I have basically been the TV marriage equivalent of Elizabeth Taylor and the networks will be my Dolly Levi, my e-Harmony, my Christian mingle and sooner or later before I know it, I'll be in a brand new consensual relationship with 2.5 kids, living in the electronic suburbs, driving a Subaru and picking up my kids at soccer. At least on commercials. Which means I will also have all kinds of prescription medicine side effects like sudden implosion or a swelling of the head to fifty times its average size and please god, a four hour erection.
But until then I will be a genuine mess. I will gain a ton of weight , yell at kids to get the hell off my front lawn and probably run around in circles trying to catch uncatchable birds like my goofy Irish Setter Zelda.
In other words: life, just like it always does, will go on.
I mean, this is only TV, right?
Popular in the Community