A couple of months ago in a conference center in the exurbs of Atlanta, I sat rapt with attention as Kathleen Colson, founder and Executive Director of the BOMA Fund, gave a heart-rending testimony about the work of a South Carolina-based organization called Dining For Women. Slides of the barren Maasai landscape flashed by while Colson recounted the details of a recent visit to Kenya, where DFW members traveled to meet Loiyangalani women who started their own small enterprises via a program funded by DFW. When Colson ended her speech with a Swahili phrase, "Kila ndege huruka na mbawa zake" ("Every bird flies with its own wings"), the room got a bit teary-eyed and applause erupted.
Granted, the 2010 Dining For Women Leadership Summit in September was no big media event like this week's TEDWomen in Washington, DC; Colson was but one of a small handful of speakers who traveled to the homey Lodge at Simpsonwood in Georgia to speak to a crowd of less than 150 participants. Yet, while it may have been easy to pay lip service to the organization hosting the conference, it was clear Colson's tribute was genuine, and that the room full of women (who'd flown in from places as varied as Ithica, NY and Monterey, California) stood wholeheartedly behind Dining For Women's mantra to change the world "one dinner at a time."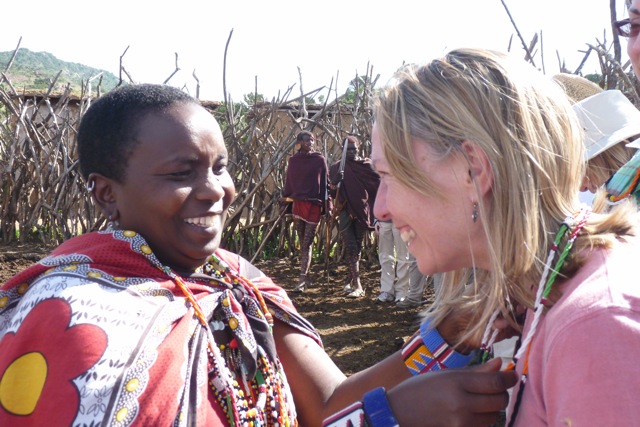 In Kenya, Hellen (left) greets Patricia Andersson, leader of Dining For Women's Portland, Oregon chapter. (Photo courtesy of Dining for Women. Photo credit, Marsha Wallace.)
Inspired by a 2003 article in Real Simple magazine about a potluck dinner for the needy, Dining For Women's founder and President, Marsha Wallace (a career obstetrics nurse and mother to four kids), decided to throw a potluck dinner of her own at her home in Greenville, SC. In lieu of a restaurant tab, she asked each guest to donate to a fund that would help empower women in developing countries. That first dinner raised $750.
"Sometimes we only had three or four people show up, but I just couldn't give up," Wallace says of the launch of Dining For Women's monthly dinners more than six years ago. "For some reason, I was compelled to keep going."
Based on the principle that all women -- no matter where they live -- deserve the opportunity to be self-sufficient, Dining For Women now brings in an average of around $25,000 per month for one of a dozen yearly-featured charities, thanks to 160 dining chapters in 39 states and three countries. Each dinner provides an educational opportunity for members to gain awareness about the struggles and triumphs experienced by women in developing countries. Plus, Wallace and members travel one or two times per year to visit the programs they support, which range from a maternal health collective in Peru (INMED) to Ugandan jewelry-making (Bead for Life) and everything in between. The thread that binds it all together: Women helping women help themselves.
"In the world's poorest countries, women have no support systems, no governmental assistance, and literally no hope for change," Wallace says. "All of us want to become agents of change and find purpose in our lives. All of us want to reach beyond our borders to lend a helping hand."
These days, Wallace gets Twitter kudos from the likes of Half the Sky co-author, women's empowerment champion, and New York Times columnist Nicholas Kristof, as well as shoutouts from Malaak Compton-Rock, who sang DFW's praises in a recent speech to the Atlanta Women's Foundation. Dining For Women has also been featured on Good Morning America and in USA Today, among others.
Women-focused philanthropy is more than just a trend; over the past several years, it has become one of the most important models for creating tangible results in communities throughout the developing world. What's more, giving circles -- such as Dining For Women's platform -- may in fact be one of the most sustainable giving methods, having been around for hundreds of years in the form of mutual aid societies, which today we might called "parties with a purpose."
Wallace's vision for DFW's dinners includes scaling the organization to more than 1500 chapters worldwide.
"People really respond to our innovative, fun, and educational model -- and that is what drives me," says Wallace. "The power of collective giving is that each person gives a little, but the overall impact is immense."
For more information about Dining For Women or to join a chapter in your town, click here.
Popular in the Community