Two weeks ago my Grandmother, Ruth Lewin, turned 90 years old. For every special occasion you could imagine, for the past four years, her response has been the same: "We have to go to Josh's restaurant." Conveniently we are only a 10 minute walk from the condo she shares with her daughter in the West End of Boston, which is about as far as she's walking these days anyway.
For this birthday, she got what she wanted. Not a difficult request to accommodate -- she is wonderfully easy to please. Allow her to support the work of her grandchildren, and she has all she needs. This gets interesting when it's time to refill her medications. My brother is a Pharmacist!
Grandma is fun in the present, keeping herself as active as she can. She loves walking the two blocks or so that surround her building. She has a few favorite stops, a little turn off into a flower garden, a favorite tree where squirrels like to play... She's fairly consistent. Always has been.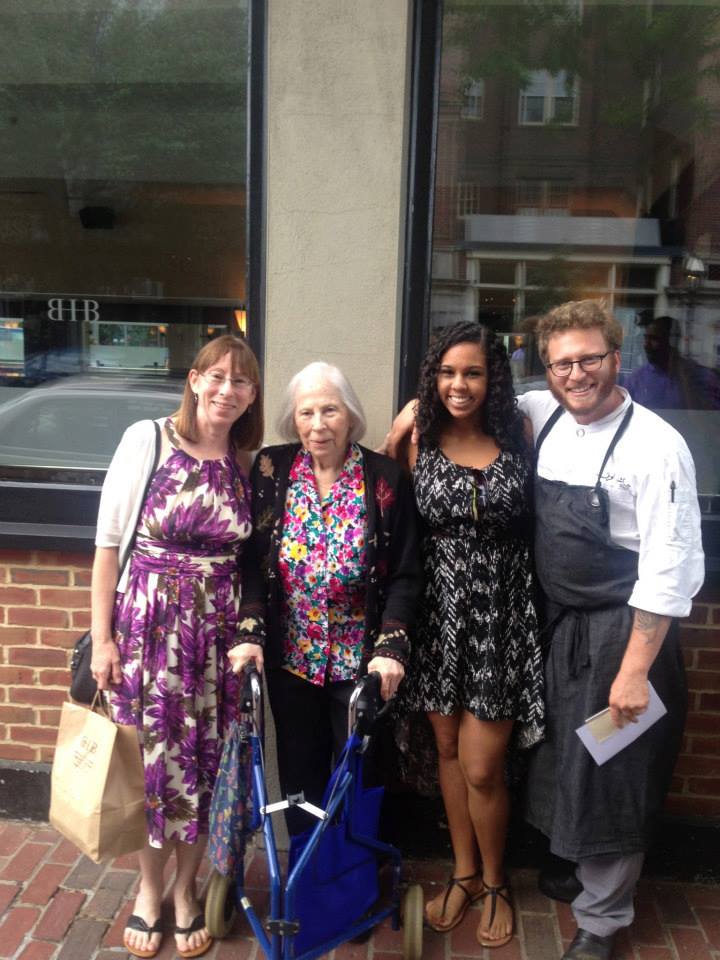 I grew up in a large and, well, rapidly changing family. Early on, along with my brother and sister, I was raised by an aunt and an uncle. In my teens we moved back into my father's home, and a few years later he remarried, and we added a step-mother and two new sisters to the fold. All of these experiences were just fine -- great in fact. But sometimes felt a little disjointed.
Throughout all of that, we rarely missed a Friday night at Grandma's. This provided a welcome cornerstone to our childhood. The foundation to that cornerstone was the dinner table. Bubbe was a fantastic cook, a little bit traditional, very efficient, and open to new ideas (the kids want white rice and soy sauce for Shabbat dinner, no problem).
That meal typically consisted of matzoh balls or white rice (with plenty of soy sauce), a big salad with plenty of ranch dressing for everyone, but Italian for my sister. Steamed broccoli for the family, and raw for Rebeca -- she liked to do things differently.

We would often find her running through the house with olives stuck to all her fingers, or hiding under the table chewing on a stick of butter.
And the main event, either a brisket or a big platter of T-bone steaks, always broiled to a perfect medium rare. We would wind things down with either fresh fruit suspended in Jello (orange) or my father's favorite, apricot cake. On a rare, and very lucky occasion, she would bake fantastic chocolate chip cookies. The best chocolate cookies. I vividly remember both the first and last time she made them. Those Friday nights number among my favorite memories.

We observed holidays very casually, a night or two of Chanukkah here or there; even better if it happened to land in the middle of Christmas. We might buy tickets for the high holidays, if only to hear the horn. Sukkot always provided plenty of fun. But any of this could be missed. Not Passover.
Grandma would always cook, and as the preparations were begun so far in advance, in those cases I remember the cooking. Friday nights were all about eating, the food appeared and it was fun and wonderful and we ate. But Passover was about the process. There was the mandatory discussion (argument) about which technique would provide the best matzoh balls, the juggling of the ovens and counter space to prepare all the dishes and keep them warm, and lessons in patience as the brisket slowly simmered (it smelled so good so many hours before it was ready!). My favorite part: the charoset. Grandma had a small grinder that attached to the counter top and would make it by hand. That always made an impression on me.
Then the meal, or first the lead up to it: reading, praying, dipping vegetables, sipping grape juice, eating dry crackers, singing accompanied by a horribly out of tune piano or guitar wielded by a courageous aunt... all this with the smell of brisket a few feet away, the knowledge of matzoh balls, maybe not perfect; but plentiful. Patience.
And then to look back and realize that Grandma, after cooking all this food, cleaning the house, entertaining her [grand]children, packing up the food before bringing out dessert, had barely sat down yet. Had not eaten, certainly. And perfectly happy to do it all again. She was 70 then.
She is 90 now. Grandma does not cook anymore. But she loves to watch me. She'll mix the matzoh balls if I encourage her. She'll offer advice if I insist, but with her fingers crossed. Because she honestly thinks I do it better than she does. She is wrong.
Once a year I throw a party. It's a Chanukkah party, as well as a birthday party for my sister. I choose a theme in traditional Jewish cooking and prepare a ridiculously detailed event for about 20 members of the family or close friends. Really, it's just an excuse to show off in front of Bubbe. She loves it. I hope she knows that I owe her my career.
I don't cook traditional Jewish cuisine often. But that is not really the point. Every time we open for service, and the smells of roasting meat, the evidence of work done from scratch are present, the hospitality of always offering just a little bit more than is expected. Every time a plate is wiped and carried to a guest, the desire to bring that forward comes from my remembering the anticipation of each meal shared in her dining room. Fifteen years after she gave up her home, and stopped cooking, I do my best to write a daily memoir dedicated to her through my work. And as I look up to the calendar today and see that Rosh Hashana is approaching, summer is fading, the restaurant becomes busier, and days turn into weeks, turn into the the end of the calendar year quicker than can be imagined. I would like to stop and remember Ruth. Her kitchen. Her care. Her service.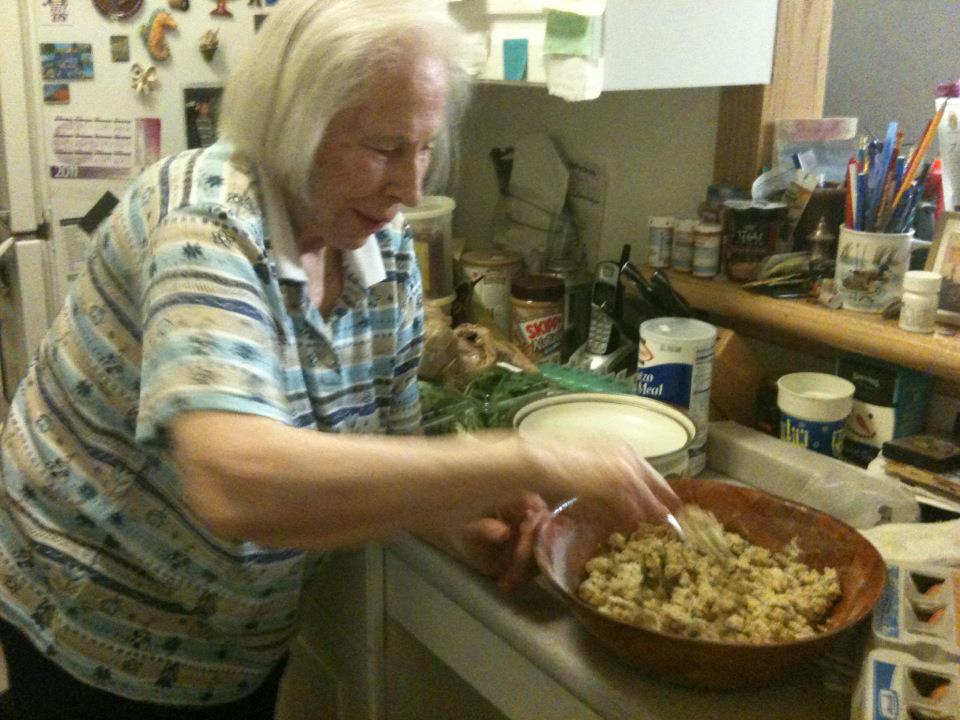 Grandma's Matzoh Balls:
These are the matzoh balls we serve at the restaurant for Passover. Appropriately, about half of our guests love them, the other half find them either too dense, or too light.
3 eggs
2 Tablespoons rendered chicken fat, at room temperature
½ cup water
1 cup matzoh meal (we make our matzoh fresh at the restaurant, feel free to use your favorite brand)
Salt and black pepper to taste

Mix eggs, fat and water together
Add matzah meal, salt and pepper
Let stand 15 minutes

In the meantime bring a pot of salted water to a boil.

With wet hands, form ½" balls, then drop into boiling water.
Reduce heat to a simmer and cook for 20 minutes.

Serve in chicken broth with finely diced carrot and celery as well as mushrooms, if desired
Popular in the Community