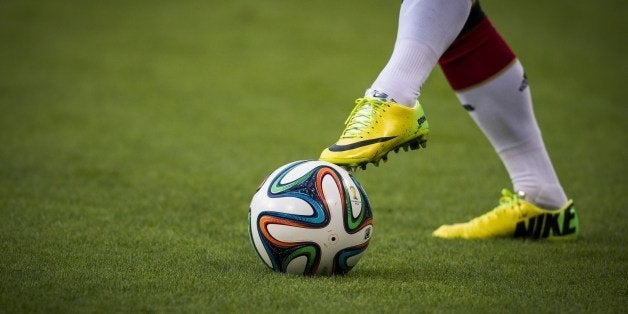 In Brilliant Orange, the English writer David Winner's celebrated study of Dutch soccer culture, he quotes voetbal-loving artist Jeroen Henneman on the subject of the Brazilian game: "I was so disappointed when I went to Brazil," he tells Winner, describing his first trip to the country that will host this summer's World Cup. "I'd thought: finally I will see the great Brazilian football! I expected to see a very 'roomy' football. But they play in the most boring way, on technique, only to show off... So slow! They go forward, they go back. Some do little tricks, nice little things. But it is not football."
Huh? To start, the phrase needs a bit of translation: There are, of course, many ways of playing football -- the world's most practiced and popular pastime. Some are seductive, good to look at, a "treat for the neutrals," as the analyst might suggest. Others, though less entertaining, provide a more likely path to victory. "Cynical," the loser will say afterward. So when an angry man sits up in the stands to yell, "Play football!" at the opponent, what he is usually asking is something more precise: "Let us play our football!"
That brand of frustration is familiar enough to the Dutch, who have spent the better part of five decades arguing with each other about the best route up the field, talking and talking, while other countries, Brazil among them, keep up winning and winning. Winner's book does a lot to explain why, ultimately pointing the finger at topography -- Holland lies about one-fifth below sea level -- and a not unreasonable hang-up with braining post-war German teams. The former made necessary a societal preoccupation with the creation and most efficient use of limited space. If the Dutch footballer were to make like the Brazilian, going forward, going back, going where he pleases, that next feint and step might deliver him into a canal. (Amsterdam alone has 165 of them.) When you are so hard-up for space, the sight of a player samba-stepping over the ball, collecting love and trophies in equal parts, might seem profligate, even offensive. That, one might be forgiven for saying, is not football.
With the 2014 World Cup commencing this week, there's never been a better time to delve into the complexities of the world's game. For more insight into what is (and is not) football, and why so many people care so very much, here are some titles to guide you through the coming month of games:
First match (June 12 - 17)
Football Against the Enemy: How the World's Most Popular Sport Starts and Stops Wars, Fuels Revolutions, and Keeps Dictators in Power
By Simon Kuper
American writers have a way of fetishizing the game, declaring that it "explains the world," or worse, has some kind of softening effect on mankind's most unsavory actors. The reality, as Kuper makes clear in recounting his episodic travels to its dark corners, is less tidy. The same doors that football opens will slam shut on your fingers in the time it takes to say tiki taka. The game is not transformative, but is transformed by the people who play, sell, and use it to advance their interests. The book ultimately succeeds on the strength of Kuper's cutting voice: he is wry, though never mean. And his deft telling of South Africa's complicated re-entry into world football after Apartheid -- the book was first published in 1994 -- reads more like political allegory than any kind of sportswriting.
[A bit of context: The 1978 World Cup was won by Argentina, in Argentina, with the backing of the fascist generals who ran the country.] Peru was bought: and it seems under the orders from the junta, the players had drug injections. One source says Mario Kempes and Alberto Tarantini were still so "high" after the Peru match that they had to keep running for another hour before they came down again, and that Ocampo, the team's waterboy, came up with most of the team's urine samples; though there must have been other suppliers too, for after the final, one sample showed a player to be pregnant.
Also from Kuper:
Ajax, The Dutch, The War: Football in Europe During the Second World War: Not dispositive, but rather a compelling adjustment to the popular Dutch telling of World War II and its fight against the Nazis.
The Soccer Men : A case-by-case examination of the people -- player, coaches, executives -- who keep the ball rolling. I had the good fortune to get barked at over the phone by the author.
Second match (June 17 - 23)
By Eduardo Galeano
It is a rare thing these past few weeks to get through a story about the World Cup's host continent without running in to the Uruguayan master's halting prose. There are worse crimes.
A collection of hundreds of vignettes, notes, and lyrical tales, almost none more than a page or two long, the book still manages to flow forward in a coherent way. One for the bedroom, not the bathroom.
The game changes, but certain stories are timeless.
Well-informed sources in Miami announced the imminent fall of Fidel Castro, it was only a matter of hours.
Also from Galeano:
Open Veins of Latin America: First published in 1971, at the dawn of Peron and well before Pinochet, the younger Galeano traces hundreds of years of tragedy in his beloved continent.
Third match (June 23 - 26)
Feet of the Chameleon: The Story of African Football
By Ian Hawkey
The title alone gives the writer a lot to live up to; lucky for us he is smart and modest enough to cede the floor to his subjects, who are happy to own what is often a very sad story. In less than 300 pages, Hawkey ranges from Larbi Ben Barak, the pre-World War II Moroccan star, one of the first African footballers to play professionally in Europe, to the modern mining of the continent's youth by global megaclubs. The most telling passages, though, contend with why exactly so many African national teams have white, European coaches. The answers -- again, mostly delivered African players and coaches and executives -- make a ton of sense, and in doing so crystallize why change is so hard and, yes, so necessary.
The Algerian satirist, Rachid Taha, puts it bluntly: "Just as people always get the black or the Arab bouncer to break up a fight in a night-club, Africans go looking for a white man to coach their football teams." And here's an answer I heard from the talented Nigerian full-back Celestine Babayaro when I asked him why he thought there was such high turnover of coaches in Africa, and why the first recourse always seemed to be foreigner. "For us," Babayaro replied, with disarming candour, "it's important the boss has a big car."
Round of 16 (June 28 - July 3)
By David Peace
A fever dream recounting of celebrated English manager Brian Clough's "44 days in charge" of Leeds United, one of England's great old clubs. The story hurtles forward, fueled by Peace's full-blooded language and some astute technical choices -- about half the book is written in the present tense. It is, though, a piece of literary fiction. Brian Clough's ill-fated time with Leeds has for decades been the subject of tabloid speculation. The story is familiar to fans of any sport: highly-rated young manager takes over squad of aging stars with big egos and diminishing skills. It doesn't work out. So rather than take testimony for another footballing Rashomon, Peace re-writes the script and comes away with something so absurd and thrilling that the sad little "truth" of what happened seems the paler option.
It started that first morning in the hospital, the day after Boxing Day, and it's never stopped, not for a single day since. You wake up and for those first few seconds, minutes, you forget; forget you are injured; forget you are finished -- Forget you will never smell the dressing room again. Never put on a clean new kit. Tie on those shining boots and hear the roar of the crowd -- The roar when the ball hits the back of the net; the roar when you score -- The applause. The adoration. The love.
Quarterfinals (July 4 -5)
By Bill Buford
An American in Thatcher's court. The author embeds himself with England's worst and dimmest, at the height -- or, more precisely, depths -- of 1980s hooliganism. Unlike the other books on this list, there is hardly a mention of the players or the games. We only know a goal has been scored because the crush of humanity is shifting and swaying more violently than before. And we're only in the stadium because, well, it's the best way to get everyone in one place for the real show... each other. When he writes of "a bloated code of maleness, an exaggerated, embarrassing patriotism, a violent nationalism," the reader begins to understand that the criminal cretins in his midst are as timeless as the game that gives them meaning.
I walked from carriage to carriage, looking for one of 'them,' and came across someone who was truly spectacular to look at, qualifying for that special category or human being -- one of its most repellent specimens. He had a far, bulldog face and was extremely large. His T-shirt had inched its way up his belly and was discolored by something sticky and dark. The belly itself was a tub of sorts, swirling, I would discover, with liters and liters of lager, pertly chewed chunks of fried potato, and moist, undigested balls of overpriced carbohydrate. His arms -- puffy, doughy things -- were stained with tattoos. One his right biceps was an image of the Red Devils, the logo of the Manchester United team; on his right forearm, the Union Jack.
By Nick Hornby
First order: ignore the (two) tedious film adaptations and, to the extent one is able, the hundreds of cheap imitations. Hornby traces his love to the time before he knew its name. The initiation is a familiar story -- his dad passed it down to him, like eye color and a hairline. What begins as a way in -- to love, to fun, to friendship -- turns into love in its own right. The resulting questions are legion: how do we reconcile this love-lust with the quotidian demands, and graces, of adult life? Is fandom just a drug like the rest of them, a costly bit of thrill-seeking? Fever Pitch is full of questions. Hornby mostly finds his answers, but they are not prescriptive, and his hard-won wisdom is relayed with all apologies.
So please, be tolerant of those who describe a sporting moment as their best ever. We do not lack imagination, nor have we had sad and barren lives; it is just that real life is paler, duller, and contains less potential for unexpected delirium.
By David Winner
The master class: At the center of it all is Johan Cruyff, the star player who knows his value on and off the field, and Rinus Michels, his inspired coach, the architects -- or are they? -- of "Total Football," a style of play that asks every individual in a team to account for its machinations. Winner makes room for the theory and its practice, deftly noting that sometimes a kick is just a kick, then weaves it all into a thrilling arc we can trace well past the final chapter.
Because of their strange landscape, the Dutch are a nation of spatial neurotics. One the one hand they don't have nearly enough of the stuff. Holland is one of the most crowded and intensively planned landscapes on Earth. Space is an inordinately precious commodity, and for centuries the use of ever square centimeter of every Dutch city, field and polder has been carefully considered and argued over.
Also from Winner: Those Feet: A Sensual History of English Soccer