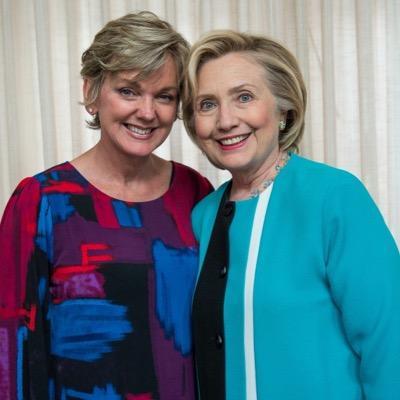 During her final debate in 2006 against billionaire businessman Dick DeVos, then-Michigan Gov. Jennifer Granholm unloaded a memorable zinger that ended up defining the race.
"You're an expert yachtsman," the embattled Democratic incumbent tartly began, adding that his philosophy was "each man for himself."
But the effectiveness of Granholm's attack wasn't just slamming DeVos as an out-of-touch rich guy. The key was moving on to framing the election. The governor called herself the "captain of the ship" and declared, "We are all in this boat together."
This wasn't even Granholm's best debate performance or her best line. But it summed up the stakes of the election for voters. Granholm would go onto to win win re-election a few weeks later by a whopping 14 points, even though the state was suffering through its sixth year of recession.
And on Monday night, she was in the audience for a different slugfest between her longtime friend, Hillary Clinton, and another billionaire (at least, allegedly), Donald Trump. Granholm, who was termed out of office in 2010, is now co-chairing the Clinton transition team and a favorite for a cabinet slot or Democratic National Committee chair.
Trump has bragged that only he has the business acumen to fix the country. And while we're not in recession, the Republican nominee routinely describes an America that resembles a dystopian hellscape.
So Granholm must have had some sense of déjà vu as the debate unfolded.
Now Trump was a much more aggressive and disrespectful debater than DeVos, interrupting her 51 times in his quest to be Mansplainer-In-Chief. His rambling, ranting and raving was so over-the-top at times that "Saturday Night Live" writers are probably flummoxed as to how to parody it.
And Clinton isn't nearly as polished a debater as Granholm, as her early stumble through the canned line, "Trumped-up, trickle-down economics" shows.
Trump fired off his share of attacks, such as, "You're telling the enemy everything you want to do. No wonder you've been fighting ISIS your entire adult life." Of course, none of this is true, starting with the fact that the Islamic State isn't 50 years old. But it probably fired up supporters who routinely shout, "Lock her up!" at his rallies.
The problem is alpha-male performance art, punctuated by frequent falsehoods, only holds appeals for his most loyal supporters. Undecided voters and soft Clinton supporters didn't buy what he was selling, as the CNN poll showed.
The primary challenge in debates is to come off as presidential. Voters need to be comfortable waking up on Nov. 9 knowing this will be the person in the Oval Office armed with the nuclear launch codes. It's usually not about issues -- the way a candidate talks about issues is largely just telegraphing his or her values.
Donald Trump failed the commander-in-chief test in Round 1 in such a way that it will be hard to bounce back -- and look authentic. More importantly, Hillary Clinton easily vaulted over the high bar set for her.
She didn't do it with clever quips. She did it by serenely smiling through Trump's attacks and interruptions. She did it through demonstrating her policy expertise. Voters may not recall her answer on cybersecurity, but they know she grasped the issue as a president should (and didn't tout her 10-year-old's computer skills like Trump).
Clinton was the Iron Lady, our own Margaret Thatcher. And she did manage to distill the election, not through a zinger, but in her own steady, wonky voice:
"I think Donald just criticized me for preparing for this debate. And yes I did. And you know what else I prepared for? I prepared to be president. And I think that's a good thing."
Somewhere in the audience, you can bet Jennifer Granholm was smiling.

Susan J. Demas is Publisher and Editor of Inside Michigan Politics, a nationally acclaimed, biweekly political newsletter. Her political columns can be found at SusanJDemas.com.
REAL LIFE. REAL NEWS. REAL VOICES.
Help us tell more of the stories that matter from voices that too often remain unheard.