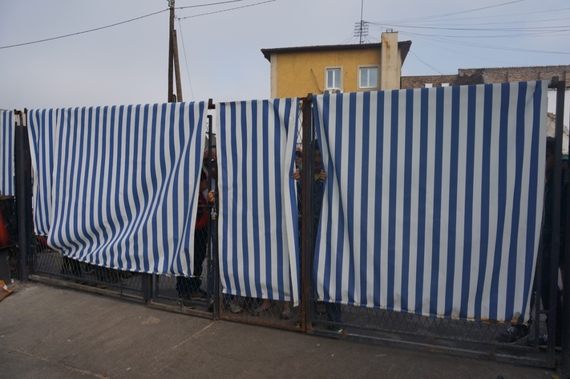 The sun is shining. It's nine o'clock in the morning and Belgrade has awoken. Lightly dressed and wearing sunglasses, guys and girls are heading towards the outdoor dining terraces for a Saturday breakfast. Even in Bristol Park, the park next to the bus stops, people start to move. The number of migrants in the park is unknown. The Red Cross has pitched hundreds of tents. From far away, the tiny tents in different colours look like art, like something cheerful. Linda, Rimon, and I are heading to a small cultural Centre just a few hundred meters away from the park.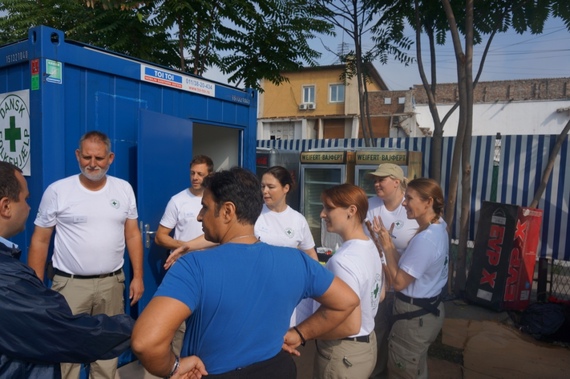 Linda is the representative of A Demand For Action in Serbia and also a member of "Refugee Aid Serbia" another aid organization. Rimon is from Sweden, we're here to see if our organization can help other volunteer organizations. There are about 20 volunteers in the 600 sqm open area when we arrive. Usually, the area is used for outdoor concerts, but now it's turned into a help centre. Srba Jovanovic, who organized the project, is a happy man in his 40s. He winks with his eye as he tells us that his volunteer organisation isn't registered with the authorities, but they tend to look the other way and let them help the refugees. He delegates the work. Linda is in charge of handing out shoes, Rimon is helping Khalsa Aid and a man named Alireza at the soup kitchen, or the Children section.
Soon it gets really crowded with people who are divided between five sections. Clothes, one section for women and one for men, the same goes for shoes. One smaller section is for toys, a tiny corner where volunteers also play with the kids by letting them paint amongst other things. A 20 meter long bar is used as a table for handing out hygienic items in plastic bags containing toothbrushes, toothpaste, soap, sanitary napkins, diapers, and shampoo. The soup kitchen. Danish People's Aid, a Danish voluntary organization, is providing First Aid.
At 10 o'clock the gates open. It quickly becomes crowded. Many of them are rushing for clothes and shoes, others for food and beverage, few come for First Aid. I try to translate as best as I possibly can in Turkish, Arabic, and really bad Kurdish, but I managed to get it done. The first patient who Astrid Coyne-Jensen helps, is a 60-year-old lady. Her hands itch, eczema she says. But it looks more like scars. She tells us that she got them from the barbed wire. She believes that it was from the Hungarian boarder, but she's not sure. She is from Iraq. She asks me where I'm from. I tell her that I'm Assyrian/Syriac. She becomes quiet, holds my hand, and promises, on her honor, that she helped Christians when they were killed, that she loved her neighbors, that she personally rescued two young Assyrian girls from getting killed in the raids against the city she lived in. I convince her that I don't make any difference and that the Danish only ask about her whereabouts and age to keep some kind of registration, a small archive to know what they're doing, who has visited them. She calms down. Three times she tried getting to Greece over the water together with her son and his family. It cost 2,000 Euros per person. Twice the boat was about to sink while they were on board. She fled from Iraq because she doesn't believe in any future, on the contrary, she believes that the clashes between Sunni and Shia Muslims is going to be more intense. She says that the politicians are corrupt and that they only think about power and money, not the people. Instead they let the Iraqis kill each other.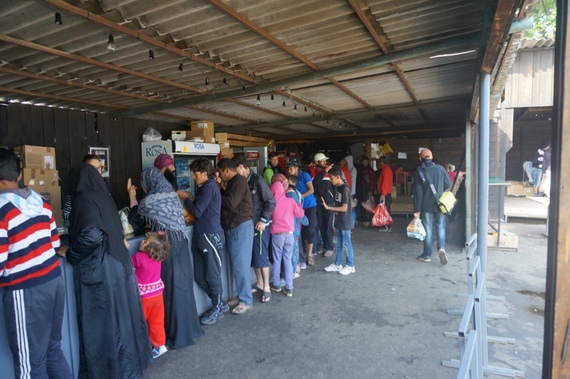 After having interpreted for an hour, I go to see how the others in A Demand For Action are doing. Rimon is really happy with his newest acquaintance, Alireza Akhondi from Danderyd, Stockholm and Kanwar Singh from England. Alireza urged people to donate money through Facebook and managed to raise 150,000 SEK ($18,000). He is the one running the soup kitchen. Kanwar is from Khalsa Aid, Sikhs who travel around the world and help people in need. We have cooperated with them earlier and Linda contacted them and told them that they were much needed in Belgrade.
The Centre is full, mostly with young men, but also women, whole families with children. The concentration is toward the middle where you can charge your mobile phone and since there is free-Wi-Fi, many are standing in line to get their phones charged. They call home, they call smugglers, they check different routes and different holes in the Hungarian boarder where they can pass. They are Afghans, Iraqis, Syrians, and some of them Pakistanis. Almost everyone I talk to wants to come to Sweden.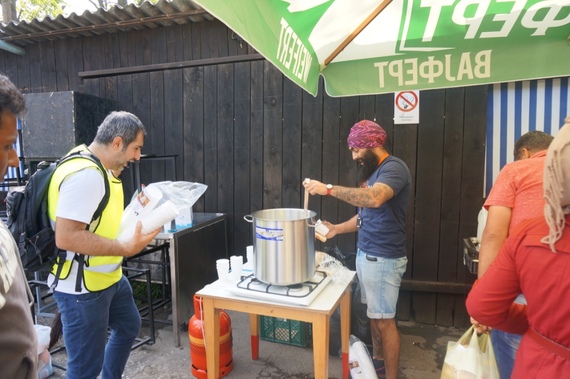 I ask Alireza, who is a councilor for the Centre party in Danderyd a suburb to Stockholm, what he thinks will happen if there were 500,000 refugees coming to Sweden this year. "Nothing, absolutely nothing. We are one of the richest countries in the world, so we should be able to handle it," he answers.
A couple is carrying their disabled kids who are around 10-years-old, both of them. A Serbian volunteer asks them if they'd want to apply for resident permits in Serbia. They have tried to cross the Hungarian boarder and failed while carrying the children from Syria through several countries. The father replies directly that they're not interested and that they "have to get to" Sweden. Another two Serbs are trying to convince him by saying that the children don't have the health to try to jump the boarder again and that they guarantee him that they will have a good living in Serbia, too. But he refused to listen. He wants to go to a country where he can receive financial safety and where there are others from his part of Syria. He wants to go to Malmö in the southern part of Sweden. He has no hope that the war in Syria will be resolved in the coming years, on the contrary, he believes that it will become even more chaotic.
Somebody is screaming behind us, I turn around, it's Jordanian Alwan, one of the volunteers. He tells some women that it's impossible to divide the queues by gender. They have to adapt.
I walk towards the gate. It's a flood of Serbs coming in with clothes, food, and hygiene articles. Rimon and some other young people carry them in, sorting and forwarding them to the different sections. Linda is a bit sad, she has been forced to scream at some women to stop fighting about which shoes they should have.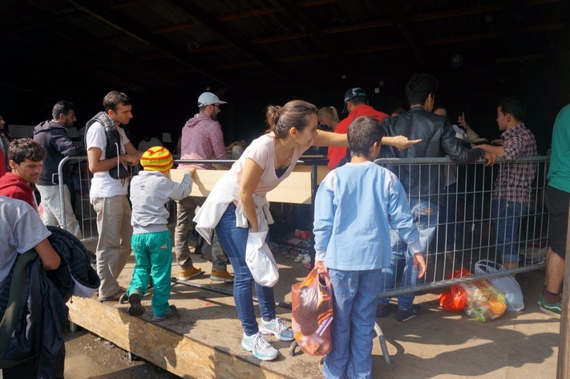 There is much love and compassion in the Centre, but also irritation. One volunteer tells me that some of the refugees are being ungrateful. That few take the aid for granted.
A young man from Syria sits on what's usually the edge of the stage. I do the same thing. He's from Aleppo and fled first from the Syrian army and then from one of the rebel groups. He joined them, but left when he realized that they couldn't win. He didn't want to reveal which one. He tells me that he didn't care about the war in Syria anymore; he only wants to go to Sweden or Germany to start a new life. He looks at a couple Afghans and tells me that they act really weird, that they should've been raised better, then stands up and walks away.
The Danish pick me up, a young woman is very sick and they need an interpreter. Her husband says that he believes she's pregnant, she threw up all night. She gave birth to a child in Turkey, one in Greece, and now she's probably pregnant again. All under the plight from Syria. Heidi, one of the Danish volunteers, gives her food, water, takes her blood pressure and temperature, and says that she's probably going to be ok, but she must be careful and remember to drink plenty of water and get some nutrients.
A child walks past by with a bag full of toys, about twenty. I tell him that he has to share, he laughs and gives me a little bear. He thinks that I'm the one who wanted a toy. I get some water for myself and one of the Rimon. An Afghan is standing next to the line. He speaks a little English. He fled from the Taliban five years ago, he quickly got a job in a tailor shop in Turkey, but now he is headed for Sweden or Germany. He whispers that there are radicals among the younger Arabic men. I ask what he means, he smiles and walks a way.
Rimon and I follow a couple of the kids to the park. The stench is unbearable and I feel the urge to take a swim in disinfectant. A woman from Syria says that two of her children are sick, that someone has to do something about the hygiene. A man responds that it doesn't matter, that everyone in the park is here a couple of days, that this is only a transit. People come and go. Its very hard to see children suffer this way, that people should have to live in mud and live in the misery that this park has become.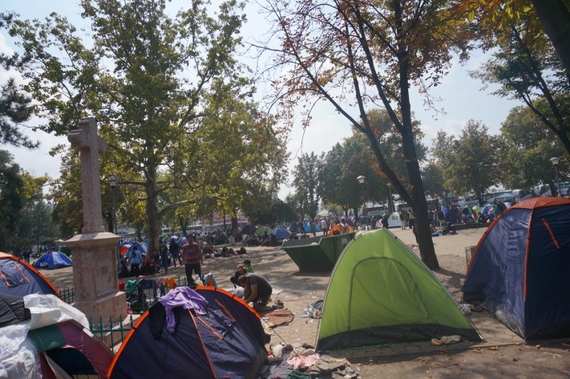 Some young people from the Serbian part of Bosnia are handing out food and beverage. After a walk in the park, we go back to the Centre. The clock has struck one o'clock and it's time for a shift change. Outside are five or six cars with Serbs from Republika Srpska, the Serbian part of Bosnia. Lejla B. writes on her Facebook page that she'll go the Centre and wonders if some of her friends would consider donating. The response was massive. She got her house and backyard filled with stuff. She wrote a new message that she needed help to sort everything she'd gotten. Immediately, her house was filled with volunteers. They are now at the Centre and tell Srba that they also got money to buy food, beverage, and hygiene items, things that are missing.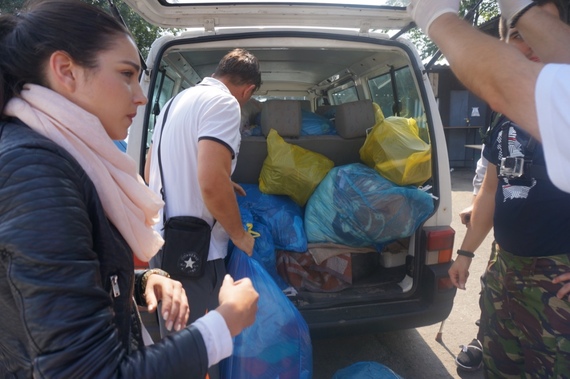 A Syrian woman asks me if I can translate. "May God bless you, and shame on the Arab countries that are not helping us".
A German and Norwegian, they wish to stay anonymous, are discussing whether they should call the people in the park and in the Centre refugees or migrants. The German says they're migrants, that many of them aren't refugees and that they're trying to exploit the situation and slip in between, just as some of the radical Islamists will do. The Norwegian becomes very upset and says that the German should be ashamed. They are friends and are watching the derby, a football match between Belgrade's two biggest teams, but first they wanted to donate some money to the needy.
REAL LIFE. REAL NEWS. REAL VOICES.
Help us tell more of the stories that matter from voices that too often remain unheard.