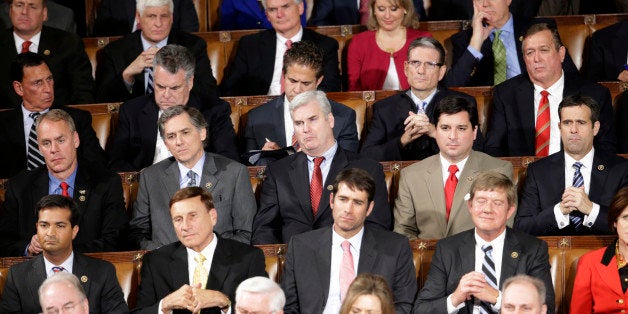 January in the year after an election is a busy time on Capitol Hill. As new members of Congress get settled in their offices and parties pick their leadership teams, political donors brave the cold to visit members of Congress they helped get elected. The start of the 114th Congress this month featured an influx of political spenders like Sheldon Adelson making their way through the halls of Congress, hoping to weigh in on this year's political priorities.
It's not quite the model of American democracy we learned about it in civics class -- the system of "one person, one vote," where everyone has an equal say. Rather, it's the Citizens United model of government, where huge corporations and wealthy special interests can spend unlimited sums to get their preferred candidates elected and then come to Washington to make sure their "investments" will pay off.
That infamous Supreme Court decision has its fifth anniversary today, just a few months after the most expensive midterm elections in our nation's history. But Citizens United didn't only set the stage for the massive rise in outside spending we've seen since then; it also reinvigorated a national movement that has made incredible advances in these five years.
Since the ruling was handed down in 2010, local organizers have successfully advocated for resolutions calling for a constitutional amendment to reverse decisions like Citizens United in sixteen states and more than 600 cities and towns. It's a campaign that has gone from the grassroots to the halls of Congress, where this September the Senate held a historic vote on one such proposal. In just five years, five million Americans have signed their name to petitions calling for a constitutional amendment to fix our democracy.
The message of these resolutions and signatures is clear: the richest and most powerful among us should not be able to buy elections. The strength of your political voice should not be dictated by how much money you have in your wallet.
And the amendment-focused work is just one piece of the puzzle. While all movements have different viewpoints about the best way to create needed change, the democracy movement is coming together in a way that is unprecedented. This month more than 130 organizations signed onto a statement of unity principles, solidifying our shared commitment to a range of approaches to tackling big money in politics, from disclosure of political spending to small donor engagement to overturning the effects of cases like Citizens United. It's the most groups ever aligned behind such a diverse set of money in politics reform measures.
Ultimately this, too, is being driven by the grassroots. Organizers across the country know that this work is not about pushing one specific piece of legislation over another, but about people working from many angles toward the end goal of taking our democracy back from the control of corporations and billionaires. While they may have the money, we have the strength in numbers.
The kind of democracy that millions of Americans are calling for is not the kind distorted by misguided Supreme Court decisions, not the kind where rich donors come to Washington at the start of a new Congress to try and set the political agenda, not the kind when corporations can fund endless attack ads and help tilt elections in favor of the candidates they want. Rather, Americans are calling for a democracy as good as the version our founders envisioned -- a democracy for all of us.
Calling all HuffPost superfans!
Sign up for membership to become a founding member and help shape HuffPost's next chapter