"Are you registered to vote?" My classmate asked quietly.
I glanced down and saw his canvassing sign: "Manikka Bowman for Cambridge School Committee."
I didn't immediately answer. My hesitation revealed I hadn't voted.
Last November, I sat in the Nation's premier policy school as a registered, inactive voter. Though I voted in past years, casting my first-ever ballot in support of President Obama's second-term, I lost enthusiasm somewhere between a state-house scandal and midterm elections, murderous hate crimes and segregated neighborhoods, mass-incarceration, police brutality, and media bias. Somewhere between gentrification, school closures, and cries for Black Lives, I lost faith in the system. I had studied its creation and watched its collapse. All the while, my lack of enthusiasm mirrored my vote's depreciation - both actual and perceived.
ACTUAL. African Americans have had the legal right to vote for only 50 of America's 240-years of existence. Not surprisingly, we're structurally disenfranchised. In 2013, the Supreme Court eviscerated the Voting Rights Act of 1965, ruling unconstitutional a key component required for its sustainability. Now, states with histories of anti-Black voter disenfranchisement are no longer required to seek federal approval of changes to electoral policy.
PERCEIVED. Not much has changed in the years following this landmark Civil Rights legislation, and judicial decisions supposedly "desegregating" schools and "outlawing" discrimination, or policy decisions geared to "invest in Black communities," have become a slight of hand. The manipulation of legislation on the Hill mirrors anti-Black sentiment on the street: college students continue to chant racial epithets and adorn Black students with nooses; mental health problems explain the impetus of white mass murderers while Black boys are turned to men and qualified as terrorists or thugs; all white juries provide no semblance of justice; and the Pew Research Center continues to confirm rising incarceration gaps between Blacks and Whites, most notably amongst women.
ACTUAL. In my home-state of Alabama, not only is a photo-ID required to vote but its typical fulfillment, a driver's license, is even harder to attain. Now the state has removed driver's license examiners from eight out of ten predominately Black counties. Sweet Home Alabama not only requires a photo ID but frustrates the ability to attain one.
What power does my vote hold in the face of these issues? How much does it weigh when its value is diluted?
In 2015, hip-hop mogul and founder of Citizen Change, Sean "Diddy" Combs, recanted his public stance that once galvanized youth voters. Despite his widely successful "Vote or Die" campaign of the 2000s, Diddy later admonished that "voting is a scam," and urged youth to recognize that the poison pills of Washington, DC were far removed from the true advancement of our communities on the ground. But his message shouldn't be misconstrued: while urging youth to be realists, he charged them to recognize that the change they seek merely begins - but does not end - with the vote. His sentiments reflect my own: that the ballot is but a means, and continued action and persistence in the face of inequity and bigotry, is undoubtedly required.
My classmate's questioning illuminated the irony in my affairs and uncovered my personal guilt. How could I critique a system that I didn't participate in? Just because my ballot- the Black ballot- was diluted generally, didn't mean that my civic engagement also had to be.
Black votes do matter - otherwise America wouldn't work so tirelessly to suppress them. But Black votes are just one piece of the puzzle, one hall of the labyrinth, and one bull in the fight. Equality requires much more than just a ballot and more work than your waiting in a poll line. Ask MLK: soon after the rights-fight to secure the Voting Rights Act 1965, he stealthily moved onto issues of economic injustice as outlined in the Poor People's Campaign.
You can't have one without the other: a vote without a fight, a march without a policy solution, a voice without action. I charge myself to do both: to cast my ballot and to continue to effectuate Black progress by other means - by any means - necessary.
When Black Lives Matter protesters demonstrate along the campaign trail it's because merely mouthing the affirmation for Black lives does little to actually sustain them. Likewise, merely casting a vote - with nothing more - completes only one step towards the salvation of society.
And casting no vote at all resounds acceptance of the status quo.
I didn't vote on November 4th, 2015, but I did today. I voted in realization that we must reclaim the system in more ways than one. I voted in knowing that without action beyond my ballot, through organized, systematic boycotts, psychological re-education, civil rights lawsuits, and grassroots mobilization, we risk a breakdown of earned progress.
Without voting, we choose to operate in our own democratic delusion. I choose not to.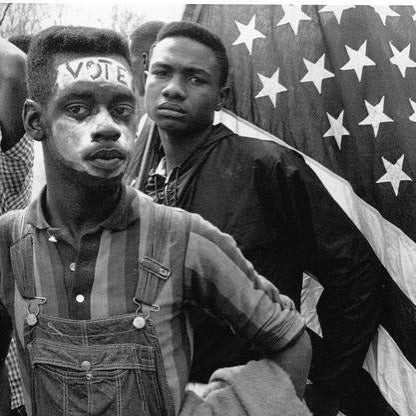 Calling all HuffPost superfans!
Sign up for membership to become a founding member and help shape HuffPost's next chapter