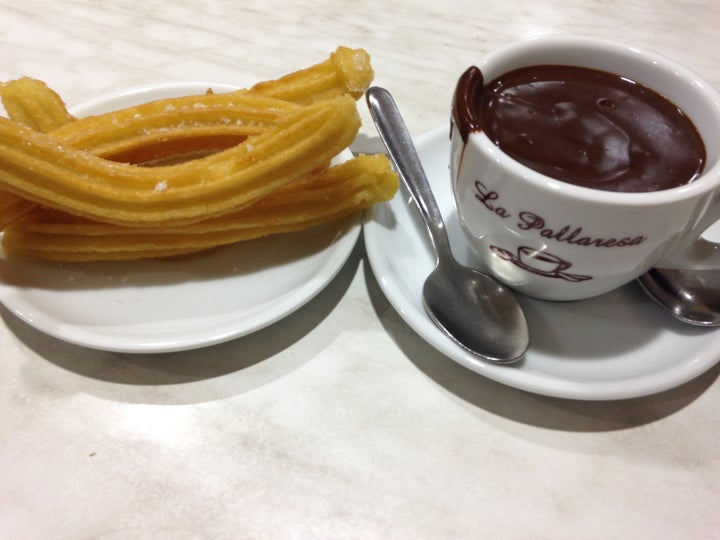 Of all Spanish desserts, there are few as beloved as a plate piled high with lightly sugar-dusted, u-shaped churros and an accompanying cup of thick chocolate. Over a recent weekend trip to Barcelona, I undertook the challenge of eating as many churros con chocolate in as many restaurants as possible – here is a sampling of the best churros in town, with a few other gems found along the way!
The most famous of Barcelona's many churrerías (in Catalonian: Xurrerias), Pallaresca has earned favorable mentions everywhere from Rick Steve's chocolate tour of Barcelona to our hotel manager's favorite spots. The first memory of any trip to Pallaresca is the smell: the rich scent of buttery churros lingering in the air. The shop itself is underwhelming: white tables, sparse decoration, and a formula dedicated to ushering patrons in and out with utmost speed. While the chocolate here has a texture more akin to a pudding and often arrives lukewarm, the churros are the perfect combination of sweet and slightly salty.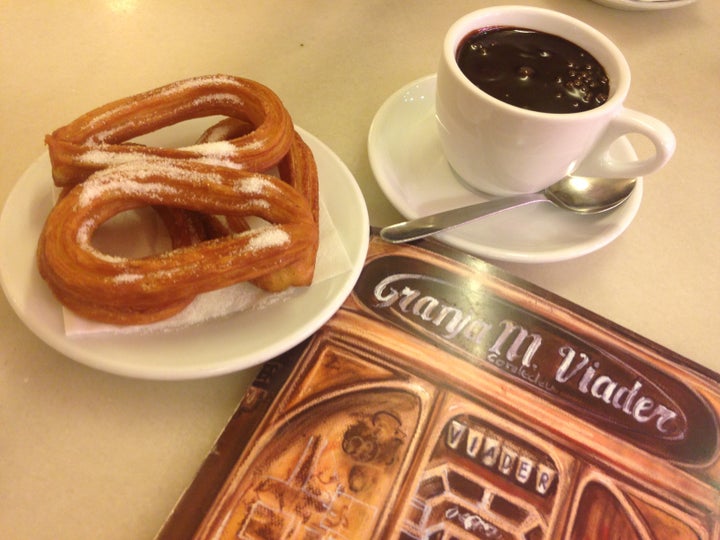 Service and history differentiate Granja Viadera from Pallaresca; the servers here are lively and quick with a joke and a laugh. Granja Viadera dates back to 1870, with origins as a dairy farm – they still sell cheeses in the front of shop. As for the churros, they are light with a fluffy center and the chocolate has a wonderful texture and is darker and richer than that of Pallaresca.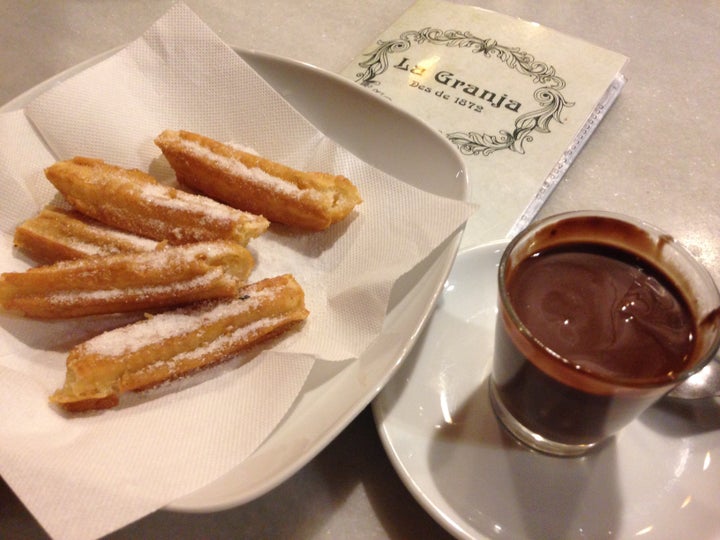 My favorite of the Churros shops, La Granja fuses a gorgeous interior (boasting "Roman walls," cozy brick, and retro décor) with warm service and the perfect churros con chocolate. We ordered the chocolate with condensed milk, which appeared fused with hints of cinnamon and a stark white layer of condensed milk at the bottom to be stirred in to the dreamy chocolate. The texture of the chocolate was less like a pudding (opposed to Granja Viadera and Pallaresca) and more that of molten chocolate; the churros were hot, perfectly light, and tasted fresh rather than fried.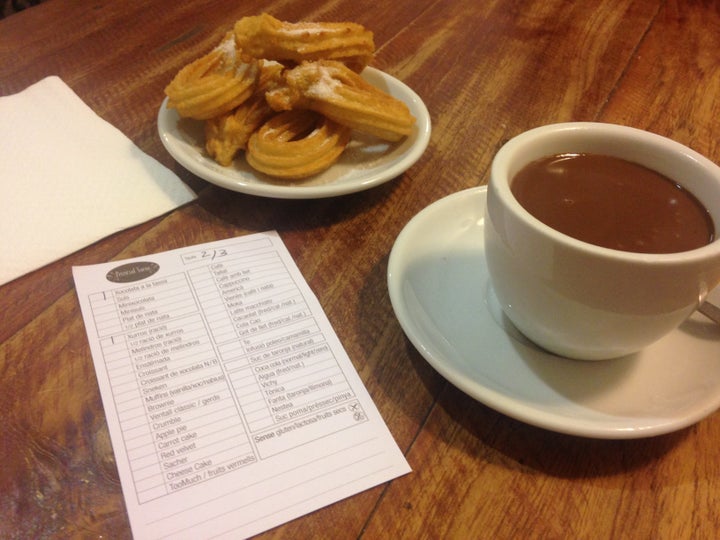 With the most lovely atmosphere and second favorite churros of our samplings, Petrixol is on the same street as Pallaresca and a world away. The front of shop features a chocolate store and in the back a café decorated in whites and creams with honey wood tables, La Vie en Rose playing softly in the background. Chocolate here is more similar to milk chocolate than the dark chocolate that is popular in the other churrerías. The churros are crisp and have the perfect balance of flavor.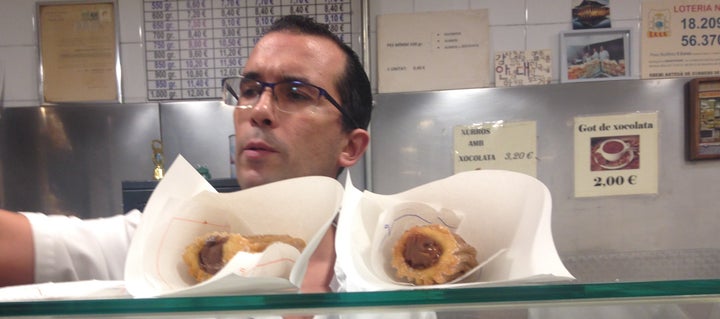 5. Xurreria de Banys Nous
The most unique of the churros, Xurreria de Banys Nous features nontraditional churros from churros coated in white or dark chocolate (served in a paper cone), churros filled with dulce de leche, and churros filled with Nutella. Of these, our favorites were the churro filled with dulce de leche and the churro coated in dark chocolate.
Cost: €2 per Stuffed Churro; cone of chocolate-coated churros cost depends on weight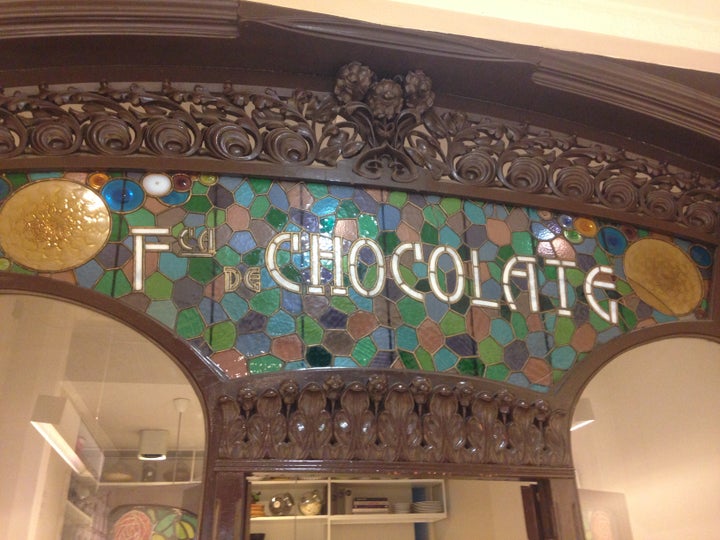 Beware! Make sure that you bring a willing chocolate lover along with you to share in this tour of chocolate! A cup of chocolate and ración de churros can easily be split between two – or even three – people.
Now, if you aren't a fan of churros – or are "churro-ed out" by the end of this tour, but still craving something sweet, check out these spots found along the way.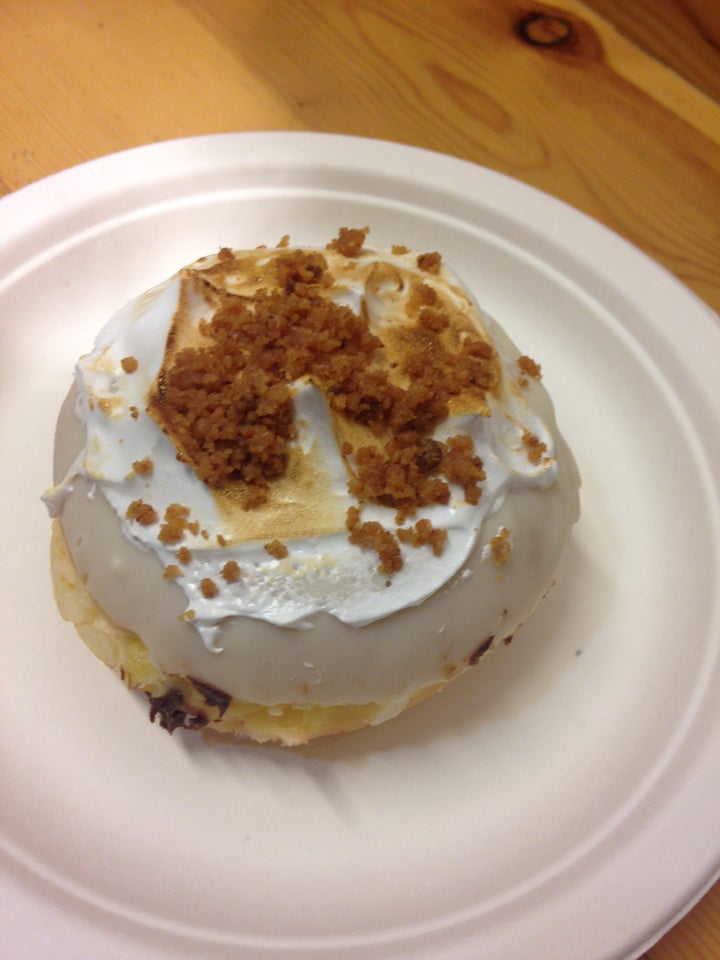 With the most diverse offering of donut-based desserts I have seen (including Berliners, cronuts, filled cupcakes, donut holes and for the traditionalists – donuts coated in chocolate), Chök is a Brazilian-Catalan company with several locations in Barcelona. Stop in for their unique combinations from Cassis or Lemon Meringue Berliners to Nutella Donut Holes.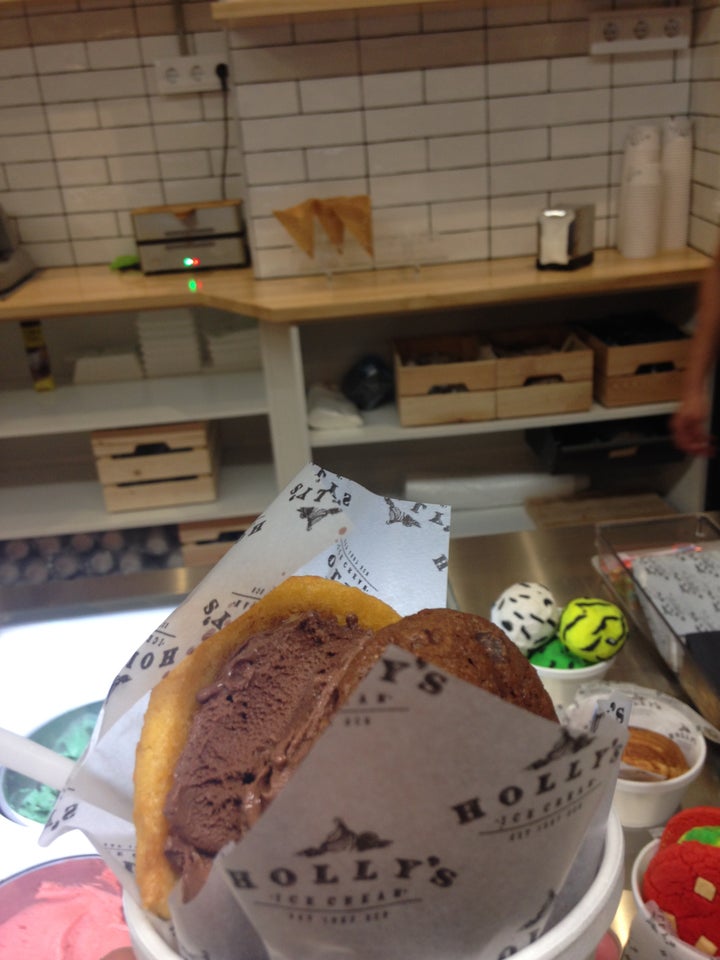 If you are craving an ice cream sandwich, there is no better place to visit than Holly's. With "American-style" cookies and an assortment of ice cream flavors, you can create your own ice cream sandwich with two different types of cookies and your choice of ice cream.
When you are inevitably suffering from a sugar hangover, make your way to Petit Brot ("Little Sprout"), an organic and vegan juice shop. Continue your chocolate spree with a Cacao Dream smoothie (cacao, hemp, water, and banana are the basics of this smoothie) or branch out with an Iron Liver Juice (featuring beet, ginger, and more). Also be sure to sample their raw, vegan dessert treats.
What are your favorite dessert spots in Barcelona? Let me know in the comments!
Popular in the Community