The words "destination wedding" don't have to mean that all of your guests must fly someplace tropical in order for you to have a total getaway for your wedding weekend. It simply means that you are all going to a specific destination that is not your home, or your parents' hometown, to get married. Whether it's near or far, it should give you and your guests the feeling of being away and someplace very, very special.
Lots of brides and grooms choose destination weddings far, far away because they want to limit their guest list severely. A hometown wedding can mean literally hundreds of guests, and for budgetary (or sanity reasons), they don't want to go there. Choosing a destination wedding means A) You can get away with inviting fewer guests, and B) Fewer guests will actually attend.
While destination weddings have grown in popularity, not all brides and grooms feel comfortable asking their friends and family to shell out what amounts to literally thousands of dollars in travel and accommodations expenses to join them for their big day. But don't worry, there's a compromise to be had.
You don't actually have to travel thousands of miles to have a destination wedding. There are many beautiful destinations to consider within driving distance of wherever you live.
I was recently challenged to find the perfect wedding venue for clients of my new company, Sandy Malone Weddings & Events, who want a destination wedding feel without forcing everybody who loves them to pay exorbitant airfare, I began my research. I'd like to make it clear that neither of the properties I've reviewed in this blog paid me anything to write about them. There was no consideration of any kind given - my review is unbiased and legit. It's the only way my clients trust me to help them choose destination wedding venues. I have a tendency to be brutally honest.
My challenge was to find a destination wedding venue within a "reasonable" driving distance of the DC-Metro area (less than two hours was ideal, but I made no promises) that didn't feel like anyplace actually IN the DC-area. They wanted a remote feel, but they didn't want to spare any of their guests the basic hotel luxuries they might prefer to have. The bride told me her worst-ever wedding experience was having to stay at a pre-designated hotel (generous term for it, based on her description) for a wedding in August with no air conditioning. It was hot and she was miserable. So while they wanted to make sure that their friends on a budget could afford to attend, they also didn't want to offer bare bones accommodations. No cabins in the woods for this couple.
With the caveat that there had to be "affordable" hotel options for a variety of price-point guests, I immediately eliminated a number of the go-to spots I would normally think of if somebody asked me where to get married within driving distance of Washington, DC. There are plenty of gorgeous destinations within driving distance of our Nation's Capital, but most of them are pricey!
After a lot of research, I set out to visit the two spots I targeted for this particular couple. One was an hour and a half north of DC, and one was an hour and a half west of DC. The first was located on the water and the second was located in the mountains. It seemed like the perfect combination of options.
I fell IN LOVE with The Winery at Elk Manor on my first visit. The venue is relatively new and their first wine harvest isn't due til next year (which means there are no pricey wine purchasing obligations), but it's located on the Elk River where it meets with the Bohemia River, the Chesapeake Bay and the Delaware Canal. It's got a water view for miles and I swear to God, when I looked at their "beach" wedding venue, I felt like I was someplace very far away from reality despite the fact I'd made the drive there fairly quickly. The vibe is a cross between the Hamptons and Nantucket.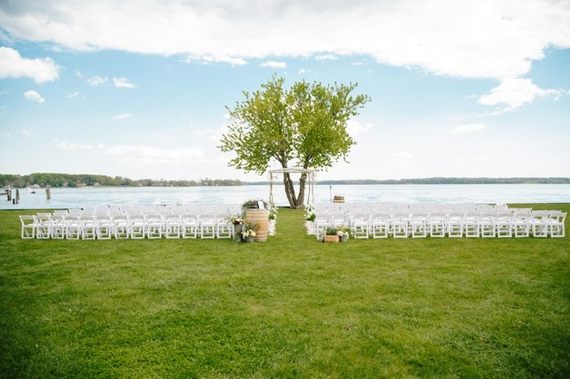 The Winery at Elk Manor has four different kinds of wedding venues to choose from, from the beach that blew my mind to the gorgeous Manor House for which the property is named. While they prefer to have their clients use a wedding planner, they do offer some organizational services and plenty of vendor recommendations to their brides and grooms. I actually knew about this new winery through my reality TV connections from my own show "Wedding Island" on TLC. The owner was one of the first luxury yacht guests on BravoTV's "Below Deck," and he's still part of that production as far booking yachts for the show goes. You just never know who you'll meet in the Underground Reality TV Survivors Club, right? But I digress.
The Elk Manor property also offers absolutely breathtaking venue space in lush green fields with their own tents available on site, pre-lit, a huge plus that saves brides and grooms a ton of money. The barn venue will be completed soon and makes a lovely reception option for those who don't want a wedding under the big tent during the winter months, but still love the atmosphere and location of the venue. After seeing year-round pictures of the location, I would feel completely safe recommending this to winter brides and grooms.
Because of the variety of different types of venue space, all at the same location, you can have destination wedding events all weekend in different venues without having to repeat anything. And each specific venue on the property has its own space and parking area so if there's another event happening on the property at the same time, your group would never know it. It would be easy to welcome guests with a cocktail party at the Manor House the first night, or treat them to a rehearsal dinner barbecue and bonfire by the beach. A reception under the big tent or in the barn wouldn't even resemble the first day's events.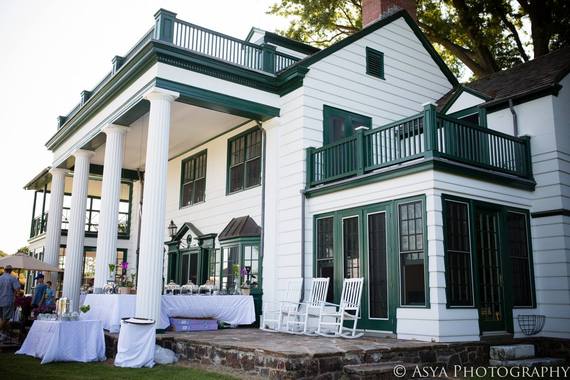 While the majority of guests will probably opt to stay in a reasonably-priced hotel nearby, they also have the option of staying someplace posh because Baltimore is only a hop, skip and a jump away, despite the fact that the Elk Manor venue itself leads you to believe you're nowhere near civilization. The wedding party can stay offsite, but they also have the option of staying at the winery in the accommodations at the Manor House and Beach House.
The fact that the venue ENCOURAGES its clients to use an outside wedding planner is a good sign to me. I don't believe you can be everything to everyone. Meaning you're either a fabulous wedding planner, venue, or caterer, but you can't be all three things. Elk Manor does its best to assist clients who have no planner but they strongly recommend brides and grooms work with a professional to coordinate their event.
Having seen this venue and fallen totally in love with it, I headed northwest to Berkeley Springs, West Virginia, to investigate something completely different so that I would provide options for my clients to choose between for their wedding. Although I'd never visited the town myself, I'd heard amazing things about their spas and positive reviews about destination weddings held in the area. I promised my clients I'd give them more than one option. And while the spa scene at Berkeley Springs would be my personal heaven, I had to see if they were equipped to handle a wedding for my clients.
I made our reservations at the only hotel that really caught my attention when I was doing my homework, The Country Inn at Berkeley Springs. And while, generally speaking, the words "country inn" don't inspire me to think fabulous destination wedding, this amazing little hotel in its unlikely surroundings might be just the place for some clients.
The hotel itself is a tinier version of The Homestead Resort in Hot Springs, Virginia. I honeymooned there and enjoyed its enormous, posh atmosphere every moment of my trip. But for a wedding, it's probably more than many couples can afford. Or rather, more than their guests can afford. The Country Inn at Berkeley Spring doesn't pretend to be anything it's not. While they don't carry the same endorsement from Thomas Jefferson as the hot springs at The Homestead, they are located literally next door to the famous warm springs that attracted George Washington and in the town initially known as "Bath" because of the famously healing springs.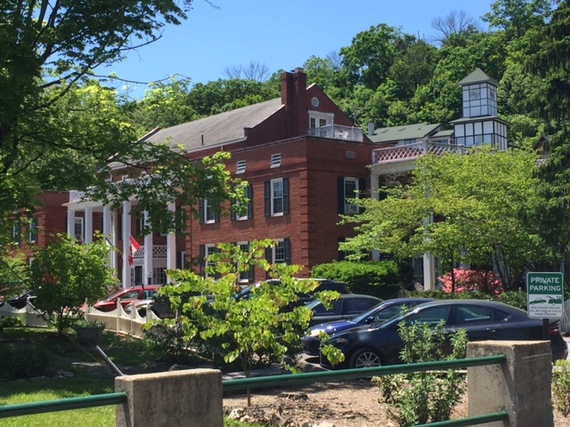 The rooms in the old building were beautiful and full of antiques and reproductions. The hotel can easily hold a couple hundred wedding guests (there are newer building on the property equipped with elevators and handicapped accessible rooms), and the full-service Renaissance Spa located high up on the property offers mineral baths with a view of the mountains and panoramic scenes from the pedicure chairs, too. The staff was incredibly friendly - there's a very southern attitude at this particular spot - and I'll confess to spending my birthday getting spoiled rotten there.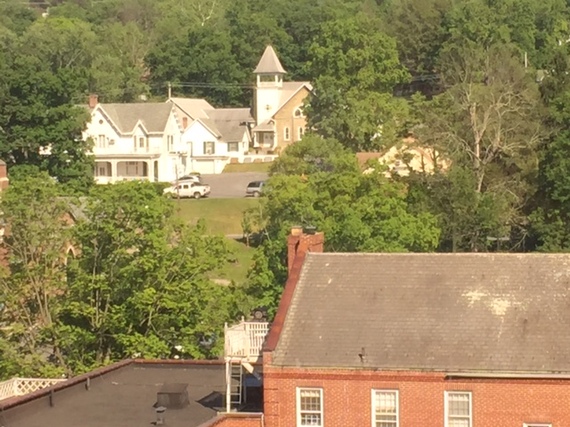 The reception space at The Country Inn is decidedly "Dirty Dancing" in its layout and décor, but it leaves a lot of room for imagination in your décor. They also have a library and gorgeous outside garden for smaller events such as welcome gatherings and cocktail parties. They're constantly updating and changing things (the hotel is under new ownership) but the good news is that if the actual venue doesn't suit your taste, there are A LOT of other options nearby, including some fantastic restaurants and a castle.
Yes, I said there's a CASTLE in Berkeley Springs, and it's located just above The Country Inn. Its history is interesting and for many years it was available as a wedding and reception venue. Although it's on the National Register of Historic Places, its management is dubious right now and I haven't heard back on my request for information about its availability yet. With that said, it's cool enough to do the digging necessary to find the right people to get you access and permission. If you're not that motivated, the beautiful park next door to the hotel, adjacent to the original warm spring's park facilities, is lovely and can be reserved for ceremonies.
The town of Berkeley Springs is adorable and offers at least three more really high-end spas. I visited the Atasia Spa on a friend's recommendation and was favorably impressed. Doing research for other clients who want to do a "spa-themed" wedding was easy someplace known for its pampering facilities. And the prices were ridiculously affordable. An entire day at the Atasia Spa or in The Country Inn's Renaissance Spa is less than the cost of a few hours at Elizabeth Arden, and I assure you it's much, much more satisfying. And this is from a dedicated member of the Red Door fan club.
I'm taking everything I've gathered back to my clients and I feel certain they'll pick one venue or the other, although I honestly can't guess which it will be. They're both cool, they're both affordable, they're both within a reasonable driving distance of their hometown, and they're vastly different. If they don't fall in love with anything, I'll go back to the drawing board until they're happy with what I show them. But I have a feeling this mission is complete and I met the challenge.
Until next time, happy wedding planning from Weddings in Vieques and Sandy Malone Weddings & Events!