As it is said, "there is no rest for the weary."
That certainly is true for the tireless and committed volunteers of the Red Cross, as ongoing natural -- and manmade -- disasters across the country continue to carve a devastating path of destruction and damage across many states.
Since the year started, the Red Cross has responded to destructive floods and tornadoes in Texas, the water crisis in Flint, Michigan, and torrential rains and flooding in Missouri, Louisiana, and Mississippi -- breaking records that have stood since the late 1800s. Over the last month, we provided relief when tornadoes and storms struck Florida, Louisiana and Virginia, and stepped in to help after large fires destroyed homes in Georgia, Ohio and Wisconsin. Last week, we witnessed wildfires and blizzards in the Midwest, and just a few days ago, tornadoes in Oklahoma, Mississippi, and Alabama.
It's important for us to remember: behind every one of these weather events are people -- thousands of people -- whose lives have been completely turned upside down in minutes, most without warning.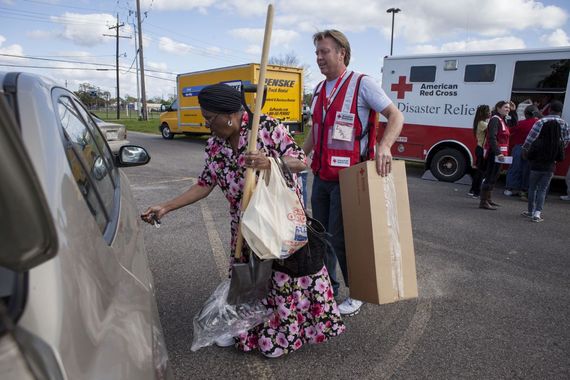 75 year old Maybel Bordelon from Orange Texas comes to the Red Cross resource center to get much needed cleaning supplies. "Everyone here is so friendly and kind. Everyone is town is talking about the help that Red Cross is providing. We are so thankful you are here." Photo by Danuta Otfinowski/American Red Cross
As I write this, nearly 1,000 Red Cross volunteers are assisting thousands of families who have been affected by widespread flooding across Louisiana, Mississippi and -- once again -- Texas. So severe is this flooding that some areas have only become accessible in the last few days, which means we're still sheltering evacuees and conducting damage assessments on the first day of April for storms that began in early March -- a highly unusual occurrence, to say the least.

Notwithstanding two Presidential disaster declarations, the national media has paid little attention to these disasters -- so one might think there's not much of a story here.
By our best estimates, these most recent storms and floods destroyed or caused major damage to more than 9,200 homes in 3 states. Imagine how just one family might struggle if they were barely getting by before these storms hit, only to have their home destroyed by a massive flood. Now, multiply that one family by 9,200.
If that's not a devastating fact, I don't know what is.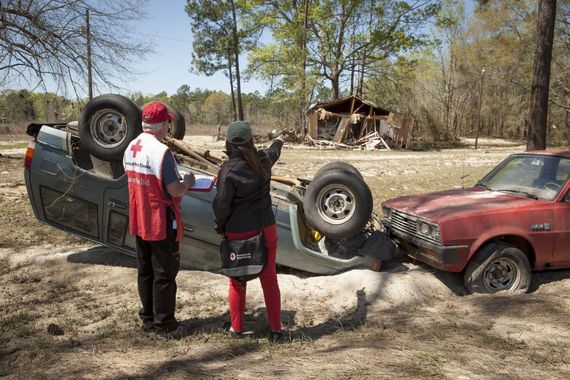 Red Cross Disaster Assessment volunteers begin to survey some of the hardest hit areas outside Burkeville Texas. With road closures still in effect, many residents have yet to see how their homes have been impacted. The family living in this property only had an hour to gather their belongings before nearly 8 feet of water flooded their home. Photo by Danuta Otfinowski/American Red Cross
Amazingly, the Red Cross has already responded to three times as many large disasters in 2016 as compared to the same period in the previous three years combined. And these are just the biggest responses.
More families than ever are depending on our steadfast support. So far this year, the Red Cross has opened more than 5,600 cases for impacted families of these large disasters -- providing one-on-one assistance to help people get themselves back on the road to recovery.
Through the extraordinary efforts of thousands of compassionate disaster workers over these past three months -- most of them volunteers and some that have deployed to multiple disasters -- the Red Cross has opened or supported 71 shelters providing more than 6,100 overnight stays and delivered 390,000 meals and snacks for these six large disasters.
Our dedicated supporters power this work, equipping the American Red Cross with critical supplies, infrastructure and volunteer training so we can bring help and hope to individuals and families facing their darkest hours.
Affected communities across the South and in other parts of our nation face a long and difficult road to recovery, but they won't face it alone. The Red Cross will stand by them with comfort and care, thanks to the generosity of our donors, volunteers, and partners.
I often say that I have the best job in the world -- because I genuinely believe there is no greater reward than helping those who need it most -- alongside our incredible team of 330,000 volunteers and staff, every single day, across the country.
Related
Popular in the Community