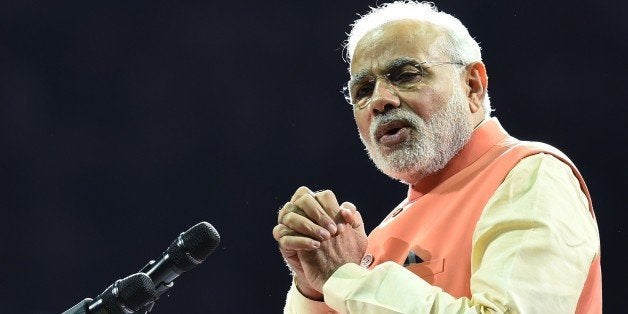 By Mario Molina, V. Ramanathan and Durwood Zaelke

During his first official visit to the United States this week, India's popular Prime Minister, Narendra Modi, will meet with President Obama, as well as with CEOs of top U.S. corporations, to encourage investment to support India's development goals, which include providing renewable energy for the 400 million citizens who lack access today.
Mr. Obama can help Mr. Modi achieve his development goals by providing a package of energy measures, including assistance to improve the efficiency of India's air conditioning sector, which can use up to half of the available electricity during the sub-continent's hottest months. At the same time, the Prime Minister can help the President with one of his signature climate priorities by supporting the phase down of refrigerants know as hydrofluorocarbons, or HFCs, under the Montreal Protocol. HFCs are super greenhouse gases, and the fastest growing climate pollutants in many countries.
Mr. Modi's economic agenda would benefit from using the Montreal Protocol to phase down HFCs, which belong to the family of chemicals called halocarbons. As Mr. Obama noted at the UN Climate Summit in New York last week, more than 100 countries support phasing down production and consumption of HFCs under the Montreal Protocol. During the Summit, the Montreal Protocol was hailed by The Economist magazine as the world's best climate treaty since it has almost completely eliminated other halocarbons know as chlorofluorocarbons, or CFCs, whose potent greenhouse effect was discovered in 1975.
Under the Montreal Protocol, India and other developing countries would begin their HFC phase down several years after the developed countries, and then would gradually reduce their HFC production and consumption over several decades. The accounting and reporting of HFC emissions would stay with the UN climate treaty. The developed countries are always required to go first, to ensure that the substitutes work and are priced competitively. Climate-friendly HFC substitutes exist for most sectors already, and more are on the way. Some are cheap, others are currently expensive, but the incremental costs of moving to the climate-friendly substitutes are met largely by the treaty's dedicated funding mechanism, which has already paid about three billion dollars to phase out CFCs and other damaging chemicals.
The Montreal Protocol's expertise and its funding would allow India's companies to modernize during the phase down. Markets in other countries are already modernizing, as HFCs are shunned. In Europe, for example, a new law will phase down HFCs by 80 percent by 2030. In the U.S., Mr. Obama also is using his regulatory authority to shift away from HFCs, and is promising to do even more.
Perhaps even more compelling for Mr. Modi is the opportunity to use the Montreal Protocol to improve the energy efficiency of the air conditioners, refrigerators, and other appliances that use refrigerants. Past Montreal Protocol phase-outs have catalyzed significant improvements in energy efficiency. Because India now uses so much electricity to run air conditioners, and because air conditioner sales are growing so fast, the savings from improved efficiency would be large. A recent study by the Lawrence Berkeley National Laboratory calculates that super efficient air conditioning in India could avoid the need to build up to 120 medium-sized power plants by 2030. This would save 60 billion dollars just in construction costs. It also would save Indian consumers and businesses money, and take pressure off the electric grid, while avoiding significant carbon dioxide and other pollution.
By joining the consensus to phase down HFCs under the Montreal Protocol -- something President Xi of China has already promised President Obama he will do -- Prime Minister Modi will partner with President Obama to achieve one of his climate priorities. Together, these three world leaders can ensure the biggest, fastest, cheapest, and most secure piece of climate mitigation available to the world in the near term. The climate benefits would be equivalent to mitigating 100 billion tons of carbon dioxide emissions, and maybe even double this if the world moves fast enough. This would slow global warming by two to four years of climate emissions, a big prize indeed.
Success with the Montreal Protocol in the next year also will build momentum for success with a broader UN climate treaty in December 2015 in Paris, to take effect in 2020. As The Economist noted last week, the road to Paris goes through Montreal. The journey will be most rewarding for the world if Prime Minister Modi, President Xi, and President Obama -- a troika of climate warriors -- travel it together to fight climate change.
Mario Molina, who shared the Nobel Prize in Chemistry in 1995 for his work on chlorofluorocarbons in the atmosphere, teaches at the University of California, San Diego.
Veerabhadran Ramanathan, distinguished professor of atmospheric sciences at the University of California, San Diego, discovered the greenhouse effect of chlorofluorocarbons in 1975.
Durwood J. Zaelke is the founder and President of the Institute for Governance & Sustainable Development, and co-directs a related program at UC Santa Barbara.
Related