I suppose when you've spent almost three decades of your life working on, examining and thinking about the issue of hunger you can become subsumed by the very notion of it. I'm not judging if that's a good thing or a bad thing. I'm just stating what has become obvious: it's a part of my everyday life. But for three years now I've had the immense opportunity and honor to be invited by the U.S. State Department to go to Foggy Bottom and address groups of future world leaders during their State Department-sponsored academic exchange visit to the U.S. for several weeks. For the past two years I have spoken to young women who were selected from their respective countries to study within the US for about 5 weeks to improve their understanding of the United States' institutions and to develop their leadership skills. I met some amazing young women who were deeply moved by their time in the US and learned a great deal during their time here. I am still in contact via email and Facebook with several of these astounding women.
Last week I was honored once again to have been asked to address another group of future leaders. This academic program was different, however. This one was called the Young Southeast Asian Leaders Institute. These emerging leaders were selected from among all ASEAN countries – Brunei, Myanmar, Cambodia, Indonesia, Laos, Malaysia, the Philippines, Singapore, Thailand and Vietnam. This exchange initiative is coed.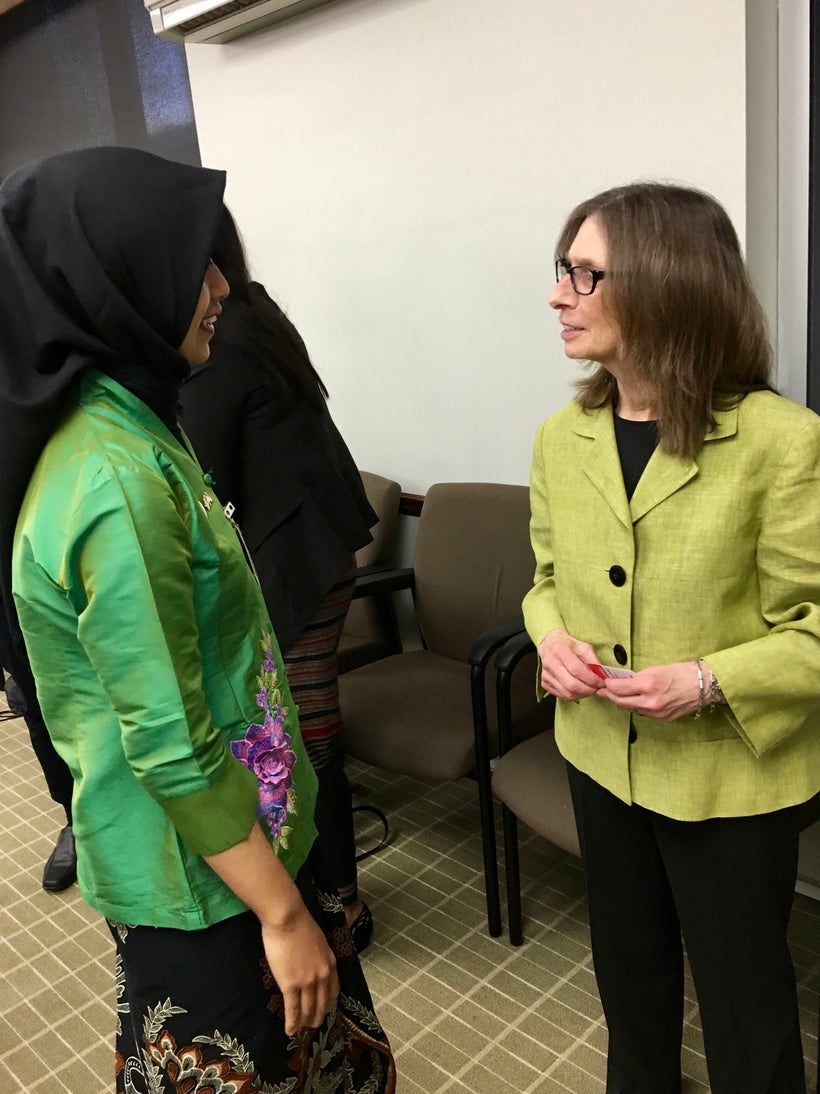 The astounding group of young women and men spent five weeks in the US studying at Arizona State University and traveled to Phoenix, Los Angeles, San Diego, San Francisco and, to their huge delight were able to visit the Grand Canyon.
I was surprised to find out that 65% of the population in the ASEAN region is under the age of 35. That means that these 400 million youth are the future of the Asia Pacific region for many years to come.
I was there to listen to their presentations of the tremendous things they are going to do with their learnings when they get home. Their respective countries will be enhanced by their creativity, capacity to make a difference, and their willingness to work on behalf of the citizens of their nations.
They are committed to work on projects in their home country to: help people with disabilities, end domestic violence (with an amazing story told by a young woman who has started a nonprofit to aid victims of abuse in her country. She cried as she related her own story of the domestic violence she had endured), and a young man talked of working to end poverty in his community back home.
Many things stood out to me during my half-day with these remarkable young people. First is the commitment that our State Department employees have for these vital kinds of exchange programs. If we are to truly foster peace and understanding throughout the world, we must begin to work with the world's youth and allow for a meaningful dialogue between nations. The Bureau of Educational and Cultural Affairs at State is to be commended for promoting these exchange programs and enabling us to help foster peace.
My second enormous takeaway is about hunger --- but a different kind of hunger. This was the overwhelming hunger to learn. These young people are the cream of the crop in their countries and they traveled thousands of miles away from their families, their communities, their schools, their jobs and their friends to learn and engage with others about how they can make a difference in their nation and in the world. Their hunger to do good in the world leaves me confident to know that it is the children who truly shall lead us all.
REAL LIFE. REAL NEWS. REAL VOICES.
Help us tell more of the stories that matter from voices that too often remain unheard.
This post was published on the now-closed HuffPost Contributor platform. Contributors control their own work and posted freely to our site. If you need to flag this entry as abusive,
send us an email
.