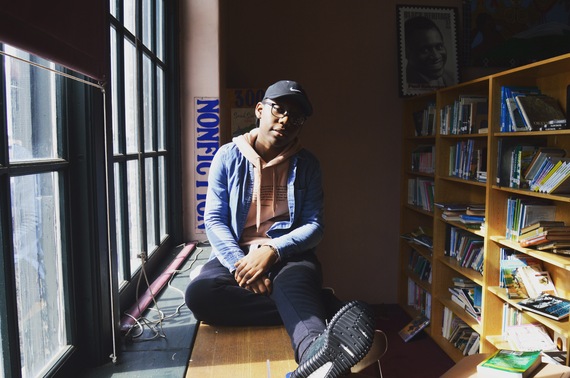 I was born in Trinidad and began my life in America at the age of two. Like many families, my parents came to New York seeking the American Dream and a better future for me and my sisters. After our arrival, my family moved around a bit until we finally settled in a part of Brooklyn we could afford.
After briefly attending a neighborhood public school, my parents transferred me to St. Rita, a Catholic middle school, hoping to get me away from the violence and disarray of my surroundings.
Growing up in a religious household, the strict atmosphere of St. Rita was nothing new. Back home in Trinidad, discipline and religion went hand in hand, and my parents made sure to bring along those principles with them, to raise me with respect, determination and will--which I applied to every aspect of my life and for which I will forever be thankful.
My parents are the perfect balance between lenient and strict, so I always knew what was expected of me, not so much from my parents, but from myself. During my time at St. Rita, I had a great academic track record, often being awarded principal's list and honors.
Since my parents were unable to afford tuition for high school, even with scholarships, I applied to public schools in eighth grade. Finally, after the second round of admissions results, I enrolled at P-TECH in September of 2011. P-TECH has been a life-changing experience for me. Looking back, I did not fully understand the weight of the opportunity I was given.
Connecting the Dots to the Real World
For those who don't know, P-TECH - Pathways in Technology Early College High School - is a six-year program that "integrates high school, college and workplace learning." Graduates finish with a high school diploma, an associate's degree (at no cost) and workplace experience in the form of an internship at IBM.
When I first began P-TECH, it did not really dawn on me that I had become a college student; I thought it was just another school where I would work hard. The transition from high school to college in the midst of the program, however, expanded and stretched my academic skills in ways I never imagined.
I learned to manage my time carefully, balance my coursework and become more responsible as a student. Nicknamed "Logistics," I coached my peers in goal-setting and multi-tasking. Most of all, I learned to dream big.
My internship experience at IBM, my mentors and the workplace skills that I honed in class helped me connect the dots to the real world.
As part of my internship at IBM, I applied my coding knowledge to help run and maintain the school's website. Having shied away from attention before coming to P-TECH, I discovered how to be bold and never doubt myself. I served as class president for two years and learned to seize new opportunities, conquer my fears and take on leadership roles.
Along the way, school faculty and many of the school's partners from IBM offered support, guidance and encouragement. I confided in my two key supporters -- Carline Folkes, the school's founding college liaison, and my IBM mentor Emily Peyton -- about my future plans to become a sneaker mogul and tech entrepreneur. They gave me this advice: "Don't just say something. Do it." Both encouraged me to take the steps necessary to begin fulfilling my dreams.
I'm now 18. Having accepted a full-time job offer from IBM, I plan to balance school and work. In the near future, I intend to get my bachelor's degree from either Baruch or NYU, then a master's at Columbia University.
I hope that future P-TECH students make the most out of the incredible opportunities this school provides -- not only with a free tech college degree, but with the relationships, workplace skills and experience they offer. I hope students realize how much this program opens future possibilities and doors they could never have imagined.
Janiel Richards, 18, is the oldest of four siblings and recently graduated from P-Tech in Crown Heights, Brooklyn, where she earned both her high school diploma and her Associate in Applied Science degree in computer information systems from the New York City College of Technology. There are now 60 P-TECH schools and 200 industry partners.
Calling all HuffPost superfans!
Sign up for membership to become a founding member and help shape HuffPost's next chapter