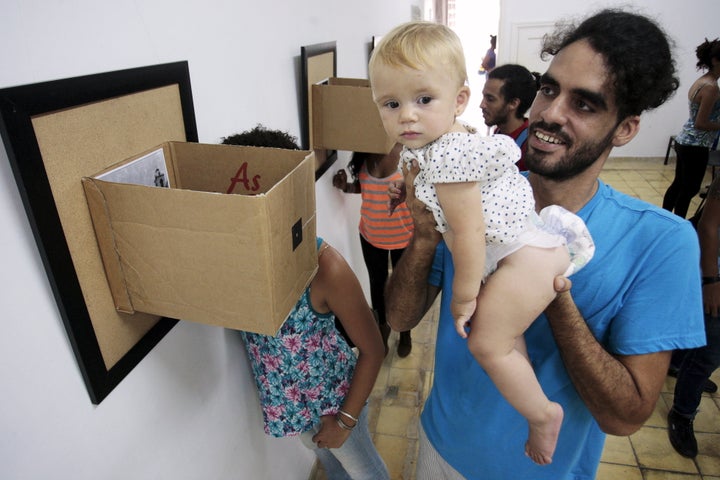 On the night Fidel Castro died, Danilo Maldonado Machado went for a walk in downtown Havana. The streets were peaceful; most residents of the city were asleep or at home listening to the news. Maldonado took out his smartphone and starting recording a video of himself.
"Here we are on [Avenue] 23," he laughed, leaning against a street sign. "El año que se murió la yegua."
This last sentence is a little awkward to translate; literally it means "the year the mare died." Yegua, or "mare", is a fairly strong insult in Spanish, which is to say it's not the type of thing the average politically-conscious Cuban would be calling the recently-deceased Comandante during a time of official national mourning.
"El año que se murió la yegua!" Maldonado repeated, to uncomfortable looks from passersby. He was jubilant, yet disappointed at the tepid reaction to the president's death. "Unfortunately," he told me later, "The number of people I would have liked to see shouting 'freedom!' in the streets didn't turn out." As he passed by the Hotel Tryp Habana Libre, Maldonado had a sudden inspiration.
The building, one of the tallest and most prominent in the Havana skyline, has an unusual history. It was originally the Havana Hilton; after Fidel Castro's triumphant entry into Havana in 1959, he made it his headquarters. It was later nationalized, and in the early years of the revolution it housed a temporary Soviet embassy. Seized by the moment, Machado pulled out a can of spray paint and on the wall of the Habana Libre he wrote the words "se fue" ― roughly, "he's gone". Then he uploaded the video to Facebook.
"My friends sometimes think that I knew I was going to end up in prison," he told me. "But the truth is I imagined there'd be a party in the streets, celebrating freedom." Just a few hours later, state security was outside his door.
Maldonado, better known by his artistic alias El Sexto, has become one of Cuba's most prominent political dissidents in recent years, notorious for his anti-government artwork. His arrest late last year was just the latest of many; he was detained in the run-up to president Obama's 2016 diplomatic visit, and in 2014 for a scheme that involved painting the names "Raúl" and "Fidel" on a pair of pigs and releasing them in the streets, an homage to George Orwell's anti-totalitarian novel Animal Farm. "10 months in prison, that cost me." he recalls. "I got out thanks to a ton of people who helped make sure people found out about it on social media: Amnesty International, The Foundation for Human Rights in Cuba."
A sketch by El Sexto, made in 2015 in the Valle Grande Prison
In the year since his most recent arrest made international headlines, Maldonado has been traveling outside of Cuba, promoting his art, speaking to audiences in various countries. In the aftermath of Castro's death, many predicted a thaw in the Cuban government's attitude toward political dissent. Instead, recent weeks have seen the detention of several prominent artists and activists on the island. "Robert Jiménez and César Mendoza are friends of mine," says Maldonado, referring to two activists recently arrested in Cuba. "They're human rights activists, but that's dangerous… because the dictatorship prefers silence on the part of the people."
Cuba's 1976 constitution guarantees freedom of speech, with the caveat that such speech must be "in keeping with the objectives of socialist society". In practice, that means that dissidents like Maldonado live in perpetual fear of a visit from state security. In another recent case, the artist Luis Manuel Otero Alcántara was arrested for illegal possession of construction materials. At the time, Otero was planning an independent artistic exhibition ― that is, one without government approval. The Cuban blogger Yoani Sánchez described the police action as a pretext to force him into an "endless legal process." She says the government's goal in such cases is twofold: to discourage and isolate dissidents, and to make them consider whether leaving the country might be their best long-term option. Call it self-deportation, Cuban-style.
Now, on the anniversary of Castro's death, Maldonado and the dissident community see little cause for celebration. "The political environment on the island remains the same," he told me by email. "I would even say it's worse: total uncertainty." In just a few months time, Fidel's brother Raúl, who assumed the presidency in 2008, is slated to step aside, making way for an as-yet unknown successor. Details on the political process are not forthcoming. "There haven't been candidates, or campaigns to show political proposals," says Maldonado. "Everything seems to indicate that the next person in charge will come to power the same way as the current dictator, by inheritance, like in a monarchy. Maybe [Raúl's] daughter Mariela Espín will be the next president." Cuba observers generally agree that the most likely president-in-waiting is the current Vice President, Miguel Díaz-Canel. His record gives little indication that he might be a reformer; in a leaked video published to youtube in August by the Cuban dissident Antonio Rodiles, Díaz-Canel discussed plans for further crackdowns on "counter-revolutionaries": specifically, independent media and political opposition.
Shortly after Maldonado's release from prison in January, I reached him by Skype. I asked him why, in the case of his graffiti celebrating Castro's death, he felt the need to combine art with vandalism. Why not express your political views without defacing public property? Maldonado scoffed at the very premise. "I don't think it's vandalism to paint on the walls in Cuba, where every wall belongs to the state," he told me. "If they have the right to those walls, don't I as well? Aren't we all the 'state'? Or is there some owner in particular? Once you put it that way, you can recognize clearly that it's the dictator who owns every wall in Cuba."
Maldonado traces his artistic and political thinking back to an interaction with his mother when he was only 9 years old. "I did a drawing of Fidel Castro, and I put a monkey head on him," he remembers. His mother saw it and was horrified. "And she told me that you can't do that and made me erase it." His mother's panic at a simple drawing puzzled young Danilo. "And from that moment I started to think." Years later, he would become a street artist under the alias El Sexto. The name itself was a finger in the eye to the authorities; at the time, a team of Cuban espionage agents known as "The Cuban Five" were imprisoned in the U.S., and the government was busy lionizing them in official propaganda. So Danilo styled himself El Sexto, "The Sixth". If the "Five" were the ideal of revolutionary zeal, then the sixth was just a regular guy. "El Sexto was a representation of the people… a kid, an old person, anyone," explains Maldonado. "So that's what the story of El Sexto was based on." He started painting all over Havana.
After just over a year, the police finally caught up with El Sexto. "I was 26 or 27," he recalls, "and they arrested me as I was leaving my house." Danilo was "disappeared" for 4 days, exactly where to he wasn't sure. Yet losing his anonymity had an upside; once the dissident community realized that he was behind the mysterious anti-government graffitis that had been popping up around the city, they were eager to meet him. "When I got out, they were all waiting at my house," he says. It was then that he met Yoani Sánchez (the blogger mentioned earlier), and Gorki Águila, leader of the anti-Castro punk band Porno Para Ricardo. "I knew Gorki's songs, and I had heard about Yoani on TV and even met her once; but to emerge from prison and see them waiting for you is something else!"
Maldonado with blogger Yoani Sánchez
In the years that followed, Maldonado began to cultivate his image online and internationally, through interviews and an active social media presence. He realized that this could be a strategy for protecting himself from the state; in modern Cuba, the government sometimes treads lightly with its most famous or visible dissidents, fearful of international condemnation. "You can see that in the case of my friend and mentor Yoani Sánchez," says Maldonado. "If not for this protection, I wouldn't even be free to respond to your questions... but this doesn't mean that I'm not vulnerable in a dictatorship like this one." Nor is state retaliation against Maldonado himself the only risk he runs; his 18 year-old younger brother, who recently graduated from studying mechanics, was expelled from a job this month. Maldonado claims the decision was purely political. "Just for being my brother," he says.
"I have to return [to Cuba] in the next two months and no one knows what will happen when I do. I miss my daughter, all my family, and my friends. I have to believe that everything will turn out ok." When I spoke to Maldonado in February after his release from prison, he cited his daughter as one of the reasons he felt compelled to continue his activism. "I don't want my daughter, because of an ideological difference, to not exist as a person. I want my daughter to think what she wants, to do what she wants, to present herself in life on the basis of her character… I don't want anyone to be there to crush her dreams."
Maldonado and his girlfriend, Alexandra Martínez, recently welcomed another daughter, Luna María, in Miami.
CORRECTION: A previous version of this story indicated Mariela Espín was the daughter of Fidel Castro. She is the daughter of Raul Castro.
Related
Popular in the Community