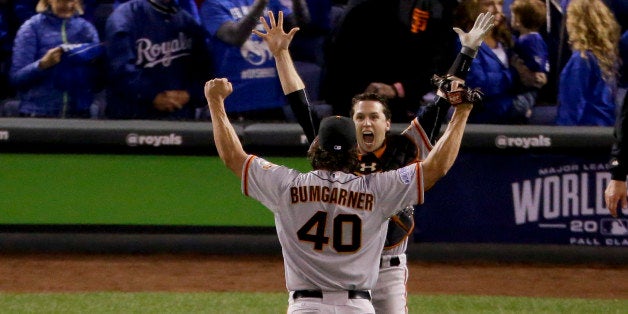 I grew up a Dodger fan in Southern California, but my family uprooted to northern California when I was 14. With seven years of little league under my belt and a deep love for the likes of Mike Piazza, Raul Mondessi and Hideo Nomo, I brought my fandom north with me.
It wasn't until my family settled into our new home that I even realized the depth of the rivalry with the Giants, which is much more of a thing in the Bay Area than it is in LA. At my first Dodgers-Giants game, a guy with Rich Aurilia goatee tried to start a fight with my Dodger-hat-wearing dad in a concession line at Candlestick. Prior to that, my Dodger fandom stood on its own, but from that point on it would be juxtaposed against the sea of Giants fans that surrounded me, clad in J.T. Snow jerseys and living life one "Beat LA" chant at a time.
And then Barry Bonds happened. To be clear, he had already been "happening" for years, but on the heels of McGuire and Sosa in 1998, his head swelled up and he began launching balls into the cove outside the Giants beautiful new stadium. It was often reported that he was a sub-par teammate and had a pretty cold personality, making him a very easy person to dislike if you weren't a Giants fan. Especially as it became common knowledge that he was on PEDs.
Meanwhile, his team wasn't winning championships. The one World Series they did make was in 2002, when Bonds misplayed a fly ball just minutes after Dusty Baker had disastrously pulled Russ Ortiz. He was a direct contributor to the team's demise in that game (although he batted .471 and walked 13 times in that series, while also hitting four home runs). But that loss proved to be pivotal in the series, which was ultimately won by the Angels.
When I look back now on Bonds, I see nothing but mind-blowing greatness. It was a steroid era in which the masses were juicing, but nobody was doing anything on the level of what Bonds was doing. He's without-a-doubt the best hitter I'll ever watch.
As for the Dodgers: they weren't doing anything special around this time, either. This was the Sean Green, and Kevin Brown and Eric Gagne era. The team was routinely competitive, but they always either just missed the playoffs or died upon arrival.
By 2004, the team was transitioning from a bad owner (Rupert Murdoch) to the worst owner (Frank McCourt), and things got murkier as the aughts rolled out. But the same could be said for the Giants, who saw Bonds' career come to an end, which coincided with three losing seasons in a row.
But then out of nowhere came 2010, with Lincecum and Posey leading the way. I had just finished grad school and taken a job in downtown San Francisco. Little did I know I would be attending the first and only ticker-tape parade of my life that October, just a few blocks from my office.
Gone were the days when Dodgers fans could tout the fact that the Giants had won exactly nothing since moving west from New York. But who knew this was just the beginning: Two years later, it happened again. And now, two years after that, they picked up their third World Series in five years, just weeks after the Dodgers were knocked out of the playoffs in excruciating fashion.
While Madison Bumgarner was making history and Giants fans were consuming his every pitch, I was reading blog posts about the hiring of Tampa Bay's prestigious general manager. The day after the World Series, I was reading about Dan Haren's exercised 2015 option. Valid news stories, but oh-so-sad when you contrast it with the actual baseball games Giants fans were consuming at the time.
Not to mention, every story about the dominance of Madison Bumgarner felt the need to use Clayton Kershaw as the flip side of the coin: Positioning Kershaw as the regular season highlight reel who doesn't have enough between his legs to perform when it counts. Bumgarner, on the other hand, is a humble, yet beastly, champion.
Those stories make it sound like Kershaw sucked from start to finish, while the truth is he pitched six great innings in each of those games, and that if the Dodgers had any kind of a bullpen things might have played out differently. But the point is valid when you look at the results of the games, and that is what matters. Although I think Bumgarner's performance should be able to stand on its own; no comparison necessary.
With this postseason, these two teams have pretty much solidified the identities they've carved out in recent years: the Giants rise up when it counts, while the Dodgers fold.
The Dodgers have won only three playoff series since the '80s. Meanwhile, the Giants just finished winning nine playoff series in a row (and a Wild Card game), en route to three World Series titles. Thanks unthinkable in my world, where every baseball season ends on a sad note.
My baseball rooting experience is one that assumes the worst is about to happen at all times, because the worst usually does ultimately happen.
Giants fans are residing comfortably on the opposite end of the spectrum, getting spoiled by their baseball team in tidy, two-year doses. When the Giants don't plan on winning the World Series, they just tank the season and bow out early to save their fans the exhaustion in October.
Back in 2009, I edited a bunch of journal entries my grandpa had written over the final few years of his life. We printed 75 copies at a Kinkos and mailed them to the people with whom he had been close throughout his years. This was about six months before he passed away.
He was, somewhat inexplicably, a Red Sox fan who grew up in the Bronx. Little did he know the torture he would endure as a result for the next seven decades of his life. For the first couple of those decades, he lived in the belly of the beast, where the Bronx Bombers would cycle through several dynasties, racking up dozens (!) of championships in the process.
For me, that's some healthy perspective. At the moment, my son is two years old. What if I were to become a grandpa before the Dodgers win anything? Unthinkable, but possible! Surely there are some old baseball fans on the north side of Chicago who can attest to that reality.
I remember sitting with my grandpa at his home in Los Angeles (he had moved west decades earlier to attend UCLA) about a year after the 2004 season. He was showing the first signs of the ALS that would eventually end his life, but he was still mentally sharp. He had me press play on his VCR, which had been strategically fast-forwarded to what he wanted to watch. When the screen lit up, Dave Roberts was standing on first base, waiting to ignite one of the biggest rallies in sports history.
I got chills as I watched. After Roberts finally slid into second and called for time, I looked over and saw that my grandpa was crying, which I found to be awesome. It was clearly about more than baseball. The Red Sox were a thread that bound his life, from the Bronx to UCLA to the birth of his kids. This baseball team was always there, and always falling just short. Every year of his life, until 2004.
That's not to compare the experience of modern day Dodger fans to pre-2004 Red Sox fans, but it is glimpse into how satisfying the good can feel when you taste the bad for a prolonged period. Especially when your immediate rivals are routinely hogging up all of the good.
Baseball is amazing. The Giants, in their three World Series runs, have been pretty amazing. Madison Bumgarner is definitely amazing.
Congratulations, Giants fans. Enjoy taking the 2015 season off. You earned the break.
Calling all HuffPost superfans!
Sign up for membership to become a founding member and help shape HuffPost's next chapter