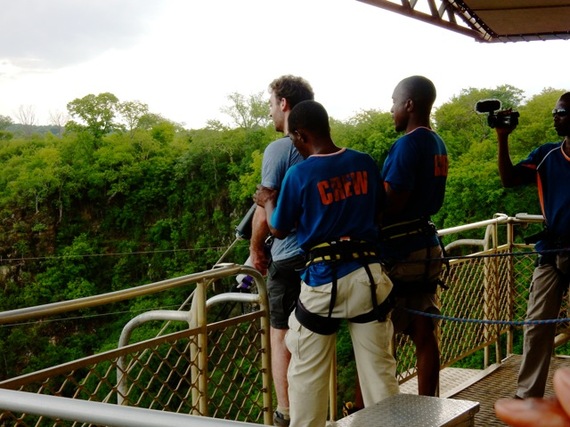 Most visitors come to Zimbabwe's most well-known tourist town to see "The Smoke That Thunders" -- Victoria Falls -- one of the Wonders of the World. But there's so much more to this town and across the iconic Victoria Falls Bridge in the country of Zambia (the other side of the waterfall). Here's a start!
1. When entering Zimbabwe, purchase a "Two Country VISA" if you plan to visit Livingstone Island in Zambia. Crossing the border into and out of Zimbabwe can be a real pain, with a swamp of paperwork and lines. To minimize cost, spend $50 on a VISA for both Zimbabwe and Zambia, which allows you to cross over into both countries without having to pay each time.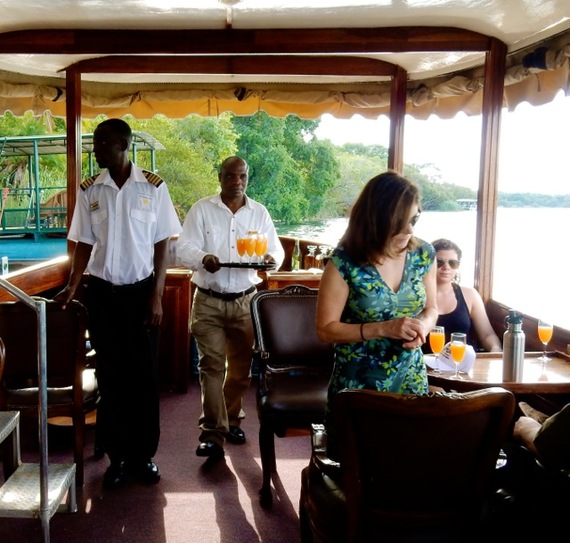 2. Take a Sunset Cruise on the Zambezi River. You'll see hippos and crocodiles while enjoying drinks and small bites. But the star of the evening is the sky at sundown.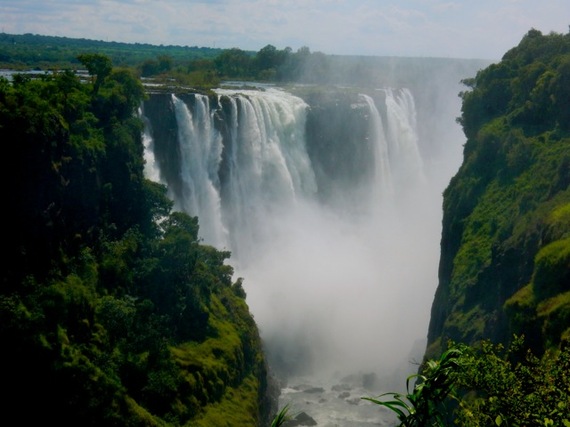 3. Visit the Falls. The whole of the town of Victoria Falls is actually a National Park, which means that animals are given free reign on the streets. But go into the actual "Falls" park to view of this Wonder of the World, twice as tall as Niagara Falls (350 feet) and a mile long. Though a drought this year (end of 2015) has lowered the volume a bit, the "Smoke that Thunders" -- the indigenous name for the falls due to mist created by its force -- still roars with water.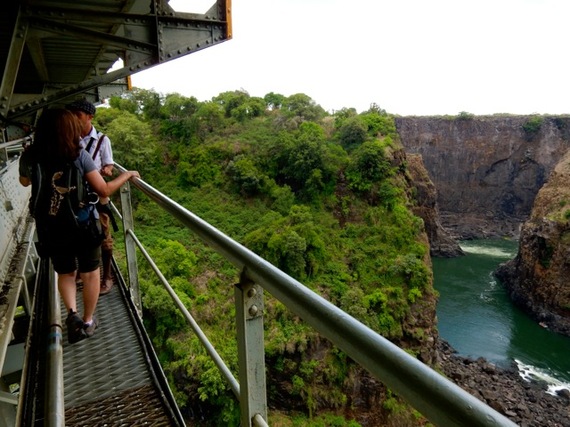 4. Take the Victoria Falls Bridge Tour. A bit tamer than the Bungee Jump or "Swing" that plunges thrill seekers nearly 350 feet down from a platform on the bridge, the Bridge Tour includes an orientation by the "135 year old" engineer who designed this structural marvel in 1904, followed by an amble 420 feet above the raging river (you're harnessed in) on a catwalk built below the road. As part of Cecil Rhodes "Capetown to Cairo" railroad idea (never realized -- it went as far as Tanzania), the bridge had to withstand the rigors of high heat and constant water. Still standing, the Victoria Falls Bridge is a testament to the genius of structural engineers at the turn of last century.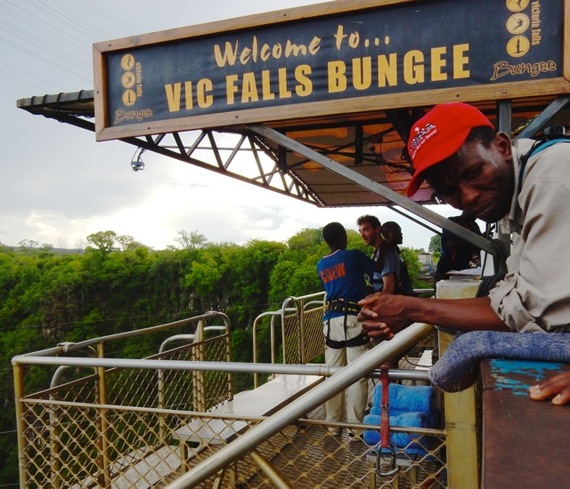 5. Bungee Jump, Swing or Zipline off the Victoria Falls Bridge. All huge attractions, for visitors who dare to plunge almost 350 feet in free fall, and the locals who scratch their heads and watch. ($160 per jump).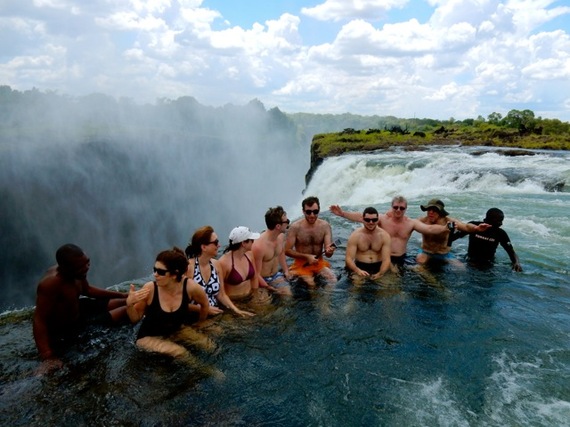 6. Swim in the Devil's Pool followed by a gourmet lunch under canvas, Livingstone Island, Zambia. You may have seen photos of people sitting and swimming on the edge of the 350ft high Victoria Falls. Called the Devil's Pool, this attraction is on the Zambian side of Victoria Falls, on a small piece of land called Livingstone Island. Restricted to under 100 people per day at scheduled times from 7:30am to 3:30pm from September through December, you must purchase tickets in advance. You'll take a small boat to the island, where you'll enjoy a short tour of the spot where Dr. David Livingstone (of "Dr. Livingstone, I presume" fame) first witnessed Victoria Falls, swim and frolic in the Devil's Pool (with proficient and strong guides who will tell you where to sit and what to do, take photos with your cameras, and hold on to your legs for the risky-looking shots), followed by a terrific gourmet lunch if you plan on a mid-day tour. Not for the out-of-shape, you must be able to walk on uneven stones and swim for a few hundred feet against a current. ($165 per person includes lunch on the 12:30 tour).
7. Shop at the Market behind Elephant Walk. Over 50 aggressively persistent merchants negotiate the cost of wood and stone carvings, jewelry, printed cloth and other locally made goods. You can get some good bargains, but be prepared to be barraged and haggle hard. Come with US Dollars. Zimbabwe discontinued its own currency in 2008 when its largest bill -- the 100 Trillion Zimbabwean Dollar Bill -- proved just how out of control inflation could get. (You can actually purchase one of those out-of-circulation bills as a souvenir for about $10).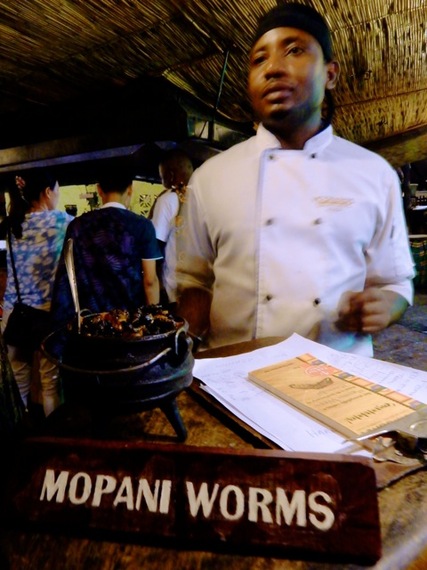 8. Eat a Mopani Worm, Ostrich Kabob and BBQ Warthog, and then join in a group hand-drum fest at The Boma. Situated in the Victoria Falls Safari Lodge, The Boma -- aka "The Eating Place" -- is about as commercial as it gets in Vic Falls, but tons of fun. Don a colorful sheath of African fabric (loaned at the entrance), and enter this rollicking room full of food stations, guys grilling meats, a bone-throwing "fortune teller," mind-blowing dancers, and lively instructional drummers. You'll feel the beat and be well fed, too. FYI -- bring US dollars. A couple of gentle local vendors, much less aggressive than their Market counterparts, sell decorated bowls and carvings at unbelievably low prices.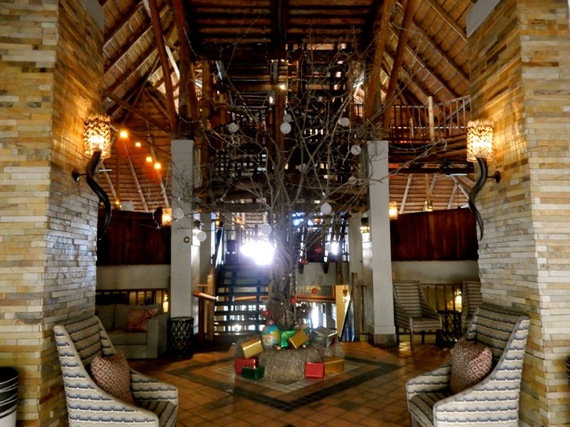 9. Stay from Colonial-stately to Disney-themed Safari to Backpacker's heaven. You've got a choice of great accommodations in Vic Falls at every price point. The fine English Colonial-era Victoria Falls Hotel, overlooking the "smoking" part of the "Smoke That Thunders," offers hushed finery and beautiful rooms. The wonderful Victoria Falls Safari Lodge was inspiration for Disney's Animal Kingdom Lodge (Disney reps came here and took notes). And young hostel-goers will want to book a room (or at least go to the bar) at the popular Shoestrings in town.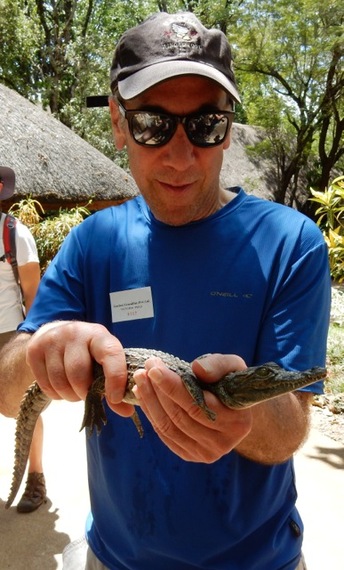 10. Hold a Baby Crocodile and then watch these ferocious reptiles jump for meat at the Crocodile Farm and Nature Center. Owners of this "croc ranch" actually raise them for food and skin (purchase belts and handbags in the gift shop), but have opened the property to the public as an educational attraction. Highlights are the dramatic feeding times, and an opportunity to clutch a yearling at the end of the tour.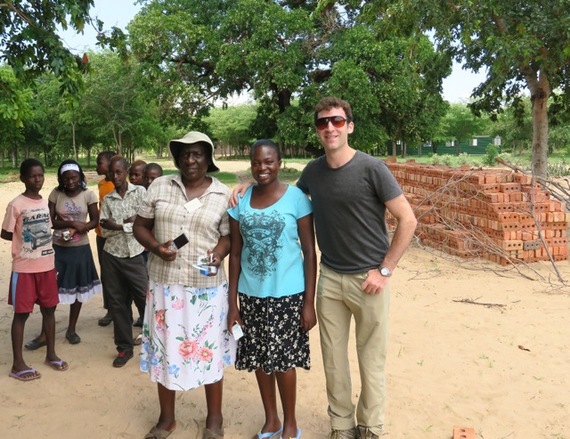 11. Arrange to visit and Support a local Village School. Travelers with money come in and out of this resort town without really getting to know the people and abject poverty in its shadows. The Jabulani Primary and Secondary School sits right across the street from the gleaming new Victoria Falls International Airport, yet it has no electricity, and most of the student body is so poor, they cannot afford the fees to receive grade scores in order to advance to Secondary School. The headmaster, formerly a college-trained teacher in a school miles away, founded Jabulani after realizing that many students had to walk 7 miles each way and would come to school tired and hungry (if at all). She opened Jabulani, which now serves nearly 300 students, on the outskirts of Victoria Falls town, an area where children never had access to a secondary school before. Rooms are thatched and threadbare, but children are learning and at least have a chance. (Our two traveling families donated $250 each, and that combined $500 went a long way towards furthering education there - a very satisfying feeling).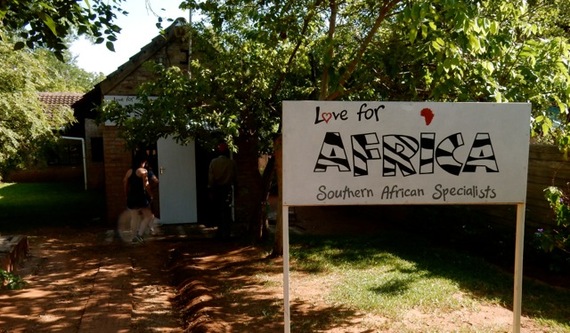 12. Find a Good Guide. Though there are many travel agencies that handle safari tours in Southern Africa, Love For Africa, owned by a former Zimbabwe Camp guide and Disney Co. Director, is based in Victoria Falls and can facilitate "must-do" activities, tours and accommodations in this National Park town. This includes getting into and out of Zambia to swim in the Devil's Pool on the other side of the falls (see above), private sunset tours on the Zambezi River, vouchers for bungee jumping off the Victoria Falls Bridge (see above), and exclusive, one of a kind dining opportunities (like a private table atop the Elephant Hills Hotel helipad).
Related