I was too young, at the time, to remember that long journey through desert and brush. My mother and older sister took turns carrying me through hundreds of miles of heat and cold. Brothers were killing brothers and we fled our country and traveled north in search of stability and opportunity. How do you thank someone for giving you life, twice?
I grew up in a community with many undocumented families. They took what work there was and appreciated it and hoped their children would reach higher heights because of it. They were hardworking, warm and generous, in stark contrast to the demonizing images I now see in print and on television. We never see their true faces, hear their modest words or sit and have a meal with them and just talk. We never see the inexorable drive of a DREAMer (children brought here undocumented at a very young age by their parents) or the quiet determination of their parents. We never see their humanity, only cold numbers and words.
In December of 2010, the DREAM Act (Development, Relief, and Education for Alien Minors), a bill that would provide a pathway to citizenship for those who came here at a young age, came excruciatingly close to passing. The DREAMer community was devastated. I sat down to write Dreamer the following month. After the screenplay was complete, Jeremy Ray Valdez ("La Mission") came immediately on board to star and produce the film. Together we began to shop the script around for funding. The most difficult phase for independent film is funding. And we had a social issue drama with a challenging narrative.
We were turned away by a number of potential funders. One prominent Latino producer claimed Latinos didn't want to see their stories told, that they "didn't want to be depressed by the reality they lived in." I was shocked by the ignorant assertion that the Latino community only sought escapism and we turned to the community to prove him wrong.
We raised an initial $50,000 on the "crowd funding" site Kickstarter.com. The campaign, for the most part, was pushed to success by the DREAMer community themselves, desperate to hear their story told. We then secured further private investment and went right into production.
The film was made for DREAMers and, while it is an empowering experience to see your story on the big screen, it is intended to be seen by a general audience. I want to put a face on the undocumented immigrant. The film is shot in a "Cinema Verite" style and gives an intimate look into the fear, struggle and love felt by a DREAMer. It's not didactic, polemical or heavy-handed. It merely tells the truth. It is a story of love and what it truly means to be American. I hope you will go watch the film and leave the theatre with a bit more understanding of the undocumented.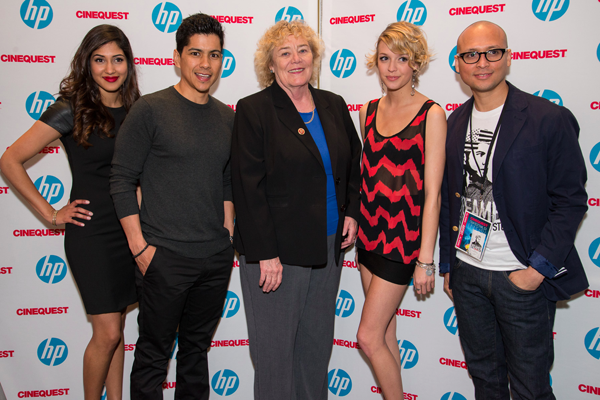 Photo by Mitchell Weinstock. From left to right: Serena Varghese (co-star), Jeremy Ray Valdez (star & producer), Congresswoman Zoe Lofgren, Brit Sheridan (co-star) and Jesse Salmeron (writer, director & producer).
Dreamer is currently at Cinequest Film Festival and you can learn more about it on Facebook and Twitter.
Calling all HuffPost superfans!
Sign up for membership to become a founding member and help shape HuffPost's next chapter