The Appalachian Trail is back in the news these days, thanks to the release of "A Walk in the Woods," the new movie starring Robert Redford and Nick Nolte and based on Bill Bryson's classic book. Some of us have indelible memories of our experiences on the trail. Here's my tale of tracing the entire length of it, years back, in, uh, a rented Geo Prizm.
* * *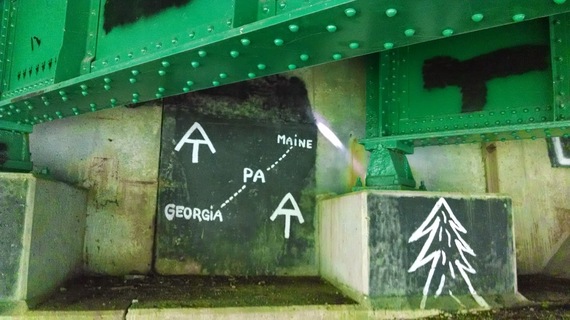 Raised in Manhattan, I am a flop out of doors. Still, I'd always wished I were one of those woodsmen who know trees and not traffic signals, and dreamed of tackling the Appalachian Trail. Realistically, I knew that conquering America's oldest and longest interstate hiking trail was beyond me. Unless I found a miracle stamina drink or some other solution to my tendency to flame out after stints uphill, I would probably never make much progress on the 2,168-mile, mountain-studded, Maine-to-Georgia marathon.

Then it hit me. Though often remote, the Appalachian Trail was a route like any other. Ordinary roads ran near it and intersected it as it wound its way around towns, over rivers and across forested valleys. What was to stop me from tracking the trail by . . . car? I got out my map. Not only did the AT cut across paved roads and march through villages and towns, but in places like Virginia's Blue Ridge Parkway, hikers spilled out onto the pavement to walk along road shoulders and bridges.
That settled it. I would get on my duff and drive the AT. I would do it to see the sweep of the trail, to sense its distance and challenge, to take in its mountain views. I would follow the dirt path as closely as I could in my car, without actually driving right up onto it (which, by the way, is expressly forbidden). And though it sounded sacrilegious, like snowmobiling the Alps or jet-skiing the English Channel, I would do it with pride--and the whole length of it, from Georgia to Maine.
Planning my route back in 2001, I discovered that although books for AT hikers were plentiful--including Bill Bryson's wildly popular A Walk in the Woods--there wasn't a shred of encouragement for a guy with a car. Had anyone ever tried to follow the AT by automobile? No one was quite sure, and Brian King, public affairs director at the Appalachian Trail Conference, wasn't too optimistic about my chances. "Since people sometimes steal the signs at road crossings," he warned, "it's likely you'll be driving along not finding the trail at all. And cars have been torched at night when people have pulled over to sleep near the trail."
Still, I wasn't deterred. It takes most hikers five months or more to walk the entire trail. It would take me about two weeks (an embarrassingly brief time frame) and I'd hope to cross the trail a couple of times a day while chasing the dotted line on my map. Despite the enemies I'd no doubt make, despite dirty looks and possible death threats from hikers, I was on my way.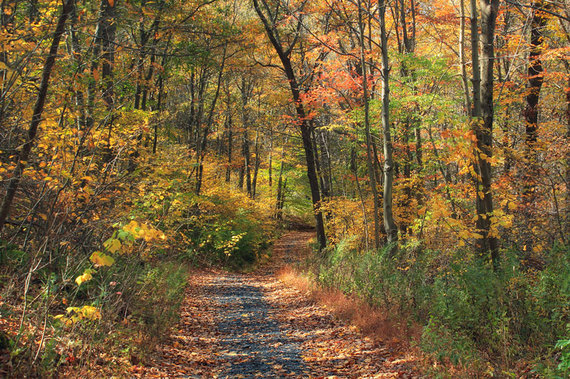 Chattahoochee Forest, Ga.
It's my first day of trail driving, and although the Appalachian Trail officially begins at the top of Georgia's 3,782-foot Springer Mountain, I'm told there's no way to get my car up there. So I head for the Appalachian Approach Trail that starts at the visitors center at Amicalola Falls State Park in rural northwest Georgia.
Here, I run into two helpful hikers who tell me a way I may be able to drive at least partway up Springer Mountain--near the official start of the trail. This means steering my rented Geo Prizm onto U.S. Forest Service Road 42 and gunning it uphill through a minefield of loose gravel, angular boulders and mud-soaked clay. Every time a large rock bounces against my fender there's a cracking sound that convinces me that a piece of the car has fallen off, and until I learn better, I keep stopping to look back for a parking light or piece of chrome.
The only sign of life up here is a battered pickup with a gun rack pulled over and tilting dangerously by the side of the road. A guy in camouflage is letting a Doberman off his leash. I stay in the car. The closest I can get to the summit is the Chattahoochee Forest Self-Service Pay-Station, where I park the Prizm, deposit the required $2 in an envelope and see, at last, the white rectangular markings that designate the Appalachian Trail.
I stroll on the yard-wide scrubby path, and around a bend I find the following notice tacked to a tree: "Appalachian National Scenic Trail | Foot Travel Welcome | Bicycles, Horses, Packstock, and Motorized Vehicles Strictly Prohibited."
My rock-peppered Geo Prizm and I have arrived.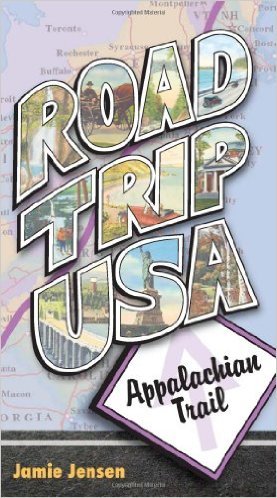 Nantahala River Gorge, N.C.
Winding up into North Carolina the next day, I'm able to roughly parallel the AT on U.S. Route 441 and then on state Route 28, which is full of do-it-yourself roadside gem mines ("Dig Your Own Rubies and Sapphires!") and is as twisty as any footpath. I detour west along the gem-pretty Nantahala River to meet up with the trail, and instead of the empty, middle-of-nowhere road crossings I've seen so far, I run smack into a beehive of kayaking, sports-gear shopping and restaurant dining--all supplied by the Nantahala Outdoor Center on Highway 19 near Bryson City.
Burned-out trail hikers are sprawled everywhere, boots off, feet in the sudsy river, sucking down Gatorade. When I tell a group of them about my drive, I get a mix of tentative laughs and looks of confusion. "You're doing it by car?" questions northward hiker Shannon Belt. "I don't know," he says. "I got in a car a few days ago and almost flipped out. You go about two miles an hour walking the trail, and suddenly going 50 seems like you're out of control."
His friend, Joe O'Neil, is even less impressed. "When I get to the top of [New Hampshire's] Mount Washington," he tells me, "after climbing for hours, I'm going to be really mad when I find some lady who cruised up there in her Buick, petting her poodle."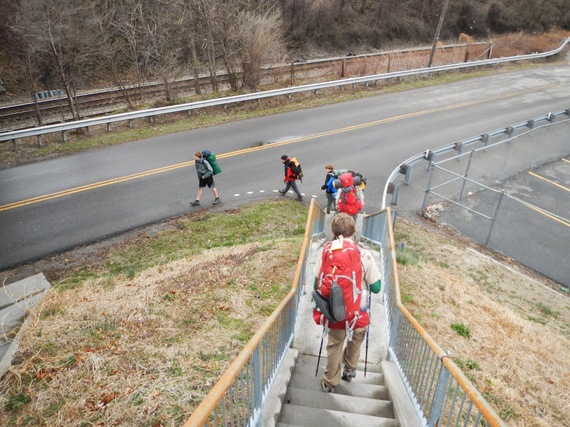 As I'm getting comfy again behind the wheel, adjusting the AC, I buzz the window down to ask Shannon and Joe if they're sure they wouldn't like a ride to whatever roads next meet up with the trail. Knock maybe 25 miles off their route in one painless shot. "It'll be our secret," I promise. But after a long look at the Prizm, they wave me off and go back to their Gatorade.
Devils Tater Patch, Great Smoky Mountains National Park (N.C., Tenn.)
The following day's stop is one I've been looking forward to: Great Smoky Mountains National Park, the nation's most crowded and, according to my guidebook, the home of uncountable mushrooms, salamanders, and bands of garbage-hungry black bears.
Hikers trudging through the park have a line of strangely named peaks to get over and around: Shuckstack, Devils Tater Patch, Old Black and Clingmans Dome (at 6,643 feet, the trail's highest point). But I've got problems of my own. The Smokies are up to their ears in a blue and silvery haze as I drive in on Route 441, and though they're famous for this, I'm amazed at not being able to see any signs.
A brush fire is to blame, which happens to be roaring through the campsite I had marked on my map. I'm also informed that the trail shelters I'd hoped to try out were booked in advance. I end up sharing a campground with two polite, potbellied guys whose metal-flake Harleys sparkle like Christmas toys. They can't believe I'm going to bunk up in my Prizm, but the front seat folds way back and I can play the radio as if I were in a hotel.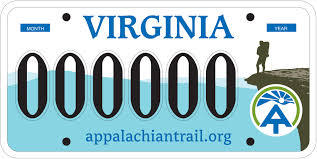 Dinner menu: a pop-top can of Del Monte mixed vegetables, six Ball Park franks, wadded-up blobs of Sunbeam bread (the gas station convenience store was out of rolls) and a container of butter-flavor Jiffy Pop. Two of the hot dogs explode when I try toasting them on sticks over the fire, and I see one of the motorcycle guys laughing as I burn my hand trying to salvage a chunk of meat from the flames.
Later that same evening, I forget to throw out the dregs of my Jiffy Pop, and in the darkest part of the night I see the silhouette of two bears and hear a crinkling, crunching noise that sounds suspiciously like tinfoil. As the bears chew and shred the popcorn pan, I say a silent thank-you that I'm sleeping in a cocoon of glass and steel, and not a flimsy tent.