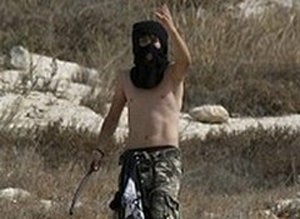 On my trip to Israel with a group of Silicon Valley bloggers last year, I broke away from the pack and spent an afternoon driving through the occupied West Bank, from Jerusalem, past Bethlehem, through the settlement of Kiriath Arba and into the ancient city of
Hebron, where Jews and Muslims both revere the [reputed] resting place of Biblical figures Abraham and Sarah.
The afternoon was remarkable not because a citizen journalist from San Francisco was given access to an area beset by clashes between Palestinians and fundamentalist settlers. Rather, the story behind the story was the pair of former Israeli soldiers who gave me a look into the treatment of Palestinians as second-class citizens in the occupied territories.
Mikhael Manekin of
Breaking the Silence, a remarkable human rights organization founded by veterans of the Israeli military, served as a lieutenant in the Golani Brigade during the second intifada. On a still, languid afternoon, Manekin, 28, gave me a tour of life on the ground for Palestinians in the West Bank, such as the requirement to take a 20-kilometer detour rather than crossing an Israeli street, or the restrictions that prevent residents of Hebron from exiting through the front doors of their own homes. (The Israeli military prevents Western journalists from entering Gaza, but comparable restrictions exist for Palestinian residents of Gaza.)
The group's other co-founder, Yehuda Shaeul, 24, gave a tour of Hebron on the same afternoon to members of the German Parliament. As we met up with him outside the Tomb of the Patriarchs, Shaeul told us that his group has just been attacked by a dozen settlers who assaulted them with stones, bricks and eggs. (Here are my shots of Manekin and Shaeul in a
Flickr photo set.)
On Monday I received this update from Manekin via a Facebook email: "It is a bit hectic here because of Gaza. Both Yehuda and I are still doing our thing, though the settlers have been making it increasingly difficult to do the tours. When we are allowed to enter, more than 70 policemen protect us from settler violence."
Western journalists typically skim along the surface of the Middle East, covering the day-to-day outrages -- Hamas cowardly firing rockets at Israeli civilians, the Israelis responding with disproportionate force in Gaza -- without ever reporting on some of the underlying tensions that escalate into open hostilities. Above, then, is not a polished documentary about the treatment of Palestinians under occupation but rather a slice of life in a troubled land on a single afternoon.
Calling all HuffPost superfans!
Sign up for membership to become a founding member and help shape HuffPost's next chapter