TV personalities, entrepreneurs, authors, real estate experts…
Identical twins Jonathan and Drew Scott — best known as HGTV's "Property Brothers" — have an impressive resume. Before reaching the age of 40, they've carved out two astounding careers.
And real estate is but one of their shared passions. Yes, the duo is best known for helping families find, buy, and transform fixer-uppers (and entertaining millions in the process). But the Scott Brothers also count themselves as equestrians, black-belt martial artists, and country singers (one of their songs peaked at No. 38 on Billboard's Hot Country Songs chart).
Then there are their separate interests, too. Jonathan is an illusionist and animal lover. Drew has acting chops and shone in this season's "Dancing With the Stars" finals.
It's no surprise, then, that the pair has lots of wisdom to share about business, branding, and life as twins. I recently spoke to Jonathan and Drew about all this and more. Here's what I learned.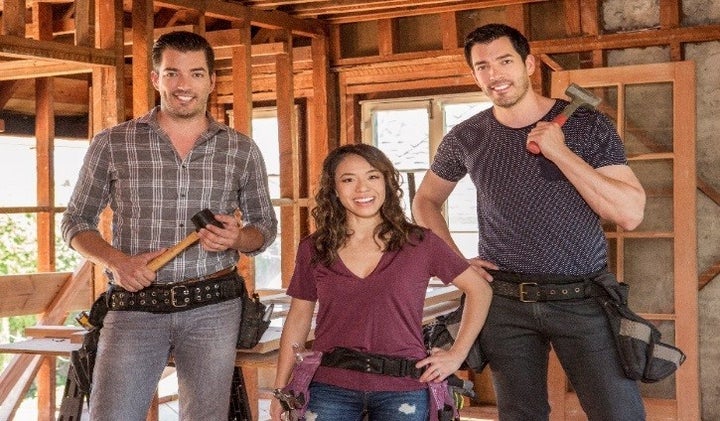 Business is always about the brand
Jonathan and Drew started in real estate as teens: They purchased their first house at just 18 years old, and upon renovating it, sold the property.
Although real estate remains their expertise, the Scott brothers have branched out significantly since that first flip. In 2013, they established Scott Brothers Global, with offices in Las Vegas and Toronto, which houses Scott Brothers Entertainment and Scott Living. Scott Brothers Entertainment produces award-winning programming for TV, film and digital platforms. This division has six spin-offs to "Property Brothers," including "Drew's Honeymoon House" and "Brother vs. Brother." Scott Living — a collection of home goods including indoor furniture, décor, textiles and bedding, is available at a variety of North American retailers including Amazon, QVC and Lowe's.
The common thread in all of this? "Our brand is all about family, having fun in life, and doing things that are meaningful," Jonathan says.
The Scott Brothers ensure this brand extends to each and every product they create, whether a 30-minute television episode or an elegant armchair. How? Dedication and attention to detail.
"Everything we touch has to stay authentic to our brand," Jonathan says.
A prime example: When their outdoor furniture collection was launched in 2014, Jonathan and Drew designed and sketched every single piece. "We never want to slap our face on anything," Drew says. "We want to make sure it's quality."
This means playing a role in all aspects of the business — from design to shipping logistics. And it pays off: Scott Living hit the $100 million mark in 2016, and Scott Entertainment produces more than 50 hours of programming a year. And the brothers believe that there is more growth ahead.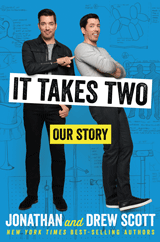 No one is more important than your audience
The best brands are built — and managed — through constant engagement with audiences. How can you know what your audience wants without listening to them?
This is a principle Jonathan and Drew hold dear — the duo maintains a close relationship with their fans. And there are a lot of fans: Nearly 2 million Instagram followers, 3 million Facebook likes, and 2 million Twitter followers.
While some might be overwhelmed by the amount of engagement such a large fan base creates, the Scott brothers are always listening. "We receive about 500,000 messages a week from our fans on social media" Drew says, and the team sifts through it attentively. "We don't wait until the end of the season to modify the shows. We literally can take the data that comes in today and can implement tomorrow."
"We always want to surprise and delight whether it's our consumer or television audience," Jonathan adds.
The brothers note that anything less wouldn't be true to their brand. "We're not celebrities; we are personalities," Jonathan says. "People trust us in their home and make buying decisions based on what we suggest in our shows."
Growing up as 'we,' not 'me'
The most iconic part of the brothers' brand is — of course — their being identical twins. (Fun fact: It wasn't until Drew and Jonathan's mother, Joanne, was giving birth in the hospital that she discovered she was having twins and Jonathan is technically the oldest, born four minutes before Drew.)
The twin relationship has served them well throughout their lives. "Jonathan and I did everything together," Drew says. "Having a built-in best friend to always support you, and someone you can trust through and through, is one of the reasons that our business has grown."
"There's a bond with siblings, but there's an even greater bond with twins," Drew adds. "We often finish each other's sentences."
There have been hurdles, too — like forging a distinct identity. "[Some people] treat you like one person," Drew notes. "If you're not with your twin, the first thing people ask is 'where's your twin?'"
I'm a twin, too, and it was fascinating to discuss this with Jonathan and Drew. Twins share an experience — growing up as a "we" — that most people never fully grasp.
For those eager to hear more about Jonathan and Drew's relationship, I recommend their book It Takes Two: Our Story. It's a powerful memoir that explores their childhood and adult lives. It's also, unsurprisingly, a bestseller.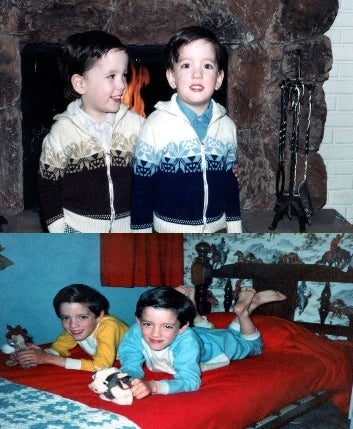 May I digress? While much of our conversation centered on personal branding and life as twins, we also discussed "Dancing With the Stars" — and Drew's recent participation. Drew competed with Emma Slater on the 25th season and placed in the final four.
Drew insists he's not a dancer (fans of the television show likely disagree). So why compete? "Since I'm getting married in the new year, the decision to say 'yes' was based on the fact that I want to be able to dance for my first dance at our wedding," Drew says.
To compensate for a lack of dancing experience on the show, Drew played up his personality — fun, funny, likeable. So maybe this isn't a digression after all. Like they said earlier, the brothers make sure their brand touches everything they do.
(More fun facts: Drew is most proud of his jazz routine. And, he has sound advice for any other amateur dancers out there: Let go of over analyzing everything and simply be in the moment.)
Doing well, but also doing good
The Scott brothers' brand is fun — but also principled. Jonathan and Drew talked about their desire to "do good for the world," and consider their ability to uplift and motivate people to be their cardinal achievement.
The two are Global Ambassadors to World Vision, the international humanitarian aid organization. And they were recently named Habitat Humanitarians by Habitat for Humanity. Per this distinction, the pair serves as ambassadors to raise awareness about the challenges facing affordable housing. They're already making good on the distinction: On Giving Tuesday in November 2016, the brothers helped raise over $400,000.
"We feel so blessed to have an army of do-gooders that watch our show," Drew says.
Popular in the Community