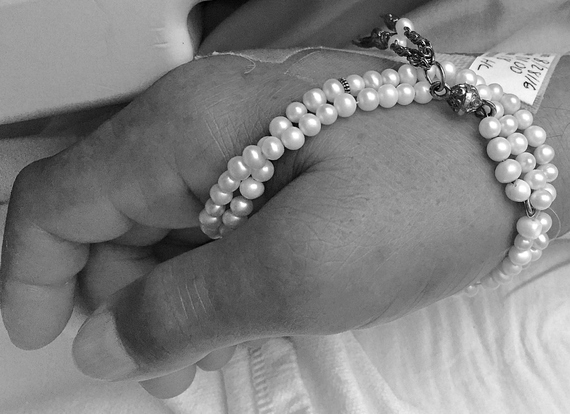 Throughout my tenure as a spiritual leader, I have played a part in the significant life changing moments for many. I've been asked to preside over weddings (which I don't); meet individuals in hospital beds and homes, during their last hours of life; offer words at memorials and funerals. All intended to elevate people's visions of themselves and the world. These are responsibilities that come with wearing a white sari - showing up at a time of need.

And the fine print of my contract with humanity is that there are no preferences, even for my own family.

Today, I found myself in a most unusual position of giving the eulogy at my father's funeral through FaceTime while riding a train to New York City.

The events leading up to such a unique moment began a month ago. While traveling, I was notified that my father was in a coma. As his only daughter, I was contacted by my family and asked to contribute to the painful, collective decision to keep him on life support or not. I immediately flew to see him right after returning from Europe. I spent quality quiet time and reflection with the soul who played his part as my father. As I sat by his bed, those memories flowed like the Ganges! He taught me how to fish, hunt, and race cars. He took me to horse racing; all of the things a father is to teach his daughter!

And, as those memories passed, and I returned to the present moment with him, he was about to leave me. And there was nothing I could do about it. Despite the attainments of my spiritual gifts and the voice of leadership I hold for many, this was a moment beyond it all.

When the doctors removed his life support machines, the projection was maybe a few hours or a day. The soul stayed in his body for almost two more weeks.
By that time I had to return to Washington, D.C. Not a single day passed when I didn't wake up sending his gentle soul thoughts of peace. And his gentle heart kept beating, without assistance. When the soul departed peacefully, I was not there but I was at peace. I had sent the message through social media and hundreds and thousands of friends from around the world supported sending his spirit love, light, and peace. It gave me such solace knowing many loving people were blessing his transition.

My family called needing me to sign off on the final burial papers, so I had them notarized in Washington. When I was given the date for his funeral, it was September 19th, the exact date of my departure by train to New York to engage in back-to-back meetings, ranging from the Appeal of Conscience Foundation to dinner at Whoopi Goldberg's home for an AIDS fundraiser, and more. I received a call the night before my trip from my relatives asking me to FaceTime in my final words and blessings for his funeral. I was silent, detached, and wondered... My logistics made it impossible to change my plans to be there physically for his funeral and here was an option to be as present as I possibly could for this important moment in many lives, including my own. I agreed. So while on a packed train from Washington, D.C. to New York City, I walked to an area on the train where I could find some silence, a cubby at the end of the train for personal calls, and I delivered my blessings and message at my father's funeral through FaceTime.

It is a sign of the times in many ways. Technology has now become a humane way to help those of us in circumstances we cannot change, to still be there at a time of need. It has galvanized us now to have access to each other even in times of death, being able to spend those final moments in sacred thought or words with another at the other end of the line. When I saw my family sitting there, and them looking at me on a train, listening intently to every word I spoke, a warm feeling came over me, signaling, "You made it. He hears you."

Our schedules, even for a yogi, have become so full, that there is little room for adjustment. We seem to be in a fast running current, and pausing on the banks is not much of an option. We can only keep swimming, and appreciate the gifts to participate in ways that were previously not possible.

It all goes back to a word and concept near and dear to my heart - Drama. Not in the casual sense of how much drama one has created; but as in the ever-changing and powerful Drama we are ALL in. We are all playing an intricate part in the whole, and when and where our parts intersect, and for how long, is a much bigger story than we can imagine.

When I arrived in New York to attend the Appeal of Conscience Foundation Gala, I sat next to two amazing businessmen, Tom Kenyon-Slaney from the London Speaker Bureau and Ransel Potter from C3 International. I told them I had used FaceTime to participate in my father's funeral that day and watched as their faces changed in shock, and then soften as I shared how I got to that place in time. By the time I finished sharing my story, Ransel put me at ease, as he said, "Wow, now that has to be told, we now know we can use technology for a greater purpose than to chat and make funny faces!" Thank you FaceTime.

I am grateful for technology showing me that it can humanize us despite the myriad of other ways we use it. I am grateful for my father and the part he played in my life. And I am most grateful to Drama, for teaching me endless lessons about the art of showing up, at whatever cost.
REAL LIFE. REAL NEWS. REAL VOICES.
Help us tell more of the stories that matter from voices that too often remain unheard.