The Palm Beach Modern + Contemporary art fair, produced by Art Miami, follows a local, colorful custom of artists-in-residence, esteemed art collectors and generous cultural philanthropy that has been an institution since this incarnation of Palm Beach was established by Henry Flagler in 1894. In the introduction to her new book "Palm Beach Visual Arts," writer Deborah C. Pollack suggests that beginning in the late nineteenth century, America's first and most famous island resort was blessed with a combination of tremendous wealth, ambition, glamour, talent and taste, hosting the most affluent art supporters as well as remaining a trove of artistry. A culmination of Palm Beach style and the quest for a tropical artistic civilization has created a legacy of excellence that attracts universal attention. The surrounding area boasts an unusual amount per capita of museums and other cultural institutions, such as "The Bunker," a recently opened a 20,000-square foot private museum founded by mega-collector Beth DeWoody. The nearby Norton Museum of Art is in the midst of an $80 million renovation; the Center for Creative Education in Northwood features a beautifully made-over public gallery; and the Benzaiten Center for Creative Arts in Lake Worth, not far from the Cultural Council of Palm Beach County's headquarters and galleries, is in full swing and features an impressive foundry. Other organizations in the neighborhood, including the Flagler Museum, Armory Art Center, Ann Norton Sculpture Gardens (featuring Boaz Vaadia) and The Society of the Four Arts (currently featuring the paintings of Winston Churchill, whose talented artist granddaughter, Edwina Sandys, is a part-time resident of Palm Beach), consistently attract art lovers.
So, it should be no surprise that Palm Beach Modern + Contemporary (PBM+C) is part of the family of art fairs produced by Nick Korniloff and partners at Art Miami, which is one of America's most prestigious and longest running continuous fairs. PBM+C is again returning to the center of downtown West Palm Beach, a city where a long history of championing fine art, illustration, crafts and photography expands each year. Visual artists and art enthusiasts have intertwined themselves with the island due to its supportive environment. Queen Victoria's photographer, Ernest Walter Histed established a studio in town, as well as other creative types, which later included Sir Cecil Beaton, Salvador Dali, Marcel Duchamp, Hudson River School painter Laura Woodward and museum founder Ralph Hubbard Norton (Woodward and Norton are two of only three Florida Artists Hall of Famers from Palm Beach; this writer is the third), art collector Charles John Clarke, Cornelius Vanderbilt Barton and Gertrude Vanderbilt Whitney, whose paintings will be displayed at the Norton Museum in mid-January.
The tradition of art-makers and designers in the Palm Beach area carries on, with the talented Phipps family (island resident Susie Phipps Cochran; her relatives: cousin Hubert Phipps, father, the late painter Michael Phipps, the late Diana Guest, second cousin, son Jay Cochran, grandson Rafe Cochran), who all participated in the "Art in the Family Tree" exhibition at the Ann Norton Sculpture Gardens last year. Hubert will present Drawings for Sculpture at Center for Creative Education, in February), many of whom were serious artists, and painter Kenneth Noland, who lived here part-time with his wife, Paige Rense, who was Editor in Chief at Architectural Digest for thirty-five years. In addition, many contemporary artists visited and worked in Palm Beach during the winters, such as Julian Schnabel, Robert Zakanitch, Bernar Venet, Andy Warhol, Dale Chihuly, Jules Olitski, J. Steven Manolis and Harry Benson, as well as art world writer and curator Henry Geldzahler and John Loring, design director emeritus of Tiffany & Co., among others. For decades, Milton Esterow, the legendary, influential editor and publisher of ARTnews and an avid tennis player, found West Palm Beach to be a perfect winter environment that kept him in close touch with important collectors and curators.
The impressive history connected to art in Palm Beach and a supportive, distinctive group of collectors no doubt has had an influence on the decision to produce a great fair downtown by the folks who brought you Art Miami, now in its 28th consecutive year. The 2018 edition of PBM+C will offer an impressive line-up of art and artists presented in a 65,000-square-foot clear span pavilion, centrally located on an entire city block between CityPlace and the adjacent luxurious Hilton Hotel. Judging by the pre-fair line-up of artists and prominent dealers, PBM+C promises to be one of the finest events of the Palm Beach season, and while it is not possible to mention all the exhibitors in the fair, among those prominent artists represented are Alexander Calder, Anish Kapoor, Elaine de Kooning, Henri Matisse, Henry Moore, Herb Ritts, Jean-Michel Basquiat, Jeff Koons, Joan Miro, John Chamberlain, Josef Albers, Shepard Fairey, Chuck Close, Larry Rivers, Lynn Chadwick, Milton Avery, Pablo Picasso, Frank Stella, Richard Prince, Robert Mapplethorpe, Robert Motherwell, Robert Rauschenberg, Roberto Matta, Salvador Dali, Tom Wesselmann, Eric Fischl, Wolf Kahn, Karl Momen, Romare Bearden and Willem de Kooning. Also, don't overlook these brilliant Cuban artists exhibiting at the fair: Wifredo Lam, Julio Larraz and Giosvany Echevarría.
The following is a list of some additional personal favorites at PBM+C that caught my attention: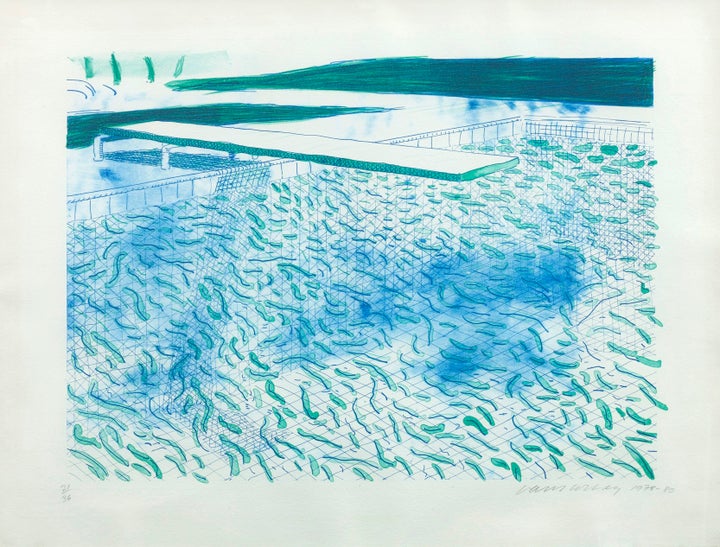 Obviously, with Florida as a leading swimming pool-loving state, it's appropriate to dive into David Hockney's iconic lithograph Water Made of Lines & Green Wash, which certainly is among his most iconic works, and reflects the artist's preference to live in sunny Los Angeles, as opposed to London's fog. Hockney is considered one of the most significant British artists of the 21st century and was a key member of the Pop art movement of the 1960s. ARCHEUS / POST-MODERN, London. ARCHEUS POST-MODERN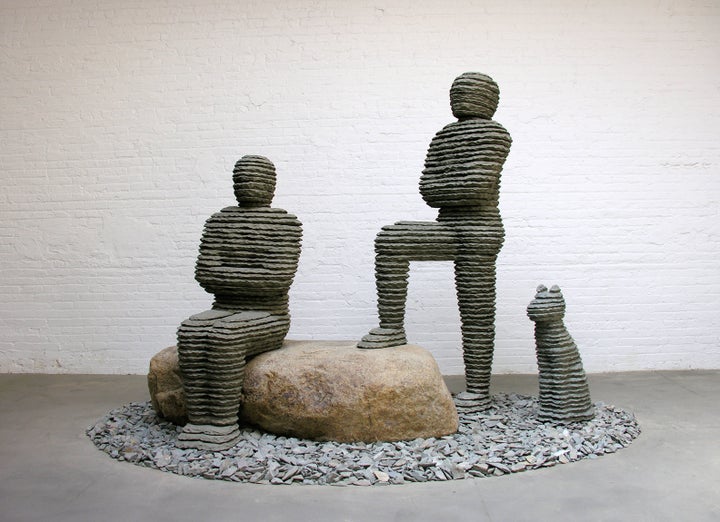 Israeli-born Boaz Vaadia enjoyed much acclaim during his career as an artist, since he first exhibited his work in Palm Beach at the Helander Gallery on Worth Avenue in the early-1980s. His handsome organic sculpture received immediate attention for its iconic style, which evolved into figurative forms created with layers of chiseled stone that reflected the eternal relationship between man and nature. Courtesy of PBM+C exhibitor Sponder Gallery, the nearby Ann Norton Sculpture Gardens (the fair's VIP Preview benefactor) also is showcasing a beautiful selection of the late artist's sculptures. Sponder Gallery, Boca Raton. Sponder Gallery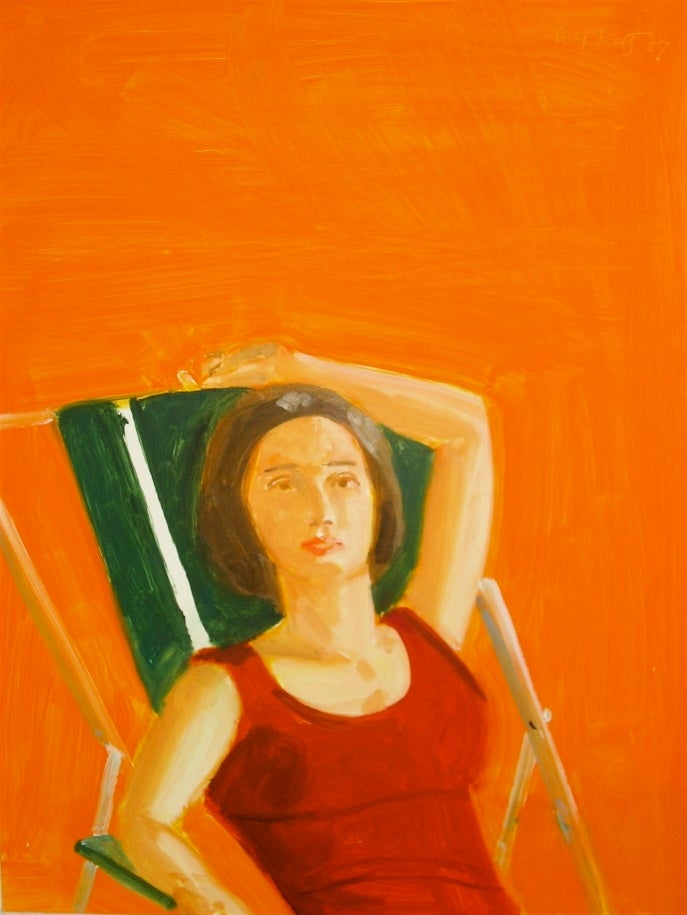 Alex Katz, who also is currently exhibiting his small-scale works in an impressive show at the Boca Raton Museum of Art, is considered a living modern master with over 200 solo shows to his credit, and whose work is found in numerous public collections around the world. This work exemplifies the artist's idiosyncratic, flat treatment of figures. Rosenbaum Contemporary, Miami and Boca Raton. Rosenbaum Gallery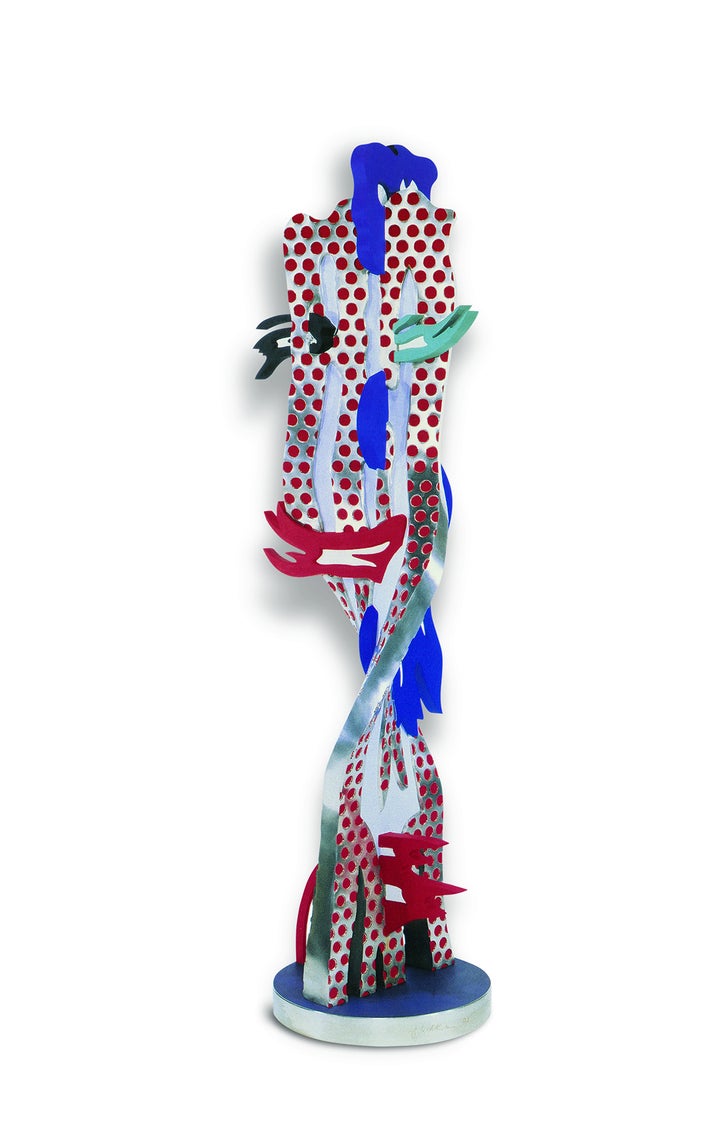 Roy Lichtenstein arguably is one of the most influential figures in Post-War American Art. The late Ivan Karp, a former director of Leo Castelli gallery, once told me that Lichtenstein was the most consistent in terms of identifiable style of the 20th century. Whether it was paintings, prints, or in the case illustrated here, sculpture, there were no exceptions to the artist's imaginative, recognizable signature observations of everyday life. Galerie Terminus, Munich. Galerie Terminus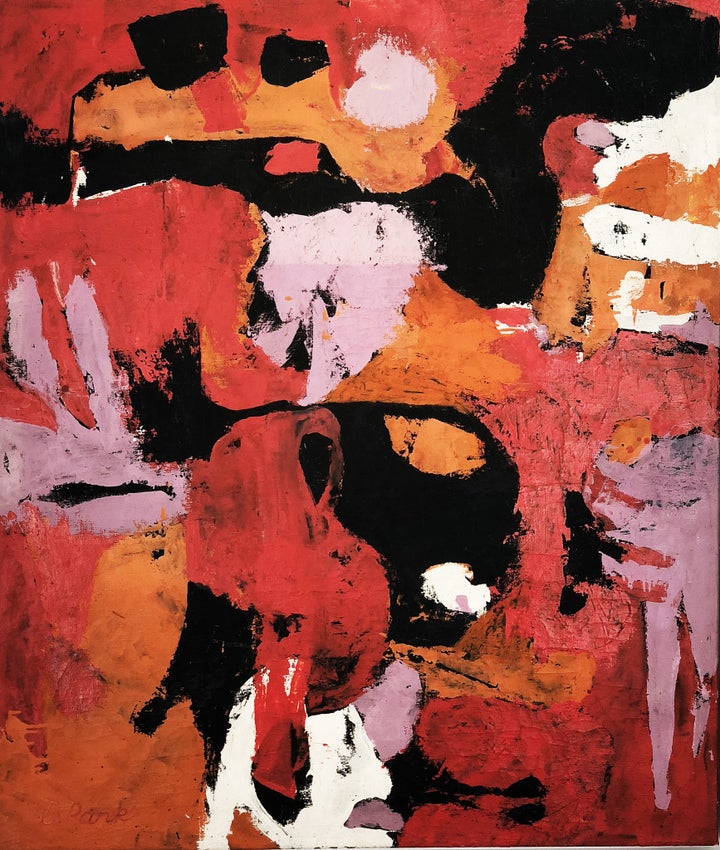 Charlotte Park received an MFA from the Yale School of Art in 1939, and shortly thereafter became captivated by the excitement of the Abstract Expressionism movement, later developing friendships with Jackson Pollock and Lee Krasner in the Hamptons. Perhaps overshadowed by her husband James Brooks' painting career, Park seemed to be unfairly overlooked, even though she obviously was a remarkable talent in her own right. This work, Untitled (1950), is one of my favorites. Mark Borghi Fine Art, Palm Beach, New York, Bridgehampton. Mark Borghi Fine Art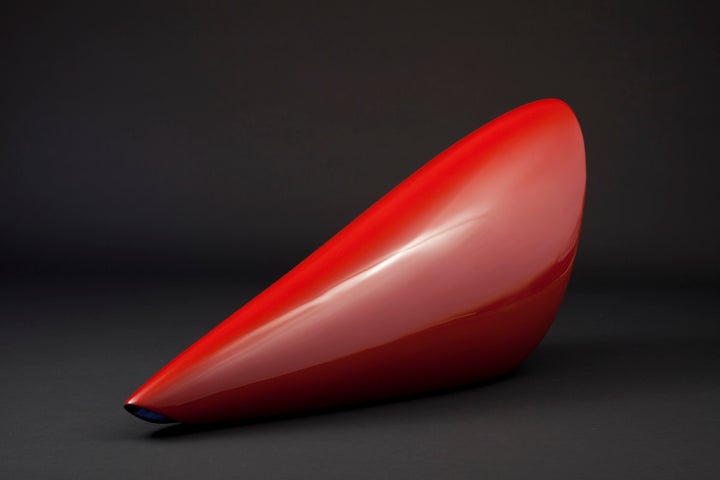 Nobuyuki Tanaka's Tactile Memory Floral Impression utilizes multiple layers of lacquer upon bare surfaces and provides a stunning transparency, an apparently indestructible quality that amplifies the inherent beauty of the work and makes these minimal, elegantly crafted sculptures almost ethereal. This minimalist red form of perfect proportion could be mistaken for the graceful fuselage of a futuristic spaceship. Yufuku Gallery, Tokyo. Yufuku Gallery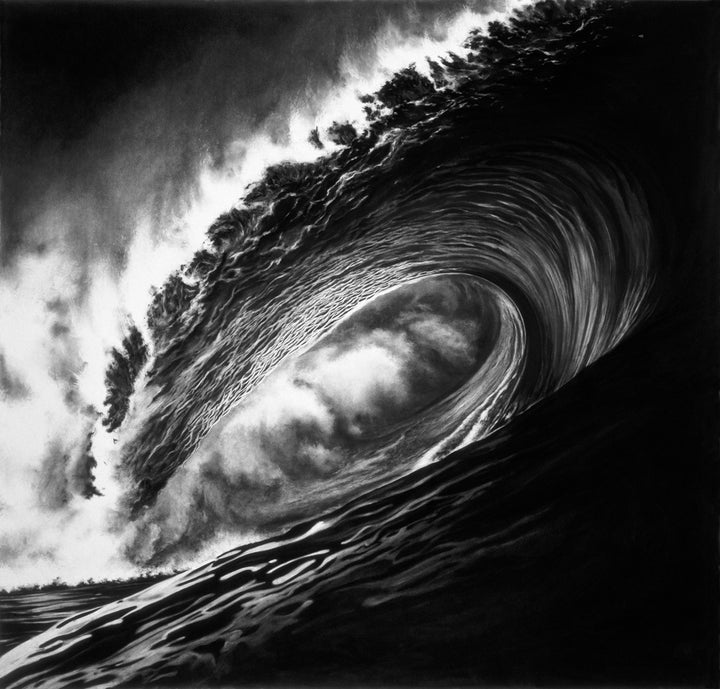 Robert Longo became a rising star in the 1980s for his "Men in the Cities" series, which depicted sharply dressed men and women writhing in contorted emotion. This image of an astounding killer wave, titled Hell's Gate, is beautiful but dangerous, and is reminiscent of the artist's fascination with dramatic, twisted shapes. Longo also was the leader and guitarist for a musical act called Menthol Wars, which performed punk experimental music and followed in the footsteps of numerous artist rockers, such as David Byrne. Galerie Raphael, Frankfurt. Galerie Raphael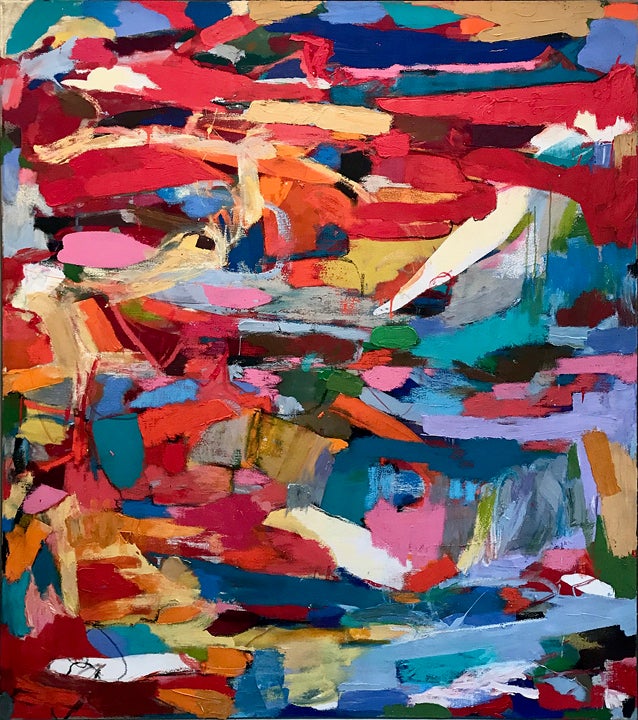 As a second-generation abstract expressionist, Michael Hedges inventively connects a synthesis of color, line and form in his work titled Orient Express, allowing him a unique pictorial rainbow of multiple painted horizontal layers that are marked up like a re-repaired vintage quilt that just keeps on getting warmer and better looking. McCormick Gallery, Chicago. McCormick Gallery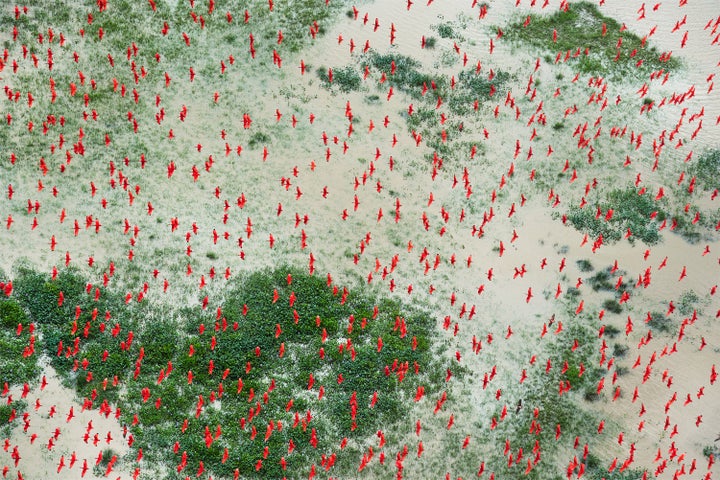 Born in Madrid, Daniel Beltrá is a photographer based in Seattle. His passion for conservation is evident in the delightful exploration of the magnificence of nature. In Amazon Scarlet Ibis, a striking aerial vista of hundreds of birds in flight, the artist captures the "decisive moment" in a harmonious instant in time offering an unexpected, charming experience and viewpoint. Catherine Edelman Gallery, Chicago. Catherine Edelman Gallery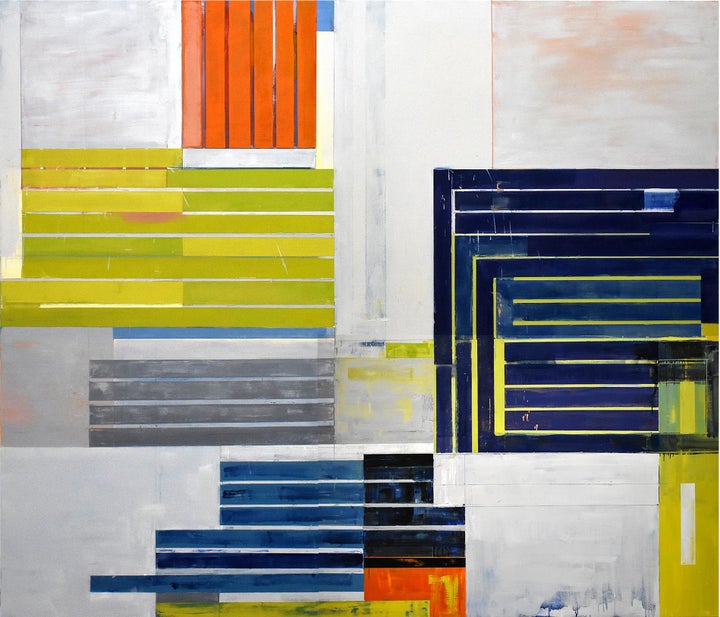 In Blue Bender, Lloyd Martin depicts a satisfying composition of pulsating, linear groups of vertical and horizontal stripes that are vaguely reminiscent of early Frank Stella experiments in black and white. In this new series, this RISD grad offers a meditatively eloquent arrangement where precision and chance become a shotgun marriage of reconstruction, rearrangement and realignment of rhythmic meditation and geometric precision. CYNTHIA-REEVES, North Adams, MA. CYNTHIA-REEVES
Other highlights of PBM+C include a presentation by 55Bellechasse of RAWK, an exhibition by rock icon Jason Newsted, formerly of Metallica. This is the Grammy Award-winning bassist's third artistic show, and a portion of all sales proceeds benefit the Perry J. Cohen Foundation; the Joe Namath Neurological Research Center, founded by the famed NFL Hall of Fame quarterback, funds research, hope and healing for those with Traumatic Brain Injury, is a PBM+C VIP Preview Benefactor, as is the Palm Beach Zoo & Conservation Society. Ten percent of sales proceeds from Chie Hitotsuyama presented by Avant Gallery benefit the Ann Norton Sculpture Gardens, Joe Namath Neurological Research Center and the Palm Beach Zoo & Conservation Society. PBM+C also will announce Rena Blades, President and CEO of the Cultural Council of Palm Beach County, as the recipient of the second annual Professional Achievement in the Arts Award for championing the Palm Beaches' evolution into one of the country's best destinations for cultural tourism.
Palm Beach Modern + Contemporary opens with an invitation only VIP preview on Thursday, January 11, 5-9pm; the fair continues through Monday, January 15. For additional information about PBM+C, please go to: Palm Beach Modern + Contemporary

Related
Popular in the Community