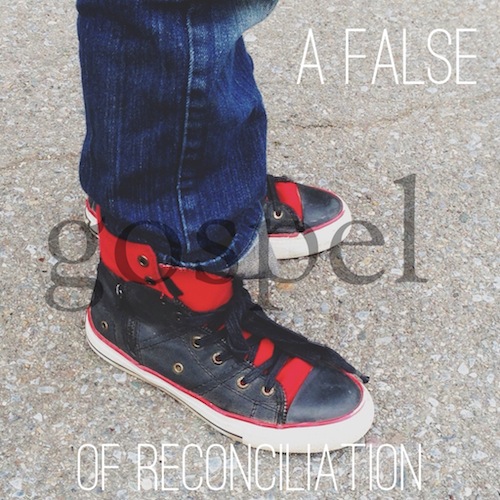 Therefore, if anyone is in Christ, the new creation has come: The old has gone, the new is here! All this is from God, who reconciled us to himself through Christ and gave us the ministry of reconciliation: that God was reconciling the world to himself in Christ, not counting people's sins against them. And he has committed to us the message of reconciliation. We are therefore Christ's ambassadors, as though God were making his appeal through us. We implore you on Christ's behalf: Be reconciled to God. (2 Corinthians 5)
I begin with this passage for one reason: I believe in the "ministry of reconciliation."
And I want to frame everything that follows here in the gospel that truly reconciles. I have no interest in contradicting that gospel. I have no interest in abandoning it. I aim to give my life to experiencing and sharing in that very same message.
But here's the thing: There's a false gospel on the loose in the evangelical church.
And it is nothing less than a diabolical doctrine that comes clothed in a bright, angelic, counterfeit message of "reconciliation." It is a word entrenched in institutional power and amplified by hierarchies reaching up into the halls of religious academia and pressing deep into the world of prestigious publishing. Far from a message that subverts the empire of selfish power and control by reweaving justice and peace, this gospel is one that glorifies the way of empire, often calling it "God" and claiming to be his ambassadors. Then, when injustice strikes, instead of healing there is worse abusing; instead of honesty and advocacy, complicity.
And the ministers still mouthing "reconciliation."
It's an old, old story really, but it is playing out with new people in new ways. I've written before about the current lawsuit against Sovereign Grace Ministries and how it represents a rapidly approaching counseling cliff for the evangelical church at large -- a cliff especially perilous when conservative churches deal with matters of abuse. Well, last week, more allegations were filed against SGM, and they are horrific. And, as of now, the major evangelical institutions that are closely connected to SGM -- namely, The Gospel Coalition (where C.J. Mahaney, a defendant in the suit and founding leader of the SGM movement, is a council member) and Southern Baptist Theological Seminary (major supporter/ally of C.J. and SGM, with President Al Mohler as close friend and staunch defender of C.J.) -- have not issued anything in the way of cautionary or even concerned statements regarding the man or the movement (that I am aware of). There has been total silence about a celebrity preacher and an organization that is now literally inundated with accusations of sexually and physically abusing children and conspiring to cover it all up over many years. Nor have any/many connected big-name individual leaders, themselves also institutionally powerful, come out with words of warning or grieving. Instead, powerful men like John Piper have made gestures of support in the midst of C.J. and SGM's legal troubles.
The silence is deafening.
Just like it was when priest after bishop after archbishop in the Catholic Church were convicted and exposed having maintained silence and conspiracy and complicity all the way until the court's verdict finally came down. And just like it is even afterwards, as Vatican supporters try to minimize the atrocities committed, citing statistics and percentages and "we're doing pretty good, considerings." Because that's how it goes with power. That's just the way empire does things.
Hey, here's an idea. Where's the guy that's willing to lose his job by coming out with some STRONG statements of alarm, warning, grief and mourning, at the sheer wretchedness of these allegations? Where's the guy who doesn't care if the leg bone's connected to the thigh bone from whence his big publishing deal cometh and decides to tear the freaking tarp off of this twisted metal wreck of a system that halts and hesitates to even empathize with these victims and weep with those who weep at the first sign of their weeping (not to mention their months of legal case-building)? I mean, we all know how this ends, right? WE ALL KNOW HOW THIS ENDS.
But this is the way the false gospel works, and it's an old, old story. This false gospel starts with a false god -- a god who is anger. Yes, the god of this SGM movement was said to be just that -- gracious -- but the seedy backdrop behind this notion of grace is a god of sadistic and irrational rage. C.J.'s famous quip that we are all doing "better than we deserve" is grounded in the idea of a god of such cruelty that no matter what injustice we may have suffered in life -- or perpetrated -- all is better than what we really deserve, which is unending conscious torture at the hands of a concentration camp commander christ. So don't complain! Stop being depressed! And if, by some miracle of miniscule probability, you have been chosen for eternal life by the sovereignly electing mind of this raging god (a matter, of course, to be discerned by your SGM elders), then no matter what happens to you post-regeneration, you REALLY have no reason to whine!
The most grotesque allegations to come out of this lawsuit have to do with the culture of "gospel-centered reconciliation" in this movement, where victims of abuse -- often children -- were simply told to "forgive" and "reconcile" with their adult church member/leader abusers. I mean, it's better than you deserve, right? So get over it. And smack dab in the center of this demonic-gospel culture were leaders who rise to levels of immense influence over their cruelly "humbled" people, all the while claiming to be humble themselves. These guys held the keys out of unspeakable eternal hells, and that gave them unspeakable power. Yet because the hell inside of some of them was almost as bad as anything postmortem, they perpetrated their patriarchal darkness upon innocent little ones, and then helped each other keep the concealing tarp firmly intact.*
And this false gospel of reconciliation doesn't stop here. It is not only reserved for churches fraught with sex abuse scandals. It rears its ugly head in all kinds of conservative evangelical circles, taking the similar shape of pain-denying theologies that counsel victims to get over it and get back together with those who harmed them. The gospel is about reconciliation, right? So if your spouse hits you, forgive them and reconcile. And if your kids are starving because of a father's gambling, get some counseling from an elder and make it work, honey. And if some friends cheated you in business, or a church member is spreading vicious lies about you, or a family member won't stop manipulating you into situations of terrible emotional pain, hey, it's better than you deserve because you're a hellbound sinner too, so just reconcile with them because that's what grace means (i.e., subjecting yourself to present pains presumably less than the eternal pain of conscious torment in hellfire).
And it's BS because it twists the truth of the ministry of reconciliation into something that perpetuates the abuse of power instead of subversively stopping it.
See, in a very present and real sense, right now, God is at work to reconcile and restore the entire cosmos to shalom, to peace and justice and wholeness:
The Son is the image of the invisible God, the firstborn over all creation. For in him all things were created: things in heaven and on earth, visible and invisible, whether thrones or powers or rulers or authorities; all things have been created through him and for him. He is before all things, and in him all things hold together. And he is the head of the body, the church; he is the beginning and the firstborn from among the dead, so that in everything he might have the supremacy. For God was pleased to have all his fullness dwell in him, and through him to reconcile to himself all things, whether things on earth or things in heaven, by making peace through his blood, shed on the cross. (Colossians 1)
This cosmic dimension of true gospel reconciliation takes precedence over all interpersonal situations of wrongdoing, conflict, or abuse. The goal toward which the resurrected Jesus is working in the world right now is not some imaginary peace where people "reconcile" in name only while the abuse is never stopped and the wrong never righted. No, this is instead a total bending of the violent and unjust world back toward God's shalom, until it is completely put to rights on the final day.
Thus, any ministry of reconciliation that does not, as a matter of first importance, advocate for the innocent and safeguard the physical and emotional protection, not exposure, of the people entrusted to the church, is no ministry of reconciliation at all.
Because reconciliation is right.
Reconciliation bends things back to to justice and peace.
And reconciliation, rightly lived as part of God's cosmic work to restore all things, always subverts the empire of unjust power and control. It messes with thrones and powers and rulers and authorities. It takes them to task.
And forgiveness, which is the fundamental heart-level releasing of those who have done us wrong to the capable hand of God, hoping and praying for their redemption, refusing to live in bitterness and resentment (even in the midst of our righteous anger), endeavoring to love even our enemies, does not require a faux interpersonal reconciliation that merely opens us back up to the dangerous abuses of power that caused so much pain in the first place.
Because that's not what God is up to in the world. He is angry over abuses like these, to be sure, but that is precisely because he is not that sadistic, irrational being who is callous to all earthly pain in contrast to the eternal pain he intends to inflict upon the non-elect (and of which all are deserving). God is not anger.
And that love is what any and every victim of injustice truly deserves.
What do you think about this case, and about this issue? I'd love to hear your thoughts.
*And remember, though I am responding strongly to the allegations as they have been presented -- and I believe everyone should react strongly to them -- they are not yet legal facts. We do not wait for a verdict before we speak out or empathize with the victims (because that is injustice in and of itself), but we respect due process before passing the final verdict ourselves.
Update: Friday's civil suit hearing (May 17) has run into a severe statute of limitations setback. Read more here. It appears that some of the plaintiffs' allegations may still be admissible, and a criminal trial may be forthcoming. Regardless, the court of common sense will cast a strong verdict in light of the evidence, and the truth will shine, no matter what. Let's just hope that the abusers and complicit institutions and leaders are all held accountable.
Popular in the Community