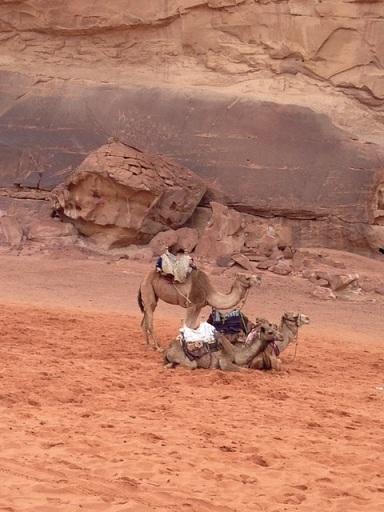 Despite the unrest that is currently engulfing the Middle-East, certain parts of it are actually a great place for a family vacation. My twin boys and I ventured to Jordan and Israel for winter break.
We spent our first day in Wadi Rum, an otherworldly dessert landscape where Lawrence of Arabia was filmed. Many travelers take a four wheel drive tour of the area, but since we are more of a hiking family, we spent hours climbing up the red rock formations and sand dunes. A late afternoon rain storm cancelled our scheduled camel ride, although we did manage a photo op and the requisite cup of a tea in a Bedouin tent.
Our terrific guide, provided by Cox and Kings, ushered us into the gates of Petra as they opened. The path to the Treasury, one of Petra's most well-known structures, passed through endless rose colored rock formations and tombs. It is an astonishing building carved completely out of stone and built possibly as early as 315 B.C. We toured the numerous temples and a coliseum and then began a lengthy negotiation for a donkey ride to the Monastery, another one of Petra's iconic structures. It is also less crowded (probably because it is quite a long uphill trek) and a great spot for a lunch break. We completed our day with our missing camel ride, which was an excellent idea, since we were exhausted.
Our final day in Jordan was spent at the Dead Sea, with a quick stop in Madaba, home to a sixth century mosaic map of the Middle East housed in the Greek Orthodox Basilica of Saint George. Although the Dead Sea is probably more commonly associated with Israel, the Jordanian side has some amazing resorts. The Kempinski Hotel Ishtar provided bowls of mineral rich mud, an infinity pool and the best multi-course breakfast of my life.
The next day, we crossed into Israel via the Allenby Bridge, which was definitely a more cumbersome border crossing, mostly because a metal turtle souvenir I bought in Petra (don't ask) looked suspicious when my luggage was screened. Jerusalem was only about half an hour away.
Depending on one's religious affiliations, Jerusalem has endless religious sight to experience, but it is also a great base for numerous kid-friendly excursions.
A great starting point is the Tower of David museum, which provides a comprehensive introduction to the history of the city and also offers a lovely sound and light show. One of the highlights of the day was definitely the Western Wall tunnels, where visitors can explore a large underground portion of the Western Wall built by King Herod. On our way back to the Jaffa Gate, we walked through the shouk--a warren of fantastic shops selling countless souvenirs and wound up with a backgammon set.
My kids also loved the tour of the City of David, one of the oldest neighborhoods in Jerusalem. The tour includes more archeological ruins and everyone's favorite--the "wet" and "dry" tunnels. Both tunnels took advantage of Shiloh's Spring, thought to be the city's original water source and both are amazing feats of ancient engineering. The water is about two feet high and the wet tunnel is completely dark, so bring water gear and a flashlight.
After seeing all of those ruins in Jerusalem, it was time for my family to get our hands dirty and join our own archeology dig. Located in Beit Guvrin, about 45 minutes outside of Jerusalem, we signed up for the "Dig for a Day." Everyone gets a pick axe and a shovel and their own area to excavate. Each family in our group uncovered a bucketful of goodies, including pottery shards, animal bones and really old charcoal.
Every trip to Israel requires a visit to Masada, the fortress built by King Herod and the site of Jewish rebellion against the Romans. Perhaps most impressive is the amazing cistern system, which made the desert fortress habitable. We took the cable car up since we were saving our energy for the Ein Gedi Nature Reserve, just about 15 minutes away. Ein Gedi has several trails and many small waterfalls and is terrific place to hike and swim. Another highlight are the unique animals that live there. We spotted several hyrax--furry little animals that are supposedly related to elephants and a herd of Nubian ibex, desert goats that climbed up the path with us.
FLY: El Al is probably the most security conscience airline.
STAY:
Petra: The Moevenpick hotel is just across the street from the entrance to Petra, room rates start at $240, Moevenpick-hotels.com. (The hotel entrance requires passing through a metal detector).
Dead Sea: For a splurge, check into the Kempinski Ishtar hotel, which is right on the shores of the Dead Sea and has a heated infinity pool, rates from $230, kempinski.com/Ishtar. Although off-putting for some, we felt particularly safe since all entering cars are checked for bombs.
Jerusalem: High end: The Inbal is a great family-friendly option, with oversized rooms, the city's only heated indoor pool and free wifi, room rates start at $350, inbalhotel.com
Moderate: The Dan Panorama is another kid-friendly hotel that also has a kid's club, room rates start at $220, danhotels.com.
GUIDE: If you plan to cover a large amount of the Jordan or Israel in a short amount of time and would like experts to guide you, Cox & Kings, can make all necessary arrangements, including help with the border crossings. http://www.coxandkingsusa.com/, 800-999-1758