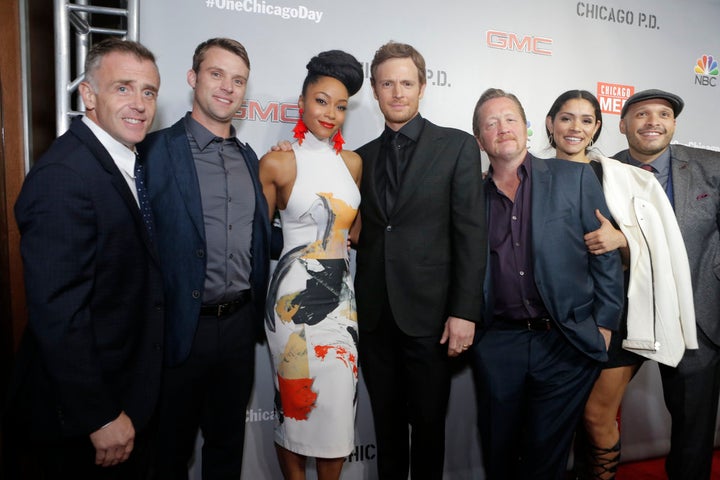 When you're here, you're family.
While that line might usually be reserved for The Olive Garden, it applies so much more for The Windy City thanks to the One Chicago franchise. Dick Wolf's magical universe and ratings juggernaut on NBC, created by the brilliant writing team of Michael Brandt and Derek Haas, has a mythology so expansive that it makes the Star Wars world seem uninvolved. Love interests and family members flow between the shows, and this can be said on-screen and off as some actors have even found romance while working on set. They all, however, have found friendship, family and most importantly, mentorship through Wolf, who guides them through these massively successful hits like a loving parent.
When NBC premiered the franchise with Chicago Fire in 2012, none of the actors could have ever predicted what was to come- except perhaps Wolf himself, having already brought blockbusters to television with the very successful Law And Order franchise. A hundred episodes later from Chicago Fire, and Severide, Casey and Dawson have plenty more playgrounds to play in as Chicago P.D., Chicago Med and now the anxiously awaited Chicago Justice have all been added to the line-up, and the eager actors on all the shows couldn't be more thrilled to be able to take their beloved characters and explore them in different settings.
And not only are the characters lovable, but there's a reason why fans are so dedicated to these shows as the casts are equally as adored. With an extremely diverse range of people that truly represent not only what Chicago should look like, but also the world as a whole, featuring very powerful men and women that risk their lives on a daily basis for others, it's easy to see why the One Chicago members have stolen hearts- and it's a pleasure to know that they are very much the same off screen. Newcomer to the franchise Philip Winchester of Chicago Justice is perhaps one of the kindest and most amiable people one could ever meet, making an effort to truly listen to everyone around him, a persona that will surely shine through the screen to give hope that not all lawyers are bad- which is another strong point Wolf tries to make with this franchise. As executive producer Michael S. Chernuchin states;
"I never thought I'd see the day when cops would be the bad guys. In some situations, yes, some cops are certainly bad- but on this show, that's definitely not the case. Here, they are heroes. They are first responders. They do what they do for basically no money at all."
And that is very much the case with the entire One Chicago franchise. While many shows out there are looking to really showcase complex antiheroes and moral ambiguity, and that's certainly great in its own right, these shows are not that. At the end of the day, they are feel good shows that try and remind the world that there are still some heroes out there that don't wear capes, and we can find them in our everyday lives- and that is certainly something to be commended. The actors and writers deeply research these professions, and work hard at honoring them and that is one of the major things that translates on screen that draws people in and touches their hearts.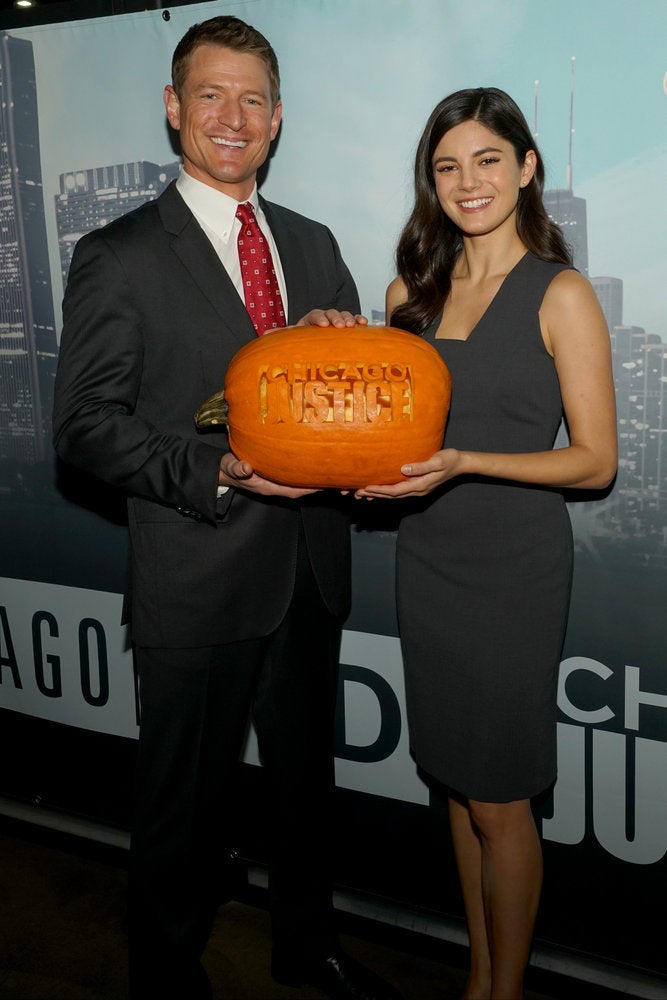 Another reason these shows are so beloved is the dedication to the city of Chicago itself. Rather than shoot on a sound stage, these shows utilize the city in a way where they have made it their leading character woven throughout every story, and every actor has seemingly fallen in love with it. When asked about the deep-dish loving city, talented dreamboats Nick Gehlfuss and Jesse Lee Soffer both sweetly and immediately say; "This is now my home," and Anthony Ferraris is quick to point out the authenticity in casting in the fact that he, DuShon Monique Brown, Christian Stolte and Amy Morton are all natives. An acclaimed theater actress, Morton comes from the very prestigious Steppenwolf Theatre Company- a staple in the booming Chicago theater scene- of which has now welcomed the extremely successful Hamilton, whose cast was in attendance for One Chicago's celebration. And of course, it is impossible not to mention that New York City icon, David Eigenberg of Sex And The City fame, has now traded in The Big Apple in favor of the city that invented jazz, already falling in love with its character, architecture and beauty.
Speaking of the beauty, it doesn't hurt that these shows feature some of the most gorgeous people in the world. Jesse Lee Soffer from Chicago P.D. is literally so incredibly beautiful that the camera barely does him justice, and his picture should easily go next to the definition of the word "perfect," while Yaya DaCosta from Chicago Med is so utterly flawless that she seems almost mythological in her beauty as looking at her might turn a person to stone- and on top of that, the former America's Next Top Model star is not only outrageously stunning, but she is also very intelligent, as well as poised, charming and kind. And that's not even addressing their talent! While Soffer took on the role of Bobby Brady in The Brady Bunch films as a mere child and absolutely destroyed it- even at such a young age, DaCosta was probably the only person in the world who could have ever dared to fill the shoes of Whitney Houston in Whitney and portrayed her beauty, talent and grace.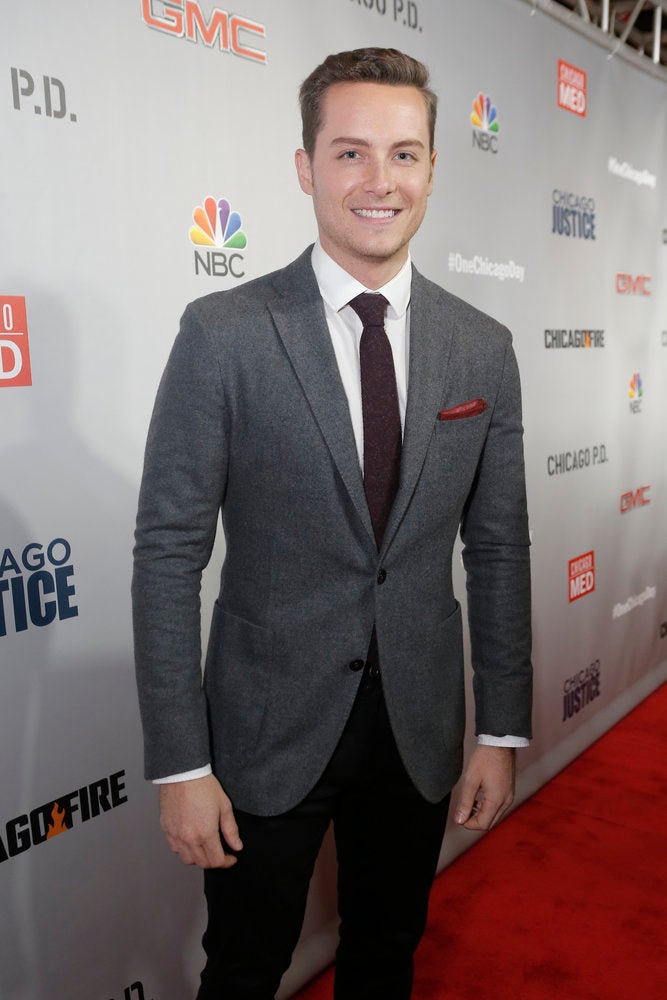 But, all of the One Chicago actors are gorgeous and gifted, and offer their own special flavor to the franchise. Newcomer Monica Barbaro on Chicago Justice has recently scored her own legion of fans from working on one of televisions biggest and brightest hits, UnReal, where the talented beauty had some fun playing a bad girl in an equally bad world. Now, the sizzling starlet gets to show her range in an entirely different type of role and the world couldn't be more eager to see more of her! Another actor who has been able to showcase this kind of diversity in the Chicago One franchise has been Nick Gehlfuss, who previously showed off some tremendous acting chops as a bad boy on the phenomenal Shameless before scrubbing in and doing a complete 180 for his role on Chicago Med. Gehlfuss went from playing the guy to never bring home to mom, to the guy the entire world is dreaming of as his relationship with the talented Torrey DeVitto's character, Natalie Manning, is one of the most beloved romances of the entire franchise.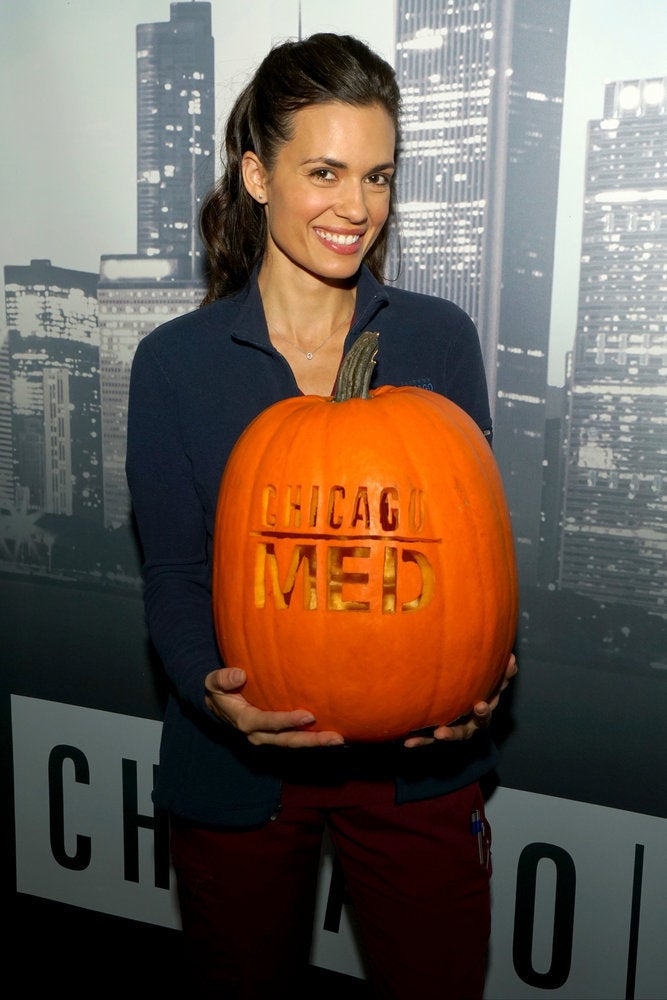 But, more than anything else, the main thing that makes these shows so successful is family. Some casts might say they are like a family, but here, they truly mean it, and to just be in their presence makes anyone around them feel like family as well. They are constantly hugging one another and singing each other's praises. And why wouldn't they when they have such incredible talents like Oliver Platt, Carl Weathers and Jason Beghe to praise? These actors are so brilliant that it's no wonder that the entire cast can't stop gushing. They support each other, and stand up for one another and help each other out. The women of the franchise have a book club together, actress Kara Killmer got her job from forming an instant bond with creators Michael Brandt and Derek Haas upon learning that they all went to Baylor University, and when newbie director Monica Raymund set out to make her first film, she looked to cast within her One Chicago family and cast Christian Stolte, Eamonn Walker, and Joe Minoso- who calls her "hermana." The actors see themselves as brothers and sisters and that radiates through the screen and touches fans hearts every week, making them feel like they are a part of the family as well- and that is a gift that cannot be replaced.
In the extensive interviews below, the actors answer some questions on different topics regarding where the shows are headed, how great it is to be part of a project that represents such strong women characters and more diversity on screen, why Chicago is the main character of the franchise and why they love it, and what makes them one big happy family. Read on to see what they all had to say!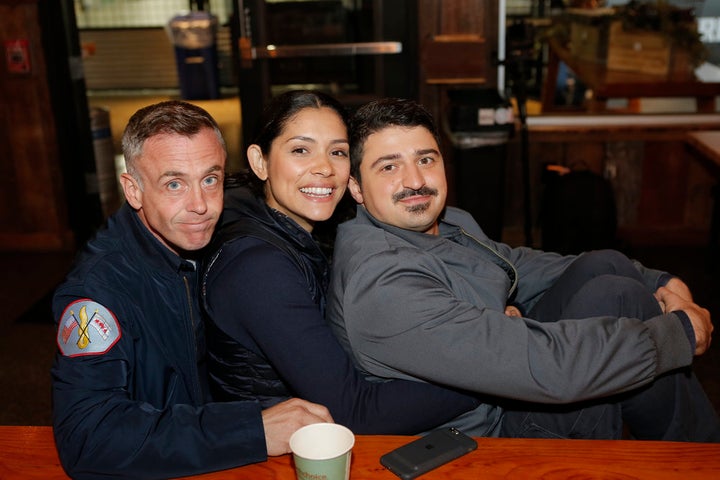 One thing that simply can't be denied is how much of a family the "One Chicago" franchise has become. Can you touch on that?
AMY MORTON: We have a really fun time, and it's just so much fun to be able to cross over from one show to the next. It truly is like a family, and at the same time, it's like a playground. It's truly a joy.
MARINA SQUERCIATI: I think it's really great. We've all really settled in to Chicago, growing as a family and we feel safe- and as an actor, it's rare you feel safe. Dick Wolf has really made a home for all of us.
RANDY FLAGLER: We all just get along so well off camera, and it was an incredible group of people; Dick Wolf, Michael Brandt and Derek Haas that brought us all together. We are all so grateful. Not all shows have casts that get along once the cameras are off and we do. We love one another.
DUSHON MONIQUE BROWN: I know, for me, I'm not on set every day, but people are always asking me about my kid and how my day is going and they are all so very sweet and kind.
EAMONN WALKER: We've got each other's backs. Some days are good, and some are bad, and it's good to know that there is someone to come along when you're down to lift you up and support you.
ANTHONY FERRARIS: We are all like brothers and sisters. We all hang out and we really try and make the most of our time together.
TORREY DEVITTO: I had worked with Sophia Bush before, and when I got the job I immediately messaged her asking her what to expect and she said; "get lots of winter clothes!" [Laughs] But, we really enjoy each other so much. The women throughout the franchise all have a book club together. It's so much fun. The characters are strong on-screen, but just as great off-screen. I truly love these women, and all these people in general.
COLIN DONNELL: It brings a great level of comfort to have my wife [Patti Murin] work on the show, because she's now working as a love interest for Nick Gehlfuss' character- and if there is anyone I would trust to be acting alongside my wife like that, it's Nick. Nick is family. Of course, we're all professionals, and we're all comfortable with that sort of thing, but it's always awkward watching your significant other smooching another man. But, Nick is such a wonderful guy, and I'm such a proud husband and fan of her work and their work together.
NICK GEHLFUSS: Patti is amazing and it's just fun to work with her. She has a great energy. And I'm friends with her as well- we're all such really good friends. Everyone throughout the entire cast of all the shows are really good friends. But, one time Patti and I were filming a scene for the marathon episode and Colin jumps out of the bushes and screams; "Don't you dare touch her!" [Laughs] So, we joke around a lot. But, everyone is very professional, and it's effortless to work with such wonderful people.
KARA KILLMER: So, Michael Brandt and Derek Haas both went to Baylor University, as did I, and that's exactly why I have a job [Cracks up] I know they tested a few different girls for Brett, and I had put myself on tape. Then, I came in and did the lines and Michael said; "So, how did you like your experience at Baylor?" And I was so shocked, because nobody usually looks at that section of a resume. But, I told them how I loved it and they both said that they went there and I was like; "Great! Then I'll see you guys next Tuesday! Let me go pack my bags!" [Laughs again] They're amazing.
JOE MINOSO: This has been an insane experience. We could have never anticipated getting this far. We knew in the pilot that we thoroughly enjoyed one another and there was something about the alchemy in the group that was very real and palpable, and luckily that has now translated into 100 episodes of television, and I think that's because firefighters at large are basically a family. They are a real brotherhood, and they are always looking out for the good of other people- and we try are hardest to emulate and honor that. We do our best to show what it is to be a real firefighter, and that means being a family, and somehow we've managed to turn into one in the process and it's been phenomenal. We vacation together, we go to each other's weddings, we are there for one another. I couldn't ask for a better group of people to be with.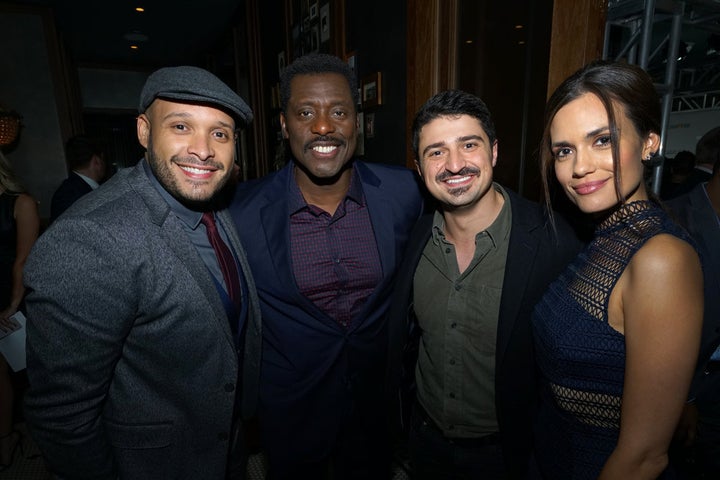 Talk a little bit about working with the amazing people who created this fantastic playground for all of you to work in; Michael Brandt and Derek Haas, as we well as the legendary Dick Wolf.
S. EPATHA MERKERSON: Dick started as an ad man, so I think he is a person who really understands what sells. Then, he really became an extraordinary writer. So, I think when you put those things together you get someone is unbelievably creative. He's very bright. He doesn't suffer fools- which I appreciate. And ultimately, he's a good storyteller. But, more than anything else- he's loyal. He's loyal to people.
NICK GEHLFUSS: He's loyal to everyone- the people that work for him, as well as the fans who are dedicated to the work he puts out there, and it's truly just incredible.
JASON BEGHE: The thing about Dick is that he's a genius. I've never met anyone who understands the micro and macro of a scene so supremely. He can give an actor a small note in a scene, but he can also understand how to set up a shot, or an entire theme of a show in a way that he can sell internationally. I think that's part of what makes him so amazing.
OLIVER PLATT: I've known Dick for a long time, and I can talk about him forever. He has an instinctual understanding of the procedural. I've stopped second guessing him long ago. He's just really good at what he does. He's incredible decisive, and incredibly loyal. He's an entertainer, but he also wants to inform. He loves to educate his audience. I learn through him just making Chicago.
TORREY DEVITTO: They are definitely a powerhouse of men. They are amazing, and it's incredible what they created and how hard they work. The fact that Dick Wolf has created this entire world- I mean, who creates a world? Nowadays, it's hard to even get a show off its feet, and if you do it doesn't last very long, and this man has the science down to a T- it's very inspiring.
ANTHONY FERRARIS: They are all nothing short of geniuses- and that is all that is to be said.
DUSHON MONIQUE BROWN: I'm very grateful for their artistry, and that's why we are all here.
JEFF HEPHNER: They're just great. Truly great. They're very cool, good people. When I left Chicago Fire, the door was always open to come back. They are men of their words. I got to come back and explore the same character in a different universe. It doesn't happen very often.
BRIAN TEE: They are the best of the best. You say Dick Wolf and everyone knows him and the caliber of work that he does and the legacy he has created. We're all here because of him, and that legacy is legendary. He's created such a universe that hasn't been done in the history of television, and that's amazing.
JOELLE CARTER: Dick Wolf is brilliant. I feel like what he built here is really a family. He's so dedicated to the real people who do these jobs. He rips it from the headlines and we all relive it and learn from it, and that's really what people want to go home and lose themselves in.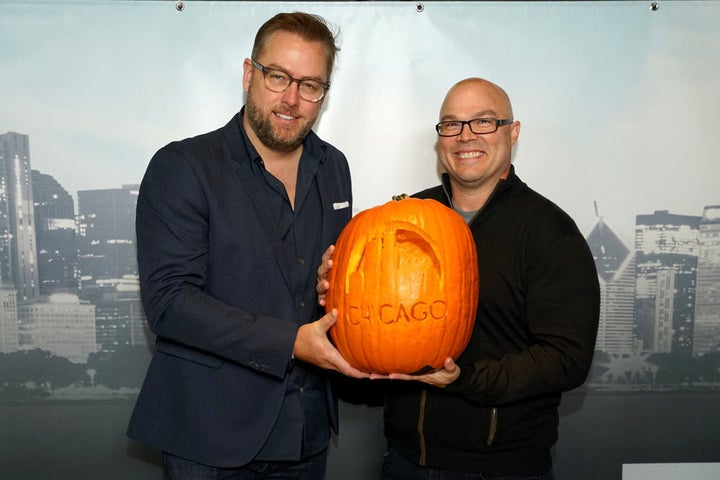 Talk a little bit about your fellow co-stars, as well as the co-stars throughout the entire "One Chicago" franchise. You really have so many fantastic people to play off of on four different shows!
MARYLYNE BARRETT: I love working with Sophia Bush! She brings such a human side and such a great perspective to her relationship with Rachel DiPillo.
PHILLIP WINCHESTER: It's just the greatest feeling to be part of a franchise that has people like Oliver Platt, Jason Beghe, Eamonn Walker, and some really great people on board. You just get to see them walking around having lunch, and it's incredible. I go in to work every day and pinch myself that I get to do a scene with Carl Weathers.
MONICA BARBARO: These are some really heavy-hitters and truly talented people, and I feel very fortunate to be acting alongside them. It's definitely an honor to be cast alongside someone like Carl Weathers, absolutely.
JESSE LEE SOFFER: I can't wait to be able to work on Chicago Justice and be able to work with Carl Weathers! Come on! That man is incredible.
LAROYCE HAWKINS: I look up to everyone who is more seasoned; like Patrick John Flueger, Jon Seda and Jesse Lee Soffer- they really set such a great example. They represent true actor's that work hard and are about more than a paycheck. And this is my first big picnic, so I'm just blessed to be in the position. Everybody is humble, there are no egos, everyone is looking out for one another. I remember our first season before we started shooting, Jason Beghe- the captain of our ship- he just stopped to remind us that as long as we continue to remember that Chicago is the show, and the show is about Chicago and not us, then all we have to do is tell the stories and not try and bring forth our personal egos and agendas- and then the show will be good. That was such a precedent for how the show is now, and that's why the show is so successful and the franchise will be around for a while.
COLIN DONNELL: The fact that I'm on a show with Oliver Platt? I mean, I just love it. He's just so talented and the kind of person I've always wanted to work with, and I can only hope to work with more, because I hope to be doing what they're doing when I'm there age. Longevity is important to me! [Chuckles]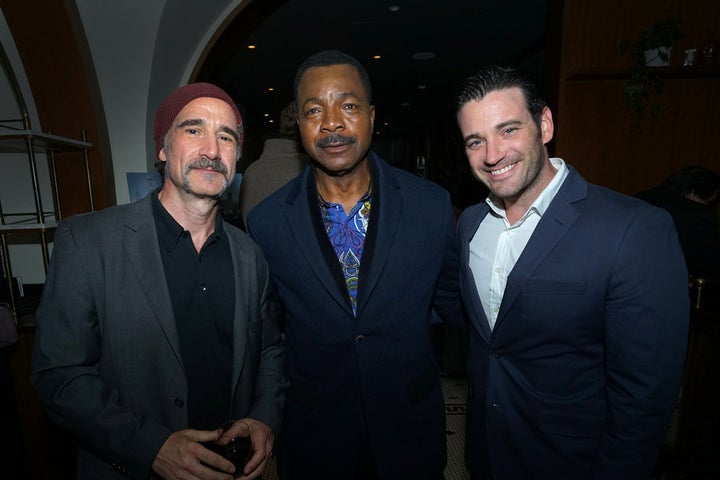 And how does it feel to know how much the fans love these shows?
YAYA DACOSTA: Twitter and social media is all well and good- but human connection is what it's all about. When someone stops you on the street and tells you how your work impacted them, there is nothing that compares to that. It really makes up for any inconveniences that may come up with the territory. I love children and I love having young fans, particularly little girls who tell me what they think about seeing me on TV, or the new confidence they have found- maybe about their physical appearance, or their natural hair, or whatever it is. It's wonderful to feel so connected to people on a deeper level rather than them just watching you on TV. They think they know you as a person. It's amazing to affect the lives of people in a positive way.
EAMONN WALKER: You can't feel the ooh's and the ahh's. You just have to trust in all sorts of outlets, and the one thing I have tremendous trust in are the people that are watching it. Most of the people who are watching it, they are connected to it. We don't know what makes it special- we just do what we do. The alchemy of us is the alchemy of us. We found each other and were put together by Dick Wolf, Michael Brandt and Derek Haas and this entire machine, and that's incredible, but to have the fans respond so positively is even more of a gift. These shows touch hearts, and that's important.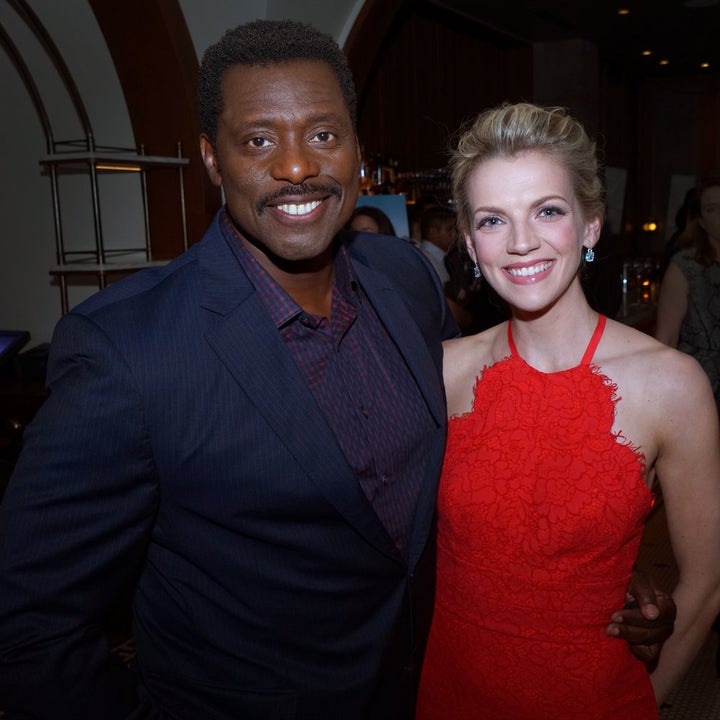 Can you talk about how Chicago really is the main character within the entire "One Chicago" franchise?
DEREK HAAS: There's something about people who are from Chicago- they have this edge where they are the friendliest people, but then you also shouldn't mess with them! A big theme that weaves our shows together is family, and anywhere you go you just feel that when you're around here. Everyone has each other's back.
DAVID EIGENBERG: I think there's a big difference between New York and Chicago. I obviously spent a lot of time in New York city, and I loved it, but Chicago has a very different history than New York city does. New York has a strong focus on the migration of immigrants, and there is a crime element there and even an underbelly, but Chicago is a much harder, and more brazen city. You have the really lovely downtown area with its high-rises, and a lot of people think that is Chicago, but Chicago spreads far and wide and we cover all of that as a firehouse. Seeing these lives and being so stitched into what is the real Chicago, this is really corrupt city. The last seven governors from Chicago are in prison. And I think Chicago P.D. really grabs on to that corruption. There's an entirely different way of dealing with the law here, and I'm not saying that is right or wrong, it just is- and that show portrays it. And I think our show really showcases that reality also, which is great. And there's more beer here. We're at the awesome Lagunitas- I mean, c'mon! We drink a lot of beer here!
JESSE LEE SOFFER: I want to give a shout out to the Chicago Cubs- because they've been winning and this city deserves it! Chicago has been through a lot. To have this going on is fantastic. And as far as I'm concerned- we live here. I go back to L.A. for a couple of months because I have some friends there, but this is home. This is where my family is.
MICHAEL S. CHERNUCHIN: I'm learning the lingo every day when it comes to writing for Chicago! [Cracks up] "Over by 'dere!" It's a great centerpiece. Our main character, Peter Stone, has this great moral center- a real Midwestern heart where he feels that he really has to do the right thing.
TORREY DEVITTO: Chicago is absolutely the main character here to the point where it even effects some of our storylines. We have very topical storylines based around the city- we deal with gun violence, gangs, and so on. Just the scenery adds so much to the show- when we get to do outside shots, you really get to see just how much Chicago really is the central focus of all of the shows.
RANDY FLAGLER: Let's say this- it's nice that when you shoot exteriors, it's nice not to see palm trees. We have the architecture, the bridges, the roads, the streets, the roads, and people can tell. They know when it's their neighborhood.
ANTHONY FERRARIS: Many people in the cast are actually from Chicago, and I think that lends to the authenticity. DuShon Monique Brown, Christian Stolte, Amy Morton and myself are all actually from Chicago, and we blend very well. That attention to detail is so important.
PHILIP WINCHESTER: Dick Wolf said he wanted to make this franchise because Chicago is one of the greatest cities of the United States. You've got New York, and you've got Chicago. It has this incredible vibe, and this incredible heartbeat, and if we can talk about the stuff that matters to Chicago, it does resonate to the states. It's the heart of the midwest.
JEFF HEPHNER: Chicago is a very unique place. Chicago is very much its own energy unlike any other city. It thrives on being in the middle of New York and L.A., and it's really so different from both. The fact that they've driven four shows from this city and they haven't run out of stories says a lot. It's an incredibly relatable place, so I think it makes it an easy target to be the centerpiece of the story.
LAROYCE HAWKINS: Personally, my favorite thing about the show, is just like myself, the character is from Harvey Illinois- and if you know a thing or two about Harvey; it is statistically one of the worst places to live and it gets a lot of bad press. What I love is that this character can help Harvey shine in a brighter light than it might be used to. I'm not ashamed to say that I'm from Harvey, and I was raised in a way that only contributes to what this character has to offer. So, playing a character that does work for the law, and does have integrity, and does treat people the way they want to be treated, and treats his job seriously, it's an example of not only what a black cop should be around the nation, but what a cop should be period. There's a certain level of responsibility that Atwater has as a character, not just for his family, but for the entire city, and I think that's important- because we don't get to see that too often. I go to the hood and talk to kids in schools and I tell them about my job and what it represents, and they see me in a more respectful light and I can only hope that carries over into real life. We want art to imitate life, but hopefully life will imitate art as we see these positive characters on TV and hopefully they will lead a great example for real life as well.
AMY MORTON: We're used to seeing Chicago in very similar locations- the Michigan Avenue bridge, the beach, whatever. I love the fact that these shows go to places that people don't usually see, and shines a light on things that aren't necessarily that pretty but might need to have a light shone them. I'm very proud of that fact. Chicago, for all its sores and blisters, it's a very important city. Sometimes it's a city that makes me crazy mad, and sometimes it's a city that I feel I would die without, so needless to say, Chicago is in my blood.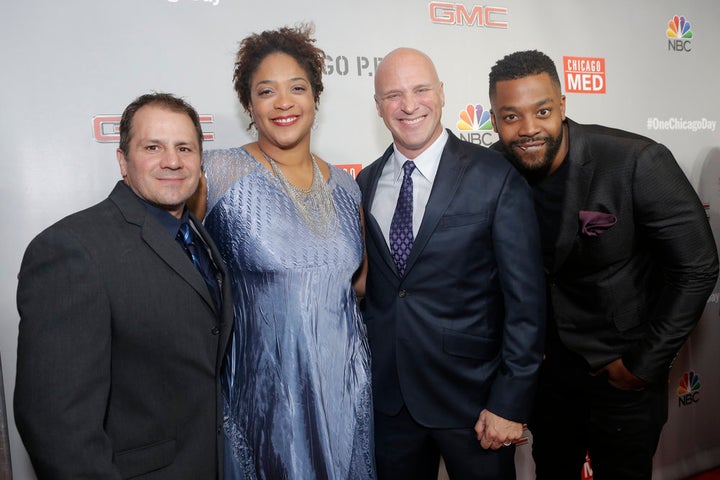 And Amy, you are part of one of Chicago's theater scenes most iconic staples; The Steppenwolf Theatre Company. Talk about that a bit.
AMY MORTON: Steppenwolf is a fantastic theater company that I've been with for a long time now. I'm a Chicago baby. I've known them since they started. It's my artistic home, and it's a place that is very important to me, and a place that I truly believe is important to the culture of this country, quite frankly.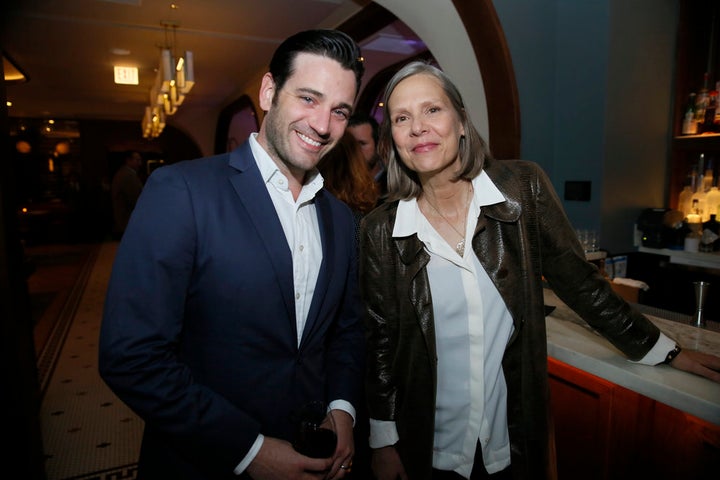 Speaking of the Chicago theater scene, it was amazing to have the Chicago cast of "Hamilton" there to celebrate the festivities. Here is what they had to say about their show, as well as celebrating the "One Chicago" franchise.
WALLACE SMITH: Bringing anything to Chicago is an amazing feat. Chicago's theater crowd is one of the respected crowds in the nation, so to have the opportunity to come and perform for them is any actors dream.
CHRIS DE'SEAN LEE: And it honestly feels less like stepping into something, and more like creating something because of how gracious the creative team has been with our process. It's a brand new show. The words are the same, but we have a brand new flavor that is very Chicago.
WALLACE SMITH: This show works no matter who you put in there. Each person will bring something different that makes the character come alive. We're all from different places, but put us in the room together and we create some magic.
CHRIS DE'SEAN LEE: And the show demands the truth. It just takes the kind of people to tell a story and be honest. I think when you get a group together like this, you just do some damage. It's fun to be a part of.
WALLACE SMITH: And to be here to celebrate the Chicago One franchise tonight is a total honor. It says a lot about Hamilton that it has the respect, love and admiration of the world, and to be a part of that is a blessing.
CHRIS DE'SEAN LEE: To meet fellow actors and people who have decided that we are valuable enough to come and enjoy the night and share in this amazing city, we are really humbled. To bring Chicago all together, and the entire Chicago acting scene- that is what this is all about. It's family, it's community, and it's an aspect of their show, and an aspect of ours, and this is what America should be, and it's really cool to be here to help celebrate.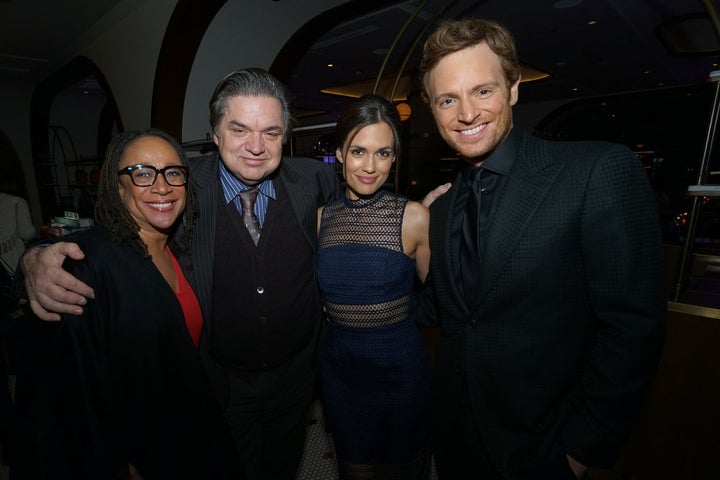 One thing about the "One Chicago" franchise is that it very much celebrates the incredible melting pot that is Chicago, and our world as a whole. Can you touch on that and why it's so important to have diversity represented in such a great way on television?
MICHAEL S. CHERNUCHIN: This is very much the world. I love that we're not doing this for ratings or anything like that- we're doing it because it truly reflects the city. Nobody forced us or said we have to, it's just that I felt we had to because this how the world truly looks.
JOE MINOSO: It's funny, I was just in the airport two days ago in Puerto Rico, and this Latin brother was running to catch his plane, and he stopped to tell me how much he loved the show and how glad he was to see more people like himself on television. That was such a badge of honor for me because there is such little representation of Latino culture on television as there is, so to be able to play a character that is a hard-working family guy that has great values, that also happens to be Latino and is from the inner-city, that is truly something special.
RANDY FLAGLER: When you peel off every layer of skin, we're all just human beings and we should all support each other and learn to understand one another, and ultimately try to get along. And this show teaches that.
ANDREW SCHNEIDER: TV has certainly changed a lot over time. When I started out, you couldn't show interracial couples- or you had to have a really good reason, or it would have to be about that. It's really great to see that change.
PHILIP WINCHESTER: One thing that's great about these shows is that they don't just feature diversity, but they also deal with stories that discuss these issues in a way that is relevant and topical. In one of our episodes on Chicago Justice, we deal with the self-radicalization within the Muslim community and the ripple effect of that, and how that not only effects the Muslim community, but all the other communities and the prejudices that go along with that.
MONICA BARBARO: It's amazing what I've already learned just from playing this role. In that particular episode, we deal with the prejudices that someone might have with people wearing a niqab. I now know the difference between a niqab, a hijab and a burka from playing this role.
EAMONN WALKER: This is all because of Dick Wolf. He has shown this throughout his entire career, not just Chicago, because he did it with Law And Order as well- this is how he runs his world, because that's what not only the real world is, but that's what his world is. In his life, he has a multicultural wide range of people, and he seeks to represent that in his shows.
BRIAN TEE: I think it's amazing what Dick has done to bring as many cast members together of different ethnic mixes to the forefront. I think it's the way that it should be and it's a great resemblance of society. Of course, throughout our entire industry there needs to be much more of that and I feel very grateful to be a part of that in this particular situation because the stories are great and they are not writing about necessarily race in that sense. These are just people, and I think it's an incredible service to get to portray them doing the jobs they do.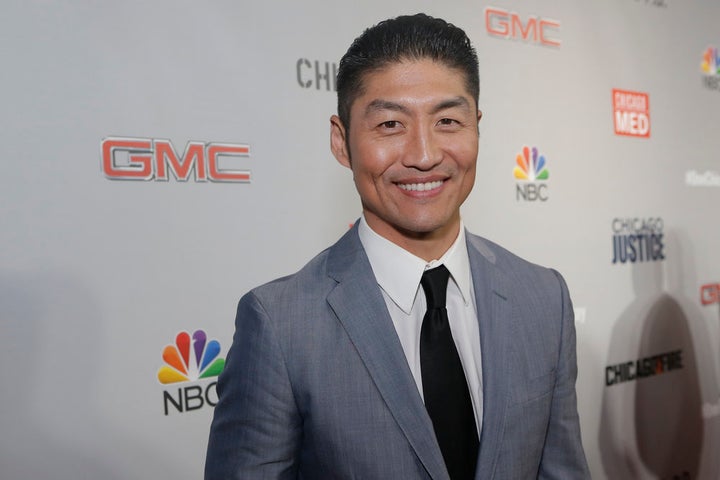 And Yaya, for anyone who doesn't know this, you are a brain as well as a beauty and speak several languages; English, French, Spanish, and Portuguese. Can you talk about the importance of learning all these languages as well as education as a whole?
YAYA DACOSTA: The thing about languages is that if you don't use them- you lose them. That statement came out in some article from about twelve years ago. At this point, I only very occasionally speak Spanish and French. Portuguese is very on point, though. But, I do love to travel. I love connecting with human beings all over the world and I don't like barriers, so if possible, I always try and make sure I'm able to communicate with people.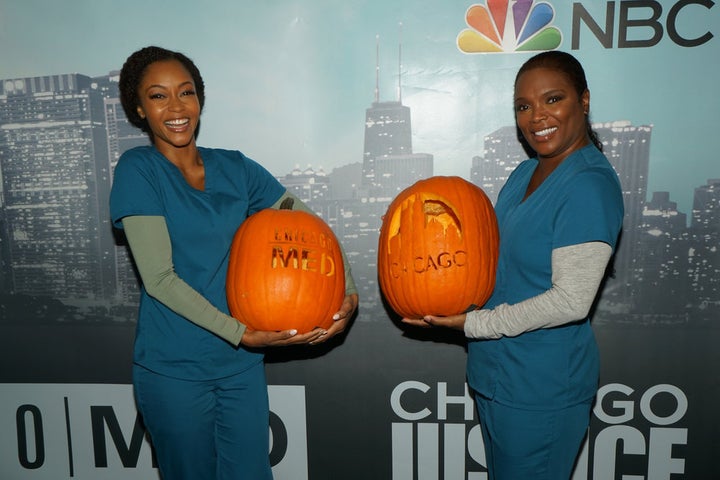 And can you all touch on the importance of showcasing strong women role models in the "One Chicago" franchise?
DEREK HAAS: When the shows started, Severide, Casey and Dawson were the heart of the show from the beginning- and we wanted Dawson to be in this world and be resilient and tough, we wanted to make sure that she didn't take no for an answer. So, for us, it really was very important to have a strong female lead. Some of the shows we always loved had strong female leads- like Buffy The Vampire Slayer, and we wanted a show that could empower women.
MICHAEL BRANDT: And Monica Raymund deserves a lot of credit. She's so good at everything. She's very strong. And Lauren German was such a good, strong female also. Somewhere early on when we allowed her and Severide to be best friends I think it allowed us to tell female stories in a different way, because then it was no longer just about romance. It opened up more doors.
S. EPATHA MERKERSON: It never occurred to me that I was doing this to become a role model, but there are worse things to be. And I'll tell you what really is so lovely is when young women come up to me and say they've been watching me since they were a kid. It really is a great reflection of what this work has meant to television. You're in people's homes, and you've made a good impression- and there's nothing wrong with that.
AMY MORTON: I don't know if you would see the character I play on TV 20-25 years ago. The fact that they are allowing an incredibly strong woman that isn't 25 years old to be on TV, and how she looks and how she moves is never a part of the storyline- nor is her romantic interest. She has a husband, but that's not really centralized. She has a job to do, and that's really what her role focuses on. I feel really lucky playing that role.
KARA KILLMER: I like that the drama that they let the girls have isn't catty. It's very Chicago. Chicago women shoot from the hip- they are the salt of the earth. They have a good sense of humor and don't take themselves too seriously. I think that translates really well.
MARINA SQUERCIATI: I think it's of course really important to see strong women in media, but I think sometimes society makes a standard that women aren't allowed to be tough and tender, and I really like that about my character. She's tough, but she does have a tender, more feminine side- and that's okay. You can be tough and tender at the same time. But I'm really proud to be able to play a strong woman on TV- and of course in life. [Smiles radiantly]
TORREY DEVITTO: I always felt it was an honor to play this character. From the moment I auditioned for her, I thought she was such a dream character to play. All the characters in the Chicago series are so amazing. One thing I really love about Natalie is that she really stands for the single mother making it all happen- and I feel really honored to be able to play that role and represent that group of women, because there are so many women that are making it work on their own with so much drive and it's not easy. That's given me a whole new awakening. I don't have kids yet, so I haven't had that experience, but learning it through Natalie has been very humbling.
JOELLE CARTER: You always want to be a good role model for women and especially young girls. I got to do ride-alongs with real investigators, and one was a woman who looked like a Barbie doll- so, I was very happy to see that reality was out there. I asked her about the differences between men and women coming up through the ranks and she said that women do have to prove themselves, and they have to do it quick, but once they do they are well respected for it. She's highly well-respected, and I hope that I create that for the public- someone they can support, root for and respect.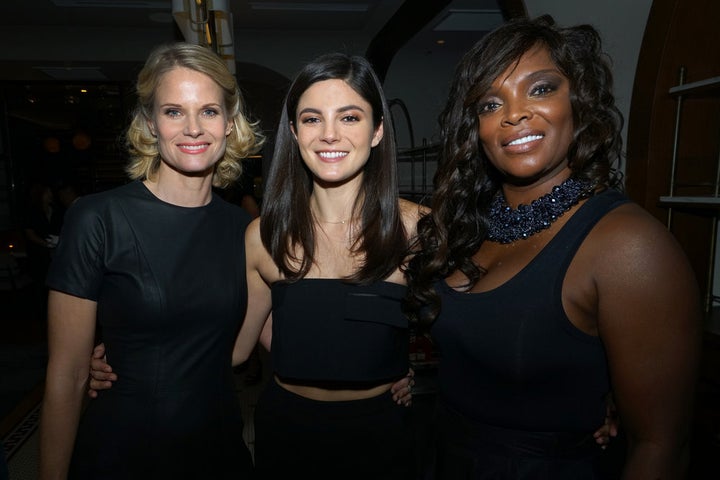 Speaking of all the praise for the strength of Monica Raymund, Monica, you just directed a film and cast several of your co-stars; Joe Minoso, Christian Stolte and Eamonn Walker. What was it like stepping into the director's chair, and guys, what was it like having Monica as a director?
MONICA RAYMUND: Tonight was the women's panel that I was invited to be the guest speaker at for Women In Film, but I can't be there because I wouldn't miss the One Chicago party. [Smiles widely in loyalty to the franchise] But, the film is called Tanya, and it's about raising awareness for human sex trafficking. I worked with a lot of my Chicago Fire crew to do it; Eamonn Walker, Christian Stolte, Joe Minoso, as well as a newcomer, Kiah McKirnan. It's part of the Hidden Tears Project, which is the production company behind all that we're doing. We have about 10-12 short films we will be producing.
JOE MINOSO: It was incredible to work with Monica as a director. I consider Monica as my little sister. The first time I met her and we did our read through for the pilot of Chicago Fire, and we looked at each other immediately recognized that we are both of Dominican descent. So, I said to her, "Hermana!" And she responded, "Hermano!" And we've had this very strong bond ever since. I think that Monica is the embodiment of a powerful Latina woman. She can do no wrong in my eyes. I think she is an amazing artist, and she did incredible work as a director. She was focused and gave great notes. I got to see a screener of it- she put together a beautiful piece.
EAMONN WALKER: Monica is a first time director, and she did an amazing job. I have much love for that woman, so when she asked me to be a part of it, I naturally said yes. It could have turned out any way, but it happened to turn out amazing because of the creature she is and the ability and talent that she has. She's a super-smart woman, and she took on the challenge of tackling a very important issue of human trafficking and slavery- and although this comes from a woman perspective, it shows men as well. And there isn't a color block, this isn't about race, this is about sex and power. Color doesn't come into that. And she decided to tackle that because of the type of human being that she is, and who wouldn't want to be a part of something like that?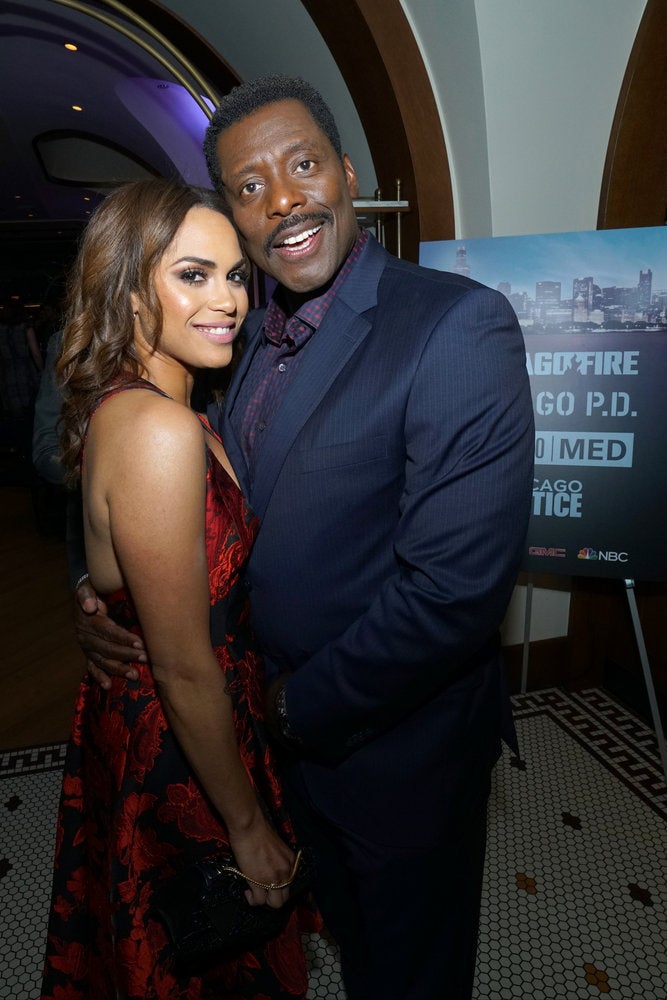 And speaking of friends helping friends, Jason, you are the one that convinced David Duchovny to go into acting! Talk about a good idea! Can you tell that story?
JASON BEGHE: I don't know about convinced, but, I guess I thought it was a good idea! [Chuckles] I've known David forever. I met him and ninth grade. He was kind of shy. I went right up to him and asked what his name was, he said David, I told him "I'm Jason. You and I are gonna be friends!" And there hasn't been a week that has gone by where we haven't spoken since- so that is 40+ years. [Takes out an old picture of the two of them to show.] This is a picture of us from when we were eighteen! That's the original bromance! [Laughs again] So, I was acting in L.A. and I told him to come out here. His mother wanted him to be a college professor. I told him that they would love him in L.A., with all his education, all those phonies would eat it right up! You don't even have to be good! Just show up and be yourself! [Cracks up]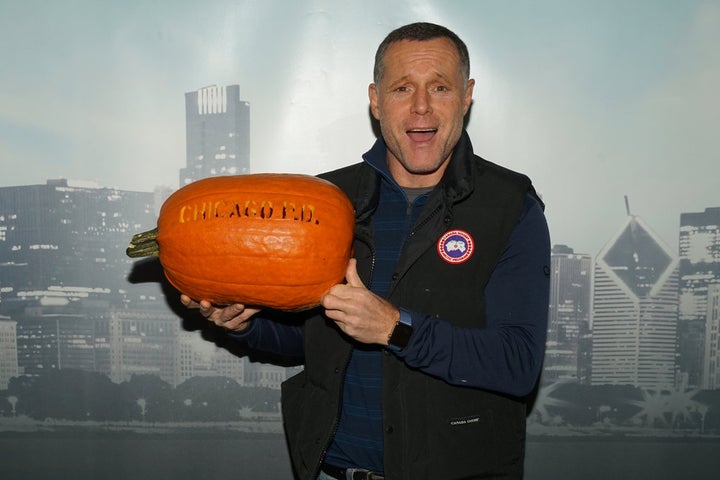 And while we're on the topic of exciting friendly connections, Carl, everyone of course knows you from "Rocky." Do you ever keep in touch with Sylvester Stallone?
CARL WEATHERS: The last time I talked to Sylvester Stallone was probably in February or March. I had introduced him for an award, and then we had a couple of conversations afterward, and of course when Creed was released I was there for that and we got to spend some time together then as well. We're still talking, but we don't see each other as much as we could. Sometimes in this business you go from one job to the next very quickly and it's hard to keep in touch as much.
And Jeff, you reference Frank Langella as a mentor. Can you touch on that?
JEFF HEPHNER: That's funny, a manager put that on my page after I did a Hallmark movie with Frank Langella, and I had gotten to know him- but we're unfortunately not in touch anymore. But, he is the type of actor who goes out of his way to help younger actors. He was one of the first old time actors who took the time out of his day to talk to me about the life of an actor, how hard it is, the travel, the hotels, the different places and the people. He was very generous with his time.
And, of course, speaking of iconic roles, Jesse, you played little Bobby Brady in "The Brady Bunch" films- and you did it PERFECTLY! For a child actor to really take on that kind of research and nail a role so flawlessly is truly remarkable. How did you go about that? Is there any role that you would love to play now if you were to go through that process again?
JESSE LEE SOFFER: For The Brady Bunch movies, I was about eleven, and I remember I sat there and just watched the show over and over. They sent me tapes, and I would sit there and watch them all day to research. Those were really fun movies to make. As far as characters or people that I would like to take on now? That is pretty tough. But, I would love to play John F. Kennedy if they made another film about him. I think I might have some Kennedy genes- the family looks very similar. And I love historical stories- anything historical is something I'm really into, so that would be fun.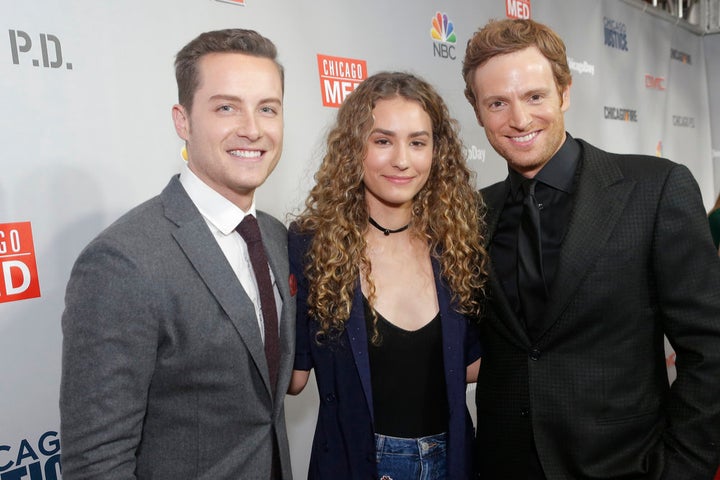 Let's get into some show scoop. "Chicago Fire" is clearly the show that started this all, and fans always want to know what is about to happen. Can you give audiences any information on what they should look out for?
MONICA RAYMUND: Casey and Dawson are finally doing great, and have finally decided to commit to one another as a family. And then, as you know, we foster a baby and we are challenged on whether we can keep the baby or not. So, they will grow stronger together.
KARA KILLMER: Brett finally gets some love this season . Obviously, Jon Seda is moving over to Chicago Justice, so there will be tons of crossing over for him between the whole franchise. At first, we were surprised and thought it was out of left field, but as time went on we understood it- it makes sense. I really like the pairing and Jon is great to work with. I hope they stick with it for a while. People are already shipping Brettonio! [Laughs]
MIRANDA RAE MAYO: Severide is a very handsome and passionate firefighter. I think Stella would very much like it if they rekindled something! But, one thing I really love about Stella is that she's not really desperate for attention and she doesn't need a man in her life to feel complete.
YURI SARDAROV: Hopefully there's a love interest for Zvonecek on the horizon! [Cracks up] Please!
MIRANDA RAE MAYO: There was an actress last season named Lauren September- and I personally thought she was great for him.
YURI SARDAROV: I thought they would bring her back because she was this nerd, she knew Russian, she seemed as though she would be his perfect match- but she just kind of disappeared! I guess it's the mustache! [Cracks up again]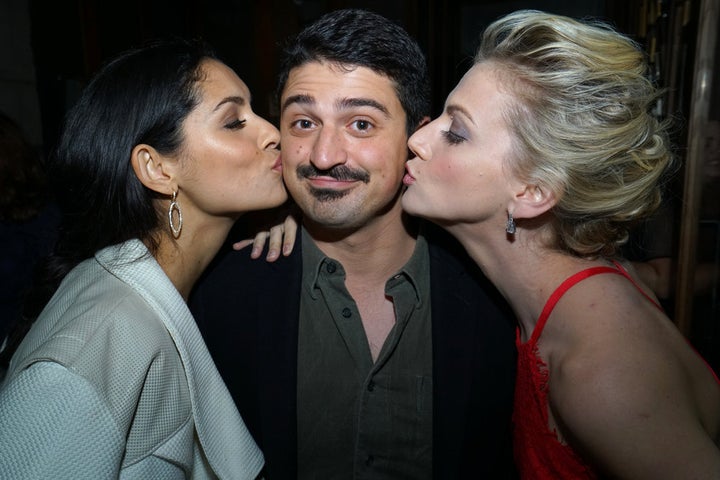 And what about some scoop on "Chicago Med," and anything you guys can tell us about what's to come for those characters?
NICK GEHLFUSS: We started the season with the most beautiful love triangle, and now it's an even more complicated square! Well, Jeff and I are probably taller- so, maybe a love rectangle? [Laughs] The first love rectangle you will ever see on TV!
TORREY DEVITTO: I love Will and Natalie, and I love their dynamic together. I think there's something really endearing and I think there will always be something there. I always think there will be something underlining there, so I don't know where they are going to take things. I also love Jeff, don't get me wrong. He knows her past, and he knows what she's been through with her ex-husband- so I see why that is working now for her and why that makes sense, and it's fun to play a light-hearted side of her that we didn't get to see as much last year.
COLIN DONNELL: I think one thing our writers have been smart with has been not force-feeding the relationships and taking time with them. But, we will indeed see a love interest for Dr. Rhodes. The lovely Mekia Cox has just joined the cast. It's fun because you factor in the fact that she's Dr. Charles' estranged daughter, so I think Dr. Charles becomes a bit of a concerned parent.
OLIVER PLATT: This season, for me in general, is marked really by the Dr. Charles we didn't know. I love how we're doing this through the prism of him mentoring Rachel's character, and you find out all this stuff about him. We really get to explore a different side of the character, and I love that stuff. I didn't do a lot of that last year, and I was fine with that. I like how we're giving it away in dribs and drabs. I said to Dick that I wanted this guy to be a private guy, and someone who you never find anything about him through him- he's in a box, and Dr. Reese is really good at getting inside that box.
RACHEL DIPILLO: I'm personally really glad that they are showing some of the struggles that people who are entering the psych world go through when learning the ropes. Like, when my character was diagnosing everyone, they really showed the importance of boundaries. You handle a patient this way, but don't handle a friend and a colleague this way- they didn't ask for your advice. And we'll see Dr. Reese continue to grow as a doctor.
YAYA DACOSTA: When it comes to April's brother, he has been getting mixed reactions. [Laughs] I live tweet, and some people say; "Oh, I love that boy!" and some people can't stand him. I think that's a natural reaction. I think siblings frequently have relationships where there is an annoyance between them. And he's growing- and I think April sees that and wants to encourage him. And I think with any relationship, whether you're training a dog, a child, or any other person- criticism only goes so far. Positive reinforcement helps too, and I think April has calmed down enough that she can give that to him. I think he's blossoming.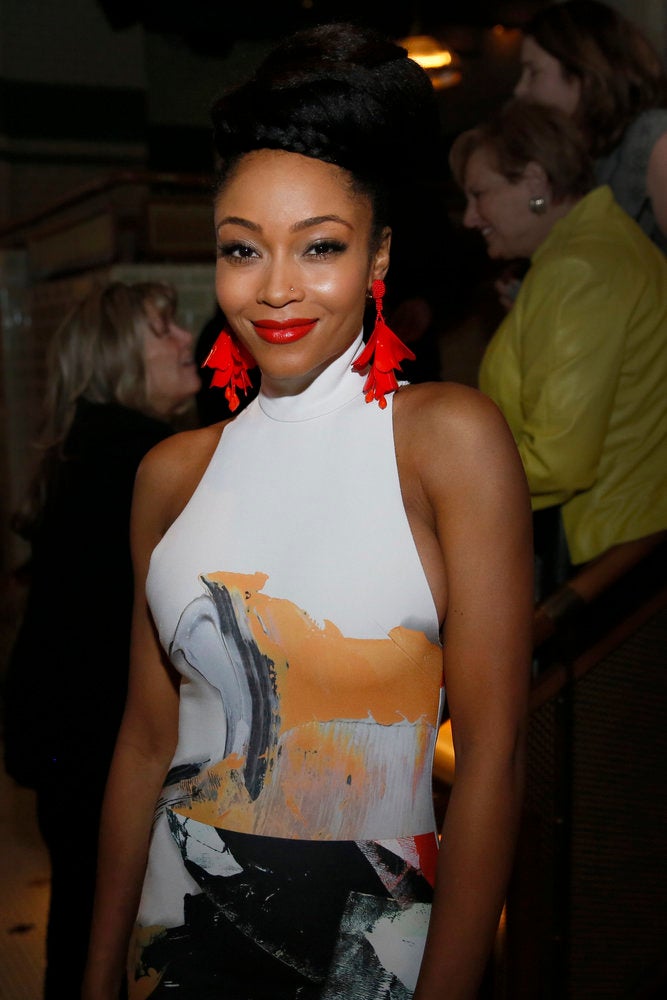 And of course, let's not forget "Chicago P.D." What can fans expect there?
JASON BEGHE: Well, you look at Voight differently now. Intimacy is obviously not his strong suit. He was intimate with his wife, and to some degrees with his son, but individual relationships are not his strong suit. That's why his family really is city of Chicago- so, he takes it all personally. The same way a father would kill to save his daughter, Voight would kill to protect his family- and that's Chicago.
JESSE LEE SOFFER: I think Halstead and Lindsay are finally in a good place. They are really now able to live in a way where they are not under Voight's thumb- he's not trying to control them anymore. So, it will be fun for fans to see how they enjoy their lives and how they take work home, or don't take it home, as well as how they deal with the things they see on a personal level. Fans want to know about whether or not they will be married, but I'm like "Pump the breaks! They just moved in!" [Laughs]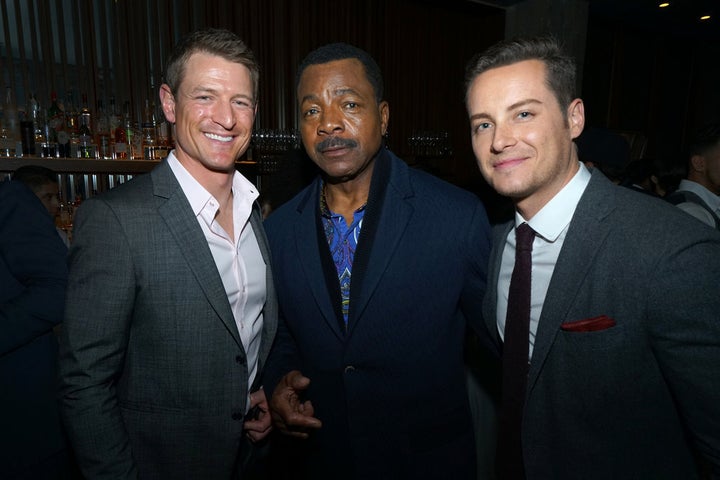 And what can fans expect from "Chicago Justice," and how will it differ from other shows within the "One Chicago" franchise?
MICHAEL S. CHERNUCHIN: I think our Law And Order fan-base will recognize this format a lot, but it's very much Law And Order with a twist. In Law And Order you had an interesting paradigm that I'd like to call; "two schmucks find a body," [laughs], then you'd have the cops for two acts and the lawyers for two acts. This kind of takes the deck and shuffles it. So, you'll see everyone acting more as a team. It's not as formulaic. So, fans of Law And Order will definitely be pleased, but it is very different. I think also in this show as opposed to the other shows in the Chicago franchise, we are seeking to hit the brain more than the heart.
MICHAEL BRANDT: We are more focused on Fire right now, but we wrote the kick-off and from what we know of where it's going is that there will be five different point of views, and they're all going to be right. It's smart people talking about those point of views. It's very much a Chicago show.
MICHAEL S. CHERNUCHIN: I don't know if you remember too much about Law And Order and Ben Moriarty's character? Well his name was Ben Stone, and Phillip Winchester's character is Peter Stone- he is his son! And the backstory is so interesting because he had tried to reject this path set out for him for so long. He wound up playing baseball for the Cubs, and eventually his arm gave out and he wound up following in his father's footsteps.
CARL WEATHERS: So far, we've really created stories about the issues of which that story really highlights, and within them we've managed to find dynamics within the characters that will create some conflict because it's all about getting the job done. But they are all very interesting characters.
MONICA BARBARO: My character is a fairly new attorney, she's been at for a few years in a different county. In Cook Country, they do not generally hire laterally, but she really impresses Peter with what she writes and she gets hired. So, in the beginning of the season she is getting to know the terrain, and they sort of butt heads as she makes a few mistakes. He can be a bit stubborn and by the books, and they are figuring one another out.
PHILIP WINCHESTER: Ultimately, he wanted her on board because she was very good at her job. She has that willingness to go to certain extents that he needs, and he isn't as willing, but he knows she will go there, and that's fine. He can wash his hands of it, and let her take the case in that direction.
MONICA BARBARO: [Flashes an unstoppable smile] I'm his muscle man.
And Monica, it has to be said that you just recently came from one of the best shows on television, "UnReal," where your co-star was another "One Chicago" franchise alumni, the amazing Shiri Appleby! Tell fans about that experience, and is there anything you can tell us about the next season?
MONICA BARBARO: I can't say anything, of course! It's an amazing cliffhanger! I would never want to ruin it. But, it was such an incredible experience and I was very fortunate to be able to work with all the girls there for that season- they are all my friends now. Shiri and Constance [Zimmer] are just the best people, and so welcoming. It was so fun to be a part of. Despite the drama in the show, it's just such a fun cast.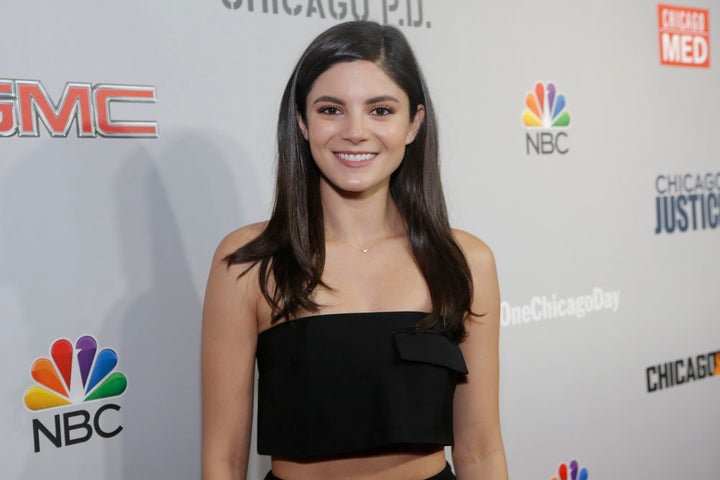 What else do you all have coming up that fans can look out for?
DEREK HAAS: Michael and I have a movie coming out called Overdrive. We wrote this film years ago about two brothers who are car thieves in the south of France. We visited Marseilles as a part of this screenwriting trip, and in many ways it's like Chicago in the way that it has cool architecture and it's on the water, but there's tough people residing there. So, we just thought that it would be a great location for a film.
MICHAEL BRANDT: It's very The Italian Job- a great heist movie. Scott Eastwood plays the lead, and fans can remember him from Chicago P.D. when he guest starred when we first spun that out from Chicago Fire. It's directed by a friend of ours- Antonio Negret, and we're very excited for it to come out.
RACHEL DIPILLO: I have a film that is just opening called Recovery. It's a bit of a topical thriller set in L.A. It's about a teenager that goes missing during a graduation party. So, they follow the GPS on her phone through an app and wind out up in a really horrifying house filled with evil people and the rest of the movie is about trying to escape it. I like it because it's a lot of fun, and really silly and youthful banter, and it kind of shines a light on the dangers of social media and sharing your lives with everyone, as well as being mindful of what you put on the internet. What you put out there, stays there, and not all people have good intentions- and that's something worth exploring.
MARLYNE BARRETT: I have a film called Quest coming out. It's set in Northern California. It's a fun film and an autobiography. We wanted to tell this story because the inner-cities are such complex environments. It showcases a young man trying to focus in school while finding his way through the streets. I play a heroin addicted mother who has a son on the streets, and she can't find his way, and he can't find his way. It really gave me a chance to break out- I love playing characters. I love getting lost in characters that are telling the truth. The character is also a prostitute, and it's very real. So, I love to be able to play characters of true people that have these kinds of struggles due to the intense cards they were dealt. For the film, I spent time with some of the homeless people that were there and we took people off the street and I spent a lot of time with them to just connect. The film is directed by Santiago Rizzo, and he has worked a lot with Lee Daniels before, and now this is his first solo project and I'm very proud to be a part of it.
NICK GEHLFUSS: I just had a movie recently released called Equity, and it starred Anna Gunn from Breaking Bad. It's a really interesting film and I'm excited to be a part of it- it basically takes place in the Wall Street world, but the female side of it. I like how they don't adhere to gender roles in the film, because I play a husband who is a teacher and he is what would stereotypically would be the "female role" of the film, where it's usually the wife at home suffering from the spouse being so committed at work. It was very well-received, and they actually got it turned into a TV series, so I'm very happy for them. Much deserved for those women.
BRIAN TEE: First there's The Beautiful Ones, which is an independent film I did with a buddy of mine, Ross McCall. He's one of my best buds- such an integral, amazing human being. It's his film, he carries it. I play the antagonist. Then I have Unspoken: Diary Of An Assassin with another buddy of mine; Ron Yuan. I've been very blessed to be surrounded by such talented individuals, but also the most authentic, beautiful human beings.
COLIN DONNELL: I'm a theater person at heart, and I hope to never stray from theater for two long. I just had an experience to sing at Carnegie Hall this past weekend. Once you've been on stage it becomes a part of you, and it's impossible to imagine not going back to it.
DUSHON MONIQUE BROWN: I have a film I'm in called Surprise Me coming out in 2017. It's a great romantic comedy. It's about a woman who has an event that takes a surprise turn on her- I'll say that.
TORREY DEVITTO: I have two films coming out; Amy Makes Three and Cold. Cold is fun- it's a psychological thriller. It's a big stretch from Dr. Manning. And Amy Makes Three is a film I did with this phenomenal actor, Mike Doyle. It's about a couple grieving with the loss of their baby and it turns into a psychological thriller as well.
MARINA SQUERCIATI: I have two films coming out. One is Marshall. That features a great cast- Josh Gad, Sterling K. Brown, Keesha Sharp, Kate Hudson, Dan Stevens, and of course, Sophia Bush! I'm so excited about this film, especially after the Oscars last year. To have a film about a black man and his rise to power is really important right now. The other film is Central Park, and I don't know too much about that. It looks frightening! I don't really watch horror movies, so, I will have to go with my hands over my eyes!
OLIVER PLATT: I actually have a few films on the way. One is Shut In, and that is Warren Beatty's new movie- and he's an old friend of mine, so I love it when he picks up the phone and asks for me to come work with him. His films changed my life- I saw Shampoo when I was fifteen. That film is a great psychological thriller, it stars Naomi Watts, and it should be out in a few weeks. I actually play a psychiatrist in that as well.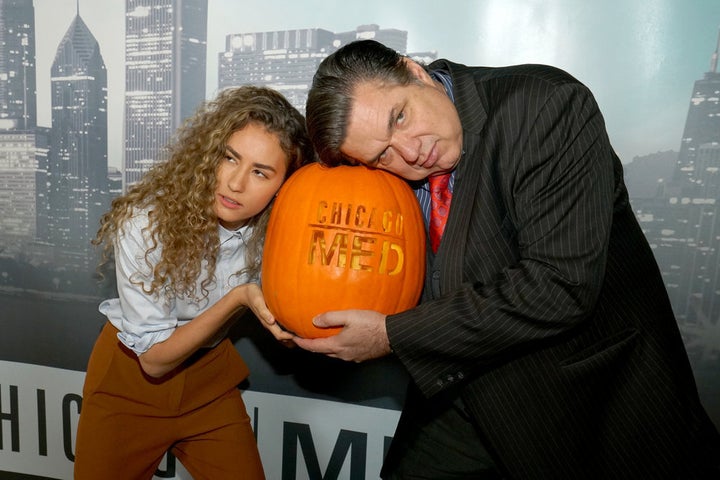 It's important to say that the "One Chicago" franchise ultimately shines the most beautiful light on the unsung heroes of the world, such as firefighters, cops, doctors, and people looking to truly uphold the law. These shows really seek to pay tribute to people who are giving their lives every day for others. Can you talk about being a part of that, and portraying these heroes?
MICHAEL: It's an interesting time to be doing these shows, because right now the world has put a bit of a stigma on cops as "bad guys," and I never thought I'd see that day. And in some situations, yes, some cops are certainly bad- but on this show, that's definitely not the case. Here, they are heroes. They are first responders. They do what they do for basically no money at all.
YURI SARDAROV: It's great playing a hero. I get to drive a fire truck! Isn't that every little kid's dream?
MIRANDA RAE MAYO: Working with real firefighters keeps us really grounded. How can you possibly complain that your trailer is not at the correct temperature when you are working with a man who ran out of a burning building to save someone's life?
JOE MINOSO: These are men and women who run into a building when rats are running out of it. They risk themselves in such a selfless manner, all at the attempt at saving a human life- because a lot of the time they don't get there in time, and then they have to carry the brunt of that emotionally because they don't want to disrupt their family lives, so they keep all of that bottled up. And they have to deal with that on a daily basis. I definitely know that I didn't appreciate what they go through as much as I should have until I started doing this job, and I will forever be grateful for all of the sacrifices that they make.
JOELLE CARTER: Coming to Chicago and reading the scripts, and meeting the people, and the kid's from the neighborhood, and hearing about their situations and the cases these stories come from and their level of survival day-to-day, it's an honor to really step into this role. People really dedicate their lives to serve and bring justice and law and order to the community. I can't say enough about these people. They have to really want to do it in order to put in the hours and the sacrifice from their own family. I'm really grateful of these people, to say the least.
MONICA RAYMUND: It's a huge honor to be playing first responders. These are the stories of the people that work every day for you and me, and they are the people who don't get the credit, the airtime, or the glory, and we are proud to represent a huge part of our nation that keeps us safe.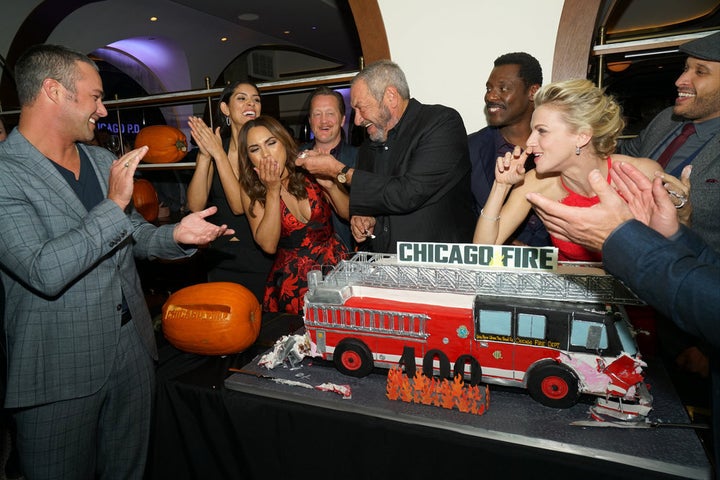 Can you talk about the dedication to authenticity of these professions, and the research done on them?
OLIVER PLATT: I've spent a lot of time with the great eminent psychologist, Dr. Jeffrey Leiberman. He's the chairman of the psychiatry department at Columbia Medical School, and he's the chief psychiatrist at Columbia hospital, and he runs the New York state psychiatric hospital- the oldest research institution in the country. He is a very remarkable man. Getting into a psychiatric hospital and observing things is very tricky, because there is plenty of rules to obey- so there were many days I couldn't go. I also worked with a man here in Chicago, Dr. Brian Kulik, he was the chief of psychiatry at the Cook County Medical System. I shadowed them as much as legally possible. It's very overwhelming. You think you know what's going on in a psychiatric hospital. There's a right brain part of you that that is trying to observe this and take it all in, and then there's a whole other part that is trying to deal with what you're seeing. It is amazing what these people do. We are doing this for a few years. These people are doing this with their lives. It's very important work trying to help people understand themselves and live more fulfilling lives. I think the mental health field is really interesting. As actors, we are all amateur psychologists and all trying to get inside someone else's head and trying to figure out what they want. Psychology and the tools behind emotional objectives and behavior, that's the stuff we work with.
MIRANDA RAE MAYO: To be able to research directly from firefighters makes all the difference in the world in the authenticity of a performance. I feel really grateful to be a part of a cast that is dedicated week in and week out to doing good work, and you don't always come across that, but everybody on the call sheet is committed to doing good work and a big part of that is having these firefighters on set and using our resources. When I first got here, David Eigenberg and I went to the firehouse and did a stay-over and went on a ride-along. There was an elevator that was trapped, and it was pretty incredible to be on such a call. David has done that at least ten times, so I think everyone in the cast is truly committed to telling an accurate story because these brave men and women deserve that.
DIANE FROLOV: We take the healthcare industry very seriously and how important it is to represent this world accurately. The tragic situation is very much a part of the show. People will not have procedures for fear of the costs.
ANDREW SCHNEIDER: We did a story where a woman was selling her meds just to afford her life. We also have a running theme where Dr. Halstead is broke, and the societal expectation is that he should be making a lot of money- but, no. He's not making a lot, and he's burdened with tons of medical school debt, and that's the reality of tons of doctors.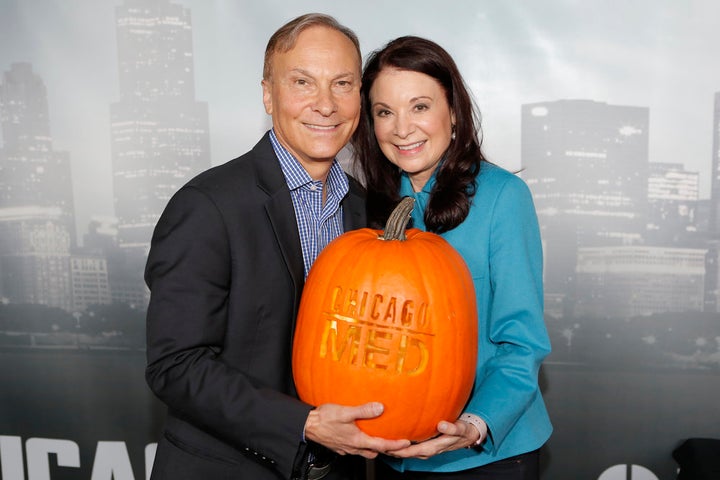 And speaking of authenticity, DuShon, you have a masters in counseling and a background in social work, and even your mother was a social worker. If they were to spin your character off from "Chicago Fire" and have Connie move on to either work in either a school, or a shelter for something like "Chicago Ed," or "Chicago Shelter," would you be interested?
DUSHON MONIQUE BROWN: I'm there! If they pull that show out, I will be an actor and a consultant! Trust me.
And in terms of moving forward with the franchise, we all know it's unstoppable. "Chicago Ed" and "Chicago Shelter" sound like great ideas, as does "Chicago Parents," or "Chicago Newsroom," or even a bar setting, "Chicago After Hours." What would you all like to see?
MICHAEL BRANDT: I love Funny Or Die's spoof; Chicago Sanitation! [Laughs] That's hilarious! And it really feels like a show.
DEREK HAAS: We actually talked about Chicago Ed. almost as a joke, but it would be awesome because Donna is a teacher on Chicago Fire and she's a great actress.
MICHAEL BRANDT: We spoke about an FBI show possibly.
DEREK HAAS: We also joked about Chicago Heaven, because we had so many people die on the show. [Cracks up] Obviously that's a joke. But, seriously, we are just happy to add Chicago Justice right now and have no plans ahead.
JESSE LEE SOFFER: I love this question. I have two answers for it; one would be Chicago Newsroom. I think that would be an easy one to fit into the universe as far as telling the story with all the other shows going on. And then, the other one would be Chicago S.W.A.T. where it's just Halstead kickin' in doors all day! [Laughs]
TORREY DEVITTO: I would also like to see Chicago Newsroom!
JEFF HEPHNER: I did a show called Boss, and I think they need to get into some local politics here. The well is just so deep for Chicago Politics- it would be a really interesting show.
JASON BEGHE: Me, personally? This has been my idea- I would love to see Chicago Mob!
MIRANDA RAE MAYO: I would absolutely love to see Chicago Mob!
DAVID EIGNBERG: Chicago Disco? [Chuckles]
MONICA BARBARO: I just joke about Chicago DMV! [Cracks up]
YURI SARDAROV: What we want to do and what our dream is, is after this show runs its course, we want to do a half-hour comedy with the same cast- but just make it funny!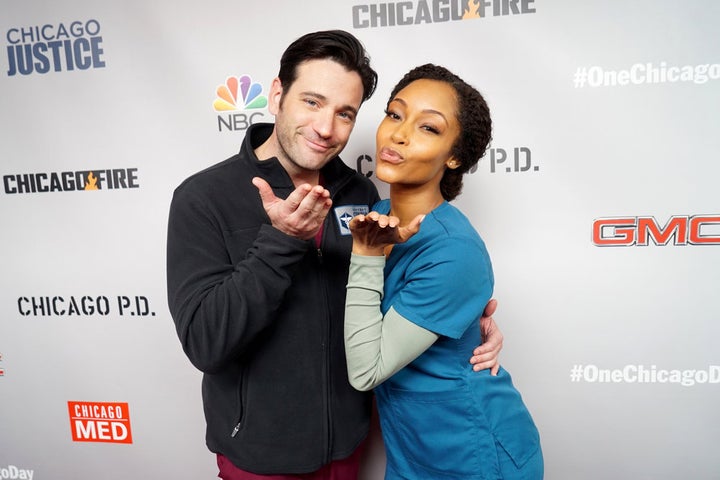 All of these ideas sound awesome, and with the unstoppable team of Dick Wolf, Michael Brandt and Derek Haas behind the franchise, by the time Chicago Justice has it's hundredth episode, they will probably all be in full swing. Who wouldn't want to see Chicago Ed, Chicago Mob or Chicago Newsroom? Even the humorous idea of a Chicago Disco plants the seed of a potential period piece; Chicago History, that could tell the stories of where all these characters come from. But, perhaps Sardarov is the one who really struck gold- the idea of a half hour comedy that concurrently runs within the entire One Chicago world where it can show the comedic range of all the actors. Each episode could feature a different set of actors from the different shows and bring them together in a Cheers like atmosphere for a few laughs, really giving fans the chance to see the playful and fun nature of these delightful casts who truly are One big happy family.
Chicago Fire airs Tuesday nights at 10/9c on NBC.
Chicago P.D. airs Wednesday nights at 10/9c on NBC.
Chicago Med airs Thursday nights at 9/8c on NBC.
Chicago Justice premieres early 2017 on NBC.
Support HuffPost
The Stakes Have Never Been Higher
Related
Popular in the Community