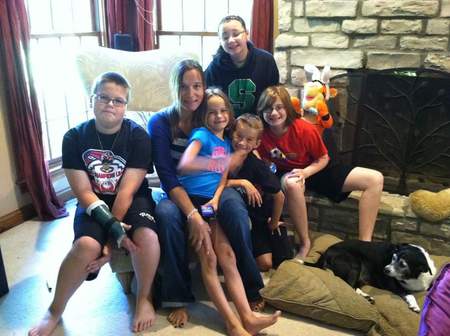 Carri Sterns and her children - Camden's five siblings - are waiting for him.
As I noted then, while Carri was still pregnant, her long-term live-in partner, provider and father figure to her five children, gave her an ultimatum to let her baby go or have no home for herself and her six children. Feeling threatened, having no other alternative, and under duress, Carri contacted Adoptions by Gentle Care of Ohio (AGC).
I wrote, too, of how she signed away her parental rights to her son while under the influence of opioids after a C-Section, and that:
"Within 72 hours Carri regretted having signed the voluntary surrender of rights and sought legal representation to revoke her relinquishment."
In April of 2014, Carri filed a revocation of her relinquishment in Franklin County Probate Court. When the prospective adopters became aware that the adoption would be contested, they immediately withdrew their application to continue with the adoption of Carri's son, Camden.

The case then wound through the Ohio courts. After the Franklin County court ruled that they had no jurisdiction, a writ of habeas corpus filed with the Tenth District court of appeals in June 2014. That court likewise ruled that they had no jurisdiction and sent the case on to Franklin County Juvenile Court.
On March 31, 2015, the case was appealed to the Tenth District Court, which remanded it back to juvenile court. In August of 2015, Judge Louden reissued his original decision from the previous year, dismissing claims of duress in order to rule against the remand from the Tenth District, with instructions to do credibility findings.
In February 2016, the Tenth District court of appeals affirmed. In April 2016, the Ohio State Supreme Court accepted jurisdiction, and on August 31, oral arguments were heard. This link will take you to a 42-minute video of the Oral Arguments for the case of Carrie Stearns vs Adoption by Gentle Care, Ohio (Case No. 2016-0395 In re C.C.S.). Representing Ms. Stearns are Steven Hillman and Erik Smith. Representing Adoption by Gentle Care (AGC) is Jon Oebker.
Several issues were of concern to the Supreme Court Justices. First was the role of the AGC social worker who represented herself as being there to help and serve Carri. Next was what counseling Carri was or was not given by the this representative of AGC in accordance with the statutes, and in particular whether or not she was duly informed of her right to temporary care for her infant son.
Regarding duress, the Supreme Court appeared to acknowledge that having no place for herself and her children to live rose to the level of duress and that AGC was well aware of that situation.
"Why... is baby Camden Stearns being kept from a perfectly capable, mature, loving, and financially stable stay-at-home mother of five by Adoptions by Gentle Care of Ohio, despite the proposed adoptive parents having relinquished custody of him so that he could be reunited with his family?"
"...one justice asked the same question I've asked so many times, 'Why didn't the adoption agency simply return the child to his mother when the adoptive parents dismissed their Petition for Adoption because Stearns was opposing it?'"
"...continuing to withhold Camden in retribution for Carri going public on Facebook and elsewhere, naming the agency, and labeling their treatment of her unethical?"

Indeed, Mr. Oebker, the attorney representing AGC in the oral arguments raised these issues, adding a claim that Carri allegedly "harassed" the original potential adopters. The attorney's words and tone in oral arguments confirmed to me - and others - that vindictiveness and revenge have played an integral role in AGC's keeping this child from his mother and five siblings after Carri revoked her consent and the prospective adopters withdrew their application.
It is most interesting to note that throughout all these court proceedings, the best interests of Carri's son Camden were never mentioned or brought to bear as a factor in deciding whether he should be returned to his family or forever raised by unrelated fosterers who have no legal claim on him.
Instead, what did play a part, according to the attorney for AGC, were character assassinations reported to AGC by haters who read about the case on social media, much of which writings came from those associated with Carri's former long-term domestic partner, Camden's father. Lurid online gossip and rumors demonized her for being ungrateful to the man who had supported her and her five children, none of whom were his. Strong objections were raised in regard to Carri having "wronged" her long-term partner by engaging in a brief affair. Even in murder trials, however, juries are instructed that moral missteps such as "cheating" are not to be taken into account when judging the facts of the case. Yet AGC did exactly that, making a moral judgment of Ms. Stearns's behavior, which had nothing to do with her ability to provide a safe and nurturing home for all of her children, a fact that is unquestioned.
The SC Justices also questioned AGC's monetary motivation, noting that AGC charged and received a fee of $30,000 for Camden's original placement. Franklin notes:
"The child has been in foster care for two years while the legal case has run its course. Why didn't AGC hand over the child and move on to the next adoption?
In that regard, the justices seemed to think, as I do, that the agency did so because it saw the child as a source of income more than a human being in need of his chance at a good, stable family life.

"It is outrageous in the extreme that AGC arrogated to itself the power to decide the child's best interests. Unsurprisingly, it happened to rule in its best interests as well.... and of course Stearns is mother to five other children, none of whom have ever been investigated by child welfare authorities due to allegations of abuse or neglect. In short, as far as we can tell, AGC is the only entity to ever question Stearns' parenting."
The court has promised an expedient decision. Carri's family deserves resolution to this nightmare. The court's decision is also important to the future of Ohio adoption in two important ways.
One is in regard to a private adoption agency's duty to provide proper option counseling; the other is in regard to such private businesses asserting themselves as a pseudo probate court, deciding custody of a child who is no longer available for adoption, and basing such a decision on the alleged "character" of the child's mother, not her fitness to parent.
The hope is that the court undoes the harm AGC has caused this family for all of this time and sets a precedent, letting such placement businesses know that these practices are unacceptable and will not hold up. Mothers and their children in temporary crisis need and deserve better than to be exploited in their time of need.
When the police come upon someone on a ledge or a bridge intending to jump, they do not have doctors from organ donor banks talk to the person about the benefits of continuing with such a rash decision, and how it could save others' lives. Yet mothers in stress, considering the lifelong, irrevocable loss of a child, are "counseled" about deserving couples longing to provide love to their child. There is no incentive for such businesses, whether for- or not-for-profit, to support the constitutional right of parents to raise and nurture their own children.
Carri, who has never seen her son Camden, and has received no updates, told me that she:
"cannot believe it's been 2.5 years but I'm so grateful we are finally before a court that cares enough to honor the oath they took and see it for the evidence and proof provided. I'm confident Camden will finally be home soon."
This case, and another pending contested adoption I have reported on, point out the conflict of interest in which the adoption business entity, whose livelihood is dependent upon successfully arranging adoption, is the only entity offering option "counseling." It raises the question: Can such counseling ever be fair and neutral, or should the laws in every state require third-party counseling for anyone considering adoption, and provide legal aid?
REAL LIFE. REAL NEWS. REAL VOICES.
Help us tell more of the stories that matter from voices that too often remain unheard.