If you're 18, love dressing unconventionally for small amounts of time, and are from a suburb of Chicago, you're going to the 3-day Lollapalooza music festival.
If you're 18 with no self-confidence and a Harry Styles throw blanket, you're going to 1Dapalooza.
It all started last November when I impulsively decided to buy a "VIP" ticket for the upcoming 1D tour. In years past, being a VIP meant you got to meet One Direction, softly brush their hair, split a gelato six ways and casually discuss what might happen on the next season of Game of Thrones (DISCLAIMER: This is pure speculation and remains unconfirmed). This year, being a VIP meant a seat closer to the action and a T-shirt. I will pay any amount of money to breathe the same air as the Golden Gods, so I bought a VIP ticket for the fourth row and then literally sobbed on my kitchen floor while listening to "Happily." The weeping was so heart-wrenching that my sister assumed something deeply tragic had occurred. She then promptly made fun of me in a mean way.
I dropped major cash on this "exclusive" ticket, so when One Direction's management team added two more Boston shows, I had to ask myself: Do I go all three nights? I thought it over for about .0003 seconds and then concluded that it was the only way to fully experience 1D. So I bought two more tickets: one for the back of the stadium (only costing me $16!) and one on the floor, on their b-stage (but at face value!). While most kids my age were gearing up to see Eminem and OutKast in Grant Park at Lolla, I was speculating which headscarf Harry would wrap his curls in.
Realizing that I'm about to leave for college and that it's time to solidify my personal aesthetic (Forever Tween), I stuffed a duffel bag with about 20 different outfit options and at least one flower crown and jetted off to Boston for One Direction's three-night engagement at Gillette Stadium.
Going to three One Direction concerts is a stunt that is not for the weak of heart. There are many tests, trials and lessons learned while doing a 1D 3-peat. These are my stories:
One Direction are like any rational human beings -- they are intimidated by tears and will awkwardly look on as you cry over how much you love Liam. Fortunately, I'm a Full-On Adult, so I was able to hold back my emotions. Only at four points did tasteful, minimal tears spring to my eyes:
1) When they first appeared and they were there and they were looking so fresh and fine that my mind simply could not process the moment and my brain quickly short-circuited.
2) When some tall girls shoved in front of me and I couldn't see. Sometimes I think that you should only be allowed to buy concert tickets in accordance with your height, but then I remember that little girls would all be in the front rows and I have no heart for little girls at One Direction concerts. I am a vicious 18-year-old monster.
3) When Harry sang his solo in "You & I." His voice was so rich and strong. He was wearing tight black jeans. It was a moment engineered by scientists in a lab, I'm sure.
4) When I took this picture on Snapchat with no zoom: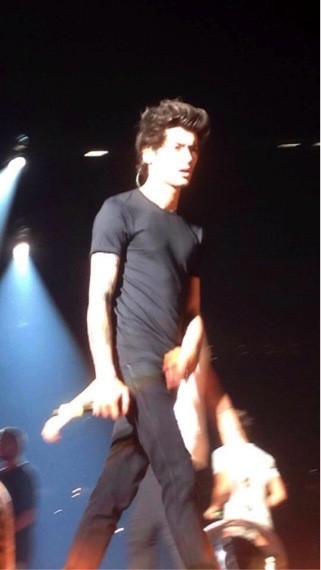 Style and hair obviously play a big part in what makes One Direction beautiful. Though it's often joked about in the media and by other celebrities, the hair is a very serious part of my life, and did I mention that I'm legally adult? Hopefully this helps you understand the priorities of the youths of America.
Styling varies for each boy, so it's important to break them each down individually based on clothes and hair:
The most important thing for Zayn was the hair. It was slicked back and Arctic Monkeys-inspired. Homeboy coulda walked right off that stage, showed up at New York Fashion Week, walked the catwalk in the clothes he showed up in and no one would be the wiser. For their final Boston show, he was back to his usual hair, but what he lacked in 1950s-inspired locks, he made up for in cheekbones.
Compared to his more recent long hair and his usual scruff, Louis was so clean and crisp-looking. He wore a white shirt every night. His essence was very much alive.
Niall literally ripped some sleeves off of several button-down shirts and went with it. He loves showing off his farmer's tan to the world, and we welcome it with open arms.
Liam shaved his head and he looked so cute. Even though his Twitter is weird, his earthly being is adorable and sweet and funny and *insert puppy emoji*. He wore jorts every night. My dad agreed that he would probably wear jorts too, if he was in a billion-dollar boyband and had to perform on a hot stage every night.
Sweet, sweet Harry. Why is your hair so long? Why won't you cut it? Isn't it sweaty when you go to spin class at SoulCycle? Don't get me wrong -- you're the perfect balance of sexy and cute always, but maybe a trim? Regardless of length, you work that headscarf. Also, I liked your "Dream Boat" shirt.
5 Seconds of Summer, the opening act, performed for a good 45 minutes. It felt a little long, but they have good energy and they mentioned Mark Wahlberg exactly 382334 times between the three shows. Once they were done, I was in my zone -- this was the moment I'd been waiting for. And then, after over an HOUR of waiting for the stage set-up to be complete, I was graced with the most beautiful sight God and Simon Cowell could have ever produced: One Direction. Before this, though, they showed a little informational safety video, in which each boy told us to drink lots of water and reminded us not to throw things or push. To be honest, I didn't process this video until I later watched it on YouTube, because I was too busy listening to their deep British accents pronounce each individual syllable.
The concert opens with a pre-taped video of the guys doing some sort of green-screen "tour around the world" -- scuba-diving, chilling with penguins, pushing up the Leaning Tower of Pisa, etc. There is a moment that Niall holds a puppy and the screams are so deafening and shrill, they can only be heard by canines.
The show had little variation from night to night, with most of it coming in the form of new banter between songs. The outline was always the same: Zayn thanked the fans, Liam introduced the tour, Harry says, "WE CAN SEE YOU IN THE BACK. WE CAN SEE YOU IN THE TOP. WE CAN SEE YOU ON THIS SIDE. AND WE CAN SEE YOU ON THE FLOOR." They were able to shake it up by saying some new fun things, like singing "Happy Birthday" to a fan and talking about Boston sports teams. On Night 2, this exchange occurred:
Harry: Who likes the Red Sox?
Harry: Who likes the Celtics?
Harry: And who likes the Packers?
Crowd: *Confused screams*
The set list was mostly comprised of songs from their latest album, Midnight Memories. This album is such a banger that it was all good by me, though I probably would've preferred "Something Great" over the older "Moments." I think my heart entirely stopped during "Through the Dark." Also, on the last night, I was next to a confetti cannon and during "Happily," a shower of streamers and confetti burst right into my life. Someone would later go on to steal a balled up streamer I saved out of my purse.
It needs to be said that being a 1D fan is a complicated thing, and being united as one big group of 1D fans sharing an experience together can have its highs and lows.
The first night was harder for me, as no one was really up to trade 1D war stories while waiting the full hour between opener 5 Seconds of Summer and the main course of the night, One Direction. In fact, going alone is a lot like how Lauren Yapalater from BuzzFeed described it: "Going to a One Direction concert by yourself is fun, but I recommend bringing a pal with you so that when Zayn makes a weird face at the camera you can turn to your friend and exclaim that what Zayn just did was really out of character and it surprised you." The closest I got was this conversation:
*Girl standing near me is wearing a 1975 T-shirt*
Me: Oh, I love The 1975! I saw them at Lollapalooza last Sunday.
Me: I saw the 1975 at Lollapalooza last Sunday.
Girl, clearly having no idea what Lollapalooza is or why I'm speaking to her: Okay.
She would later go on to shove in front of me during "Happily." I did get her to take this picture for me, though, so it wasn't all for nothing: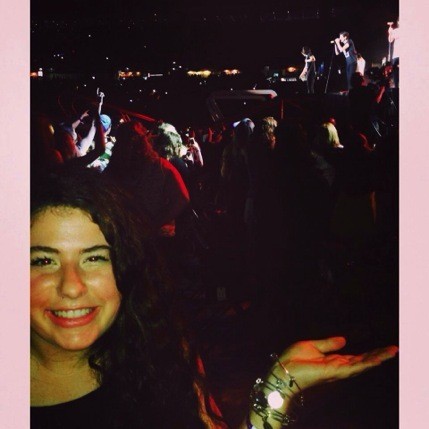 The last night, the girls around me were more open to discussion. Two girls on my right had already gone to the Where We Are Tour stops in East Rutherford, New Jersey, though I didn't ask if they were going to continue following the band to DC. On my left, the girl next to me and in front of me had just upgraded their seats to the floor that day and they were pretty jazzed. We talked about college, and they were all shocked that: A) I was going to NYU when I live in Chicago, and B) I had flown from Chicago to Boston to go to three One Direction concerts. I felt very popular. These were my people.
The only issue was that during the show, the girl on my left (who had the seat closest to the stage) was letting people into our row in order for them to be closer. THIS IS NOT OKAY. THIS IS INCORRECT CONCERT ETIQUETTE. We all want to be close, but some of us are just luckier than others! Furthermore, the tickets were sold as a "Select your seat" deal on Ticketmaster. You literally had to click a dot and that was your seat. They chose to be further away. I am close for a reason! Ain't nobody got time for girls pushing through the rows and knocking me out of my place.
We did have a good moment of unity when Harry came closest to us. He stood there for a good three minutes (which is Forever in 1D time), blowing kisses and throwing out water bottles and towels. We all lurched forward, but in perfect sync, so no one was hurt. Sometimes Harry does this thing where he splashes or spits his water on the crowd. I quickly learned being spit on by Harry was one of the highest honors a person can be bestowed, so I screamed, "SPIT ON ME, HARRY" a few times for good measure. He didn't do it, but he did give me a funny look, right into my eyes, and using telekinesis, he sent me this message: "You are an 18-year-old adult person, and your biggest aspiration is to be spit on by me. I'm so sorry." After this moment, I completely blacked out and honestly cannot remember what happened next. He just stood there and did more cute things and I melted into a puddle on the floor. This was the look he gave me: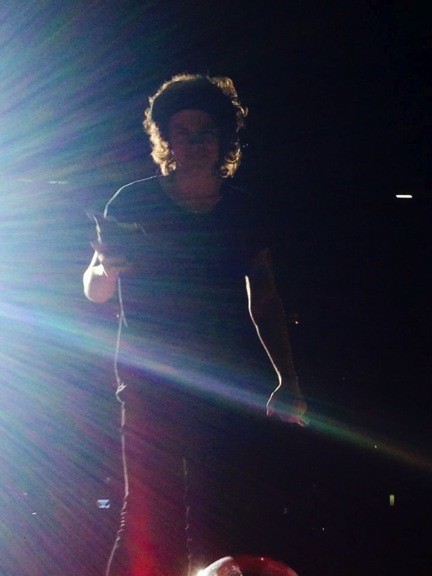 I've said it before and I'll say it a million times: One Direction isn't a real thing, just a horrible disease of the mind that, once it's infiltrated your brain, will never leave. You'll find yourself screaming at a video entitled "Harry Styles Dumb Moments" in the dead of the night, and your family will quickly start to hate you. You might lose friends in the process, but most of them will find 1D "kinda hot" and will want to keep you around in case they need to be cheered up by a picture of a hot boy. You will also find yourself consistently thinking of them and nothing else, and you'll find sneaky ways to bring them up into conversation. You will feel guilty for talking about them so much, and try to talk about something else, like the World Cup because soccer = football in the UK = the UK = One Direction.
Sometimes it subsides, but you will know entirely when this disease has hit, or when it's come back to haunt you for life. I knew when I was flying back to Chicago -- the teen boy sitting next to me on the plane was reading a James Joyce book, and I thought, "Oh my God, he's so intellectual. He's so Harry." I used the name of a One Direction member as an adjective. I slowly felt my heart sink and thought, "Oh no. We're back."
Matt Bellasai from BuzzFeed puts it best: "Every moment when any one of them looks into your eyes, or out into the crowd, and lets out his beautiful voice, lifting you up, changing your very existence in that one beautiful moment, reassuring you that life after this day will never be the same" is truly life-changing.
So, go forth and be unafraid to do the triple One Direction experience. It was a delight. Until next time...