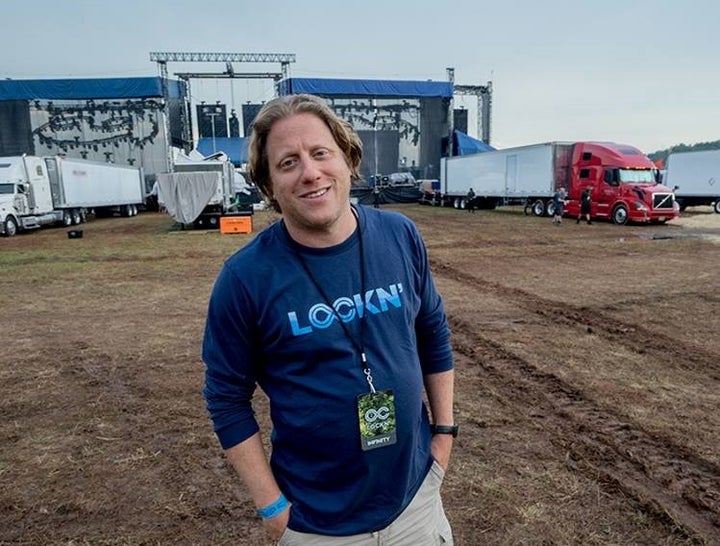 I knew I was in trouble when I woke up and couldn't roll over quick enough to check my cell phone.
I'd spent a good part of the previous evening sitting on a delayed plane to Miami creating my profile for the new social media site Fans.com. And the best part and worst part of social media had struck again: the blissful addiction.
I wanted to see who had commented on my few posts of recent shows I'd seen, wanted to see if anyone had commented on my perfectly backlit, side-stage picture of My Morning Jacket's Jim James and his beatific rock-star gaze, wanted to see what my new follower @JamBandPurist thought of my review of a recent singer-songwriter set.
Twelve hours in, and I was a prisoner—not of rock 'n roll, as Bruce Springsteen (my number one choice when I picked my Fans.com favorite artists) often says, but—of Another. Damn. App.
Music promoter Peter Shapiro is the mastermind behind Fans.com, having recently launched the platform at the fourth iteration of his increasingly beloved jam band festival Lockn'. Shapiro is also publisher of the long-time music magazine Relix, and of jambands.com, a repository for all things jam-related.
At 44, Shapiro has in fact created a jam-pire of sorts. After coming out of college as a film-maker and producer, Shapiro made his first splash 21 years ago as a wet-behind-the-ears owner of the beloved New York rock palace Wetlands Preserve. When he took over for legendary club-owner Larry Bloch in 1996, he set about giving home to the nascent jam scene that had begun to flourish in the wake of Jerry Garcia's death.
Since Wetlands' closing in 2001, Shapiro has shaken up the live music scene with his smash-hit Williamsburg venue Brooklyn Bowl and its subsequent two spin-offs in London and Las Vegas. In addition, a couple of years ago, he made a big metro-area splash by purchasing and refurbishing the legendary Capitol Theatre, a classic 1926 venue which had played host to the '60s and '70s rock gods that grace its elegant custom wallpaper today.
Shapiro's most ambitious and well-known project to date was last year's 50th anniversary Grateful Dead reunion/farewell shows Fare Thee Well, five shows in Santa Clara, CA and Chicago that surprised even industry insiders by grossing over $50 million.
By that time, research and development was already well underway for what was to become Fans.com, a near encyclopedic repository of bands, performers, venues, festivals, and memories.
The platform seeks to be the music fan's equivalent to Facebook or LinkedIn, where a user can connect with fellow music lovers, build a profile of liked artists and shows, and post memories, pictures, and short reviews.
I was shocked when I easily found a couple of obscure bar performances I'd attended almost three decades ago. And though it's still jam-heavy on the type of user it's drawing, as Shapiro himself grinningly alludes to, the app and site aren't even close to building out what Fans.com eventually will be.
When Shapiro himself liked one of my Fans.com posts on the second day I joined, I became more intrigued by exactly who this guy might be and what he was trying to do.
A few days later after my initial Fans.com login, Shapiro agreed to sit down with me in his Relix office on the edge of Manhattan's Garment District.
Through my own fascination with the birth of the hippie movement and Ken Kesey (author of One Flew Over the Cuckoo's Nest and famous progenitor of the Acid Tests where the Grateful Dead got their start), I was vaguely aware of Shapiro's 1995 breakout mini-documentary Conversations with Ken Kesey. The short but moving interview piece played prior to the film he co-produced about the Dead's scene: Tie-Died: Rock 'n Roll's Most Deadicated Fans.
When I met Shapiro, his office bursting with oversized prints of magazine covers and a good many headshots of Garcia, the scene's ever-present godfather, I wanted to go back to those pre-Wetlands days. I was most curious about Shapiro's imagination first being sparked by a Grateful Dead show while still an undergrad a Northwestern. As Shapiro has said before, that one show altered the course of his life. And as I learned, that experience as a fan still informs his viewpoint with Fans.
The most common word that Shapiro uses is "magic," which is interesting because that's what Kesey always considered himself: not a famous writer, not a counter-culture icon, but a magician.
And though Shapiro doesn't do slight-of-hand, it's clear he's devoted his life to creating magic of a different kind: the magic of memories for the millions that have been through his clubs, watched his movies, bought a ticket to his shows.
So tell me about deciding to make a movie about the Dead and interview Kesey and all these people after one show.
Well, we knew the band wasn't going to be in it, so it was all about what was happening around the shows. But I interviewed some people close to the band and wanted to try and get Kesey. Of course, he didn't want to do it either. I called their farm in Oregon, and Faye (Ken's wife) picked up. And I was a 20-year-old kid; they didn't know me. But they said, "If you're going to be in Oregon stop by." I wasn't going to be in Oregon . . .
Right, I was then! So that's how I got that interview with Ken Kesey. And I've used that move once or twice since then: "Hey! I'm going to be in the neighborhood." [laughs] When someone's in the neighborhood, it's a lot easier for the other person to say "come on by."
But you were able to get real emotion out of him in that few minutes.
Yeah. At first we were there just talking and he said "no interview." But we spent a lot of time there. It was my 21st birthday . . . actually, tomorrow's my birthday, so it was '93. Thirteen . . . no! Twenty-three years ago . . . wow.
And we started talking, and he said, "okay go get your camera. I'll say a bit." And he did this amazing interview.
And that was the first big thing I did. I was 21 years old. I had just read On the Road, The Electric Kool Aid Acid Test; they really influenced me.
You must have just been driving away, thinking "wow, what just happened?"
Exactly. Oh yeah, I remember that, we were driving away, with my friend Phil Bruell, who made this documentary with me about the scene. Kesey took us on the bus, it was all so cool . . .
Oh my gosh, look at this [gets up to rifle through the dozens of framed pictures around his office, and brings back a blown-up picture of Kesey driving the iconic psychedelic bus "Further"].
I took this that day with one of those disposable cardboard cameras—remember those? Turned out pretty good.
Okay, so contrast the feeling that day, 23 years ago, with how you felt when Trey Anastasio and the Dead walked off stage the last night in Chicago of the Fare Thee Well Shows.
Yeah, right after "Attics" [of My Life]? I actually watched it from the back of the floor with [legendary rock producer] Bob Ezrin. And when it ended, I RAN to go be backstage to greet the guys.
But you know, that whole experience was . . . you have to set the stage—do all this work—to set the table, and then so many things come into play (that you can't control) that dictate how things go. That's just a normal night. The weather, but also people's behavior, the band's psyche, how they going to play.
And that was kind of the magic of the Grateful Dead, you never knew what was going to happen. That's why I think the jam scene is still so healthy today. Because people have an inherent urge to be around magic. And magic happens when you don't know what's going to happen.
And so I think Fare Thee Well had that. Adding Trey to everything, having it in Chicago, wondering how was it going to go. I remember looking up at the ceiling before the first night's show and thinking, "okay, I hope it goes well." Because it had gotten so big at that point; I couldn't really control it.
Things can happen that you can't control. I hope fans can understand that. What we do, a lot of what happens at a big event is how you respond to things that have gone wrong—and how to manage that. And you do your best and you can't always explain everything to everyone. You wish you could.
But it's important to keep your eye on what's really important. It's easy to lose focus on that when you're in the middle of all the stuff you need to deal with to make it happen. But nobody really talks about all the rest now—what they remember most is the shows. And that's what's important.
Have you gotten better at keeping your eye on that?
Yeah, I think so. Sometimes you get frustrated when someone says something that's not true.
And even that you can't do much about.
Right. I'll give you one: you can go on Craigslist. You and I could go on right now and say we're selling tickets to Fare Thee Well 2 for $1000. No one says these guys don't actually have the tickets. That's what a lot of these guys do. They play the game of lining up these buyers.
Well those people don't have the tickets. They don't exist.
Look, you get to a point where you learn—just try to stay focused and do your best. Everything with Fare Thee Well broke the right way, and that was a blessing really.
You've been seeing music almost every night for 20 years—do you still have that emotion that fans get? Does the hair still stand up on your arms?
Oh yeah. I'm still a fan. I'm able to be in the moment. It's hard, not all the time. But live music still has that same impact on me. That's why I hope I've gotten better at what I do. I just believe to do anything well you just have to keep doing it. I've owned venues since '96, so I can tell better the level of sound, the staffing, security, I can tell that stuff pretty fast.
But, I love it, I'm going tonight—going to see Gary Clark—I can't wait. [True to form, Shapiro posted pics of the Clark show that night on his Fans.com profile page].
I think I read in an interview you said your dad thought you were crazy when you took over Wetlands . . .
I didn't have any experience running a venue. And someone asked the late, great Larry Bloch about it in an interview: "why are you giving it to this kid?"
But he knew I was still idealistic. I was young. Didn't have a family yet. I didn't need to pull out a lot of money out of Wetlands. You run something differently when you are trying to make money out of something rather than when you are trying to do something the right way. They don't always match.
It's ironic you hear people in politics now say "I'm a great businessman." When they are doing something just to make money, they're often doing things that are unscrupulous—that don't have the vibe we're going for.
The real threading of the needle is to run something the right way, and have people feel good, and have the right vibe, and have everyone win—that's hard. I think I was a pretty good owner because I was able to be there at 2:30 in the morning when the Disco Biscuits came off stage.
And it was '96 when Garcia had just passed away, and people needed that. People would just go to see the Dead before because the Dead encompassed all of it. Bluegrass and folk and psychedelic rock, and all of it, but now people had to find new things. And they had to go into all these different directions. That's the explosion of the jam scene. Because people always need that fix.
Back then, I could be there when the band came off and say, "let's have a shot of tequila." Because I didn't have to be up the next morning at 7:30 to take the kids to school.
And so about that—after kids, or after Success—is it harder to take these risks? Does the reach become harder?
Yeah, now you have kids, and a business, and people who rely on you, the paychecks. Yeah, it gets harder. There's more pressure. When you are on your own, you're 24 or 25, you can fire a dart and miss, and it doesn't have the same impact.
And you know, you don't get into this to make money. No sir. You do this—the people that are really good at it—out of love. And hopefully the rest comes later.
I mean the big companies of course have an advantage, because you can go and do things on scale—you know, they can go to Budweiser or whatever and do a deal for 30 festivals or 40 venues in one meeting. The little guys that represent just a few things don't get the attention.
We've tried to do things the right way. You know, I don't have a "Verizon" Capitol Theatre or whatever, but I think that's also the magic of it. Partly, because it is just "The Capitol Theatre."
So there's two sides to it. I haven't done a lot of that stuff. Who knows what the future holds, if it's organic, and it fits, it's good to do. But we're not driven by that.
I like the stuff that means something. Especially these days. I like things that have an identity. Creating something that has an identity. You know, the Capitol Theatre, Relix, and building something like Brooklyn Bowl and Lockn'. You know, that's one reason I wanted to do the Relix thing—I think people just associate with it in such a positive way.
Well, I do think some of your choices from the outside looking in, do seem kind of like curious choices. I mean, buying Relix when magazines are all going out of business, for example.
[Laughs] Yeah, I get that a lot. I usually know when I hesitate—should I do this or not—I just push through. That's my history. When I'm at that juncture—this is the safe move, but this one . . . I just go for it.
And you're right, Relix was—the timing wasn't good—but that timing also opened the opportunity.
And Lockn'. Lockn' got its name through the mash-up, combination sets. And I have to say, having just been there to cover it, and having been at most of the other big festivals out there, it still does feel a little different from most.
You look at most of the other big festivals out there—all great events—but if you looked at their schedules, took off their names, just looked at their roster, you'd have a hard time picking out which one was which. I think if you put Lockn's lineup up there, you'd know it was Lockn'. And we're going to continue that.
Were you upset that there weren't as many sit-ins this year as in previous years? I have to think getting Phish for two nights for two sets each night had to affect that some.
You know there were a bunch—you had Gene Ween with the Umphrey's [McGee] guys, you had Derek [Trucks] and Susan [Tedeschi] come out with Phil Lesh, we had Gary Clark with Phil and Chris Robinson's Brotherhood, a lot of others. So maybe there weren't quite as many, but we are always going to have a bunch.
It's also become a big stage for people to show their stuff. And I think Phish loved it. I think they really had a great time.
Okay, so let's talk about Fans.com. I'm not long into it, but as a music-lover, it's kind of hard to not be on it all the time. And I'm locked into enough social media as it is, so it's a bit of a problem.
Well, you know with other social media, you are seeing stuff about the real world. You might be talking about a show you just went to, but your friend is locked into some political thing, or posting pictures of the first day of school, or whatever. I mean, you'll never see the words "Donald Trump" on Fans.
I think we're at a time now where people just want to escape. There's just so much stuff. And you didn't have that ten years ago. I think this is a place to escape to. And just fundamentally, I just thought, if there's a place where I'm listing every job I ever had, there should be someplace fun to list every show you've been to.
Right now, it's all very organic, but over time, wouldn't it be cool to see who really are the top fans and be able to offer them things like meet-and-greets and stuff like that? So you know, who knows what's coming down the line?
I'm on two sides—I'm a user—I want to know what happened at that show last night. But as a venue owner, to really know who the fans are—that would be meaningful, and we can actually lift all the boats. Better for the fans, better for the bands, better for the venues, and to do it all in a place where people actually want to be checking in.
And hey, you can go on as your real name or go on as a code name. If you don't want your wife or your kids to know you have a secret love of Air Supply or Slayer or Phish, you can't really keep that hidden on Facebook, but you can on Fans.
The R&D on this thing must have taken . . .
Yeah, we spent a couple of years on it, a lot of money, a lot of time. Not just to chuck something at the wall, but to do it right. I mean, the cool thing is we just started it, but it will always continue to get better. I don't think we even know yet the cool things that we'll be doing with it.
Can we play the login game? When I signed up, I had to pick three bands I loved first. So who are yours?
Oh for me? The Grateful Dead first. Phish. And I think Zeppelin third.
Okay, I want to add this to the platform. Best musical moment? Just one.
Well, I think still the Dead at the Rosemont Horizon in '93. Yeah, that's still the one. I just saw so many things I'd never seen before, both inside and outside the show. And then the next day, I was in the library reading about it all. And then I went on the road. Which led me to the film, which led me to Kesey, which led me to Wetlands, which led me to this couch.
Was it a moment of "this is my tribe" or was it a moment of fascination?
Probably the first thing was I'd never seen anything like it. But I didn't just get on the bus. I think I wanted to maybe see the bus schedule. [Laughs] I wanted to see when the bus would be leaving . . . and then I went on tour that summer.
I had a turn-on moment—I think a lot of people do. You know, one thing leads to another. I don't think I'm sitting here talking to you if I didn't have that moment. I just wasn't on that track until then.
Yeah, I mean the guy [Bloch] who gave me Wetlands—let me buy it out over time—he saw the film I made, and he was like "oh, you get it." And I understood the value of Wetlands, that scene, the power of the Dead, because I saw how big it was, the magic of it, because I'd been on Dead Tour.
Okay, I thought of one more I want to add to Fans because it tells you so much about the person: one show you wished you were at?
I don't think I can make that Desert Trip thing, with the Stones and the Who and all the rest this Fall—I'm a little worried about missing that.
You know what I missed, that's been bugging me? When I was at Lockn', Bruce Springsteen was at Met Life for three nights, and I missed all those. I wouldn't have otherwise. You know, Springsteen live is awesome. And you know, you don't know how many times he's going to come around again.
I guess so. [Laughs] I guess so.
Popular in the Community