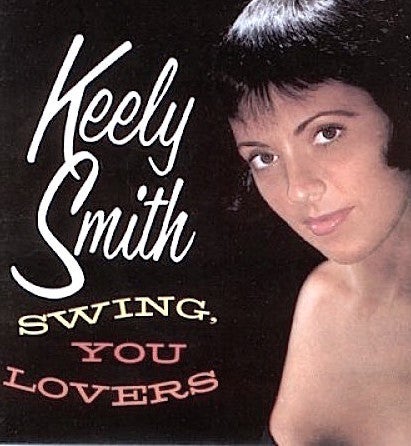 Keely Smith died this month, just before Christmas. I'm going to miss her. She was the soul of cool, by way of fun — or maybe it was the other way around. From her first midnight on a Las Vegas lounge stage with her then-husband, Louis Prima, Keely Smith helped bring forth upon this nation a new notion: the lounge act — conceived in every show business cliché imaginable and dedicated to the proposition that all songs are created equal; to be joyfully kicked around.
Louis and Keely seemed to have been hatched whole -- the buffo clown and his prima donna straightwoman. Their run as rulers of the Vegas lounges lasted roughly seven years, from November 1954 until their divorce in 1961. The liberties they took with their material constituted the highest-flying form of improvisation couched as the lowest lowbrow shtick. In fact, they were consummate jazz artists, directly descended from the "Fats" Waller school of jazz irreverence (by way of Louis Armstrong). Their frenzied deconstructions of "When You're Smiling," "I'm the Sheik of Araby" ("with no turban on") and "Just a Gigolo," among many others, hold up today as timelessly "modern" as anything cubed by Picasso.
When I read that Keely had passed, I hunted for the story I remembered writing about her years ago for the New York Times, only to be jolted by the realization that the Times actually killed that story, for reasons I no longer even remember.
It was one of the thrills of my professional life to interview Keely Smith. I met her one afternoon in 2004 at a table in Feinstein's, the now-departed Park Avenue cabaret, where she was performing. Keely was then 76 and still looked as vixenish as she had in her Vegas prime, with her trademark black, blunt, Louise Brooks "do" brushing her sculpted All-(Native) American cheekbones.
"I was born Dorothy Jacqueline Keely on March 9, 1928, in Norfolk, Virginia," Keely began. "My parents, who were part Irish, part Cherokee, divorced when I was a kid. I think I always could sing. I started on local children's shows on the radio when I was eleven. Then I sang on naval bases with big bands, like Saxie Dowell's.
"In 1947, my family was driving up to New York from Virginia. It was very hot and my stepfather, who was driving, suggested we stop in Atlantic City. My baby brother, Piggy, and I were jitterbug nuts. We thought we knew every big band around, but there was some guy named Louis Prima playing on the Steel Pier who we'd never heard of. So we went out to the Steel Pier.
"When we walked in, people were standing; packed all around the bandstand. I thought, what could be going on up there? I picked up my little brother and I kind of pushed my way to the front. When you've got a little kid in your arms, people let you through. We finally got to the edge of the stage and I looked up and saw this man. I always say that Louis was the original Elvis Presley, 'cause he could move like nobody else could move. He was jumping all over the place, doing these gyrations. I didn't really find him attractive at all but he mesmerized me. And the band was good. He had five guys he called 'The Goofers,' within the big band; they did comedy. Most of it was Italian comedy. They weren't just funny, they were great! But I just stood there like everybody else, watching this man.
"We came home to Norfolk after that," Keely went on. "There was a place out at Virginia Beach called The Surf Club that brought in a different big band each week in the summertime. I went to them and I told them that if they booked this guy Louis Prima and his band, my friends and I would pack the joint. 'Who is Louis Prima?' they said to me. I said, 'I never heard of him either but I promise you this man will do the best business you've ever had.'
"Well, they booked him and, sure enough, Louis killed 'em; he had that club in a frenzy. He had a singer with him named Tangerine, a young, very pretty girl from the Bronx, who was very nervous. At one point, Louis made an announcement from the stage that he was looking for a new singer. Which must have made poor Tangerine even more nervous.
"Eventually, about ten girls I knew got up, over the next few nights, and sang for Louis. But I was extremely shy. I was 16…
"No, no, no!" Keely interrupted herself. "I was 20. I've said 16 so many times that I say it now automatically. They've been writing 16 for years, but it's wrong and I've decided to start correcting that. I was a very young 20. Southern girls then, at 20, were like 12."
Keely grinned, her eyes widening. "Believe it or not, Louis called me. 'I understand you're a singer,' he said on the phone. I said, 'Yes, but not your kind of singer.' He said, 'What do you mean?' I said, 'I just sing around town with local bands.' He said, 'I'd like to get you up to sing with me.'
"I was so nervous. The only thing I had to wear was my high school Prom dress. What Louis didn't know, though, was that, when I'd gotten home from Atlantic City, I'd gone out and bought every Louis Prima record I could find. So I knew all of his vocal arrangements -- the girl's parts, the duets, everything.
"He hired me on the spot. I went to work with him that night. That was on a Sunday. I left home with him the following Thursday, in August of 1948."
I looked at Keely Smith seated across from me on the banquette and tried to picture her a young, green, kid on the band bus with Louis Prima. "We traveled everywhere for three years," continued Keely. "Louis kept the big band together by touring nonstop. But big bands were dead; in 1951, he finally had to break it up. We married in July, 1953, in Virginia Beach. I was pregnant and we were flat broke when Louis took a job in Vegas for the two of us in the lounge of the Sahara Hotel in November of 1954."
Keely beamed. "Louis was always in my corner. He pushed me. He told the Sahara: I want Louis Prima and Keely Smith on the marquee. They really gave him a lot of static. Nobody ever heard of her, they said, what are you talking about? Louis said, that's the way I want it.
"He never tried to change me in any way. He never made me sing a song I didn't like. At the beginning, the Hollywood celebrities who came to see us, even Frank Sinatra -- I spoke to them but I didn't really talk to them. I sat with them on our breaks, then I'd go in the Ladies' Room and read a book. Frank was very persistent, though, and little by little I got to know him and eventually I got to really love him and R.J. Wagner and Natalie Wood and Sammy Davis, Jr.; I was very close to Sammy. They became my friends. I didn't look at them as legends or superstars."
We both paused for a sip of something cold. Keely told me a few things about Frank Sinatra and some other things about John F. Kennedy, when he was President, but she said they had to remain off the record.
"I didn't realize how big we were at the time," Keely maintained. "This may sound dumb but, to me, this is what I did. This was my husband. We worked from midnight until six in the morning. We went home and slept, got up. I then spent the rest of the day with my two daughters. Louis played golf. We took a nap and went back to work. That was my life and I didn't think too much about it.
"We did have to rehearse a lot because everything we did onstage was memorized. It looked like we were making it up as we went along, but Louis was just amazing. He choreographed every note, every move."
What about as a singer, I wondered. Did he coach her?
Keely shook her head. "As a singer, Louis really didn't influence me. No one did. I sing exactly the way I sang when I started. As a girl, I listened to Ella and to June Christie, a little. What came out of me, though, was me. All me. Still is."
She paused. "I think the success of Louis and Keely -- beyond the sense of rhythm that Louis had -- was our mix of jazz and rock and roll, and the fact we were husband and wife. I could say things to him onstage and he could say things to me that we could only get away with because we were married. Also, the fact that I wore clothes onstage that any waitress could go into a store and buy. I never was a frilly dresser. I always dressed simply.
Her eyes flashed. "Actually, I hated when I had to wear those poodle skirts. That was Louis. Louis wanted the poodle skirts and the cute little girl things."
In 1961, everything came undone. "I truly believe that Louis went through male menopause and I didn't know how to handle it," Keely reflected. "The drinking I probably could have stumbled through, but the women – that was just terrible; they were calling my home and showing up at work. I wound up very sick over it. We divorced that October."
Keely looked pensive -- a look that could be said to have once been the quintessence of her persona. "I was very happy with him," she muttered. "We had everything going for us -- we had a wonderful band, wonderful daughters, we had a good job. We didn't make much money; we never made a lot of money. But we lived comfortably.
"I don't get a penny from what we did together," she added. "Unfortunately, Louis had a contract that gave me nothing for "Old Black Magic" and a lot of other songs. I'm going to be taking care of that, though, shortly, with Capitol Records, because, once they give you equal billing they have to pay you."
Keely Smith's career, post-Louis Prima, crested for a while during the 1960s, with support from Sinatra and a series of excellent solo albums. She also teamed up with Count Basie.
"When Louis had the big band and we were traveling all over, we used to play softball with teams from the different bands out there," Keely remembered, "Tony Pastor, Glen Miller -- the bands used to get together and play ball. I can't recall Basie actually playing softball but I did meet him at a softball game somewhere. I didn't really get to know him, though, until we did radio shows for the Armed Forces. Then, in 1963, I took him into Basin Street East in New York. Streisand had gone in there with Benny Goodman's Orchestra and they wanted to team me with an orchestra too. It worked out so well, I turned around and took Basie into The Cocoanut Grove in L.A. at the Ambassador Hotel.
"Working with Basie obviously was very different from working with Louis. Basie was very calm, very cool. Laid back. Quiet. You barely knew he was in the room backstage. Then he'd walk on that stage and he had such power, such control.
"I also was calm and cool," Keely pointed out, as the afternoon light drained away from us in the empty club. "I still am. Basie played his piano laid back and I sang laid back, but the music," said Keely, "the music went like crazy."
Calling all HuffPost superfans!
Sign up for membership to become a founding member and help shape HuffPost's next chapter
This post was published on the now-closed HuffPost Contributor platform. Contributors control their own work and posted freely to our site. If you need to flag this entry as abusive,
send us an email
.