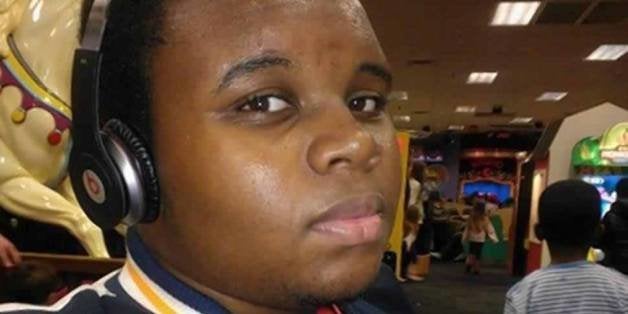 When Lesley McSpadden and Michael Brown Sr. made plans to drop off their 18 year old son Michael at Vatterott College, a technical school near their Ferguson, Mo. home for the start of his freshman year, never could they have imagined that rather than celebrate his triumphs, these deeply grieved parents would instead be planning his funeral.
As I glance at the 20 candles glistening atop my own son's birthday cake on a warm August afternoon, the irony is not lost as I too prepare for the trek that millions of parents make ritually each fall, dropping their offspring off at colleges, universities and trade schools across the nation. Yet, unlike the majority of parents, I now have the added burden of knowing that recent events have placed my sons squarely on the endangered list.
It's becoming an all too familiar vignette of distraught mothers and fathers helpless to shield their sons and daughters against societal woes, and unforeseen circumstances that would find them scanning crime scene photos instead of gleefully posting 'first day of school' snapshots on Facebook and Instagram.
The seemingly willful killings of unarmed black men like Michael Brown, Jr. in Missouri, Trayvon Martin in Florida or Eric Garner in New York, all have their origins in the odious practice of racial profiling.
According to U.S. News and World Report, African Americans in Ferguson, Mo. are not only stopped more often, they are also searched and arrested more than whites, even though the data show that whites are more likely to be caught with contraband if searched. In short, whites were stopped for actual suspicious behavior, whereas black were routinely stopped for racially motivated reasons.
Although legislation was put forth to end this heinous exercise, the state of Missouri's own 2013 statistics show the disproportionate execution of "just-us" Ferguson-style: Of the 5,384 police stops, 686 were white, while 4,632 were black. Of 611 searches, 47 were white, 562 were black. Of 521 arrests, 36 were white, 483 were black.
As a father of three African American sons and a pastor to more than 15,000 black men not to mention the other 23 nationalities that make up The Potter's House of Dallas, I'm deeply troubled by the constant erosion of the black males whose battle to survive poverty, drugs, violence, dropout rates and other community maladies only to come to such a forlorn and hideous end! We certainly don't need the added burden of racial profiling or any form of injustice leveled against our already perplexing ills.
And while the exact details of Michael Brown's death continue to unfold, his parent's anguished cries on television remind me of how onerous the task is for mothers and fathers in our communities to dodge the bullets of black-on-black crime, disenfranchisement, disillusionment, and a justice system whose own statistics reveal racial disparities and poverty itself as the twin scions of sociological toxicity.
I cringed at the attention that would not likely have been given to this case had the community in one accord not demanded a thorough investigation! Nevertheless, I am grateful for the attention that this outcry has received from the highest levels of government!
With the nation's outrage in full view, I believe that this case gives an outlet to a rising sense of power felt by parents and youth alike to call into question the questionable behavior exhibited by those who are sworn to protect and serve all citizens.
While I applaud the people's right exercise their first Amendment right to protest, I strongly urge the anger displayed thus far in the disruptive elements of the protests to be quarantined and channeled away from vandalizing our communities and replaced with a careful scrutiny of how the Attorney General through our judicial system will handle the investigation of this extremely disturbing case and how those responsible will be held accountable for their actions.
My hope is that the glaring lens of media brings enough light to offset the heat of the seething anger that's rumbling under the skin of a frustrated and enraged community!
I hope too that Governor Nixon will rethink the overnight curfew. I concur with Twitter Co-founder and St. Louis native, Jack Dorsey who best underscored its impact:
"....this feels like a missed opportunity to trust our people."
If the allegations leveled by eyewitnesses, together with the physical evidence and the findings of the FBI and others are enough to bring an incitement against Officer Darren Wilson, I hope that we can go beyond the customary "slap on the wrist" that American history both past and recent past have administered in such black and white cases. (Remember Rodney King!)
My prayer for all involved is that indisputable truth resolves the matter without any further reckless abandonment!
We desperately need to know whether the excessive use of lethal force and illegal racial profiling were involved. And we need the authorities to disclose why Michael Brown was shot at least six times including twice in the head for allegedly walking down the middle of a street on a warm August afternoon.
It's an accepted fact that 100 black men are killed by white police officers in America annually. My hope is that the Michael Brown, Jr. case would become the catalyst for a systemic change that has been long overdue within our judicial system. I hope it moves us a long way forward toward racial equity.
Let us run hard after justice with deliberate haste. We all know from past experience that 'justice delayed is justice denied.'
We are a far cry from the post-racial, peace and love society envisioned by '60s idealists or the melting pot that our forefathers portended. We in desperate need of the kind of cultural sensitivity among our officers that comes with living in the communities that they serve to understand the cultural nuances, share the values of its citizenry and to begin to rebuild trust.
Ferguson is a town with a 67 percent black population, 53 police officers, only three of whom are African Americans, according to the U.S. Census Bureau. We need to see an immediate shift in these demographics so that its police force becomes a better reflection of the populous.
What we don't need is more shameful actions like the police chief's releasing surveillance footage that shows the victim allegedly stealing from a convenience store immediately prior to his death. Using words like "robbery" (which implies violence) for "petty theft" (e.g., stealing) not only inflames an already incendiary situation, it disparages a victim who can no longer defend himself. While stealing is wrong and indefensible, two wrong acts don't' make a right.
As I celebrate my youngest son's 20th year of life on this warm August afternoon, the sweet taste of birthday cake leaves an acerbic taste in my mouth as I think of Lesley McSpadden and Michael Brown Sr., Sybrina Fulton and Tracy Martin, and Pinky Garner (wife of Michael Garner,) and her six children, and the many parents who will not get to share a slice of cake with their sons and daughters!
I pray for the many hardworking, God fearing, right-doing police officers who risk their lives every day to try to make our streets safer, to join the outcry for justice. Because justice is the only thing that will thwart the barbaric elements in our criminal justice system and restore a much needed respect for those who serve us honorably every day!
What we don't need is more mothers and fathers crying over martyred children. For us it's one more tragic story on the 6 p.m. newscast. For them, it's a forever reality.
Let us therefore strive for peace in Ferguson and justice for all the Michael Browns in America.
We know from past experiences, where there is no justice, there can be no peace.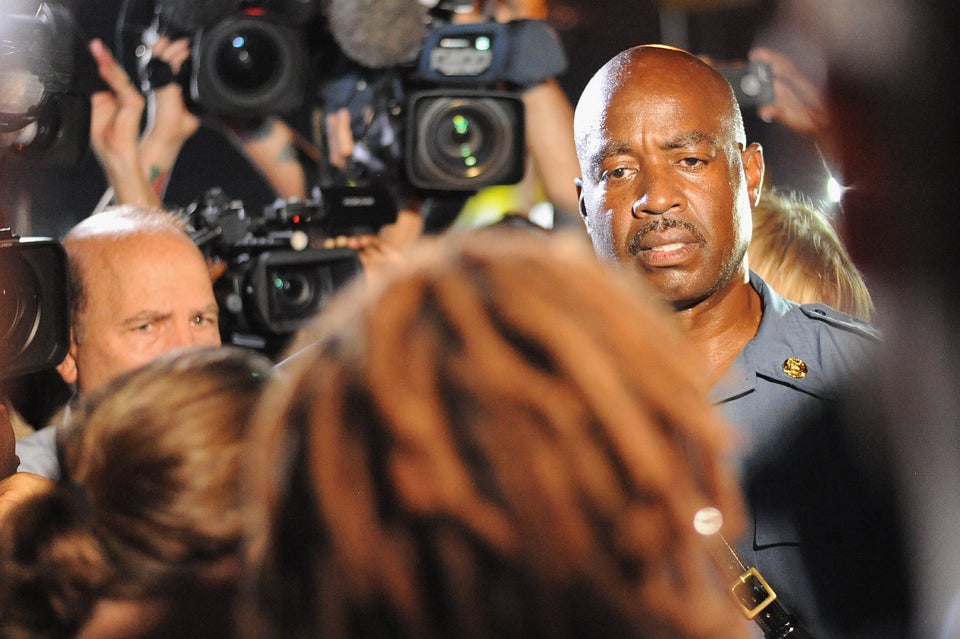 Ferguson Protest
Related
Popular in the Community