Nathan Hager paints the outdoors and captures its beauty while adding his own twist. He describes his paintings as "rooted in traditional representationalism while celebrating the craft of painting." He currently lives in Minnesota with his wife and three young daughters.
In honor of Father's Day, UGallery is celebrating all the wonderful working artist-dads out there. Read on and you'll find out just how lucky Nathan's three daughters are. Enjoy!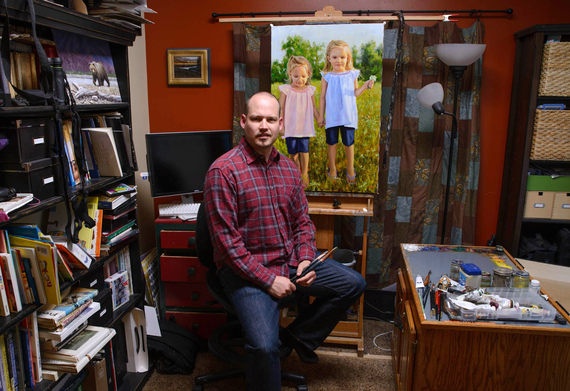 Growing up, how did you view the idea of Father's Day? What did it mean to you then and what does it mean to you today?

My dad has always been a very important influence in my life. As a kid I saw Father's Day as an excuse to often times splurge on him and getting him some special big gift that he didn't expect. Sometimes this was original art! Now as a father, my expectations on Father's Day are pretty insignificant. It's kind of just another day. I merely hope I'm the father I should be for my kids. I still enjoy trying to think of something meaningful to get my father to show my appreciation for all he still does.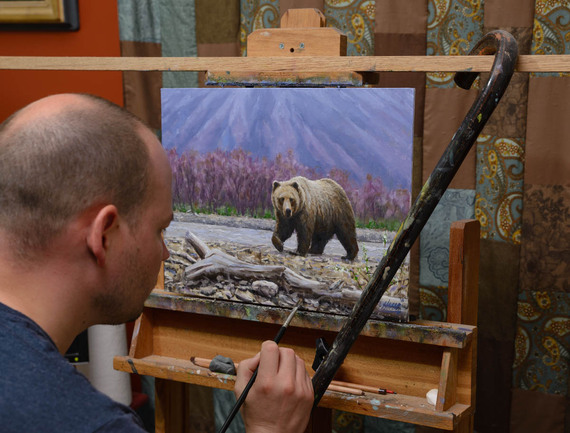 How have your kids changed your life, both personally and professionally?

It's difficult to answer this one without sounding like a cliché. The easiest way to explain fatherhood is a complete revolutionizing of ones priorities both personally, and every other way. There are very few things that take priority over my kids, and I'm not ashamed to say that my art is not one of them. As a young man, when I first caught the painting bug, I told myself there was nothing I wouldn't sacrifice to become the best painter I could be. That simply isn't true anymore. But that's a good thing!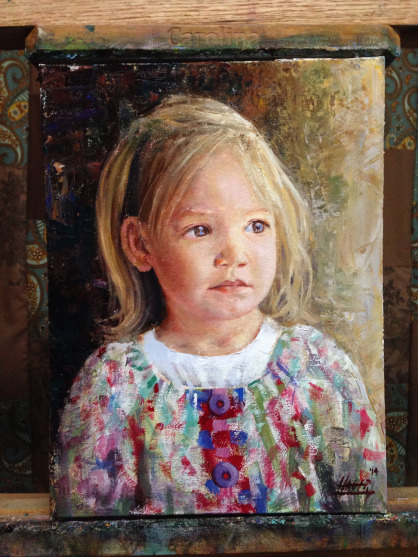 How are your kids involved in your art?

Aside from being the occasional subject, my kids are merely spectators. With all the toxic pigments, I'm careful to instill a healthy respect for my painting area in them. They know they aren't supposed to touch. And when I'm not painting, all my supplies are completely put away. They do like to watch me paint however. My four year old likes to come up behind me and offers a "looking good daddy." Which of course makes me smile!
How has your background as an artist affected your kids? Do you think having an artist dad helps inspire their creativity?

I think the impact of me being a painter still remains to be seen. I'm careful not to push art on them. I want them to choose it if it's something they want to take seriously. They use watercolors and crayons like all other kids, and I must admit I pay close attention to what they produce always waiting to see if there's some sign of inclination that way! I like the idea of having art in the home be a natural thing that they are always exposed to. I think when they get older, they'll realize that an easel in the living room isn't completely "normal," but what they choose to do with that realization is up to them.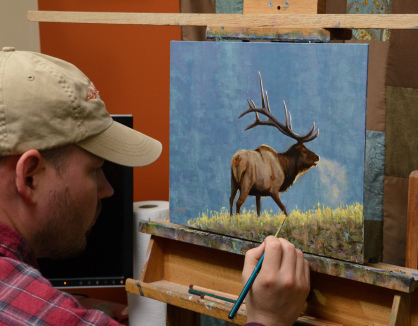 Any great dad stories your kids would be embarrassed of?

This is an interesting question! Anyone with kids under six knows that they really don't get embarrassed by much. There is plenty that they do to make mommy and daddy blush however, from passing gas in church to yelling out while grocery shopping "look mom that lady has purple hair!" It's all good though, it keeps us humble!
Calling all HuffPost superfans!
Sign up for membership to become a founding member and help shape HuffPost's next chapter