My husband, Mac, tells a story about his late father, a tough guy raised during the post-Depression era on the Lower East Side of Manhattan that ends with his dad referring to women as "broads."
I unfortunately never had the chance to meet my father-in-law, but from what I gather such terms of endearment about the opposite sex were part of his everyday vocabulary.
Now any time Mac's sister or mom were privy to one of these tales, they chuckled but shook their heads. And whenever my husband tried to get away with using broad or even so much as said "girl" when referring to an adult female, they made sure promptly to correct him.
Not one to get my knickers in a knot about the occasional cat call or reference from a stranger as sweetie or hon, I couldn't understood their issue. Why so sensitive? What's the harm in benign synonyms or generational slang? Mac's intention wasn't to make me or his female relatives feel objectified, demeaned or less than.
My mother-in-law and sister-in-law would argue in favor of selective word choice. Had I pushed back, I'm pretty sure they would remind me words are powerful; slang and synonyms perpetuate the idea that women are subordinate to men. They'd then likely ask, "Aren't you a feminist?"
My likely response? "Meh."
A feminist, according to the online Merriam-Webster dictionary is one who supports feminism or "the belief that women and men should have equal rights and opportunities."
Whenever I hear feminist, my mind is quick to gloss over the definition and hone in on a visceral image of a man-hating, braless lady in bell bottoms with unshaved pits marching in protest. For me, associating with this label feels passé and a wee embarrassing mostly because as a Generation Xer, I've spent a lifetime reaping the benefits of rights and opportunities. By 21st century standards, feminist ideals seem like bygone liberal gibberish that only widen any existing divide between women and men.
In a blink, the liberties I'd taken for granted were in jeopardy. As I trudged through the holiday season grappling with this alternative reality, I thought about those who poured decades of themselves into advocating for women's voting, health, reproductive, education and gender equality rights in the workplace.
A sense of responsibility to our history and for future generations began to stoke the embers that lay tucked between ambivalence and pride, labels and perception. By the time New Year's Eve rolled in, I was done with setting frivolous resolutions. Primed for a revolution, a feminist was rising.
My personal goals are also simple; take action in my community and be mindful of words.
In order to stand up for women's rights, one first needs to believe she has the right to do so. During the final weeks of 2016, I had the privilege of supporting those on the road to empowerment by providing childcare at a local domestic abuse shelter and outreach program. I look forward to doing my small part to help these families as they find their voice.
I will also do my best to pay attention to my own voice as well as those closest to me.
On a New Year's Day hike with Mac and the boys, Bubbe navigated us over rocks, through mud and moss. When we came to a clearing, he challenged me to a race. "C'mon Mom," he said with a smirk, "Be a man."
A few months ago, I would have laughed off his comment. Like his father and grandfather, I know my son's intent wasn't to make me feel inferior. But this time, I took a page out of his grandmother and aunt's book and kindly corrected him. As we journey through the fog, it won't be enough for the feminist in me to rise; I need to be the woman who raises my sons to be one too.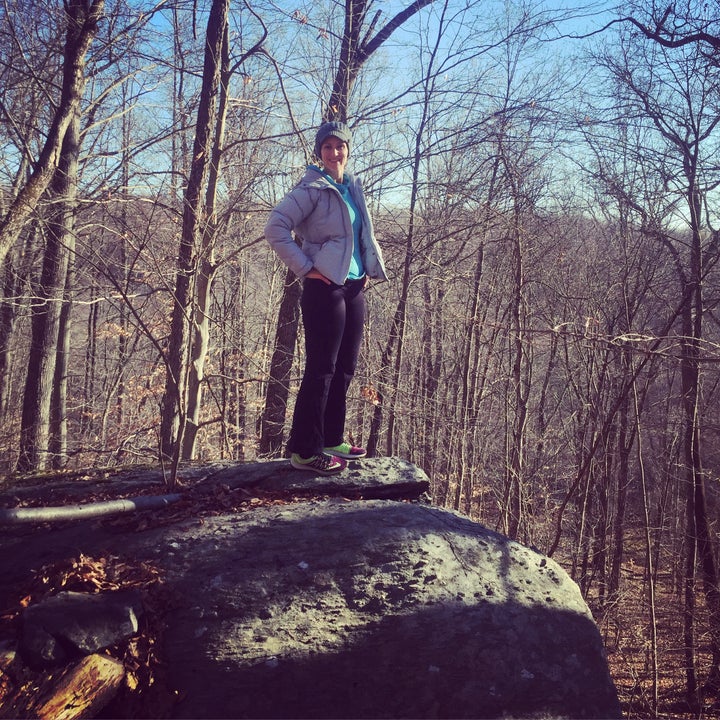 Related
Popular in the Community