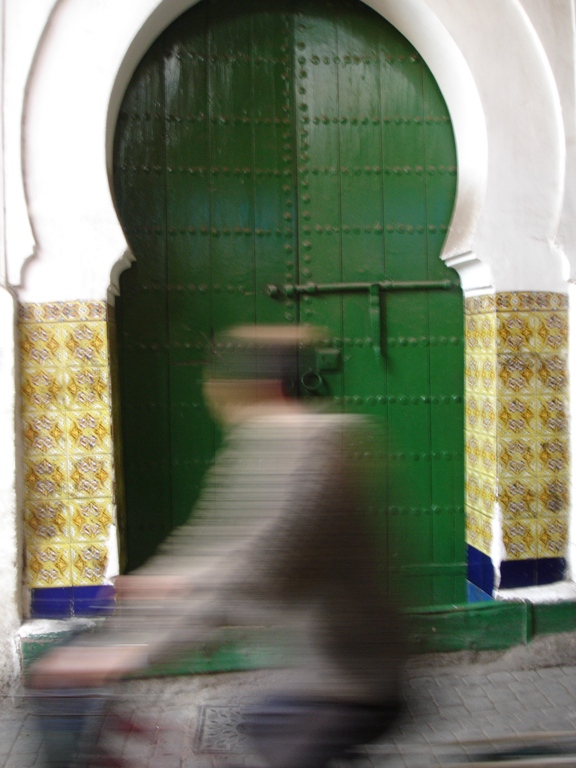 I just spent a few days my first time in Paul Bowles country, in Marrakesh. (Bowles resided himself in Tangier of course.)
An intense, unsettling, intoxicating place, Marrakesh. An unnerving place. Traffic signs for instance are a comparative luxury, so at any big street intersection you scurry across in panic through cars, buses, horses, motorbikes, scooters bearing guys in their long flowing hooded djelabas. On the smaller streets and wriggling alleys of the souks the motorbikes buzz about like angry hornets.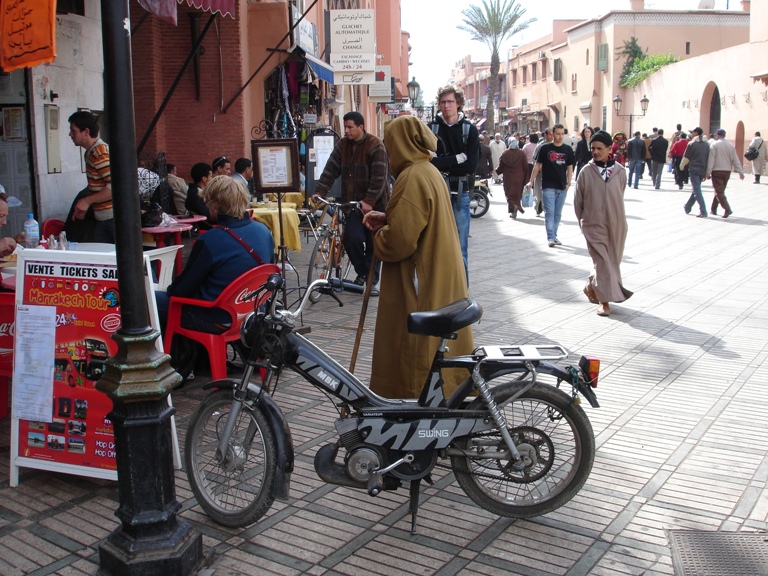 Motorbike & Djelaba Briefly at Rest
The old part of Marrakesh, the Medina, dates from the 11th century. Spectacular simple baked-mud walls surround it, more memorable to me than the renowned stone ramparts of Avila in Spain. At the heart of the Medina sprawls famous Djemaa el-Fna, largest square on the continent, the towering Koutoubia Minaret marking its approach. The name means, among alternatives, Assembly of the Dead. I suddenly understood the odd arresting title of Bowles' kif-addled story, "He of the Assembly." I began saying it aloud the whole time, like a gleeful icon of our visit, or a running gag.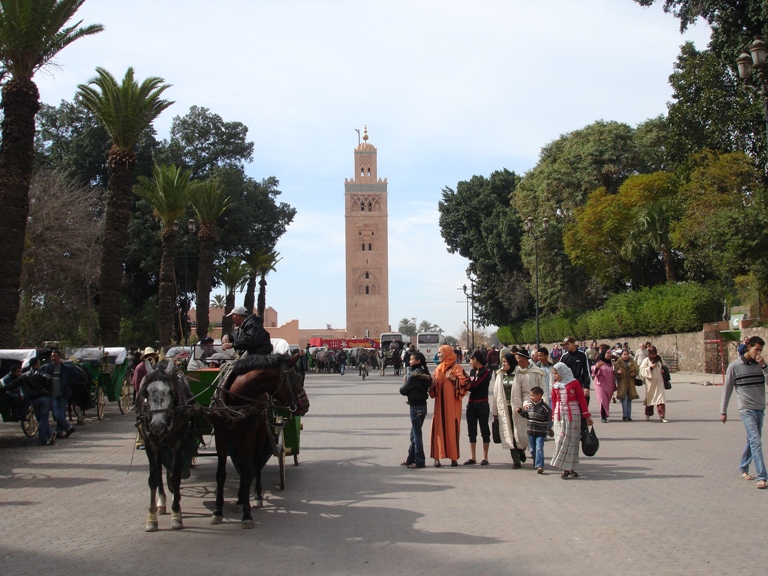 Koutoubia Minaret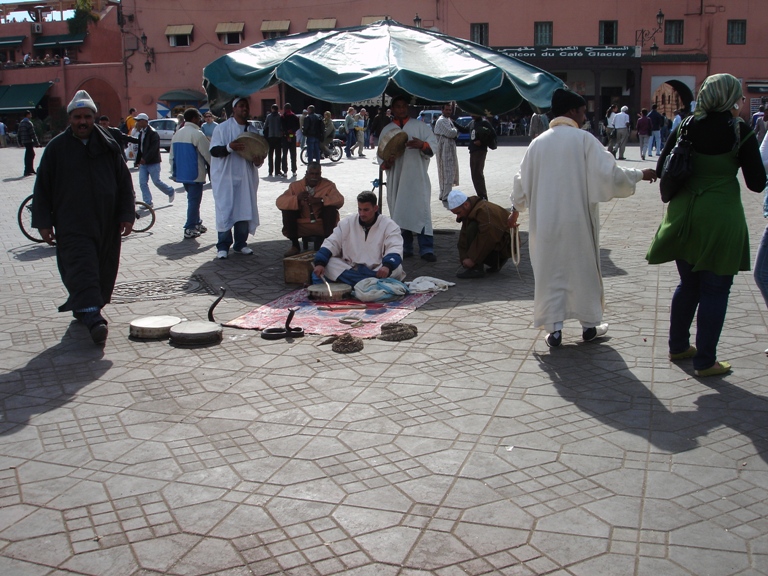 Snakes for Charming
Everyone knows Djemaa el-Fna from Hitchcock's 1956 remake of The Man Who Knew Too Much. Aglare in the sun the square thongs with snake charmers, monkey acts, tumbling acrobats, the cars and scooters and pony-carts barging through. Those good old Americans Jimmy Stewart and Doris Day were wandering here mumbling (he) and chirping (she) when the stabbed man staggered into them and launched the MacGuffin. On one side lie the souk markets, where the stabbed man got knifed.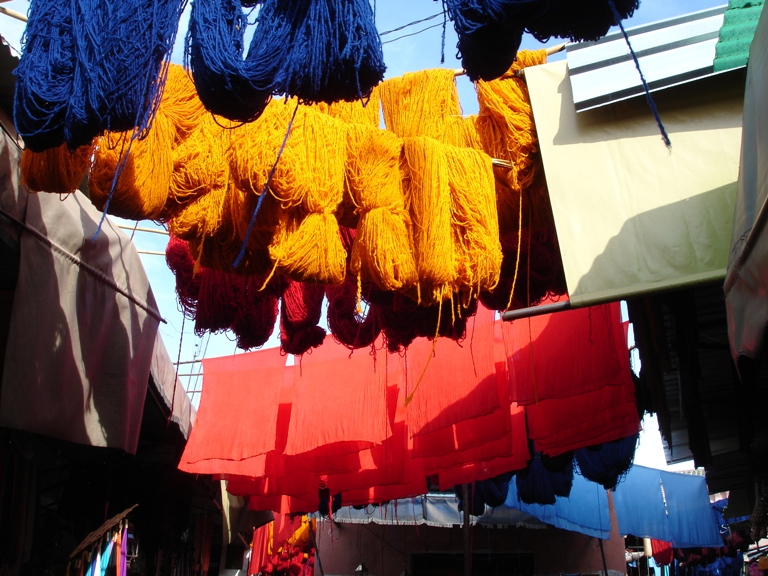 from The Man Who Knew Too Much:
EXT. MARKET PLACE - (DAY) - MEDIUM SHOT
The Arab turns into another street where the rows of
brilliantly dyed wool yarn hang, from overhead strung
along sapling poles.
On other flanks of the square sit cafes with names like Glacier and Cafe L'Etoile, the euphonious treats of Francophone Africa. Also Café de France, where the great rebel Spanish writer Juan Goytisolo hangs out, which I would have learned if I'd gotten hold of a guide book before going. But my girlfriend Anya and I made the trip on an impulse, a whimsical hop from Spain where we were busy just now (eating and drinking, what else?)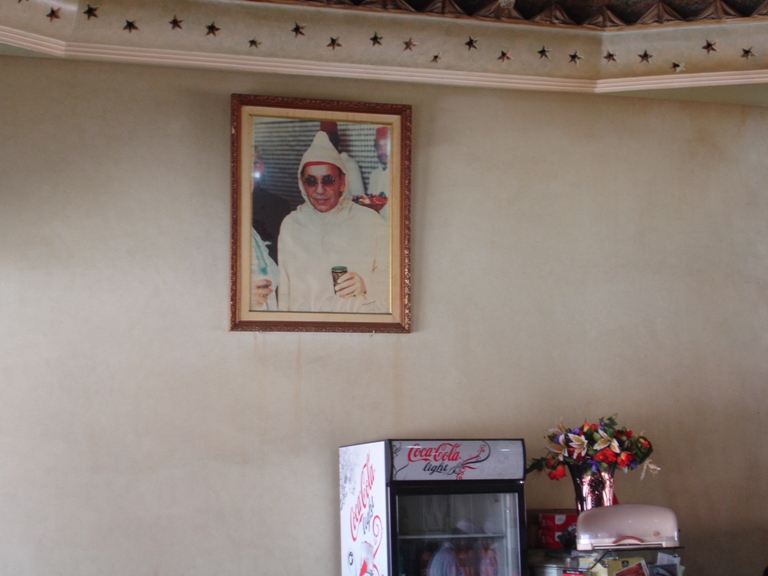 Late King Hassan II at Cafe L'Etoile
At night Djemaa el-Fna cranks up to a whole other mobbed throbbing level. Dancing girls (they're guys), taletellers thrashing the air, pale plump tourists drifting through a chaos at whose heart are crammed the dining counters. Lamb, offal, fish, potatoes and egg in the signature little flat white loaves. The bread is a utensil hereabouts, you use your fingers to eat your grub, rinsing off under the table with a dash of water. If you have the nerve to try the stall food, that is, which I honestly would have lacked (street food in Africa? I'd just suffered a nasty aftermath from gourmet catering in Madrid).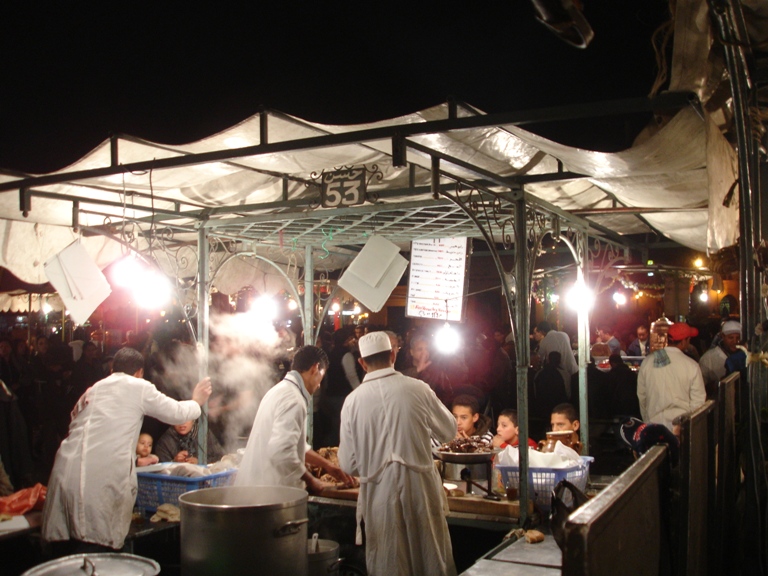 Night Food Stalls
But our guide was hip young local chef Moha Fedal, whose Dar Moha Restaurant is the foremost nouvelle Moroccan table in town (a vivid detail: shredded cucumbers with rose water--small and sensational.)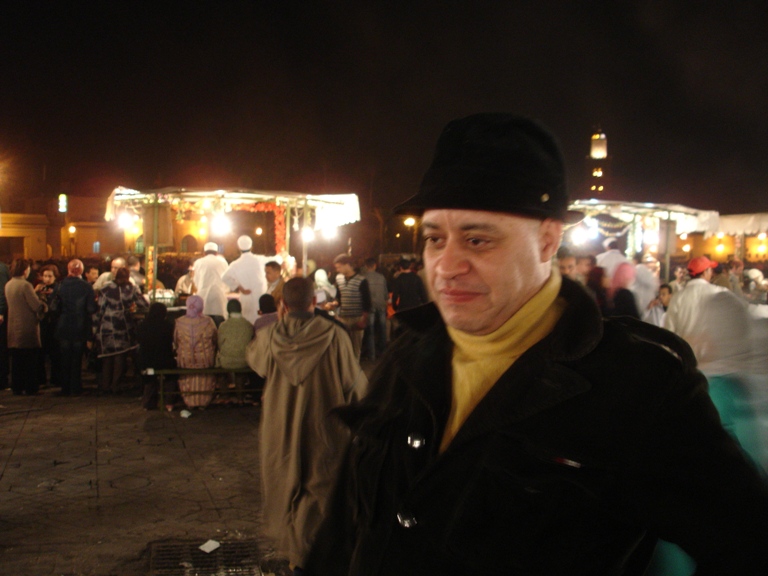 Chef Moha
Moha first wedged us onto the bench at a numbered stall for (gulp) little smoky sausages and some kind of innards. Then on to another even more jammed stall for fried fish, some kind of delicious sturdy eggplant side dish, and terrifique pommes frites. Two English tourist ladies ate beside us, grinning with pleasure, which gave me sanitary reassurance. In the smoky lantern light an exquisite elderly figure only hatchable by the French waited in the takeout line: elaborately marceled grey hair, designer glasses, a silk scarf Ascot fashion tucked into a fancy shirt collar in a natty tweed jacket. "Regardez," I said to Anya: "Un Connoiseur."
(But no such connoiseur was Doris Day, apparently: "From the moment we arrived in Marrakech, my stomach rebelled at the sight of the local cuisine. Almost everything was served out of community pots. Our first night there we were invited to some palace where the diners filled their plates from a community pot with their hands! Well, D. Day is a lady of rather simple, hygienic eating habits and there was no way I was going to dig into the couscous or anything else." Doris Day, Her Own Story)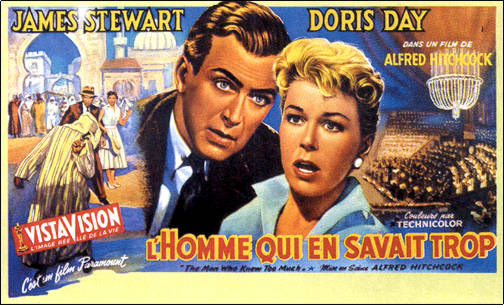 Jeemy & Dorees React to Local Cuisine?
During the day the venality around the square jarred me. I know the market ways in Istanbul, where you make eye contact or stop to examine merchandise at your peril. Anya had warned me that Marrakesh would be much more aggressive. She was pleasantly surprised--the authorities now have some kind of tourist police cracking down on heavy-handed soliciting. But even so. Hurrying along the first day I called to a guy at a stall for the right direction toward a mosque. He leapt up with a grin, dashed into the back for a piece of paper, and drew a little map for me. Poignantly, his drawing started awkwardly crammed onto one edge of the paper so that he finished inking his map onto the flesh of his palm. I thanked him with a big appreciative grin and started off, but his hand thrust out. "Un petit cadeau, s'il vous plait," he said grimly, advancing on me. I was shocked. "Pardon," I said. "J'ai pas d'argent," I stammered (which was true, I hadn't any local dirhams on me, though precious Euros I had). I grinned regretfully, playing earnest. "A la prochaine!" (In Turkey you can put pesterers off with "Bashka zaman: another time.") "Non," he replied. "Now." "Pardon," I repeated, grinning away. "No money." This obviously confused him. "Pardon," I said again , and walked off, swearing under my breath at his hostile grubbing.
I wish I had the presence of mind for that snitty little hypocritical phrase which in France was always trotted out to me after the use of a toilet at a hotel or bar was denied: "Je suis desolee, Monsieur. Je suis desolee!"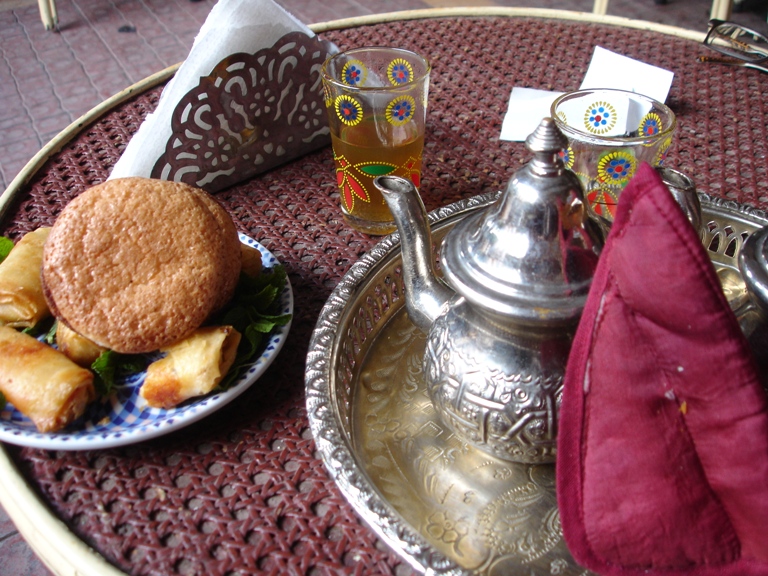 Soccer Mint Tea
But no desolee from the local drink: sweet mint tea. At first it seems grotesquely sweet. But then you develop a savor and a hankering for it. We watched the African Cup football match between Morocco and host Ghana at a Café Solaris in the modern "upmarket "neighborhood of Guelise (pronounced like the French word for church, of which in fact it is a corruption). And instead of an ice-cold Bud (say), I drank me a couple mint teas during Morocco's unfortunate loss.
"Ah, c'est le football," shrugged our taxi driver, after he'd actually put on the meter and we'd offered condoleances pour le match. Oui, c'est le football... we all repeated it philosophically. "Que sera sera," D. Day might have added.
More Marrakech to come....Appreciations to Uber.com, where this piece first appeared on my blog Brain Flakes.