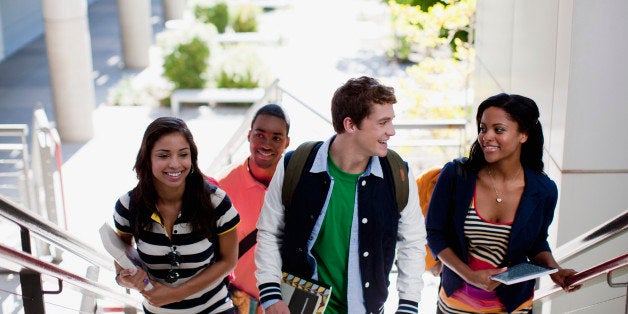 Higher education leaders are generally responding positively to President Obama's recent "College Opportunity Summit," as the president and first lady reinforced their ongoing commitment to improving potential college students' access and success. At the event -- which featured more than 100 college presidents who signed pledges that their institutions will help with the effort--Michelle Obama recounted her own powerful story of perseverance and success as she noted how deeply the nation's leading couple's life stories are "rooted in education."
While the summit was another example of the president's clear commitment to improving higher education in America, a few surprises emerged from the gathering. One was the under-representation of community college leaders (only 10 percent) at a gathering meant to highlight the college-going issues of "lower-income Americans." Although community colleges enroll the overwhelming majority of students in this category, critics felt that they were given "short shrift," and that the summit was "dominated by elite institutions." They noted that too much of the focus was on the phenomenon of "undermatching," where high-achieving, low-income students qualify for first tier schools, but attend lesser ones and have lower graduation rates.
Others felt that many of the suggestions were methods that had already been in place at many community colleges and smaller privates that were "completely shut out of this summit."
Another surprise was the president taking a shot at the ACT and SAT exams, which he called "not standardized." He said "low-income kids are not on a level playing field," when it comes to these tests, and that his daughters "by the time they're in seventh grade at Sidwell School are already getting all kinds of advice," while poor students remain unprepared. Though the SAT has been accused of a racial bias for years this was the first time that the chief executive has used his bully pulpit to suggest the exam may be unfair.
A further surprise was the seemingly off-handed way the president shared some stunningly positive news regarding student success. About halfway through his prepared remarks, at the end of a paragraph detailing a number of positives, he announced: "The dropout rate among Hispanic students, by the way, has been cut in half over the last decade." The fastest growing demographic in the country sees its dropout rate cut in half in a decade and it merits only this passing remark? The president has consistently hailed minority student gains, so it was a bit surprising that he did not make more of the growing good news coming from the Hispanic students and higher education. For example, the president might have reminded the audience that Hispanics outpaced white students' rate of college enrollment for the first time in U.S. history last year.
He also could have mentioned that in a recent Pew Hispanic Center survey, 88 percent of Latinos ages 16 and older agreed that a college degree was key to getting ahead -- a higher figure than the 74 percent who answered the same way in a separate survey of all Americans.
In addition, while recent college graduation rates were flat, some analysts credited improved rates among Hispanics as the chief reason that rates did not dip -- as some had predicted. These and other trends for Hispanics college success seemed to merit further emphasis by President Obama.
Lastly, some of us were surprised that the summit did not place more emphasis on technology solutions to reduce completion costs, prepare students more effectively and enhance access. While the efficacy of MOOCs is still debated, because the best are free and rigorous -- a rarity in higher ed -- they hold great promise for low-income students. As Kevin Carey pointed out in what is perhaps the best article yet written on MOOCs, "The burden of proof is no longer on technology to show that it can make traditional higher education better in a way that's worth the price to students and taxpayers. It's the other way around."
For low-income students to have the opportunity to take an Intro to Biology course from MIT's Dr. Eric Lander is simply a paradigm-shattering alternative to the excruciatingly hit-or-miss educational options they can afford.
As the Obama administration works toward further accountability in higher education -- a very worthy endeavor, here are a few final thoughts for the next summit:
• Focus on tangibly rewarding schools that aggregate high-level free courses, like Dr. Lander's, "package" them in a sensible, accredited undergraduate curriculum and offer them to students seeking a cost-manageable higher ed alternative.
• Require all universities to use the same reading, math and English placement tests, and then roll out free, online prep tests to ensure that students get placed effectively and take fewer remedial courses.
• Announce funding for the construction of MOOCs (like Intro to College Algebra) that meet rigorous standards and can be accepted for credit by any college or university in America.
• Invite more community college innovators to share, and place a greater emphasis on programs that have proven success.
There are seismic changes occurring in higher education, and with a president who is predisposed to making substantive changes to help America improve this crucial sector, future educational summits that demand access, quality and accountability are worth the time and effort.