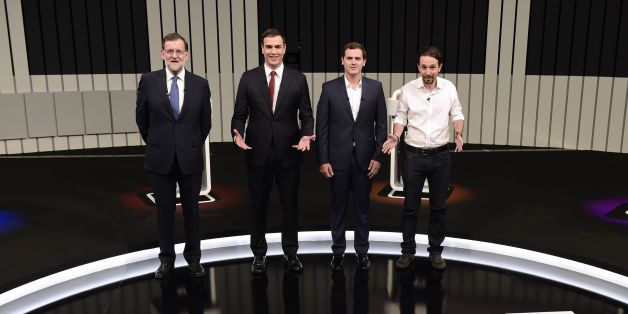 Let the apostles of the new-age politics stone me for what I'm about to say: My favorite thing about bipartisanship is face to face, one-on-one debates. For example, I can't wait to watch how the shrewd Hillary Clinton will deal with the madman, Donald Trump.
A one-on-one debate can be intense, bitter, or even boring, but it is always direct and elementary, like television. But when you watch a debate among four candidates, you could easily get confused or lost.
That said, it was very revealing to watch Spain's acting prime minister, Mariano Rajoy, Socialist leader Pedro Sánchez, centrist Ciudadanos candidate, Albert Rivera and Podemos candidate, Pablo Iglesias fighting on television -- for the first and last time. For if there was a third electoral round -- they all deny this could happen, but we can't rule anything out -- it is unthinkable that these four candidates could face each other again. Some of them will not make it alive.
Everything in the debate could have been improved: The dynamics, the moderation, the set itself. Still, it gave us a few insights:
- Mariano Rajoy is not going to do anything different from what he did after the December 20, 2015 election. He will leave the future of the People's Party (PP) in the hands of arithmetic, period. It also became clear that Rajoy can't stand Pedro Sánchez, that he doesn't get along with Albert Rivera, and that he despises Pablo Iglesias -- which does not mean that he underestimates the force that Podemos represents.
- Albert Rivera dreams of a grand coalition among the centrist party Ciudadanos (Citizens), the PP and the Spanish Socialist Workers' Party (PSOE) after the general election on June 26. This coalition would have a sine qua non request; namely, the removal of the popular leader. Nevertheless, Rivera won't bring back the phrase "Go away, Mr. Rajoy," which he had used during the previous and very short term. The most he will do is ask him "to reflect" on the damage that his presence has had on governance.
- It is clear that Pedro Sánchez would sooner die than join forces with the PP. He also feels threatened by the Unidos Podemos (United We Can), an alliance between Podemos, the United Left as well as other parties. Sánchez is convinced that comparing Anguita-Aznar to Iglesias-Rajoy is the best possible move by which to confuse and discourage the socialist electorate.
- Pablo Iglesias is not allowing Unidos Podemos' ascension in the polls to lull him into a false sense of security. Belonging to the second most important political force constrains him to a tamed version of himself. He refrains from attacking the PSOE, and resorts to almost begging the party for some sort of compromise.
- Pedro Sánchez and Albert Rivera have signed another treaty: a non-aggression pact for the campaign's duration. It is an understandable decision, if they want to focus on the progress they've made in the past four months. But behind this temporary truce, both of them are competing like wolves for the same electoral space on the center of the board.
- Greece is the new Venezuela. Iglesias and his party can't disparage Tsipras like they did Maduro.
- The future of Catalonia will remain the main Gordian knot of Spanish politics in the coming years.
- The words Bárcenas, Gürtel, Caja BB, Blesa, Rato, Barberá or Panama preserve their destructive power against Rajoy's attempts to build a positive narrative about the beautiful and hollow concept of: "Spain is a great country!"
- A debate with four candidates is very inefficient with regards to discussing tangible proposals on taxes, research, pensions, the minimum wage, labor reform, education or autonomy. They didn't even discuss Europe. That is, even the most important subjects were not tackled directly. And in that haze, the two million jobs that Rajoy stubbornly promises sparkle like a piece of candy. Bling-bling.
- The debate was not very well structured.
To conclude: I couldn't identify the winner of the debate. In that sense, I believe it was a failed one.
Undecided voters: Stay tuned.
This post first appeared on HuffPost Spain. It has been translated into English and edited for clarity.
REAL LIFE. REAL NEWS. REAL VOICES.
Help us tell more of the stories that matter from voices that too often remain unheard.