Two additional women have come forward with allegations of sexual misconduct against Sen. Al Franken (D-Minn.), including an Army veteran who says she was groped while deployed overseas and a former elected official who told a news outlet that he tried to kiss her.
The women's accounts bring the number of accusers against the senator to six as of Thursday.
"When he put his arm around me, he groped my right breast. He kept his hand all the way over on my breast," she told CNN in a report published Thursday. "I've never had a man put their arm around me and then cup my breast. So he was holding my breast on the side."
Kemplin, who was 27 and a military police officer at the time, said she was a longtime fan of "Saturday Night Live," which Franken was a writer and performer on, and said she was immediately "embarrassed" by what happened.
She said she first wondered if his hand placement was an accident, but "he never moved his hand."
"You're immediately put on the spot. What are you going to do? What are you going to do? Your mind goes a mile a minute," she said of her reaction. "Who was I going to tell?"
Kemplin said she shifted her body before the photo of them was taken so that his hand would fall off of her breast. A photo of them released by CNN shows neither of Franken's hands on her chest at the time.
Kemplin said she later told her sister and an ex-boyfriend about what happened but she doesn't remember telling any fellow soldiers because she felt ashamed and didn't have any particularly close peers to confide in.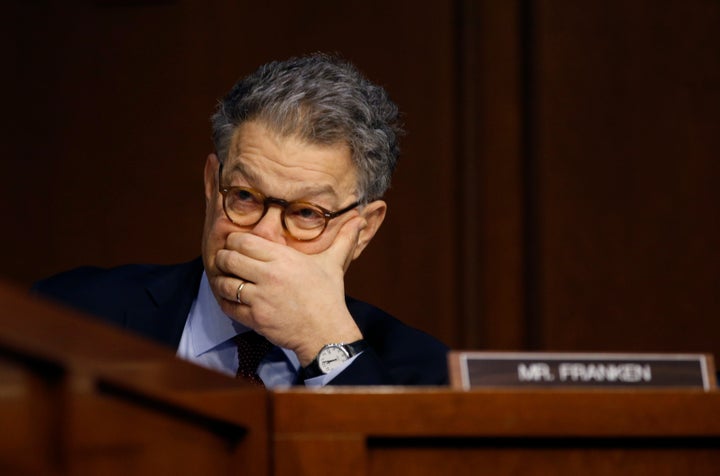 A former elected official in New England, who asked for anonymity, told Jezebel in a report published Thursday that Franken inappropriately tried to give her a "wet, open-mouthed kiss" during an onstage event in 2006.
The woman said she was invited to appear as a guest on a live taping of Franken's radio show on Air America. After the taping was finished, she said she reached out to shake his hand onstage but was met with more than his hand.
"He took it and leaned toward me with his mouth open. I turned my head away from him and he landed a wet, open-mouthed kiss awkwardly on my cheek," she said.
"I was stunned and incredulous. I felt demeaned. I felt put in my place," she said.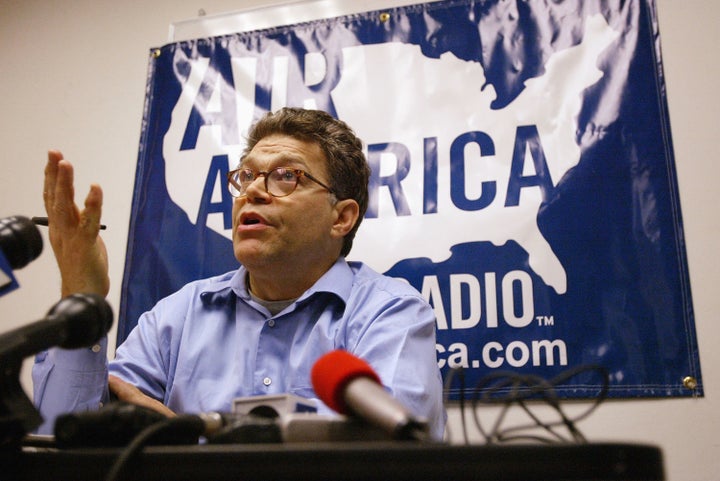 The woman said she didn't want her name published so that her name would only reflect her own accomplishments and not be linked "to a man's bad behavior." Jezebel reported that her sister and a friend confirmed having heard about the experience at the time it happened. The news outlet also reported having confirmed that she attended the radio event with Franken.
She said she decided to speak out about her own experience so that this kind of misbehavior ends.
"I want him to take personal responsibility for his actions, learn from this, not repeat the behavior, and go forward with respect in all his interactions with women," she said.
A photo taken of Tweeden during that tour shows Franken pretending to grab both of her breasts while she was sleeping.
A spokesperson for Franken's office did not immediately respond to a request for comment on the allegations published in Jezebel. In an earlier statement to HuffPost, his office addressed the groping allegation, saying the senator is cooperating with an ethics investigation.
"As Sen. Franken made clear this week, he takes thousands of photos and has met tens of thousands of people and he has never intentionally engaged in this kind of conduct. He remains fully committed to cooperating with the ethics investigation," the spokesperson said in a statement.
The Senate Ethics Committee confirmed on Thursday that it has opened a preliminary inquiry into the allegations against Franken.
This story has been updated with news of a sixth accuser, confirmation of an ethics investigation and a statement from Franken's office.
Support HuffPost
The Stakes Have Never Been Higher
Popular in the Community