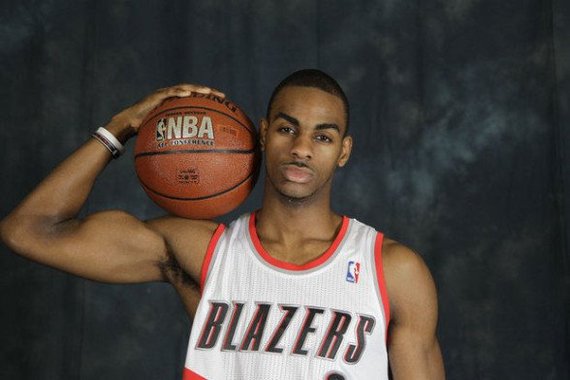 Elliot Williams' life has been full of pitfalls and tragedy, now through the will of his mother that breathes within him, he's ready for his comeback to the NBA.
As the final seconds ticked off the clock in the 2015 NBA D-League Finals, Elliot Williams called for the ball. There would be no need for one more attack to the rim, however. The hard part was over. Williams' last play with the ball did not result in points on the board, but rather just a smile and a fist pump. The Santa Cruz Warriors were champions, but Williams' journey is far from over.
"No matter what level it's on, to win a championship, especially to do it with good guys and teammates that you kind of grew with, is special," said Williams.
Williams averaged 27 points 4 rebounds and 6.5 assists in the Warriors' two championship games, good enough to take home Finals MVP.
It wasn't too long ago, however, many wondered if Williams would ever play professional basketball again.
Coming out of Memphis, Williams was dubbed the "Next Penny Hardaway."  A transcendent talent, the 6'5 combo guard committed to play at Duke as one of the best prep hoopsters in the country. Hardships soon closed in on him and his stay in Durham was short lived. His mom was diagnosed with cancer and Williams transferred to the University of Memphis to be close to her.
While at Memphis, Williams' mom would get better and his game began to thrive. The Portland Trailblazers drafted him in the first round, but the elation was fleeting.
Before Williams could play his first game he dislocated his right patella sidelining him for the entire season. A few months later he had surgery on his left knee.
He was able to come back the next season, only to injure his shoulder, ending his year prematurely.
Three surgeries in two years are usually enough to make someone question a career change. Williams didn't have that chance; the next year during team workouts he tore his Achilles. Another season. Another missed opportunity.
For Williams, though, it never was an issue.
"You got to stay positive about everything. It's tough sitting down watching other people play; it had to do a lot with patience.
"You try and sit back and be positive about it by watching and studying the game, watching a lot of film, just different things I can pick up. I just tried to make it a positive."
There's a popular bible verse that many use when adversity hits from 1 Corinthians 10:13, "But God is faithful, and He will not let you be tempted beyond what you can handle."
For many this verse is thrust upon them as a sign of hope, that this too will pass. For Williams, he was tested far beyond the measures of what the mind can fathom. While rehabilitating his Achilles, an injury that ends careers and derails others, his mom died due to complications from cancer.
"That was the toughest blow for me. That's a situation where it's hard to come out of. You lose that one person, forget basketball, forget that, I lost my mother. That's something, initially, I was hurt bad."
Through the darkness of not playing the game he loved and losing the most important person in his life, Williams was still able to reach for the light we all grasp when things hit rock bottom.
"I had to take a step back, stop thinking about basketball, and get my mind together. One of the first things my mom loved [was] basketball and it kept me saying 'I can play, and I know she's watching.'
Williams has spent the last two seasons injury free. While last season was spent with the Philadelphia 76ers, this year he has been playing professional basketball's version of limbo. He has spent some time with the Utah Jazz, New Orleans Pelicans and Charlotte Hornets, totaling 50 days in the NBA.
Even though he was unable to find a long-term contract, the positive perspective he gained from his mother's death has been his driving force while excelling in the NBA's Developmental League.
"I was able to play a lot of point guard, that's something I couldn't work on in the NBA. That's one of those things that takes a lot of time. I never got a chance to do that so that was big for me to get a lot time there and I know I've become a better player in the D-League."
Now that the season is over, Williams has had time to reflect. Mother's Day is just a week away, releasing a flood of emotions, both good and bad.
"Those times are tough, for the most part. Now I learn to appreciate it more than being mad.
"I know my mom is watching over me. I have the memory of when I got drafted of her and me crying together. That's one of those things you never forget. That's the dream of every basketball player to have that happen. To share that with my mom, that was big for me."
The only thing left on Williams' list is to get back to the NBA on a permanent basis. He knows from a lifetime of experiences, however, that some things are out of your control.
"The older you get the more you understand, you can't really stress about what you can't control. All I can do is focus on myself, work hard and put myself in position and be ready."
Readiness can only get you so far. Being ready can't prepare you for significant injuries or the death of a loved one. Williams' greatest attribute might not be the ability to be ready, but rather the capacity to overcome overwhelming obstacles that many of us can't imagine let alone defeat.
For Williams, the act of being ready might be as simple as a smile and fist pump.
Photo Credit: Rick Bowmer/AP
REAL LIFE. REAL NEWS. REAL VOICES.
Help us tell more of the stories that matter from voices that too often remain unheard.