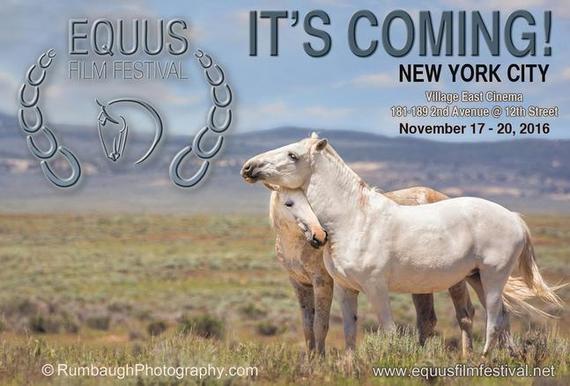 Calling all horse lovers to the Big Apple! This weekend (November 17th - 20th) the Equus Film Fesitval comes to New York City.
In their fourth year, the Festival attracts equestrians, equine stars, authors, artists, and filmmakers from around the globe to connect, watch movies, share their wisdom on panels, and view the outstanding achievements of equine entertainment.
Equus Film Festival highlights and rewards the diverse creative efforts of those who pay artistic homage to the horse. It presents a platform to educate and enlighten the world about horse-related issues, such as the plight of wild horses in America, and holds the ultimate goal to create a better world for horses.
Over 120 films about horses from documentaries to commercials and shorts to full length features are show in the Village East Cinema Theater which also hosts the Tribecca Film Festival and is close to the lively hub of Union Square.
Since I am a huge horse lover and have devoted my career to working with horses as an equine-assisted coach, I had to attend in 2015. My favorite parts were meeting the artists and authors at the Pop-Up Art and Literary Gallery hosted in the Ukrainian Village and listening to the enlightening panels. I also loved the emotion-evoking films Spirit Riders and Healing Horses. Here is a great highlight reel and who's who from 2015.
The line-up this year looks even more stellar (see program brochure) and includes notable films such as Running Wild with Sharon Stone and Herd.
The Festival also does an Oscar-style awards ceremony called the "Winnie Awards" and this year it's being held at the incredible The Wild Horses of Sable Island Gallery which showcases stunning horse photography. I recently visited on a trip to New York City and the art is awe-inspiring.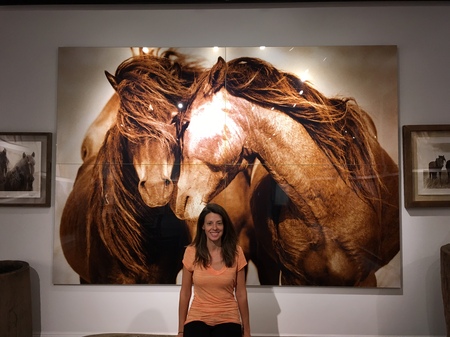 If you plan to attend this year, here are all the fast facts you'll need to plan your schedule.
I'm looking forward to attending again next year and hopefully showcasing my own horse book and a film I've been blessed to work on which is currently in post production called Changing Horses.
Sharing the stories of horses is not only a way to celebrate these incredible beings, it's also a way for us to give a voice to the voiceless and raise awareness of issues concerning our equine friends. I also believe that learning from horses helps us to better understand our own true nature.
So if you love horses, gallop over to the Equus Film Festival!
(Art image credit: Equus Film Festival, photo credit: Kate Neligan)
Popular in the Community