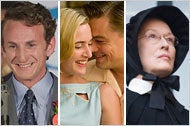 I had a dream the other night here in Paris about being the director of two movies, both of which were contenders in the Best Motion Picture category at the Oscars.
One of my films was called "Apples" and the other (you guessed it): "Oranges."
And the Oscar goes to: "My Subconscious For Daring to Express the Inherent Ridiculousness of the Academy Awards However Much Fun They May Be."
The European edition of "Newsweek" keeps declaring that the U.S. is becoming more and more like France ("We Are All Socialists Now...As boomers age and spending grows, we will become even more French" -- Feb 16, 2009; "The Last Model Standing is France" -- Jan 19, 2009), so, as Oscar hoopla keeps America's remaining journalists jumping through hoops, I thought I'd share a few observations about how the French treat movies during the peculiar span of time known in the English-speaking world as "awards season."
Although film awards are given in Gaul, there is no such thing as "awards season" -- at least not one that results in "goody bags" comparable in value to the going rate for a foreclosed house. (A concentration of campaigning and influence-trafficking is, however, applied to books, for which prizes -- chief among them the Prix Goncourt -- frequently do translate into sales.)
"Season" in France applies to fruit, vegetables, truffles and the prospect of shooting, killing and eating various animals, as well as to the presentation of fashion collections. But films that might qualify as "serious" or "interesting" are not jammed into the theater-programming equivalent of a massive highway pile-up. Professionals in a position to vote for awards are assumed to have attention spans and memory banks sufficiently elastic to stretch back more than two months.
Result: Fare spanning the spectrum from suitable-for-grown-ups to suitable-for-parameciums is released every week of the year and not just from the holiday with the turkey to the holiday with Father Time.
On Dec 12th at Fouquet's, a venerable restaurant on the Champs-Elysées, Gilles Jacob of the Cannes Film Festival stepped up onto a slightly elevated, completely unadorned stage to announce in a voice not much stronger than a whisper the winner of the 66th Prix Louis Delluc.
The winner was not in the room. Nor, as is the tradition, were any of the contenders. The select handful of journalists and film-o-centric Parisians in attendance waited patiently for nearly an hour while lucky laureate Raymond Depardon made his way to the ceremony that wasn't a ceremony, to receive his certificate for having made the best French film of 2008.
The Louis Delluc jury opted for "La Vie moderne," the third installment of Depardon's documentary tryptich "Profils paysans," about the now-fading ways of rural life in France. For the better part of a decade, world class photographer Depardon has been filming a group of mostly elderly farmers in the sparsely populated corner of France where he was raised.
Described with pride as "the Goncourt of cinema," the Prix Louis Delluc is determined by a jury of 14 film critics. Its members, much like the justices of the U.S. Supreme Court, serve for life.
The Delluc has previously gone to the likes of Jean Renoir, Jean Cocteau, Francois Truffaut and Claude Chabrol. You can disagree with or scratch your head at their choice, but you can be certain that the jurors actually watched the year's domestic filmic output (200 or so films are made in France each year); the general public has no such guarantee when it comes to the Academy Awards. (Or indeed, the Cesars, France's much younger answer to the Academy Awards; the Cesars ceremony will be telecast, live, on February 27 -- without commercials.)
Nobody "enters" the Delluc race. The jurors make their own short list at a preliminary meeting in November. And they make their final choice at a deliberation that takes place at Fouquet's right before the announcement.
There is no campaigning, for there is no way to campaign. Even if there were, it would be considered in beyond bad taste to do so.
Most invitations for important events say something like "1 p.m. sharp." Louis Delluc invitations say that invitees should show up "around 12:45."
The film that won the Louis Delluc prize for Best First Film (a junior Delluc started a few years ago) also concerns the rural underpinnings that make France, well, France. "L'Apprenti" (The Apprentice), directed by Samuel Collardey, wasn't even on the short list that attendees were handed when they showed up around 12:45. Nobody on the jury had seen the film yet at their last gathering. The jury reserves the right to add films they think have merit. Including at the last minute.
Oscar ballot watchdog Price Waterhouse Coopers would be about as useful as a "More Attractive Features Through Plastic Surgery" symposium chaired by Mickey Rourke.
Who was Louis Delluc? Glad you asked. He has been called the spiritual father of film criticism. For just as inventors had to invent motion pictures, so did somebody have to put quill to paper to extoll the virtues of the 7th art. Delluc's contribution to the blossoming field was to insist that apart from the story it told, a good film should find ways to tell it cinematically.
Delluc (1890-1924) was part of the first wave of film critics to become film directors. In the teens -- which is to say, in the silent era -- he founded the earliest "ciné clubs" where early film buffs gathered to watch movies and discuss their merits.
While Monsieur Delluc had a fine imagination, I doubt he could have imagined the bespangled behemoth the Oscar telecast has become, awash in fashion frippery and pointless speculation. (Some two hundred million people are eligible to vote for President of the United States; under 6000 individuals are permitted to vote for the Academy Awards. It has nothing to do with you and me unless You & Me are voting members of the Academy of Motion Picture Arts & Sciences.)
The Prix Louis Delluc shows, year in and year out, that it is possible to honor excellence without a sliver of hoopla. Hence, it is possible for a film that you -- and an awful lot of French people -- have never heard of, to be honored as Best French Film of the Year.
And once that decision is announced, it is disseminated by the press. It has an impact precisely because it's so understated.
Also on Dec 12th, after several weeks of heated debate the highlights of which dominated the national news nearly every day, beleaguered representatives to the French General Assembly voted "yes" on a legal provision in a new audiovisual law launched by President Nicolas Sarkozy.
Sarkozy couldn't think of a good reason why the nation's television viewers should be subjected to advertising.
As a result, since January 5, 2009, commercials have been forbidden on "public television" from 8 at night until 6 the next morning. The decree applies to free-to-air broadcasting, entailing all but two channels, which are privately owned. By good friends of Mr. Sarkozy.
(It should be noted that every household in France is assessed an annual fee of 116 euros -- roughly $148 -- earmarked for public television and radio. Such fees are much higher in the UK and in Germany, for example.)
The resulting shortfall of 450 million euros (about $556 million) in production funds previously contributed by advertisers will, apparently, be poached from industries that are doing well. Like privately owned TV channels and Internet Service Providers.
A late-December decree also aimed to authorize "an additional commercial break" when films or TV series are broadcast. That's an additional commercial break added to the one -- yes, one -- permitted to date.
Broadcasters are not permitted to chop up the final reel of a suspenseful film every few minutes followed by a voice intoning "And now we return to a fleeting glimpse of several frames from 'The Formerly Most Diabolical Multiple Trick Ending Film Ever Made, In Easy Viewing Segments for Fruit Flies and Their Families.'"
Cut to December 10th at the Pompidou Center, opening night of the insanely complete retrospective of all 55 films made by Werner Herzog. During the post-film discussion, the accomplished German filmmaker was asked to comment on the role of The Discovery Channel in the film we had just seen, the South Pole-set documentary "Encounters at the End of the World." (The doc is up for a an Oscar.)
Herzog was quick to praise Discovery for having picked up his documentary "Grizzly Man" and for helping to fund "Encounters." But Herzog explained that when he turned in his edit of the film, Discovery went about finding ways to insert 9 commercial breaks.
"This is not something unique to America," said Herzog, who lives in the U.S. when he's not globe-trotting in order to make a film. "It is also the case in many other countries. It is an endless plague that allows storytelling to be interrupted on television. Storytelling is a gift that humanity has developed and we must not give it up. We cannot hand it over to the world of consumerism."
When I first came to France 30 years ago, I was often asked by French friends who had visited the U.S., "How can you bear those horrible commercials chopping up films on TV? Why do people stand for it?"
As a then-recent graduate of the Radio, TV and Film department of the School of Speech at Northwestern University, I tried to explain that my courses in radio and television production had been geared toward making absolutely certain that the record you were playing or the scene you were directing or editing would be "done" at precisely the moment the advertiser had paid for. Airtime was a valuable commodity. (In France at that time, if a panel discussion was going well, it would run over its allotted time slot. The next show could, literally, wait. In the U.S. this courtesy is only extended to live sporting events and --hmmmm -- the Academy Awards telecast.)
In some of my college classes, the content of the TV show or radio program you created was almost entirely beside the point: Could you or could you not "backtime" (fade in on a song in progress) a record to end just as the commercial was due to intercede in the slot the advertiser had purchased?
If Sarkozy has his way, advertising at all times of day will vanish for good at the end of 2011
But while commercials, per se, will no longer be accepted on the 5 TV channels concerned, I was suprised to hear that product placement would be allowed.
Hmmm. So imagine there's a made-for-TV movie about life in the court of Louis XIV. And while he and his queen are out riding horses at Versailles, what should we see but a carriage in the distance from a 20th century French department store or perhaps from Darty, the chain of home appliance stores to which Sarkozy's daughter-in-law is heir.
So, yes, let us tell stories -- this "gift to humanity." And let them not be interrupted, in this or any other season, by anything except our emotions.

Popular in the Community