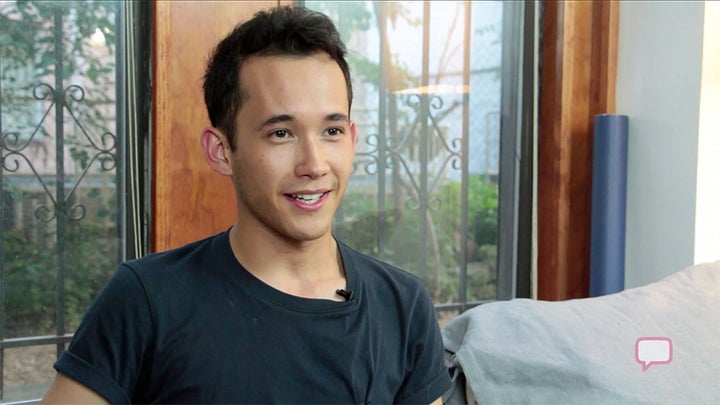 I'm From Driftwood is a 501(c)(3) nonprofit archive for lesbian, gay, bisexual, transgender, and queer stories. New stories are posted on the site every Wednesday.
Joshua Davy grew up with conflicting feelings and views on homosexuality. His mother was open and accepting, but when it came to his grandfather, things were a little bit different. He recalls:
I remember, I would visit him all the time when I was younger, in New Zealand, and we would basically just spend time talking about his war stories... He talked about how to find the right woman, qualities I should be looking for, and also how important it is to have at least one son.
In his second year at Tisch School of the Arts, Joshua heard news that his grandfather had a stroke. That's when he started to work on a fictional screenplay as a response to his grandfather's medical troubles, and as a way to finally come out to him.
A week and a half into pre-production, Joshua received news that his grandfather had passed away. Despite knowing that his grandfather would never see the film or learn about his sexuality, he was determined to finish the film.
Six months later, Joshua showed his film to the location scouts and some crewmembers. After the screening, an older man approached him, thanking him for making the film:
Something remarkable happened… He told me that his daughter was gay, and he had a very hard time trying to come to terms with her sexuality. And he wished he watched the film before this ever happened, because there wouldn't have been 5 years of just not talking to each other. I imagine that if my grandfather did see it, he would probably say the same thing.
Calling all HuffPost superfans!
Sign up for membership to become a founding member and help shape HuffPost's next chapter