I get the best parking spot. Right near the door.
I walk into the building, past the front desk. They barely look up and I avoid eye contact. I'm really early but I'm not up for explaining why.
The halls are uncharacteristically quiet. An empty granola bar wrapper, a sweater tossed carelessly on a bench, a pair of slippers tucked into a corner. Taylor Swift's voice streams into the hallway and clashes with Tchaikovsky's melodies. Someone is clapping. Someone is calling out numbers. 1, 2, 3, 4. And 5, 6, 7, 8.
I walk up to the wall of screens and scan for her. I look for the smallest of the small. The pair of French braids. Her leotard is blue today. I look, first, to see that she is dancing. Participation is not always a given. Then I look to see that she is having fun. Lastly I look to see that she is getting it. Keeping up. Then I watch. I'm well past the point of standing at the doorway while she dances, trying to catch every adorable step. Her steps are more graceful, measured, and precise now anyway. But I still like to watch.
Her class pauses its steps. The teacher focuses on a tricky piece of the choreography or stops to tie an unruly ballet shoe. So I shift my gaze to the other screens. I try to separate the different tunes colliding in the hallway and match them to the images on the soundless screens. I watch the movements that grab the notes from the air and transform them into something real and tangible.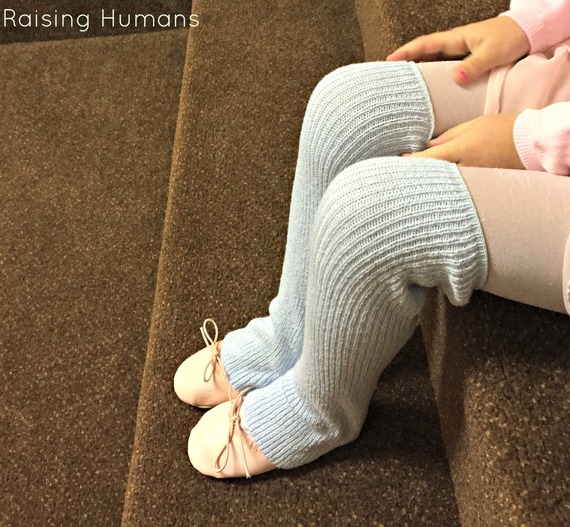 And it strikes me, as I sit there, how much I miss this. The buns, the leg warmers, the tights. I miss the fashion of it. And I miss the feeling of it. That magical click you feel deep inside when you know you got the step and executed it correctly. I miss knowing that my body could do these things. Stretch this way, extend that way, control itself. Make music take shape and form because I can feel it pulsing through me.
It's such a fine line, isn't it? I was delighted when she began to love ballet. Thrilled when they recommended that she come to this camp and suggested that she is good at this. That she might move up. And when, the night before camp began, she added ballerina to the list of things she wants to be when she grows up, it felt so right. I'm happy she's found something she loves to do and that she does it well. I sit here, in this space because of her, dreaming of days that have past and wondering if this ship has sailed for me. And it's then that I wonder if I'm trying to be a stowaway on her ship.
It's one of a million fine lines in parenthood. It's the fine line between introducing your child to the things you loved, inspiring them with things that might be a passion, supporting them and pushing them to try without crossing over and blurring the distinction between you and them. None of us wants to be that parent that pushes our kids along the path we've already paved or forces them to engage in our old dreams just so that we don't have to admit we've reached the end. But that line is a strand of baby fine hair. Blink and you're on the other side.
Her class gathers into a circle on the floor to learn the proper way to tie a ballet shoe. And I sit outside and battle with myself. I'm 34. There's no age at which you are too old to dance. My body has brought two children to the world. It is weary but also powerful. I haven't unrolled my yoga mat in a week and fifteen minutes of gentle stretching a couple of times a week makes a scant bit of difference. But any difference is some difference. The dancers swooshing across the screens make look so easy. But that's the point. My body won't do these things right now. And that's why people take classes. I'm never going to perform a dance on a stage again. So what?
I pull up the website of her dance studio on my phone. I find a Saturday afternoon Contemporary dance class that starts in September. Maybe.
She bounds out of the room. Her face glows. She changes ballet slippers for sparkly Mary Janes. She doesn't tell me much by way of details. But her bounce says it all. She loves this.