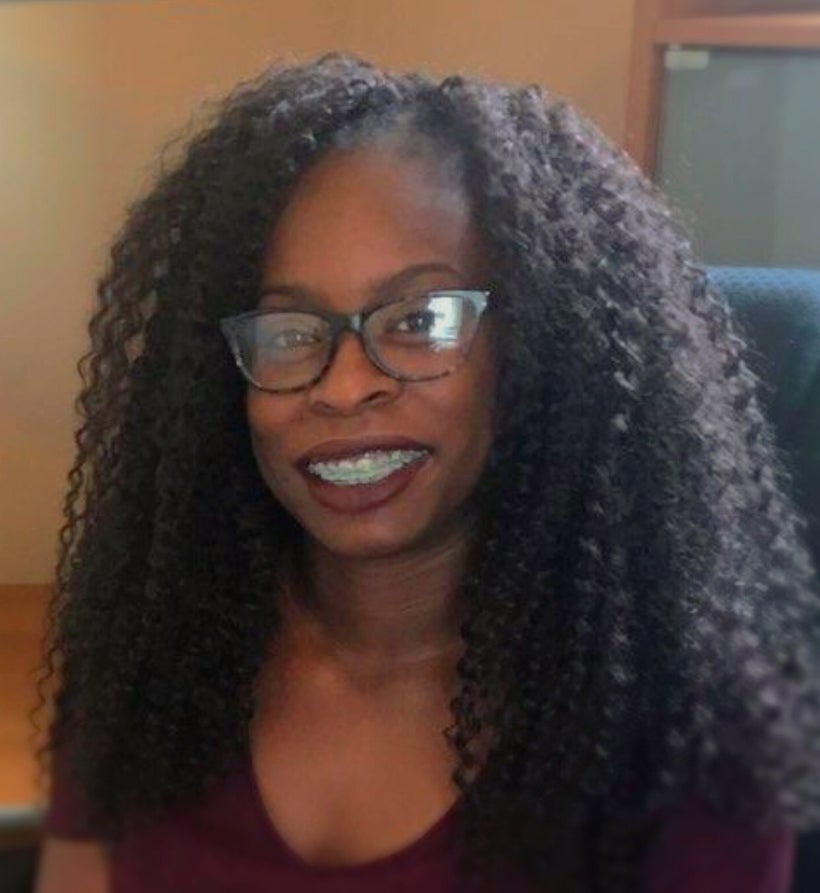 This fall, the GlobalMindED team and I have had the pleasure to work with Andrenique Meigs, who has worked hard to overcome and succeed as one of our strongest interns. I recently had a chance to sit down with Andrenique to interview her about her path and her goals for the future. You will meet her and many other remarkable First Generation to college students and graduates at the GlobalMindED conference in Denver, Colorado from June 9-11, 2018.
Andrenique, you are a single mom of a seven-month-old, an online student at Langston University, and you work. How is that you were able to balance all of these responsibilities in addition to doing a wonderful job at your internship at GlobalMindED?
I've been able to succeed in my role with GlobalMindED because of the work ethic I have sharpened throughout the years. I have always been the type of person to put forth my best effort in any and everything I do. For example, every morning I made an effort to communicate with the team to discuss what needed to be accomplished for the day. I also made sure I was flexible enough to work on what took priority that day; I made sure I helped in any way possible. It also helps that I truly love what I do at GlobalMindED. Working where my passion lies allows me to accomplish great things.
Additionally, I have a great support system thanks to my mother, other family members, and friends. They help me out with my son whenever I need it. This allows me to pursue my education and career knowing that my son is fully taken care of. I know that having a stable support system makes getting through my busy daily routine possible. I am so thankful for their support and the opportunities it has opened for me.
What are the main things you learned through your internship that can help other students who balance busy lives to also excel professionally?
The main thing that I learned while interning for GlobalMindED is how to communicate with various leaders throughout diverse sectors in a professional manner. I was able to grow these communication skills by reaching out to potential contacts on phone calls, emails, and face to face interactions. An essential skill that is simply not taught in academia is the ability to network. Carol, you know that networking is how you grow in any position you occupy and you provide every opportunity available to your interns to practice the power of networking. Over the past few months, my confidence has grown in my communication and networking skills and I've gained invaluable insight into how I want to run my own company in the near future.
You showed tremendous initiative to reach out to your own college, Langston University, to get them involved in GlobalMindED. How do you suggest that other students make those creative connections that can open doors for themselves and other students to succeed?
While reaching out to my own institution to partner with us, I thought about all of the First-Gen and other underserved students that I work alongside in school who would benefit from an organization such as GlobalMindED. I made an effort to reach out to the president of my college, and he responded with significant support for the future partnership. Since my original outreach, our team has been able to connect with their senior staff to discuss how we can best collaborate.
I would suggest for other students to go about the partnerships they forge with confidence. That is the most important, yet tricky step in developing a partnership. However, I believe once you make the initial move, things will continue to fall into place. It is essential, from my experience, to stay persistent. If you do, you will see progress.
What has this experience with GlobalMindED taught you about your long-term mission and goals?
I've learned that my personal and professional missions and goals are more achievable than I could have imagined them to be. My goal is to develop my own multi-media company that focuses on the African-American community and culture. My plan is to start with an online magazine and then work my way into creating a radio and television station. It's become clear to me that I can achieve these goals with the right plan of action, the proper network, and the initiative and drive to make progress.
I have made so many meaningful and lasting connections through GlobalMindED, and I believe that I have established opportunities to work with people who will help me achieve my goals and have the communication and networking skills to pursue future opportunities. Working at GlobalMindED has given me a look at how one person's dream can grow into such an amazing organization that has an impact on communities all over the world. The way you operate GlobalMindED with equity at its epicenter has inspired me and gives me a template for what I want to achieve with my future business.
What advice do you have for other students who can follow in your footprints with the same maturity, judgment, and contributions that you have made?
My advice for other students on similar paths to success such as my own is to never to give up. I've had many battles that I've had to overcome. Those battles, however, become your greatest learning experiences, and they positively shape your path. You must stay motivated and push yourself to go above and beyond what you thought was possible to achieve your dreams. You will hear a lot of "No"s and be disappointed when things don't go according to plan, but never let that stop you. It won't always be easy, but I believe that the success you seek will be made possible by the endurance you've cultivated in overcoming life's challenges.
My ending piece of advice is to not go it alone. Keep your support system close and accept help from friends and family along the way. Plus, it is always nice to share your triumphs and successes with those who have stood by your side through it all.
GlobalMindED is an organization that focuses on bettering the education experience and providing an opportunity for the student to smoothly transition from school into their desired career. Not only have they done this for the interns, like me, but they also make this accessible to anyone who needs it. I am forever grateful for this opportunity and I believe it was exactly where I needed to work and sharpen the skills I have obtained throughout school. It has also given me a lifetime connection and a place where I would love to devote more of my time. I have grown tremendously from this experience and have taken a lot away from my time interning at GlobalMindED.
If you would like the chance to join GlobalMindED's intern team, or if you would like to learn about other ways you could be involved with our organization, please check out our website.
Calling all HuffPost superfans!
Sign up for membership to become a founding member and help shape HuffPost's next chapter
This post was published on the now-closed HuffPost Contributor platform. Contributors control their own work and posted freely to our site. If you need to flag this entry as abusive,
send us an email
.