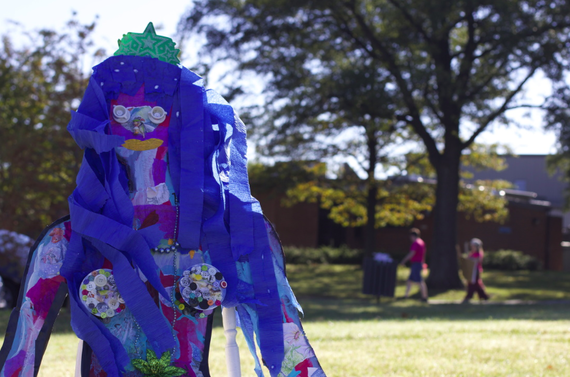 One muggy September weekend, my 5'6" cardboard woman donned a bikini of found objects, sat in a chair my husband had painted as a child, and overlooked the Anacostia River. Her crêpe paper hair rustled in the occasional breeze and plastic ponies danced at her feet as dozens of people took her picture.
This woman was, of course, my "Dream Girl," an art installation for Figment DC 2014.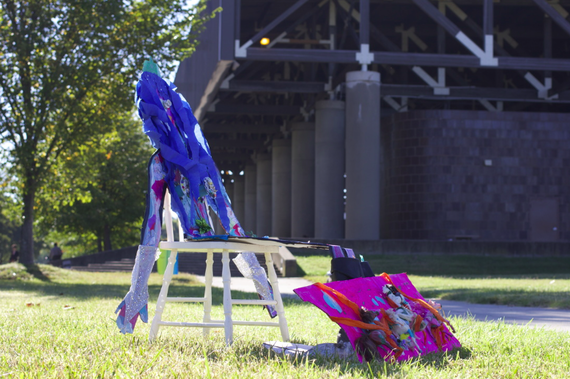 That summer, I had just moved back to the Washington, D.C. metro area and was looking for ways to become involved in the local arts scene when I discovered the Figment Project. This participatory arts event is completely commercial-free: admission is free, nobody is selling or marketing anything, and there are no employees, only volunteers. The event originated in New York in 2007 and now also takes place in D.C., Boston, Toronto, San Diego, Chicago, Philadelphia, Oakland, Jackson, Mississippi, and Geelong, Australia. Community involvement and family-friendly activities that also engage with the city in question are encouraged.
Artists may be wondering if the event is worth their time. If you only care about the financial incentive, then Figment is not for you. This is not a craft fair, you will not have a booth, and you won't make a dime. You must finance your project entirely yourself, whether that means digging into your own pocket or launching a Kickstarter campaign. But if you want to create a spectacle and get exposure in a relatively low-stress environment, Figment delivers.
People go out of their way to see Figment. This month, I did Figment NYC for the first time ever and was astounded by the thousands of people who boarded the ferry from Manhattan to Governors Island. Figment volunteers also do all the hustling for you. Regular email communication with the organizers, clear instructions, thought-out social media promotion, and a well-manned HQ the day-of made the event easy on the artists' end. The weekend of the event, we showed up, set up, and, for the most part, relaxed. Our work came in writing our proposals, making our pieces, and transporting the final product.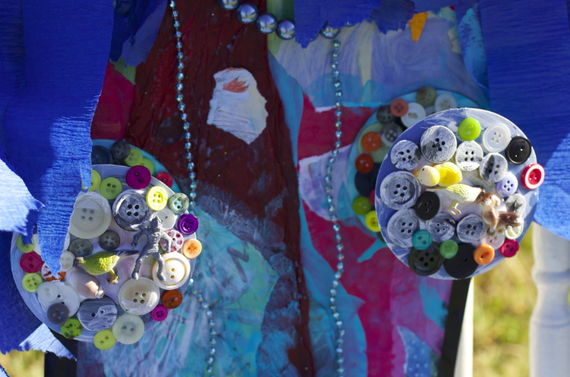 Before writing my first Figment proposal, I studied other project photos and descriptions to see how my idea could best be tailored to suit the event. Since the emphasis is on making pieces participatory and fun, I brought a light tone to my proposal and opted for the second-person in writing the web description:
"What is the perfect girl made of? Unicorns and cupcakes and butterflies, too--don't you know? This human-sized, mixed media sculpture of a girl features everything our society says a dream girl should be. Take a gander of all the many objects shoved and layered to make her. And be sure to take a picture by her, too. She's a rare sight."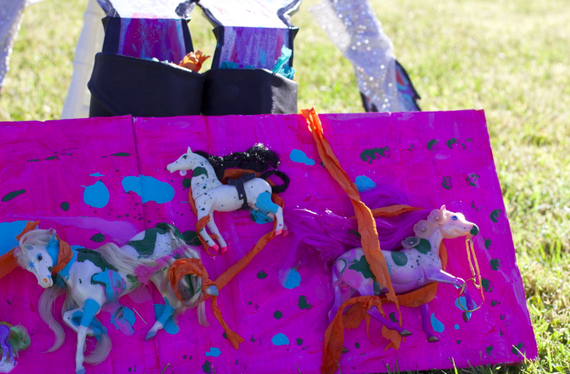 Since the web description makes up but one snippet in the long ribbon of required language for the artist proposal, potential Figment artists should get ready to write. Otherwise, start brainstorming. The event logistics will take care of themselves, whether you're tickling imaginations in D.C., New York, or elsewhere.
Popular in the Community