The woods are dotted with brilliant red roses, bright yellow sunflowers and pale purple hydrangea. Spring is here, but these flowers have been with me all winter long. I've watched them grow -- not in size but in number. They're the artificial flowers that have blown off the headstones and grave markers in the small, country cemetery where I walk my dogs each morning.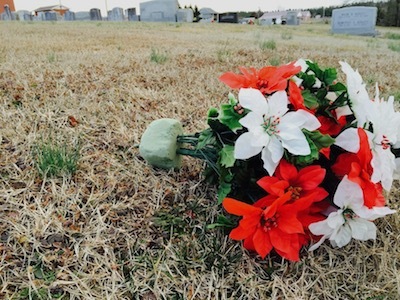 Until my move across the road from this cemetery, I hadn't given any thought to the practice of placing flowers on graves. It's never been my thing. My sister Jeanne decorates our mother's gravesite because she takes pride in it looking nice -- she wouldn't, after all, have allowed Mom's yard and house exterior to look ratty while she was alive, Jeanne says -- and it makes my sister feel connected to Mom.
Over Memorial Day weekend, my 83-year-old dad plans to travel back to Iowa from his present home in Georgia, not only to celebrate his grandson's high school graduation, but to make the cemetery rounds. In years when he can't get back to Iowa, Dad sends Jeanne money so that she and her husband can do the tour for him.
It's an old tradition. According to the U.S. Department of Veterans Affairs website, on May 5, 1868, three years after the Civil War ended, Decoration Day was established as a time for loved ones to decorate the graves of the war dead with flowers. It's believed May 30 was originally selected because flowers would be blooming all over the country. Now, of course, it's called Memorial Day and celebrated on the last Monday in May.
For many, Memorial Day has become the time that they head to the cemetery to remember their loved ones. The ritual of placing fresh flowers on graves has mostly given way to artificial arrangements of plastic, silk and polyester. My guess is that most people who decorate their loved ones' grave spend time at the site, then drive away, trusting their beautiful tribute remains.
My morning cemetery walks, however, show me that many of these lovely looking arrangements don't stay anchored. Even after a relatively mild wind or rainstorm, the cemetery grounds and nearby field and woods are littered with artificial flowers -- even the ones with metal brackets meant to keep the arrangement mounted on the headstone.
Littering, I'm sure, wasn't anyone's intention.
So what is the alternative to artificial memorial arrangements for people who are environmentally conscious? Real flowers, right? Yes, but be mindful. In that same little country cemetery by my house, someone had the right idea by leaving a bouquet of real yellow roses on their loved one's grave. However, he or she left behind the cellophane wrapping, too. It ended up in a garbage can after I retrieved it from the grass on the edge of the cemetery.
Again, I'm sure that wasn't the giver's intention.
So what else can you do? Decorate with fresh flowers from your own pesticide-free garden is one great idea. Or, consider these five other options:
Plant flowers. Most cemeteries won't allow you to plant in the ground, but check to see if you can leave a planter box. You could fill it with a plant like lantana, which thrives with little moisture and produces flowers all summer and fall.
Spruce it up. Spend time cleaning up your loved one's gravesite. Remove leaves and other debris. Trim away long grass from the stone. Take that time to think about that person. No need to leave anything behind but your love.
Plant a tree. In your own yard, of course. Choose your loved one's
favorite tree or one that makes you think of that person. Add a bench and you have a sacred space to sit and remember your loved one.
Make a donation. Take the money you would have spent on a memorial arrangement and donate that money instead to a charity or organization that was important to your loved one.
Write a letter. Thank your deceased loved ones for the contributions they made to your life. Tell them what you miss about them. If you have forgiveness work to do, include that, too. Tuck your letter away, or create a ritual and burn it.
REAL LIFE. REAL NEWS. REAL VOICES.
Help us tell more of the stories that matter from voices that too often remain unheard.