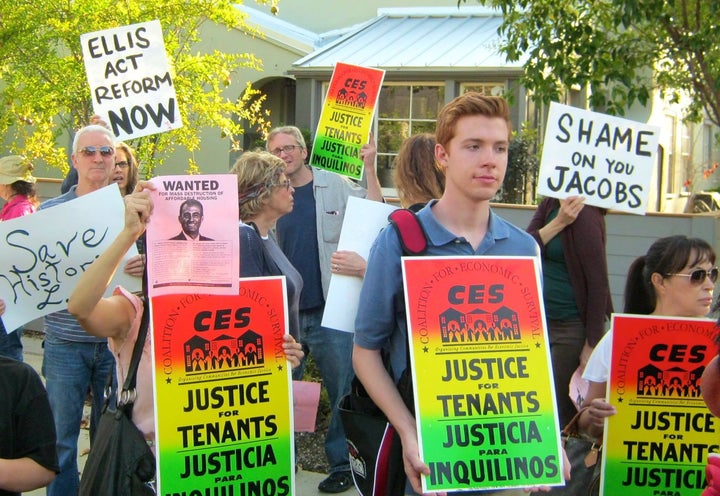 At least 22,132 of Los Angeles' rent stabilized affordable housing units have been destroyed since 2001. The loss wasn't due to a geological earthquake. Instead, it was due to a political earthquake called the Ellis Act.
The Ellis Act is a law sponsored by Republican Senator Jim Ellis of San Diego, passed by the California state legislature, and signed by Republican Gov. George Deukmejian in 1985 at the behest of the influential real estate lobby.
The law was designed to undermine local rent control laws. It allows landlords to evict tenants in order to remove housing units from the rental market. As California's housing market has heated up, more and more speculators have abused the Ellis Act by demolishing older buildings in order to build newer, expensive market-rate projects.
Some Los Angeles landlords have illegally evicted tenants claiming that, under the Ellis Act, they intend to raze the buildings or convert apartments to expensive condos, but then continue to rent the units at higher rents than allowed under the city's rent control law, including through Air BNB. Tenant groups claim that LA's city government has done a lousy job investigating these abuses.
Activists in Los Angeles, San Francisco, San Jose, and other California cities have escalated their efforts to get the state legislature to repeal the dreaded Ellis Act.
Every year, Los Angeles loses more rent-controlled apartments than it adds in newly-constructed affordable rental units. The city cannot simply build its way out of the current crisis. To address the housing crisis, LA needs to preserve and protect the affordable apartments it already has. The Ellis Act makes that impossible.
The project reveals that in the second quarter (April -June) of this year alone, landlords and developers filed 638 Ellis Act eviction applications. This is the equivalent of losing seven apartments a day, or 212 units a month, covered by the city's Rent Stabilization Ordinance (RSO) . This loss of affordable housing is more than double the 294 rent controlled units lost to the Ellis Act in the first quarter (January - March) of this year.
Nearly 1,400 units were stripped from the Los Angeles housing market last year under the Ellis Act — a 27% increase from 2015 figures. At the current rate, close to 2,000 apartments will be lost to the Ellis Act this year.
Using data provided by Los Angeles' Housing and Community Investment Department, the map visually shows the devastating impact that the Ellis Act has had on tenants being displaced and on the loss of affordable rent controlled housing. One can view the address of the buildings and the number of units lost due to the Ellis Act by hovering over the dot using a computer mouse or laptop touch pad.
"After mapping Ellis Act evictions in San Francisco and analyzing their devastating effects, we have long wanted to visualize their growth in Los Angeles," explained Erin Mcel, co-director of the Anti-Eviction Mapping Project. "But it wasn't until we began mapping the Ellis Act data in LA that we had any idea how grave the eviction crisis is in that city, and which areas are being most impacted."
"The housing crisis facing Los Angeles is one of the most severe in the nation," said Larry Gross, executive director of the Coalition for Economic Survival. "With this map, which we continue to update, we are able to visually see how the Ellis Act has ravaged our city's affordable rent controlled housing stock. Unfortunately, we are also able to see how the evictions are increasing and spreading across Los Angeles making it way into more and more neighborhoods."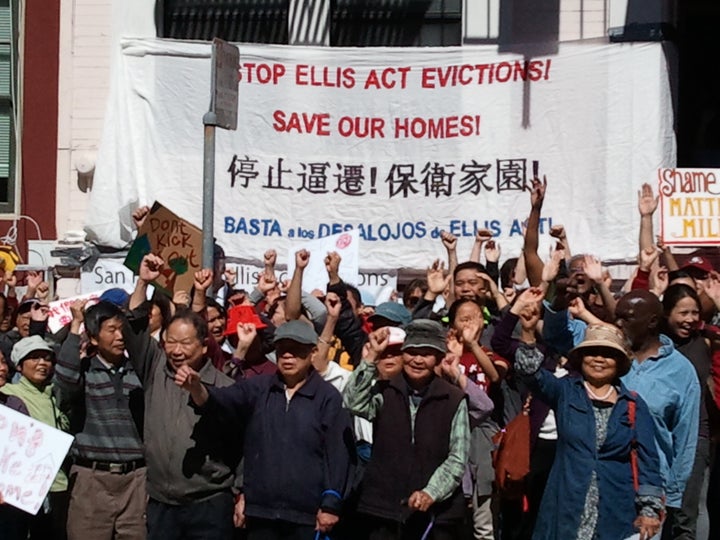 Los Angeles is a city of renters. About 64% of its residents are tenants. About two thirds of those renters are paying unaffordable rents. Many pay 50% or more of their income just to keep a roof over their heads.
According to the Southern California Association of Non-Profit Housing (SCANPH), the average rent for a 2-bedroom, 1-bathroom apartment in Los Angeles last year was $2,169 per month. In order for housing to be considered affordable, a family should not spend more than 30% of its income on rent. Thus, a working family needs to earn nearly $42 per hour – or $86,760 per year – to afford the average rent in Los Angeles.
That is less than the typical annual Los Angeles area wage for office clerks ($32,342), food service managers ($50,759), electricians ($60,519), real estate agents ($69,104), middle school teachers ($69,426), insurance appraisers ($76,230), and firefighters ($86,571), much less low-wage workers like janitors, restaurant employees, and day care workers.
The annual median renter household income in Los Angeles is $36,036 — indicating that the majority of all renter households earn less than half the average rent.
Many Los Angeles renters live in severely overcrowded housing, doubling and tripling up, just to afford the rent. Los Angeles has seven out of the 10 zips codes with the nation's most overcrowded housing conditions.
"We can no longer allow developers to go into communities and just bulldoze them to put up high-priced luxury housing," said Gross.
But they also recommend stepping-stone measures to amend the Ellis Act in the following ways:
Restrict the ability to use the Ellis Act to property owners who have owned the property for at least 5 years
Limit the number of times a year a developer can use the Ellis Act.
Provide all tenants, regardless of age or family status, with a one-year notice of eviction. Assembly bill (AB) 982, introduced by Assembly Members Richard Bloom and David Chiu, and Senator Ben Allen would provide for a one year notice to all receiving Ellis Act evictions.
These measures would curb speculators buying rent controlled property for the sole purpose of demolishing and destroying this affordable housing.
The Ellis Act prohibits local government from impeding a landlord's ability to leave the rental market or prevent a related eviction, but it does not prohibit Los Angeles or any other city from using their land use powers to protect affordable housing. Los Angeles could, for example, adopt local ordinances and policies that:
Limit the number of rent controlled buildings allowed to be demolished per year.
Provide that the official date of withdrawal for a unit subjected to an Ellis withdrawal be the date the last evicted tenant vacates the building, either via eviction or by voluntary vacating after receiving Ellis notification.
Require a one-for-one replacement of all rent controlled or affordable units that are demolished or converted at affordable rent levels.
Provide financial and technical assistant to tenants in rent-controlled buildings to purchase their buildings and convert them to tenant-owned limit-equity co-operatives, or as part of non-profit Community Land Trusts, which would preserve them as affordable housing for the long-term.
In April, tenant activists won a victory when the LA City Council passed a new law to soften the blow of Ellis Act evictions and tear downs. If landlords tear down rent-controlled units and replace them with new rentals within five years, all of those new units will fall under city rules that limit rent increases.
There's also an alternative for landlords who want to avoid putting an entire building under rent control: Under the new local ordinance, to raze rent-controlled apartments in order to build higher-priced new ones, landlords will have to make an equal number, or 20%, of the new units affordable—whichever is larger. Landlords will also have to pay for the relocation of tenants evicted under the state's Ellis Act and file annual reports with the city on the status of units withdrawn from the rental market.
"These are important steps in the right direction," says CES' Larry Gross. "But the real solution is to repeal the Ellis Act."
Peter Dreier is professor of politics and chair of the Urban and Environmental Policy Department at Occidental College.
Popular in the Community