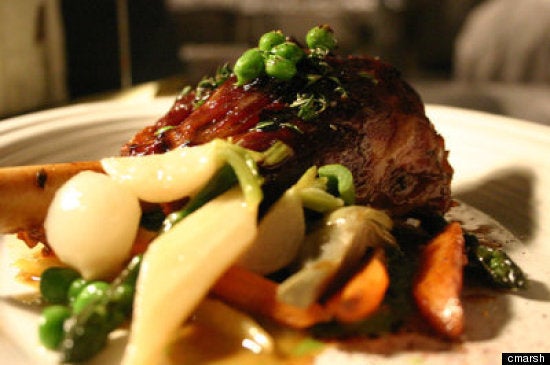 On Sunday, twelve foodie hopefuls kicked off the first installment of The Food Obstructions' monthly cook-off by gathering at The Gutter, a Williamsburg bowling alley I've been to before on weekends and never thought would have passed the Department of Health's regulations for a cooking competition. But given the contest's parameters, which placed five culinary obstacles between each contestant and our dishes, it seemed rather fitting that we embrace the unusual set up and regard our serving space, the edge of a banister, as just another quirky obstruction.
The contest was dreamed up by Karol Lu and David Roderick, veterans of cook-offs hosted by Matt Timms of the Chili-Takedown, and Cathy Erway, whose blog Not Eating Out in NY drew both first-time contestants and longtime heavy hitters alike to compete for foodie perfection in the face of this contest's preordained adversity.
That adversity took the form of five obstructions that all competitors had to yield to. The contest decreed that our dishes: 1) Must include at least one ingredient that is the color purple 2) Could not contain pork or pork products 3) Must include at least one locally-sourced ingredient (grown or raised within 100 miles) 4) Must contain both a fruit and a vegetable and 5) Could not cost more than $25 to make.
Being a newbie, my primary goal was not to embarrass myself. For my dish, this meant a simpler approach than most -- a room temperature (chafing dishes be damned) Eggplant Caponata atop a crispy, garlicky crostini. I added golden raisins to satisfy the "Fruit & Vegetable" obstruction and brought the "Locally Sourced" obstruction as close to home as possible by garnishing each slice with basil leaves from the plant in my apartment, which I hope will live to see another competition.
I thought of this caponata not just because eggplant happened to be the first purple ingredient that came to mind, but due to the recipe's humble origins. I developed this dish years ago while studying in Rome in one of the most obstructed living spaces I have inhabited in my short span of urban quarter-life rentals. Six of us were crammed into a tiny apartment right off of Camp dei Fiori, an exquisite outdoor market and the city's best source for inexpensive, fresh produce. To save money for the requisite pair of Italian leather boots and nights out at the discothèque, we cooked many a family dinner, one person in the kitchen at a time.
This appetizer was a favorite of my housemates and, due to the rustic elegance of its presentation, I was always asked to make it when parents were visiting. Though the dish did little to prove how grown up and self-sufficient we were (the apartment smelled like old socks), it did its part to ensure the visiting adults that we ate sophisticated, fabulous food all the time. And, for the most part, we did.
My old eggplant bruschetta has certainly been punched up since my Rome days -- the version for The Food Obstructionists' contest included a Pomegranate-Balsamic reduction (an additional layer of purple), drizzled on each individual slice of crostini, as opposed to the standard vinegar I usually fold into the mixture at the end of the cooking process. Unfortunately, those judging my culinary prowess also took an upgrade in sophistication, their palates passing up my Italian peasant dish for the more complex Pink Peppercorn Beef with Plum Sauce (another first time contestant and winner of the whole shebang) and "Ham Hock" Pea Soup topped with a seaweed salad, homemade crisp, and a few other components that earned their rightful place in the winners circle.
I may not have come away with a prize, but the many looks of joy as diners bit into delicacies like my neighbor's pumpkin jelly donuts were enough to make me want to return for the next month's set of eccentric challenges and unobstructed fun.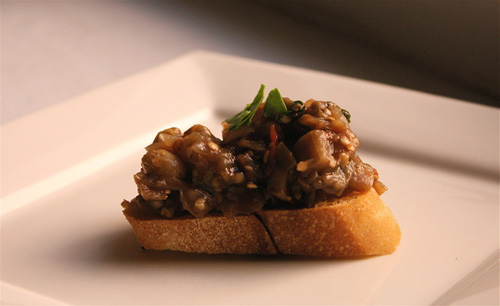 Eggplant Caponata Crostini with Pomegranate-Balsamic Drizzle
Makes 50 bite-sized servings
Budget: $15 (satisfying the "Budget" obstruction of $25)
3 fresh French baguettes, cut on the bias into thin slices
olive oil
2 garlic cloves, crushed
red pepper flakes
4 tbsp olive oil
3 medium eggplant (or two large), cut into ½ cubes
2 Vidalia onions, diced
2 cloves garlic, minced
1 (12oz) can of fire-roasted diced tomatoes
1 cup golden raisons
3/4 cup basil, coarsely chopped (reserve 1/4 for garnish)
1/3 cup balsamic vinegar
3 tbsp pomegranate juice
salt and red pepper to taste
In a large cast-iron skillet or Dutch oven, heat 2 tablespoons of olive oil over medium heat. Add as much eggplant as will fit in the pan without over flowing. You can either sauté the eggplant in two batches or continue to add the excess cubes as the eggplant breaks down and space frees up in the pan. Sautee for 15-20 minutes until the eggplant is soft but not falling apart, adding more olive oil as needed. Remove and set aside.
In the same pan, add the additional olive oil, garlic, and onions and sauté over medium heat until the onions are soft and translucent. Add the eggplant back to the pan. Continue to sauté over medium to low heat until flavors have combined (about 5 minutes).
Using the lid to keep the solid contents from spilling out, drain half of the juice from the can of tomatoes into the sink. Add the tomatoes and partial juices to the eggplant mixture. Bring the flame back up to medium-high and cook for ten more minutes, until the acidity of the tomatoes has cooked off and the eggplant is beginning to fall apart.
Place the golden raisons in a shallow boil and cover with hot water. Allow to sit for ten minutes to rehydrate, drain, and then add to the eggplant mixture.
The eggplant mixture can be made up until this point a day or two in advance. When ready to serve (the caponata is just as good at room temperature) add ½ cup of the basil and stir to combine.
Preheat the oven to broil.
Arrange the baguette slices on a rimmed baking sheet. Heat a small bowl of olive oil, crushed garlic, and red pepper flakes in the microwave until fragrant. Brush each slice with the infused oil. Toast the bread in the oven for 2-5 minutes, until the slices are golden brown and crispy, but not completely hard. Set aside and allow to cool.
While the bread is toasting, combine the balsamic and pomegranate juice in a small saucepan and bring to a boil. Simmer for one minute, season with salt, and set aside.
Scoop eggplant mixture onto individual baguette slices, garnish with a torn basil leaf, and drizzle with a small amount of the balsamic-pomegranate reduction.

Popular in the Community