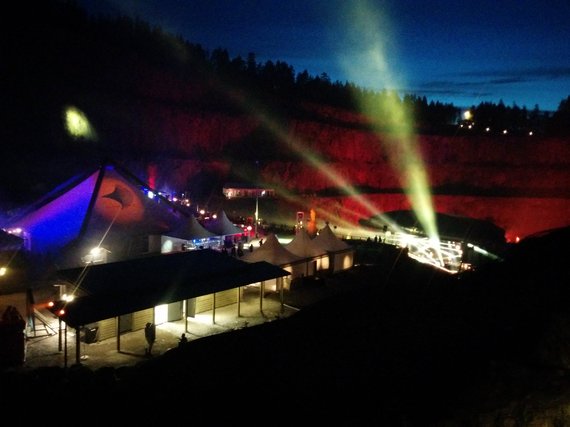 Since it is throwback Thursday, I thought I would revisit one of the musical highlights of the summer, Into the Valley, which took place in Dalarna, Sweden.
Electronic music, for the most part, is a communal experience. The venue where it is played is never as important as who it is played to. This last part refers to the vibe -- an energy force that can not truly be explained, but can always be felt. This is why so many Techno clubs have an exclusive door policy, because the vibe is priceless, and when it is right it has the potential to create magic.
Two weeks ago, the Into the Valley festival organizers created a type of magic we had never seen before, placing some of the worlds top DJs inside of an otherworldly setting -- Dalhalla, a limestone quarry usually reserved for big concerts. The space, transformed into an electronic playground in the best sense of the word, effectively brought together music lovers, casual fans, and those just looking for a good time.
The elusive "vibe" was present before the festival began, with a camping party featuring a closing set crafted by the Studio Barnhus crew (Axel Boman, Kornél Kovács, and Petter Nordkvis) from Stockholm. Axel Boman can always make the energy of a party soar, but the fun house style of Studio Barnhus exploded into the night as the campsite, anticipating the days ahead, stayed awake until the wee hours. Everywhere you looked you found people lost in conversation, celebrating arrivals, discussing what acts they couldn't wait to see, and late night dancing at the many unofficial floors that popped up throughout the area. One of the best tracks heard on Thursday was Robyn - "Love is Free " (Mr. Tophat's Remix).
Friday began with a great opening set by Genius of Time and for most, a first look at the festival grounds. The Into the Valley space was divided into three main dance areas: The Theatre, a massive space with state-of-the-art lighting capabilities; The Box, a more House focused tent space; and Musikaliska Gård, curated by the crew that runs a venue of the same name in Stockholm.
Time of day played a huge part in the energy at the festivals. Though the venue opened each day around noon, most people didn't arrive until the late afternoon. And because of its sheer size it often felt like we were in a desert oasis, which just happened to be equipped with a Funktion-One sound system. Sunny days are not the ideal setting for harder Techno, and while some DJs played with this in mind (Âme and Dixon for instance, played a sexy, danceable set), some found the massive Theatre a challenge, especially without the light show that followed at night. And let's be honest, Techno was made for the dark. One of the best tracks I heard on Friday was Aphrohead - "Lets Prance" (Radio Slave & Thomas Gandey Last Communication Remix).
A sunny Saturday found the Into the Valley area filled with familiar faces and a welcoming opening set by Jessie Granqvist, who I find is consistently playing interesting sets. Granqvist played with just the right amount of groove to acknowledge that it was indeed a bright, warm day and that we were not dancing inside of some re-appropriated warehouse.
By this point, most people had given up trying to stick to a time schedule or rushing to see specific DJs, because the music everywhere was just so good. I asked a DJ from London what he was going to see on Saturday and he responded (referring to the quality of the lineup), "I don't care anymore, because there's no reason to try to choose between great and excellent." He had a valid point and while by late afternoon the festival was in full swing, it was at night when the party truly came alive. And now, a little about The Box.
I am always a fan of a smaller space. For some reason the crowd always has more passion, dances harder, and is more friendly. I also often find DJ's play with a bit more gusto in these settings, because they can really connect with the dance floor.
The Box was a massive white tent constructed on the top of the Dalhalla venue. And while it may be a personal preference, some of my favorite moments of the festival happened here.
When you walked down the hill into the festival grounds you usually got a strange mix of sound, booming bass from The Theatre and a hodgepodge of synth noises coming from both main spaces. But when you arrived into the festival area, you were immediately engulfed in the sound coming from The Box. On Friday, John Talabot played a rousing set inside, which had the entire top of the mountain dancing uncontrollably. (I remember starting to eat with some friends and having to put down my food to continue dancing.) His music and ability to control a crowd is stunning and Talabot's sets are always a journey. And Saturday, Nicolas Jaar won a host of new fans, playing a very strong live set, while simultaneously winning the award for best dance moves. There were so many acts it was impossible to see them all, but I was told that Benoit & Sergio and Floating Points also played great sets inside of The Box. I'm pretty sure everyone did, with such an open crowd and picturesque setting it would be hard not to. Saturday was filled with great tracks but one of my favorites was Til Von Sein, Kid Enigma - "Booty Angel" (Johnjon Remix Instrumental).
Two pioneers of electronic music, Carl Craig and Ben Klock closed out the festival, which most wished would have continued for at least one more day. I have seen Ben Klock quite often, but the setting and the lights in The Theatre elevated the music in a completely new way.
Events like this are vital in helping to bring dance music to new audiences. Into the Valley succeeded by giving a unique platform to showcase just how powerful and exciting the genre is and can be. It is quite impressive what the team was able to accomplish in only the first year, and hopefully there are many more to follow.
For more information about the festival visit -- www.intothevalley.se
Calling all HuffPost superfans!
Sign up for membership to become a founding member and help shape HuffPost's next chapter