Frank Ruta -- the former White House Chef who served the Reagan and Bush families for over a decade -- is shy by nature. When I dined at Capella Georgetown's The Grill Room last week, he was the culinary puppet master who conjured seven courses without once emerging from the comfortable confines of his kitchen. I hoped he would make an appearance even for the dessert course so I could shake his hand, but no such luck.
That said, he and his creations are no wallflowers.
His menu hugs the globe. When I dined, I tasted a delicious Ligurian Style (i.e. basil pesto) Yukon Gold potato gnocchi that melts in your mouth, clichéd as that may sound. Because of Ruta's reverence for all things younger than springtime, the dish is dressed with beans that crunch with decided freshness, fingerling potatoes for an added layer of comfort and toasted pine nuts that act as a nod to tradition.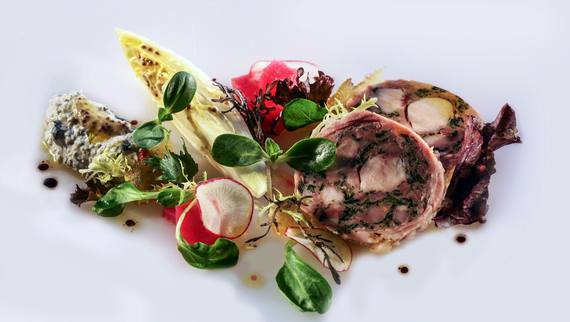 Here is a chef who has mastered the basics but will present it to you always with an element of surprise. You can take comfort in knowing that he will give you the classics but with a personalized twist, as though to say, "you thought you knew that dish; take a second look."
For instance, there is an heirloom tomato "tartar," which included a marshmallow-soft organic egg yolk dish, stuffed to the brim with caponata, a Sicilian eggplant that gives the silky texture a sharp contrast but not to the point where the palate is too surprised. The way it was presented made me think of a Chihuly blown glass sculpture, with fresh greens draped over this and that in a way that didn't look staged.
Mr. Ruta obviously loves his greens. That is clear, because despite the obvious versatility he has for meat dishes, there's always a thrillingly-done side of a roasted vegetable here, a coulis there.
In a smallish restaurant that spills off the main lobby of Capella Georgetown and brims with sunlight pouring from the windows leading to views of the C&O canal (peaceful, almost Venetian), there is an easy chance of it being crammed with too many people. The Grill Room is, after all, not reserved only for guests of the 49 rooms in the hotel. And because the restaurant recently received three stars from The Washington Post, one would think it would be impossible to get a reservation.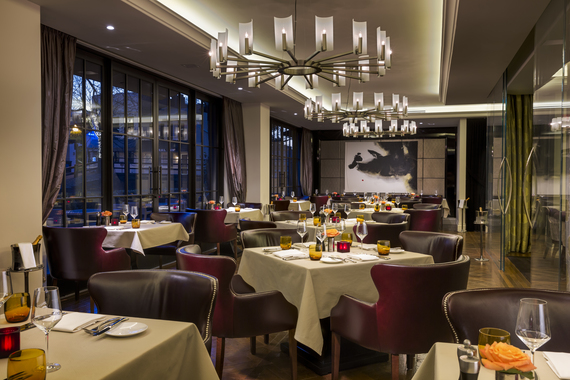 Thankfully, this isn't the case. Equally thankfully, I found the vibe to be ultra-casual: there were lawyers dressed in blazers but also vacationers in sundresses. This is a "come as you are" kind of place, but not in a slouchy way.
One look at the item descriptions and you'll see what a stickler Mr. Ruta is for freshness. "Newly-dug" potatoes accompanies the halibut; a "coddled organic hen egg" sidles next to the ruby veal; "fresh flageolet beans" with the Lancaster County rabbit.
As with all luxury restaurants these days, a chef must go shopping in the wee hours of the morning, to pick up ingredients before all the rest of the D.C. chefs arrive (and with the increased competition from the likes of José Andrés, Anthony Chittum, Ashok Bajaj, to name just a few, I'm guessing the morning scene resembles a more well-behaved version of a fish market).
The dessert course, called "Into the Forest," was a dark and textured affair. Created by Rammy-award winning chef Agnes Chin, the creation rides on its own melting.
There may be several chefs in The Grill Room's kitchen, but they all add their expertise to the dining experience. It's worth a stop in a city that's becoming very well known for its foodie scene; reservations are recommended.