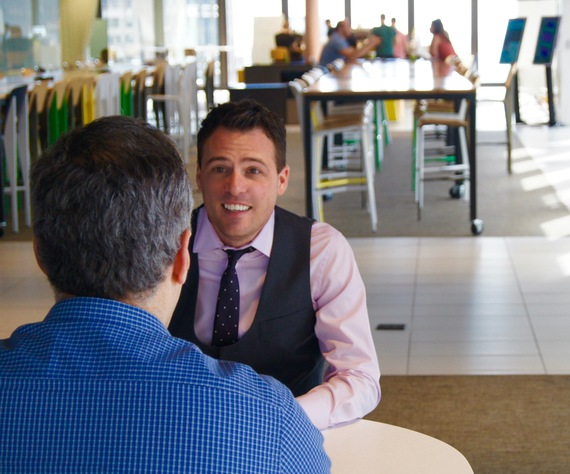 Almost six years ago, I took a leap - like many founders before me. I saw that advertising and many advertising agencies were too focused on the creative and marketing side of the brand. Not the business side.
I decided (many would say recklessly at the time) to leave my job as a Senior Vice President at a national agency to start my own company. Like fellow entrepreneurs, I saw a market problem: the emergence of technology and consumer power on brands and thought, "I can help companies solve that problem."
In 2011, I gutted out a 5x5 walk-in closet in a small Chicago condo and went to work. No customers and no revenue. I just hustled. Failed. Repeated. Since then AE Marketing Group has experienced multi-million dollar growth, was named a Goldman Sachs 10,000 small business, an 1871 member company and recently Inc. added us to the Inc. 5000.
I never took a penny from anyone.
Instead, I bootstrapped the company from day one - in 2013, we launched the CoCreation Lab Series™ and then in 2016 the Brand Lab Series™ to expand our product and media opportunities.
Early Traction is everything to a Startup
Revenue is like fuel for your car. Without it, the car won't run. Sales are everything. Do not get trapped in bright shiny objects when starting a business, because unless it is adding revenue it is a nice to have not a need to have.
For our first twelve months, I used aemarketinggroup@gmail.com as my email account - I went eighteen months without a business card, didn't have a website until I had a $1M in cash on hand,
1871 is the closest thing to an "office" we have ever had. But, we have grown every year, year after year. AE has been profitable for 22 straight quarters.
When we start to enter a difficult period (and we do often), as CEO it comes back to revenue and value. Is this process, adding value? Is this team member adding value? Is this customer adding value? Is this networking event adding value?
Avoiding Early Startup Capital
I have a real problem with debt. Always have. I have seen debt crush family, friends, and relationships. I am always averse to taking on capital that you may or may not need.
Early on I didn't think about startup capital because the focus was on traction. I knew even if AE needed money, yet didn't have traction banks wouldn't give us a loan. Without traction, VCs would likely not give me so much as three minutes to pitch them.
Another factor was that I didn't want to dilute something that hadn't had a chance to grow yet. A few years and several million in revenue later I went to a bank and opened a credit line because I never want to ask someone for money when the company needs it the most - that's a position of weakness.
Nearly six years later would I be willing to raise money if those funds could further ignite our growth? Possibly, yes. Perhaps, a smaller percentage of a bigger top line revenue number may be better than a larger percentage of a smaller number.
Bootstrapping isn't the only Currency to Worry About
Bootstrapping a company to eight million dollars has been the hardest, yet most rewarding accomplishment other than being a father to my children, Annette and Edmund, the "A" and "E" in AE Marketing Group.
Bootstrapping looks glamorous.
Beyond bootstrapping, VC, Private Equity or bank loans - the most important currency you can have is an understanding partner. And I don't mean business partner. I am talking about relationship currency.
I recently interviewed LearnVest COO Ainslie Simmonds on the Brand Lab Series™ podcast. She talked about being an early employee and architect for the technology used to grow the company several hundreds of millions of dollars - she said the best thing to happen to LearnVest was to have her husband Mark as her partner.
Because Mark was Ainslie's rock - he picked her up off the mat many times and pushed her when she needed to be pushed and listened when she needed to be heard.
So before you decide to bootstrap your startup think long and hard about relationship currency. I have yet to find a funding source that deals that precious commodity.
REAL LIFE. REAL NEWS. REAL VOICES.
Help us tell more of the stories that matter from voices that too often remain unheard.